When Bob McMahon died suddenly and unexpectedly in April 2013, he had been the dominant community-based leader of opposition to Gunns' proposed pulp mill in Tasmania since 2006. McMahon was the public face and key strategist of the anti-pulp mill organisation Tasmanians Against the Pulp Mill (TAP) – later called TAP Into a Better Tasmania – for about seven years, and had also been prominent in TAP's precursor, Tamar Residents Action Committee (TRAC), established in early 2005.
Throughout those years he travelled Tasmania, speaking at meetings, rallies and demonstrations, engaging with people at local level about the issues affecting them in relation to industrial forestry, as well as travelling overseas to South America – at his own expense – to examine the impact of pulp mills, like that proposed by Gunns, on local communities and the environment.
His visits to Chile resulted in a lecture tour of Tasmania by Professor Eduardo Jaramillo, who had led a team of government-appointed scientists to investigate the disastrous impacts of the Valdivian pulp mill on the local region, an area similar in many respect to Tasmania's Tamar Valley where Gunns' mill was to be built. One remarkable outcome from Jaramillo's Tasmanian visit was that he was shunned by all Labor-Liberal politicians except one, a damning indictment on them all.
Bob even found time, in collaboration with Gerry Narkowicz, to publish in 2008 a history of rock climbing on Ben Lomond, Memory of a Journey, the last of his six books, all published since 2000, of which three were written with Narkowicz.
At the time of his death he had begun two different book projects, one of which was to circumnavigate the Tasmanian coastline, in stages, by foot, with camera and notebook, a project he was probably better equipped to achieve than any other Tasmanian of his generation, given his artistic skills, his intellectual and physical connection with Tasmania, its history, its wilderness, its beauty and its exploitation. What a book it would have been.
His other research project was about Tasmanian Royal Air Force pilot Alan Bowman. That began with Bob's interest in Bowman's role as the British military liaison officer attached to a German mountaineering expedition to climb Nanga Parbat in the Himalayas in 1938.
Bob was a highly accomplished Tasmanian climber and writer who read widely about the history of mountaineering, and of expeditions to conquer the world's highest peaks, and he was intrigued by the history of teams which attempted to climb the most dangerous places in the Himalayas.
When Bob died, leaving behind his unfinished project on Alan Bowman, I asked Susie, Bob's wife, if I could have a look at Bob's research material, with a view to continuing what he had started, although the final result would inevitably be different to what Bob would have written.
Susie subsequently gave me all Bob's research material and his books on Nanga Parbat. Bowman's sister Jean McNeill entrusted me with all the letters that Alan Bowman had written home from the time he left Deloraine in 1930 until his death in 1941, just as she had entrusted me with her photo albums and diary as a war nurse for my own book about Tasmanian nurses during the Second World War, Veils and Tin Hats.
While I worked through the material Bob had collected, and read the letters that Alan Bowman had written home, I decided that I should write something about McMahon's life as well, and include that as a section of the book on Bowman.
It was a tangent, once undertaken, which completely changed everything. As books about Gunns' pulp mill and associated issues were published, including Anna Krien's Into the Woods and Quentin Beresford's The Rise and Fall of Gunns, it became increasingly apparent that the story of the most significant component of community-based based opposition to the pulp mill, led by Bob McMahon, still needed to be told.
My research into Bob McMahon's life therefore took on a different dimension and became a book in itself. I decided to publish both books simultaneously, because they are companion pieces in significant ways. I had thought for some time that a book about McMahon and Bowman needed to declare somehow that they broke the shackles of safety and security in their own individual yet similar ways, and that the titles should reflect that.
'No Chains' epitomised them. When it became necessary to have two books instead of one, the link between the two has been maintained in the titles, No Chains to Rust and No Chains in the Sky.
In writing about Bowman, who was a highly-decorated RAF wing commander at the time of his death in the Western Desert, I have attempted to allow his own voice to show his views, attitudes and values, his feelings and his hopes.
In writing about Bob, here is an excerpt from No Chains to Rust:
In 2012 he wrote this:
'We who climb, draw, paint, study and photograph rock, peer through the rock window into the great age of the earth and the processes of its making… Cliff faces, buttresses, needles, towers, stacks, zawns, crags and ultimately the biggest rock walls on earth were made into theatres of action, knowledge, reflection and creativity. To establish a first ascent is to create a work, dare one say, of art? Every climb on earth has a name and a grade of difficulty. The identity of the first ascensionist is attached to that climb for all time in the same way as a composer is to her sonata, a writer to her novel and a painter to her painting.'
The things which McMahon doesn't mention in this are the sheer physicality, the danger to life and limb, the need for great care and professionalism, the attention to detail, and perhaps most of all the sharing of responsibility and the trust in others at the most basic level of all.
Even at age 62 he was renowned for the physicality of his daily life. His normal work attire was shorts and T-shirt, hard hat, chainsaw swinging from his belt, knee guards and climbing boots. His work vehicle, which was designed to double as mobile tent, carried an assortment of outdoor education gear, climbing equipment, a huge extension ladder, various heavy tools, assorted supplies of fuel and emergency first aid bits and pieces, and repair kits.
McMahon was a man who made his living from – or more accurately in – the most challenging places of the great outdoors in Tasmania. He had an itinerary in the first months of 2013 which included taking groups of high school students on an adventure excursion in the mountainous hinterland around Ben Lomond, training people to rock climb and abseil on the sheer rock faces of Launceston's Cataract Gorge and planning expeditions in the high country for international groups. He also sporadically slotted into his schedule requests for his skills as a climbing arborist, where few others would venture, and most would only attempt with the assistance of a heavy-duty cherry-picker.
This was the routine for McMahon in the weeks and months before his death. Doing what he'd been doing for more than two decades, since the end of 1989, when he resigned his job as an art, photography and outdoor education teacher in Tasmania's senior secondary college system in Launceston.
His routine had also come to include building and maintaining a formidable vegetable garden at his home at Exeter, the produce of which he and his wife Susie shared sumptuously and extravagantly with others.
There were other aspects to the physical demands that McMahon placed on his daily life for nearly a decade up to his death. One was what he liked to call 'unfinished business', by which he meant physical challenges in various places around the world that he had determined to undertake. Sailing around Cape Horn in a yacht and setting foot on Tierra del Fuego had been something he decided he couldn't resist when offered the opportunity in 2005. Then, in 2012 he took time out to tour the wild places stretching from the Atlantic coast of Ireland to Iceland…
The main demand McMahon imposed on himself in the years preceding his death, his commitment in time, energy and leadership to the cause against building a huge pulp mill in the Tamar Valley was a high-profile public commitment. It put him at odds with Tasmania's political and business establishment, including both major political parties, Tasmania's most powerful and influential corporation, Gunns, and the various business associations throughout the State, especially in Launceston, the heartland of Gunns' dominance.
More often than not, the interface between McMahon's life in 'theatres of action', from Tasmania's Ben Lomond to Iceland's volcanic landscape, flowed almost seamlessly into his professional life in adventure education and tourism, but also informed his public life and his relationships with others. He was comfortable being his own boss, and comfortable travelling and working alone, but his gregarious capacity to work closely with other people was the hallmark of his personality.
Perhaps the decades he spent climbing, where interdependence and mutual trust were non-negotiable requirements, meant that he tended to form strong and lasting relationships forged through shared challenges. He was generally suspicious of partisan and organisational tribalism, and declined to follow a party line or hierarchical decision-making processes. His strongest ties were with people who demonstrated a willingness to challenge conventional and collective group-think, whether they be climbers, writers, activists, environmentalists, politicians and others.
No Chains to Rust does not claim to be a full-scale biography of Bob McMahon, and nor does it claim to be a history of the anti-pulp movement or of TAP. It does however, recount aspects of McMahon's life, largely through the lens of his own work. It attempts to provide a perspective of the grassroots campaign against the pulp mill and its rationale, as developed within TAP from a range of influences, given voice by McMahon and others, a perspective ultimately separate from and different to that of other anti-mill activists at community level and within the mainstream Greens-ENGOs.
Within this context, from 2004 the work of St Helens GP Dr Alison Bleaney and others, such as scientist Dr Marcus Scammell, in exposing serious problems associated with large scale monocrop managed investment scheme (MIS) pulpwood plantations replacing clear-felled native forests in water catchments and taking over large tracts of agricultural land, was particularly significant.
There was an imperative in writing about the work of Bleaney, because the results of her work provided vital information which both informed and strengthened the views of McMahon and others, of the folly of building Gunns' mill anywhere in Tasmania. Bleaney's scientific analyses meshed with other socio-economic-environmental grounds for opposing the pulp mill and the concept of monocrop pulpwood 'plantation isle' as a dominating feature of rural and regional Tasmania for decades into the future.
Bleaney, like McMahon, took on Gunns at the peak of its power, a capacity which enabled it to exert undue influence on the Tasmanian Parliament. She shared with McMahon a willingness to put herself at odds, in the most public way possible, with the Tasmanian business establishment in general, both major political parties, the powerful timber community lobby and its associated organisations and unions, and the mainstream ENGOs and the Greens.
The structure of the book intersperses chapters which are focused on the pulp mill years with chapters on McMahon's earlier life. The first chapter is about events in 2003-4 which set the scene for the pulp mill conflict, while the second chapter switches back in time to the period between Bob McMahon's birth in 1950 and some formative aspects of his life until 1969.
Similarly, a section on the events of 2005-6 are followed by a section on McMahon's life in the early 1970s. The pivotal year of McMahon's opposition to the pulp mill in 2007 is set beside aspects of his life in the 1970s and 1980s, especially his love of the Ben Lomond wilderness.
The rationale for this structure is based on the way that McMahon lived and worked throughout his life. For more than forty years the 'passage from one universe into another', from the world of work to the world of climbing, was always there.
This structure also enables McMahon's voice to be heard in all its variety, breadth and intensity, from the world of wilderness to the world of political activism. In his books the descriptions of landscape, wilderness and the vicissitudes of nature are linguistically poetic and visually evocative, revealing his profound love of the natural world. His descriptions of events in climbing in extremis, including serious accidents, are remarkable. His stories of people and places are kaleidoscopic, his assessments never neutral or obscure.
The voice of the artist, the poet and the climber which came together in his climbing books, especially Memory of a Journey, are different in tone and tenor to his socio-political commentary in Hollow lands & Hilly lands, and his voice as an anti-pulp mill activist and leader of TAP. As a speaker and spokesman in the public domain he was very forceful, especially when the political and corporate push for the mill was at its strongest.
Within this overall structure, the narrative is chronological, to give emphasis to the unrelenting, all-consuming and unremitting community energy required to maintain the campaign against the mill for years on end. Bob McMahon's leadership within that context demanded an indefatigable personal resilience and a depth of insider intuitive understanding of the community, and the variegated ways and means that individual and collective action could be sustained in the face of continuous stress and anxiety.
Peter Henning is a Tasmanian historian. He is author of "Doomed Battalion" (Allen and Unwin, 1995), a history of the largely Tasmanian 2/40 Battalion which was captured by the Japanese in Timor in early 1942, its members subsequently splintered through prison camps across the Asian region, including Japan. He is the author of Veils and Tin Hats, a history of Tasmanian nurses during the Second World War. He has contributed to the Australian Centenary History of Defence (Vol. VI: "Australian Defence Sources and Statistics", ed. Joan Beaumont, OUP, 2001), "The Companion to Tasmanian History" (ed. Alison Alexander, UTAS, 2005), various periodicals, including "Leatherwood", "40 Degrees South" and "The Journal of the Australian War Memorial". He has written extensively on issues associated with Tasmanian politics since 2007 for on-line sites such as TT, On-Line Opinion and New Matilda. He has been a history teacher in Tasmanian secondary colleges and was an Assistant Principal at Launceston College during the 1990s. In conjunction with his wife Diane he has established and operated an award-winning olive grove and processing plant in the Tamar Valley. He now lives in Victoria.
1Julian Cooper, A Fractured Landscape, Landscape Art Research Queenstown, 2012, pp. 33-34
This book and another, No Chains in the Sky, also by Peter Henning are being launched at Petrarch's Bookshop in Launceston on Friday 23 November at 6pm.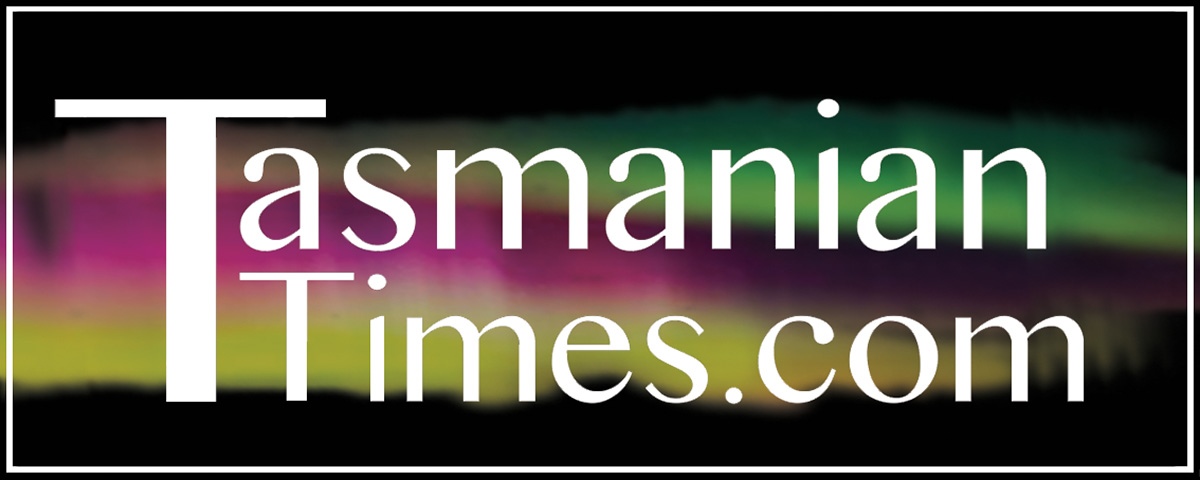 Author Credits: [show_post_categories parent="no" parentcategory="writers" show = "category" hyperlink="yes"]