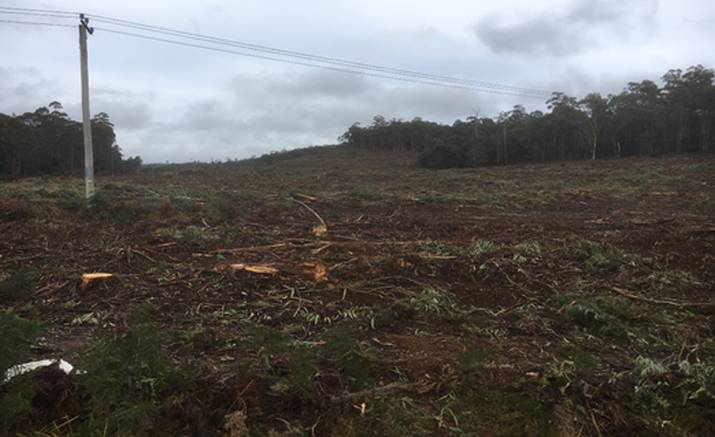 *Pic: The vista greeting tourists …
First published June 22
What a delightful scene for tourists wishing to visit the epic sites located on the Great Western Tiers – NOT!
Zoom off the boat at Devonport, compete with Double Bs along the deplorable Bass Highway with visual scenes to the south of the formidable ramparts you have been reading about in tourist guides, weave your way through the delights of Deloraine, over the bridge (any platypus down there?) and five kilometres down the road to Highland Lakes Road and BINGO!

Visuals as you turn south into Highland Lakes Road towards the Great Lake and Liffey Falls etc. The amount of scenic buffer equals NIL!

Coupe entry track from Highland Lakes Road – NO warning signs saying "Logging trucks entering" etc. There is a second entry point on Meander Road with only one sign for traffic from the east, no sign for traffic coming from the west.
What a disaster!
Who in their right mind would log in this area?
Who approved the visual impact?
Thank goodness it is not Forestry Tasmania aka Sustainable Timbers or I might just have gone to visit Minister Barnett in Deloraine and thrown a brick through his window.
No, it is Forico, and of course the Forestry Practices Plan (FPP) was approved by my old adversary the Forest Practices Authority.
It is worthy to note that on their website, Forico, inter alia, states the following Value:
"Sustainability – We prioritize safety, social, environmental and economic principles"
I would ascertain on this basis the FPP for this area (FPL0543) fails on three of these criteria.
The Forestry Practices Authority under their Compliance section in their website states:
"The forest practices system is designed to achieve high environmental standards", and goes on to say:

"Tasmania's forests are appreciated for their environmental, social and economic values"
Like Forico before it seems the FPA fails this statement on two of those criteria.
Indeed, on that same page of the FPA website, they display this photograph and attached caption.

A Forest Practices Officer identifying a roadside area of native forest which will be reserved from plantation development in order to act as a scenic buffer.
There is only one way to describe the juxtaposition of the value systems of both Forico and the FPA against the visual evidence in the photos taken at Coupe FPL0543:
FAIL
I asked the FPA to provide a copy of the FPP on 10 June and got a reply from Info@fpa.tas.gov.au that I needed to contact Forico.
This is not consistent with the FPA role as champion of forestry practices in Tasmania on behalf of the people, so I made direct contact with Chief Forestry Practices Officer and Director Peter Volker, who indicated he could provide me with copy with all relevant commercial matters redacted.
Interesting that an FPP approved by the FPA should have any commercial matters included but I am sure the usual TT forestry dinosaur trolls will point out my error.
On the 18th of June I received, in part, the following from Peter Volker:-
Quote:

I am satisfied that the applicant (Forico Pty Ltd) has notified an "Intent to Conduct Forest Practices" (Notice of Intent) to neighbours and local government in accordance with section 1 of the Policy. The Notice of Intent invites any party in receipt of it to discuss any matters of concern directly with a forest practices officer involved in the Plan.

Forico have no objection to release of a redacted copy of the Plan which removes commercially sensitive and private information (section 3.5.5 of the Policy) and requested that the land owner is consulted in the process.

Mr [redacted] objects to the release of the plan to a third party who as no obvious direct involvement in his property or the activities permitted under the plan.

Mr [redacted] may consider release of the plan, provided a number of matters are first addressed. He has made the following requests, which I consider are reasonable in the circumstances. These are, in no particular order:

· He seeks more detail as to why you are seeking information (section 3.5.3 of the Policy);

· He wants to know why you will not deal directly with the applicant (Forico Pty Ltd) (section 3.1, 3.2 and 3.5.1 of the Policy);

· He wishes to have an agreement with you with respect to payment of costs he is incurring as a result of your request (Section 3.3 of the Policy) and any further requests you may make;

· He is not comfortable with the map associated with the plan being released;

· He does not give permission for unauthorised people to enter his land.

Unquote:
This is intriguing to say the least. What exactly is Mr [redacted] endeavouring to conceal ?
I will refrain from making a comment but others might wish to so postulate.
But I would ask if the Meander Valley Council read the FPP and gave its approval to this destruction of tourism values in its area of responsibility ?
Footnote:
FFS it is now worse. Forestry operations now complete, all logs off coupe and machinery removed, and the vista from Meander Valley Road on the corner of Highland Lakes Road is beyond comprehension.
So, I have to ask the questions …
WHO allowed this scenic vista to be propagated?
Was it Forico?
Was it the FPA?
Was it Mr [redacted]?
Was it the logging contractor?
Was it the Meander Valley Council?
Or was it ALL of the above?
*John Powell was Born in Rushworth Victoria; educated at Dandenong High School and Monash University; National Service during the Vietnam War; employed in oil/gas, water, and resources sectors; proud Celt; protector of environment and Aboriginal heritages, stubborn and resolute …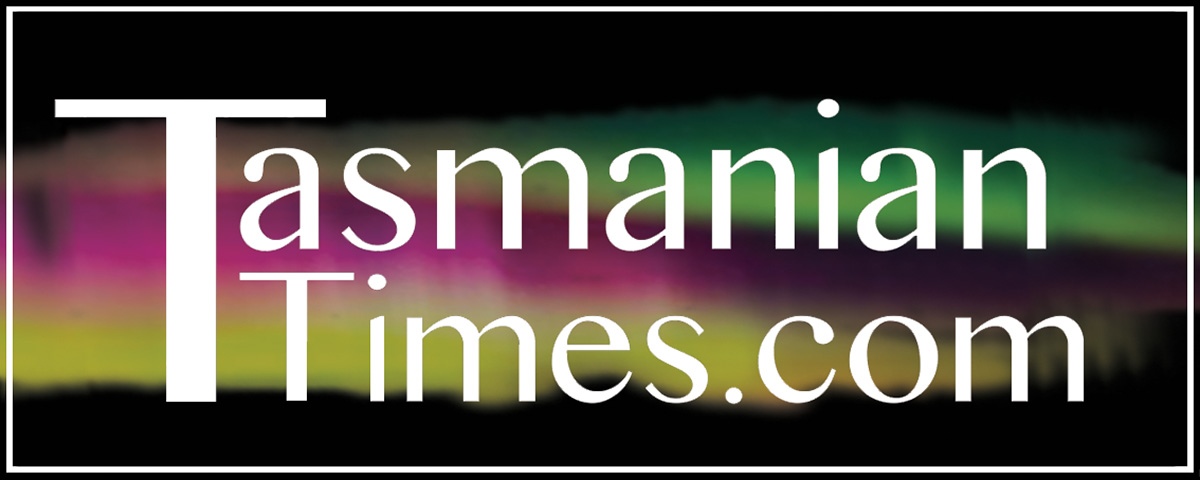 Author Credits: [show_post_categories parent="no" parentcategory="writers" show = "category" hyperlink="yes"]