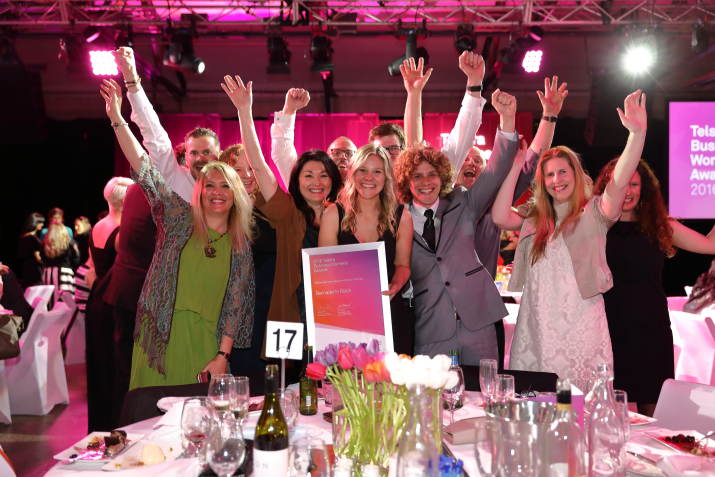 *Pic: Telstra businesswomen celebrate …
For many people, technical issues with phones, computers and internet connections are constant irritations. Such irritations are hugely compounded for those unfortunate enough to be in the grip of Telstra—the company Australians love to hate. Mention Telstra and there will be an out-pouring of vitriol and horror stories.
A call to Telstra for assistance will rank from difficult to impossible. A voice from the Philippines (usually female and always charming and eager) will gently, but inexorably, lead you into a blitz of jargon and the incomprehensible morass of Telstra's charging and billing protocols.
Even a technical Luddite like myself might suspect that the "technical expert" is learning on the job, but there is one area—having nothing to do with technology—in which Telstra experts are highly adept: misleading, obfuscating and overcharging.
This is where the real expertise lies. For this loser–company, scorned and ridiculed at every turn, the strategy is perfect and brilliant—"Confusion" pure and simple.
Inadvertent it may be—but it works! And, the longer one is a Telstra customer the better it works: Telstra insinuates itself until, for many—perhaps most—the enmeshment becomes too difficult to fathom and impossible to escape. And here, a warning: Take a wrong turn in Telstra's confounding voice-mail labyrinth and the system will hang-up on you with a polite, "Goodbye."
Telstra's CS reps will "escalate an issue" by passing it to another CS rep or another department, to be answered by someone masquerading as a supervisor, who has equally scant knowledge, or authority, or understanding of the problem. Customers are given references to conversations with CS reps and agreements reached, only to find they are bogus—no such person! No such agreement! What we are talking about is a treadmill and, truth be told, no one, including CS reps in Manila, understands how Telstra operates. Acceptance is the only answer. Emotional relief comes in occasional venting opportunities arising when in the company of other Telstra sufferers.
Meanwhile, those who have managed to avoid the Telstra Trap happily commiserate: "Oh, you're with Telstra? I'm so sorry—that must be awful!"
Well, yeah—it is!
As for history, I could just tell you that Telstra began life as a state enterprise run by the Postmaster–General's Department, and leave it at that. All you need to know. Under the PMG, the Australian Telecommunications Commission installed, and owned, the entire national wired network. A monopoly, you might call it; and one that—decades later—is still being milked for all its worth.
During the 1990s, in a stepped process, the Commission was privatized under the Telstra name and publicly listed. Overnight, the federal government became Telstra's biggest shareholder. It wasn't until 2011 when, in a final public offering, the government completed its divestiture. During that year Telstra shares traded between $2.90 and $3.30—pitiful; but, with an almost guaranteed dividend Telstra became the most widely held stock on the ASX.
As part of an economic stimulus package in the wake of the GFC, a Labor government implemented the National Broadband Network (NBN) designed to deliver fiber-optic internet technology to every Australian home and business. As originally envisioned, NBN would bypass Telstra's wired network entirely. As part of the package, ownership of the wired network passed to NBN Co, and Telstra was compensated by the federal government to the tune of $9 billion.
Tests of the technology later proved that the cost to deliver fiber optics to every user would be financially ruinous. The NBN plan was compromised before it was even built: Telstra's copper wires would have tocarry the NBN's "revolutionary technology" the last distance from the "fiber-optic node" to the user.
Internet speeds suffered as a result, and, worse for all concerned, Telstra's monopoly was handed a new lease on life. Here is how it was explained in The Australian [Aug 17, 2017]: "Telstra gets two types of income from NBN Co. One is about $9 billion of one-off payments as customers move off Telstra's network to the NBN, which obviously ends when all the customers have migrated.
"The other, worth nearly $1 billion a year, is a recurring income stream from access to Telstra infrastructure. Those earnings—and therefore dividends—included non-recurring payments from NBN Co for what is effectively the renationalisation of Telstra's fixed line business as its customers are transferred off its own infrastructure and onto the NBN."
In case it is not obvious, this gives Telstra a huge incentive to hang-on to its customers for as long as possible [read: make it as difficult as possible for them to "migrate"] before cashing them in.
Despite these windfalls, On August 17, The Australian ran the headline: "Telstra shareholders face dividend cut", and continued: "… [which] is expected to mean the overall dividend falls 29%". Telstra shares closed down 10.6% to a five year low. To rub salt into the wound, or in a lame attempt at comedy, Telstra boss Andrew Penn was quoted as saying, "We have consulted extensively with shareholders and other stakeholders and the overwhelming and consistent feedback from this consultation process has
been to ensure we are planning for the longer term … blah, blah, blah (italics mine). Yeah, shareholders and stakeholders just love capital losses of 10.6%.
Following the final 2011 divestment, then Telstra CEO David Thodey [Columbus of the Obvious] announced a one billion dollar "fighting fund" to win back market share, and a new strategy with its goal: "….for customer service to be fundamental to everything we do." The company announced its entry into social media with 24/7 coverage, and claimed in 2013 to have grown its "Live Chat" workforce to 600.
But, given the level of public discontent, the customer service budget was presumably under considerable pressure. In any event, in 2015 almost 500 workers were laid-off and the bulk of support services shifted to the Philippines. This may actually have added to the company's woes: a February, 2017 report issued by the Telecommunications Industry Ombudsman (TIO) revealed that for the period July, 2015 to December, 2016 Telstra's registered total complaints per 10,000 services increased from 5.5 to 6.8; and,
during the same period Telstra-related complaints to TIO went from 40% of all complaints to 45%.
Here are a few news posts to give Telstra's track record a more intimate and up-to-date flavor:
Crowd Support® [This is Telstra's own web page]: "Where customers answer questions and share ideas about our products and services" — one might add: "Because we don't know how to do it ourselves!"
Telstra's competitors and other pilot-fish troll this page and offer their own services to disgruntled Telstra customers—21st Century marketing at its best.
Sydney Morning Herald Feb 18, 2016 – "Sorry tale of dealing with Telstra's 'customer service'. Breaking up with Telstra is hard to do." [This one is hilarious] Choice Community [Online Forum] Feb 23, 2017: "Feeling disconnected: Telstra will do just aboutanything to avoid having to come to your house to fix your connection crisis."
www.news.com June 2, 2017 – "This could be Australia's angriest Telstra customer: It's a story of mistaken identity, phantom iPhones, pissed off police and a ruined honeymoon. All because of lazy oversight."
Breaking News Nov. 8, 2017: "Today the Australian Securities & Investments Commission (ASIC) announced an agreement with Telstra whereby the Corporation admits liability and undertakes to reimburse 42,000 customers whom it promised premium NBN speeds that it knew, or should have known, were impossible for it to deliver."
The Mercury [Hobart's newspaper] May 24, 2018: "Telstra will have to take down advertisements touting its "Unlimited" mobile plans, after a Federal Court backed Optus's claims that [it was] misleading. Telstra [was offering] a mobile plan at $69 a month for 40 gigabytes. However, Telstra caps the speed to 1.5 megabits a second once the 40 gigabyte quota is exceeded."
[As a result, in 12 business days, May 7—May 22 Telstra's share price plunged 15.7% to $2.74] "Hi, my name is Tony, and I'm addicted to Telstra."
Here is my story: Nine years ago, when I arrived in Australia from the U.S., I chose Telstra as my tech provider. It was the only name I recognized, and, I didn't know any better. I soon learned. The relationship was mired from the start, and quickly became so complex that staying in the mess just seemed easier. After all the head-banging that attended getting a phone number, internet access and mobile service, the absence a headache became relief enough—Telstra and I muddled along, primarily because I became adept at writing strongly worded letters of complaint directly to Telstra's CEO, thus provoking some kind of action.
In April 2017, I took the vacation of a lifetime—a month wandering southern Europe—Spain, France and Italy. At that time, it was necessary for me to use internet cafes for my Telstra email service. Technical problems abounded, but I will relate just one: In the middle of writing a business-related email the system would spontaneously time-out after a few minutes and disconnect. My valuable work would disappear and I would have to log-on again—and again. Then, a week into my vacation, Telstra sent a
message saying I had been blacklisted and my email service suspended. All forward planning for my European wanderings, and my business matters, descended into chaos.
I was most unhappy. On my return, I filed a complaint with the TIO. I soon received a call from "Jiro", another Pilipino and, I assumed, representing Telstra—mainly because he was adversarial and unsympathetic. Jiro made an absurd token offer to settle the matter of my email blacklist, which I refused; at which point he said he would have my complaint dismissed. It was a very unpleasant conversation. So, I then wrote to the Ombudsman asking if Telstra could do this. The answer was, "No." I relayed this to "Jiro" who responded that he was not an employee of Telstra but of the Ombudsman Service! "Yikes! What have I done?" Again I wrote to the Ombudsman—this time a humble apology. I also steeled myself to behave; to progress my complaint; and then, to gracefully move on.
Still, something didn't seem right so, after business hours I called Jiro's number. I was immediately switched to Telstra's voice mail. To this "anomaly" Jiro explained that he worked for a TIO department that dealt exclusively with Telstra complaints (which made perfect sense). Anyway, Jiro again threatened that if I didn't settle he would dismiss my complaint. This got my attention. I was worried, but I also remained puzzled—so, I wrote another letter to the Ombudsman—"Who is this guy, Jiro?"
The reply:
"The number you were called from is a NSW number not associated with TIO (which is located in Melbourne). We have no record of any staff member calling you and we do not call consumers about offers at this stage in our dispute resolution process. Accordingly, it would appear that the call you received was from Telstra."
This prompted a letter of complaint to Telstra: "Who is this person who threatens me (twice) and misrepresents himself as a TIO staff member?" Telstra's letter in reply gave a technical explanation about the "blacklist issue" which satisfied me not at all. For one, I didn't care how it happened; I cared that it happened. Further, my focus had now shifted to my friend "Jiro": I wanted to know how this character fits within Telstra and who gave him his operating instructions. The letter writer gave me his contact details
and invited me to get in touch—which I did. He never responded.
Quite vexed, I went to my federal representative, Andrew Wilkie, whose aide kindly got in touch with Telstra on my behalf. I won't bother you further. After much fruitless to and fro, Telstra's response was: "Sorry, we have closed the file." Jiro's status, the identity of his supervisor, and his operating instructions would remain secret—as with any "technical issue" that Telstra does not want to admit to, or deal with.
At this point I decided that Telstra was a problem I did not want to deal with and arranged to be connected to the NBN and a new mobile provider. No more landline; no more internet connection; no more mobile service—hooray! Good-bye Telstra!
Just a minute, there—not so fast! My first cancellation request went to Telstra on November 8, 2017. Here began another saga of CS reps who were willfully ignorant of the steps involved; CS reps who passed me up the line to other willfully ignorant CS reps and supervisors, all full of jargon and adept at simply wasting my time, seemingly in the hope I would give up and go away. It was quite extraordinary. Many hours of my valuable time produced absolutely nothing.
Here is a classic example:
Telstra invited me to reply to an email demanding payment. My reply reiterated what I had told them a dozen times before: "I cancelled this service in November". I received the following response: "Thanks for your email. This mailbox is not monitored anymore so the message you just sent won't get to us. If you need to get in touch, please
contact us."
Shoot me, please!
In summary, the bills kept coming. On March 28, 2018 I received notification that the matter would be referred to a debt collection service, and all credit agencies notified of my crimes and misdemeanors.
Soon thereafter, Probe Collections of Caufield, Victoria, was on my case and sending nasty letters. This was the last straw—again I lodged a complaint with the Telecommunications Ombudsman. On April 17, 2018 I received a nice note from Telstra: "We are sorry to see you go…. blah, blah, blah (italics mine).
"If you'd like to reconnect your service with Telstra please call us on 13 22 00 anytime.
Best regards,
Fiona Hayes
Head of Customer Service and Contact Centres"
I rest my case.
*Tony Hagar, LLB (UTas), MBA (Columbia), is a playwright and artist. He lived 40 years in New York City where, in his most recent iteration there, he was a real estate developer. He studied at Parsons School of Design and has been featured in The New York Times Real Estate pages. He is strongly of the opinion that lack of standards and lack of vision at City Hall renders the Hobart CBD and beyond (exclusive of the Waterfront and Macquarie Street) drab and of no interest to tourists.