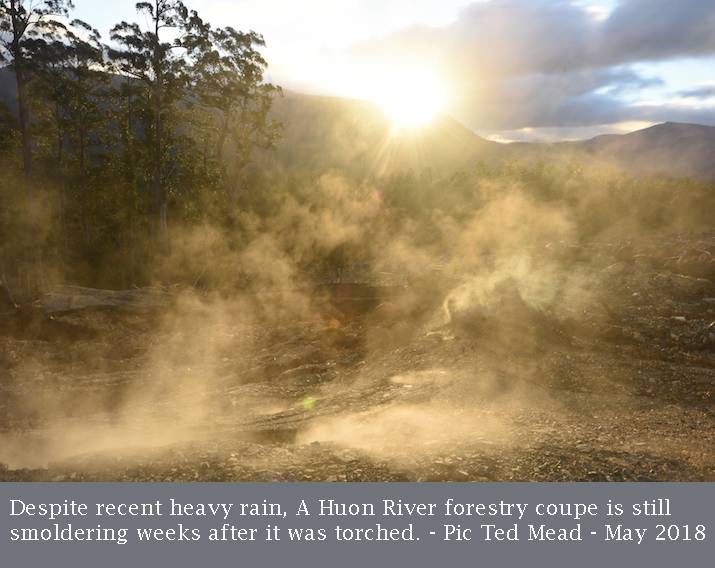 "Logging burns would not be needed (and a substantial amount of associated smoke not generated) if the forest had not been logged in the first place. It is imperative that government departments inform the public about the smoke pollution coming from logging operations, whose purpose is for private commercial gain."
http://theconversation.com/logging-burns-conceal-industrial-pollution-in-the-name-of-community-safety-96712
One would expect there is going to be considerable burning when the new Hampshire hardwood timber mill gets going. I haven't seen any mention of the air pollution which will come across the state from all areas of this operation.
This should be stated in the government's election campaigning, not just some drummed-up benefits.
It is a known fact that those downwind will suffer. Distances are so short across the state that most people across the north of the state cop it when smoke is generated in the west of the state. It is known to come into Launceston.
EPA BLANkET Technical Report 29 – Smoke in northern Tasmania from a west coast planned burn, 15th October 2014 More examples can be viewed in EPA Technical Reports.
PM2.5 particulates from any pollution source can travel up to a 1000Km and stay airborne for over a week.
It should be mandatory for forestry to mechanically clear for fuel reduction reasons and to get rid of their residue. They have generated many names for wanting to burn, but you cannot fit smoke into different boxes; smoke is smoke.
March 10 2015 – Forestry Tasmania's 150 burns are to be sneaked in with TFS fuel reduction burns
It is well proven and feasible to use alternative methods to burning; some of which are outlined here http://cleanairtas.com/departments/alternative-solutions.htm
Why should anybody be allowed to burn deliberately after reading this report on the health dangers of burning hardwood To evaluate lung toxicity.
*Clive Stott is a former city branch, vice-president of the Tasmanian Young Liberals. He doesn't like the amount of secrecy the current Liberals operate under …