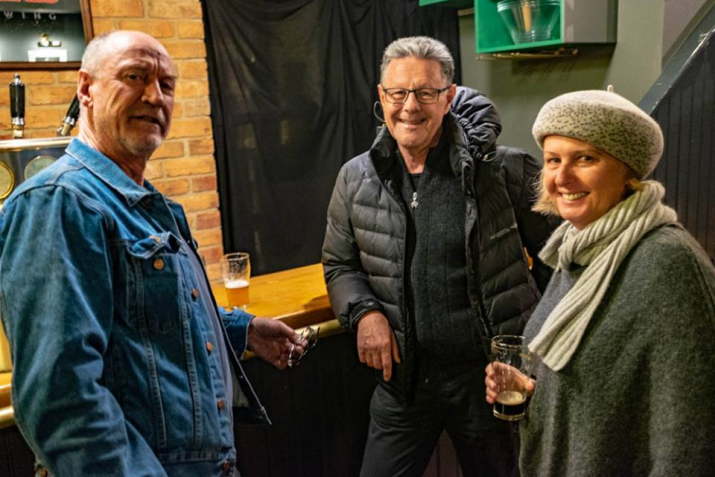 *Pic: Says Rob (on Facebook): 'Yet more editors: good friend, Michael Ward with John and Janine Webster.'

Says Rob (on Facebook): 'Former Mercury editor, Gary Bailey and former Sunday Tasmanian editor, Lindsay Tuffin, now editor/publisher Tasmanian Times. Couple of skinheads at the opening of my exhibition.'

Says Rob (on Facebook): The major advantage of exhibiting your work in the best gastropub in town: after the speeches are out of the way, you get to eat and drink with friends old and new. — with Jennifer Thain, Bill Warren, Lyndel Dean and Sulyn Lam

Says Rob (on Facebook): Tuffin and Walls, new comedy duo, getting the speech part out of the way. Photo by John Webster

Says Rob (on Facebook): 'Greyhound trainer, Craig Triffitt with Flying Alice. Ilford XP2, 6x9cm roll film back on Toyoview studio monorail with 210mm Nikkor lens.'
They say old photographers never die, they just keep on/stop developing …
Good heavens … the memories. Being in Tom McHugo's brings back wondrous memories …
… of the time 30 years ago when Al Cerny was publican … when Maloney's had a proper sports bar with a roaring log fire …
… of the time Lesley took over as publican and renamed it Montogomery's … when was that …?
It is lost in the mists of time …
And now we have Tom McHugo's where the cooking is sensational, according to copious reports from diners.
Mind you that is not surprising as the head chef – chef and manager of Tom McHugo's, Tom Westcott – was former chef of elite restaurant Franklin's, over the road in the former Mercury building.
Oh the memories … I do recall the time when we took proofs of the first edition of The Sunday Tasmanian into Monty's and read them over a few pints. We did that a few times, I recall; but mostly it was done at the pub down the road, the Hope and Anchor …
Memories … Mercury subs had a wondrous history at the (sometimes endless) supper breaks at 9.15pm. Peter 'Percy' Hercus and petit moi read poems by and, ranging from, Gerard Manley Hopkins to Shakespeare.
Let me give you a taste of what it was like … Sonnet 116: Let me not to the marriage of true minds by William Shakespeare …
Let me not to the marriage of true minds
Admit impediments. Love is not love
Which alters when it alteration finds,
Or bends with the remover to remove.
O no! it is an ever-fixed mark
That looks on tempests and is never shaken;
It is the star to every wand'ring bark,
Whose worth's unknown, although his height be taken.
Love's not Time's fool, though rosy lips and cheeks
Within his bending sickle's compass come;
Love alters not with his brief hours and weeks,
But bears it out even to the edge of doom.
If this be error and upon me prov'd,
I never writ, nor no man ever lov'd.
This was accompanied by the announcement of supper break at 9.15pm by a BONG, BONG, BONG … issued by the enormous sub-editor, who rather liked a beer, Rocky. Rocky is now, sadly, dead. Part Maori I went to his wondrous house at Mountain River … now that was an experience …
We went to a BBQ … but Rocky took such a time getting it organised we didn't get home til midnight. We got to his house about 11am.
Rocky was such a character … He was married to a full Maori and had half a dozen kids … and used to love to attend church. He was a most gentle lovely bear of man. Or that's what I saw …
On Sundays, because the pubs were closed, he used to drive his van into the Hobart City Council carpark … and invited guests used to gather for the ritual beer around the beer frig in the van for the ritual 9.15pm break. Occasionally we a bit late getting back, much to the angst of the Night Editor who must have thought: 'There is no relief … even on Sundays.'
The barbie, when it eventually arrived was utterly delicious. Meats marinated in whatever for hours on end, fresh salad … and a very unusual dessert, once again marinated in something or other …
Anyhoo, after the BONG, BONG, BONG we would adjourn to Maloney's, Montgomery's – now Tom McHugo's – to have the evening's reward of supper break … occasionally endlessly. The headlines post-supper break, in my view, were much improved on pre-supper break.
Now I also recall a night when the late Guy Parsons attempted to burn my priceless copy of Gerard Manley Hopkins' pomes, a fairly rare edition …
He was mischievous person was dear old Guy – I still miss him enormously.
Anyhoo he cast my comparitively rare edition of the selected poems of Gerard Manley Hopkins into the roaring log fire. This was not at Tom McHugo's but at a former pub, the Red Lion … remember that? It's now been redeveloped. It used to be down the road in Macquarie St over a block or two away …
I managed, by some miracle, to extract it … before the flames devoured it …
Anyhoo let's talk ever so briefly about the creator of this wondrous gallery … Rob Walls:
This is from his bio … "After competing in a couple of Sydney to Hobart yacht races and undertaking a number of assignments to Tasmania (including the opening of the Wrest Point Casino for Cleo Magazine), I found that this island had got its hooks into me. In 1990, my partner, Sulyn and I spent our honeymoon here and after ten days on the island decided that a move to Hobart would be an interesting way to underline the beginning of our new partnership. We went back to Sydney, packed our belongings and three months later we were newly minted Tasmanians."
Your gotta visit Rob's property. Sulyn has turned their property into an organic market garden. I do believe Tom McHugo's source their veggies and fruit from Sulyn …
Anyhoo … back to Rob's bio, where he explains the context of this exhibition:
"I once heard the great Magnum photographer David Hurn, say that if a photographer really has something to say, the best venue for that work is in print, not on a gallery wall. The reason he gave was because in print the audience will be so much broader than in a gallery. I took this to heart, but having now reached 75 years of age, I think I can afford the luxury of retrospection and with that in mind I'm exhibiting some of my work from the past. I hope in the future also to exhibit current work from the This Working Life project.
"I believe that the committing to the expense of putting ink to paper (or even pixels to a screen) carries with it an obligation to make coherent statements, that should as much as one can, benefit society. It was with that in mind that I convinced the media officer at Glenorchy City Council that they had nothing to lose by not publishing pictures of road works, new buildings the sewerage treatment plant improvements and the city engineer's new computers.
"My suggestion that a document showing a cross section of the faces of Glenorchy residents, the Ordinary Heroes that make up the council area would be a useful expenditure of ink and paper, was accepted. Part of my pitch was that it would be a documentation of "the butcher, the baker, the candlestick maker"… and that is exactly what it became … we have a butcher, two bakers, a candlestick maker … and a policewoman, a postman, some vets, a GP, a gardener, pensioners, the unemployed, a refugee family, an athlete, a musician, high school students, a jockey, a pharmacy assistant and a greyhound trainer."
The pictures were created between August 8 and August 16, 1995.
Anyhoo I'd better hand over to Mr Walls …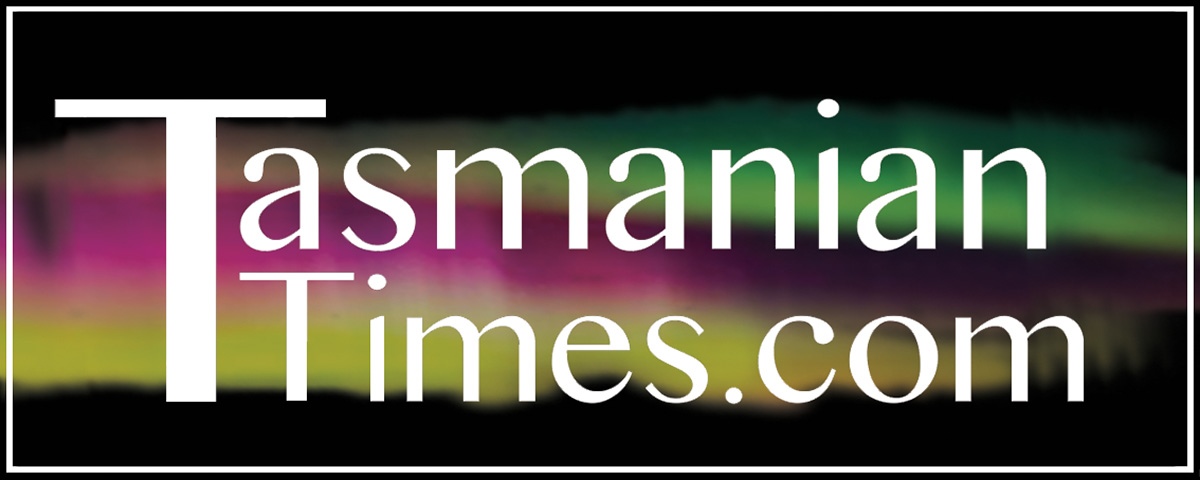 Author Credits: [show_post_categories parent="no" parentcategory="writers" show = "category" hyperlink="yes"]