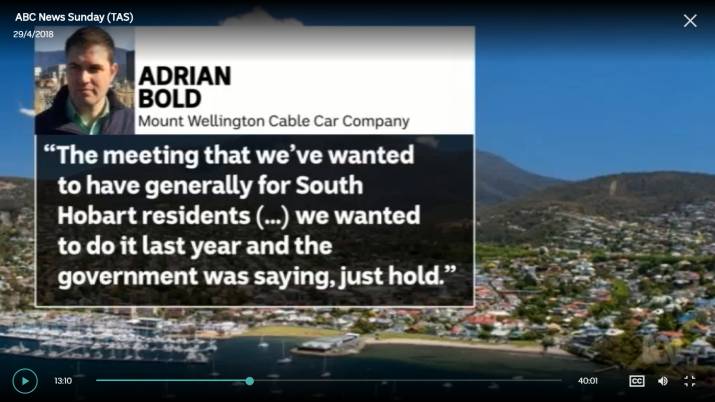 Satire: Andrew James
First published April 30
Transcription – extract from meeting between OFR residents and MWCC reps at Duke Hotel, 26 April 2018 …
At 20:29:
Jude Franks: The short version is that we've been through a significantly torrid process with government despite some indicators to think that things have been handed, there's been a significant process of scrutiny by independent committees etc. The reason that the legislation was actually framed was based on the fact that the Council position was deemed to be untenable and that legislation was voted up as a result of us being able to prove that. The areas that we were assessed when we asked the government for the project to be assessed under a Project of State Significance were the environmental, technical, commercial capacities for us to deliver those projects which we passed with flying colours in terms of their scrutiny that actually address those aspects.
From then we were asked by the government to actually keep our media activity on this quiet. The reason that the community consultation was actually cancelled is that through the project team compilation, we became aware of the fact that there was some hard coding that had been responsive to the Council's knowledge of where the project route was going to go. So as a result it became clear that to seek yet another amendment that we would need to look at alternatives. So the reason we cancelled the consultation was that we found that out two days before that consultation was going ahead. And our hand on heart position is that we're not going to come and tell you anything that isn't true.
We need to be totally transparent and that's what we're seeking to do. So we copped all the flack to do with that because we didn't have anything that we could actually tell you that was going to be of any great note. Consequently and subsequently we are continuing the discussions, the meetings that have happened with the government and Wellington Park Trust and residents have been long and robust in the scrutiny of our authority … The authority we have is only for us to proceed to do small works in the process of actually getting to the point that we can submit a development application. Our Development application we have intended to submit by July of this year……
Phil: Did you say that the Council, I mean the government asked you to keep a lid on it?
JF: No, no media. They didn't want the debate to be happening in media. We were having meetings probably some of the meetings with the scrutiny under the Tasmanian Development Independent Committee, some of our meetings were onerous, the scrutiny process was huge.
Adrian Bold: This was 2016.
JF: This was actually something that was, we weren't going to go, the reason that we went quiet was not because there is any clandestine dealings happening, we were going through a process that was really. really onerous. I've never seen in my 35 years in projectland anything that's been, that's had to declare everything from the business case through all of the aspects of, all of the um, and we thought the process was to be applauded. Why the government didn't come out and actually announce this, we're very keen, it's not our story to tell, it was their story to tell. So, when I say keep quiet we were asked to actually not debate this in the media.
Phil: So, the government just, hasn't told you exactly why, they just didn't want too much noise?
JF: No, they didn't, they saw no purpose whilst we were going through the process.
AB: Which was annoying because it would have helped us.
JF: It would have helped them as well, quite frankly and we've said this to them openly, because if they, if the local, if everyone in Tasmania had understood the process I think they'd feel a lot more comfortable that the scrutiny had been extraordinary.
AB: Yeah, well we've been put through the ringer essentially and in feedback we'd say every project in Tasmania should go through the process we had to go through …
Phil: It doesn't really bear scrutiny. It's very difficult for a group like us to believe you when you say this.
AB: This is why we're annoyed with the government that they didn't say it.
JF: They should, they need to tell, that's their story.
Phil: I'm afraid this government has done that over and over again, tried to do things behind closed doors.
JF: We've has this discussion, every request for information that's been put out by anybody has shown clearly that our communication's been at a level and has been consistent. We've had so many meetings over an onerous amount of scrutiny and every time that we actually got to a point, they could have, the government could have taken us all through a different journey had they told their story…
At 28:00
Phil: You feel that you've done enough consultation?
AB: The meeting that we've wanted to have generally for South Hobart residents we've had some great interest in it, and we wanted to do it last year and the government was saying, just hold. And all the advice was, just hold let's get the legislation sorted etc. and reluctantly we had to, we didn't know the legislation was going to fall, and we did the big announcement on top of the mountain in February with the Premier, and legislation was going to come through and we were told one thing and two months later they had already moved the goalposts with what that legislation was going to look like and then what came out for public consultation in July/Aug was it, was different again. And so we couldn't have gone to the community and said this is exactly what we're expecting this is what was going to happen and for it to be different by the time that the legislation was finally drafted. And we were annoyed that they sat on it for seven months as well.
Karl: And the meeting that was scheduled for 29 Jan?
AB: Again it was going to be the same meeting we thought we had, the legislation was behind us, we were expecting the Minister's authority any day and we thought well now we can go to the community with answers and two of our advisers came back from leave over Xmas with very definitive advice around the planning height issue, affecting some of the brewery land. There was also a personal issue that came up unforeseen but the key issue was that there was the height issue threw us because we thought we were going to be a Project of State Significance then we weren't and then when the definitive advice was saying you're going to be looking at this much for this long and this much headache to resolve the height issue over some of the brewery land it was clear that we couldn't have a community meeting and say this is what we want we want to do knowing full well that we're probably going to have change this.
• Media Release re cable car and Old Farm Road residents – 28 April 2018
The Tasmanian public have been shut out of the community consultation phase that the Mount Wellington Cable Way Company (MWCC) claim to have undertaken. Two public meetings with South Hobart residents have been cancelled in recent years. Several weeks ago, residents of Old Farm Road received a postcard from MWCC asking us to meet with them as 'valued neighbours' to discuss the 'construction phase' of the project. Residents felt manipulated into thinking that construction was inevitable, despite the lack of a development application.

On Thursday April 26th, Old Farm Road residents met with the MWCC. In response to residents expressing their concern about the lack of community consultation to date, MWCC representatives stated that the State Government had asked the company to 'keep [their] media activity on this quiet … They didn't want the debate to be happening in media.' Regarding meeting with the South Hobart community in particular, MWCC stated ' … we've had great interest in it and we wanted to do it last year and the Government was saying just hold.' This is supported by the attached excerpt from the transcript.

The Mercury today reported, "The government dismissed the claim it had influenced the consultation process". The claims by the MWCC and the government are inconsistent.

'For us as residents, this advice is very concerning. It suggests that the State Government is undemocratically promoting the interests of a private developer above those of the community at large. It is alarming if the Government was requesting Ms Franks and Mr Bold to explicitly exclude the public from this conversation about the future of Mount Wellington/kunanyi. We call on the Government to clarify their position', Lou-anne Barker from the Old Farm Road residents' group stated.

At Thursday's meeting, plans were flagged that indicated the proposal would also impact Lenah Valley. 'We hope that the Lenah Valley residents have been better consulted than us'.

The residents will be attending, and urge the community to attend the 'Mountain MayDay, No Cable Car' event on May 6th at the Cascade Gardens, 11am.
Mr Christian Rainey
Community Liason Officer
Mt Wellington Cableway Co.
Dear Mr Rainey,

I am writing on behalf of the Old Farm Road owners and residents (and as the owner of 57 Old Farm Road) in regard to our planned meeting with you and Mr Bold from Mt Wellington Cableway Co.

Thank you for agreeing to our suggested meeting time and place – we are all eager to finally hear what you have to say about your proposal.

Our group has agreed that we do not wish this meeting to be "off the record". We intend to audio record the meeting, and fully expect that you may wish to do the same. We hope that this promotes candour, transparency, and accountability.

Regards,
• Les Crawford: Letter to the Editor on … openness and transparency
• Animal Justice Party: Animal Justice Party calls for transparency and accountability with investigations
• ABC today (Tuesday): Hobart cable car proponents told to 'keep quiet' ahead of fast-track status approval
• Peter Gutwein: Mount Wellington cable car works
• ABC: Mount Wellington cable car project derailed as company instructed to halt preliminary works
• Campaign Against the Cable Car Reaches Dizzying New Heights Today a group of local climbers will establish a suspended camp on the Organ Pipes of kunanyi/Mt. Wellington, 1100 metres above sea level, on the planned route of the cable car to protest the proposed development. The group will be sleeping suspended on the 100 vertical metre cliff face to send a clear message to the community and to the Mount Wellington Cable Car Company …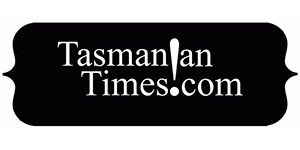 Author Credits: [show_post_categories parent="no" parentcategory="writers" show = "category" hyperlink="yes"]