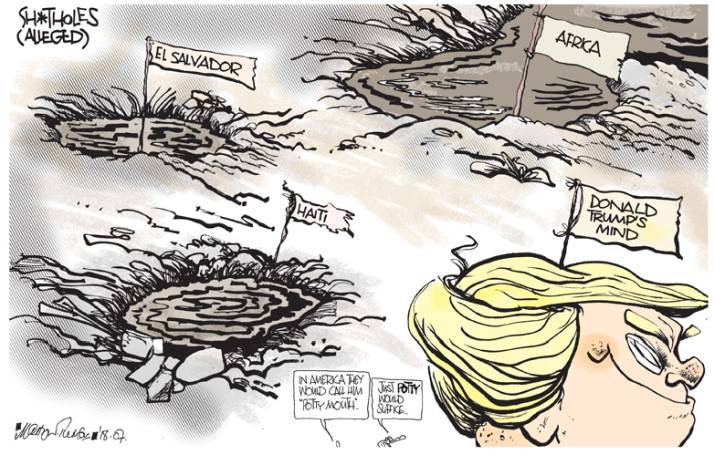 *Cartoons: Martyn Turner, used with permission: https://www.facebook.com/martynturnercartoons/ . http://www.irishtimes.com/opinion/martyn-turner
There's no doubt that the US President Donald Trump is, as he recently tweeted, a genius.
Trump is the mad, bad, and rad that thrives on divisiveness.
He has succeeded in demeaning the office of the President of the United States.
At war with the sanctuary cities, the US intelligence community, diminishing US presence abroad by sidelining the State Department, threatening the US federal polity by creating schisms with states like California, picking fights with foreign leaders, and the list goes on.
"I went from VERY successful businessman, to top TV Star … to President of the United States (on my first try). I think that would qualify as not smart, but genius … and a very stable genius at that!"
A legend in his own mind, Trump is anything but "stable" as he asserts, since his inauguration exactly a year ago today, his administration has been anything but, lurching from one crisis to another, mostly self-inflicted, and always by the most basic medium of communication: the 140 character tweet!
Tongue-in-cheek, the Norwegian satirist Eirik Bergesen posted:
Sorry, @realDonaldTrump, we Norwegians don't want to emigrate to countries run like shitholes.
Trump is clueless of the damage he is wreaking not only to US but also to the free world, and indeed the rest of the world.
For example, by walking away from the Paris climate change agreement.
His isolationist instinct is creating havoc to the delicate web of international strategic and trade treaties that bind the free world.
Today the US Government has ground to a halt because Trump and Congress were unable to agree on a stop-gap measure to continue funding government services.
Rather, Trump has been chaotic, and his administration riven by disunity among his team as portrayed in Michael Wolff's Fire and Fury – Inside the Trump White House. He foments strife between his offsiders.
So why is Trump a "genius"?
In a population of 324 million to one probability, Trump gamed the American political system, never believing himself that he would assume the US Presidency, as related in this "tell all behind the scenes" book, even to the horror and dismay of his 'trophy wife' – again to use Trump's rather insulting phrase.
Trump stumbled into the top job by accident.
Stumbling into the heart of the US polity, Trump is like Chauncey Gardiner in the movie Being There.
Trump has undiagnosed autistic traits with something akin to a high-level functioning asperger's with a string of obsessive-compulsive disorders. While not as obvious as Vladimir Putin, his delusional statements that he is a "stable genius" having somehow reached the highest office in the USA is cause for very serious concern.
Particularly when he tweets that he has a bigger nuclear button.
This is why the 25th amendment keeps coming up when raising Trump's mental competence to serve as US President.
This provision allows for the Vice President to become president in the event of death, resignation, removal from office or impairment that prevents the current president from fulfilling his or her duties.
Assistant professor from Yale in forensic psychiatry, Bandy Lee, has led a group calling for an emergency evaluation of Trump's mental ability, indeed briefing some members of Congress late last year given his erratic and possibly unravelling behaviour as President.
Should we be worried?
Over the past forty years Trump seems to live in a virtual reality of wheeling-and-dealing in a world of casinos and golf courses, and built a dodgy real estate empire evading taxes and dealing with dubious characters.
In 1987 the Australian police investigation in New South Wales killed off Trump's plan to build and operate Sydney's first casino with the late Australian developer Barry Paul, because of mafia connections.
Somehow Trump's shady dealings has been able to evade the attention of the US authorities over the last 30 years, to become the US President.
However, this may come to an end.
FBI Special Counsel Robert Mueller's probe of Russian meddling in the 2016 election, and the alleged collusion between Trump's presidential campaign may well have repercussions for the president.
It is generally accepted within intelligence circles that Russian meddling did occur, but any collusion between Trump's campaigners and the Kremlin is harder to prove.
Regardless of the latter, we have a fake president in the White House.
Let's make sure Trump does not start a nuclear World War 3.
*Phil na Champassak *Phil na Champassak, above, owns The Madsen Boutique Hotel in Penguin and is a founding board member of the Cradle Coast Innovation Inc whose purpose is switching on innovation in a regional context and enterprise, and formerly a board director of the Cradle Coast Tourism Executive, the regional tourism organisation for NW Tasmania. Formerly a diplomat and DFAT policy analyst, Phil has worked on trade, aid, public diplomacy, consular, international security, and bilateral relations with PNG, the US, and NZ, and was most recently DFAT State Director for Tasmania. Prior to that Phil worked for the UN Development Programme in New York, West Africa and PNG. Phil also served as election monitor to the first elections in Cambodia (1992) and South Africa (1994) and was a peace monitor in Bougainville (2002). He has contributed to publications on human rights, election monitoring, and UN issues. Awarded in 2003 a Australian Service Medal. Phil was a guest of ABC Radio Richard Fidler's 'Conversations' in November 2013.
And … it's not only in Australia that house prices are doing weird things …

*Cartoons: Martyn Turner, used with permission: https://www.facebook.com/martynturnercartoons/ . http://www.irishtimes.com/opinion/martyn-turner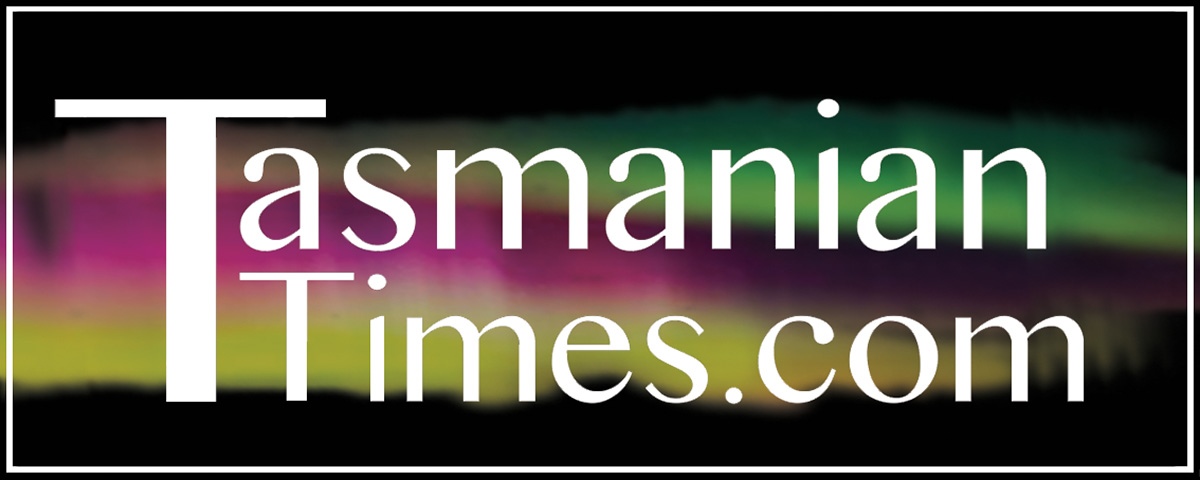 Author Credits: [show_post_categories parent="no" parentcategory="writers" show = "category" hyperlink="yes"]