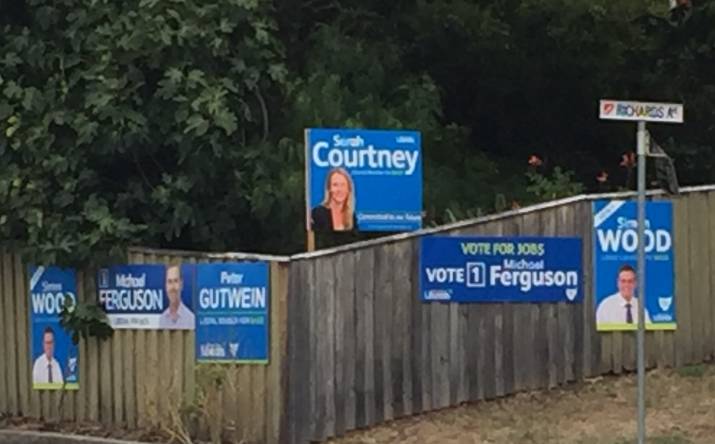 *Pic: Blue sea … Lib pollies spruik their appeal for the March 3, 2018 state poll …
First published Feb 21
After her recent axing by Mercurius, the Roman god of financial gain, commerce, trickery and thieves, we offer a big welcome to our erection guru Windi who is visiting Van Diemen's Land as the Tasmanian Liberal government's senior advisor on tourism, bovine effluent and methane.
Over to you Windi – and a big welcome on behalf of TT and all its readers.
The current Sea of Blue surrounding every city, town and village is visible evidence of a pending Tasmanian election as we, the born-to-rule, strive to lower the bar by using our clever new advertising slogan … Taking Tasmania to the next Level.
In less than three years our beloved leader, the eye popping Willie, has blown his attempt before the United Nations to roll back the World Heritage Listing over Tasmanian forests in order to allow the logging of the iconic Western Tiers, played a blinder over the Triabunna chip mill, enabled the salmon industry to pollute the pristine waters of Macquarie Harbour, and hopped into bed with the gambling lobby.
[i]The question now is this:[/i] Can young Willie achieve the ultimate and drop the bar altogether? With my help I think the answer is Yes.
We see before us an army made up of the same old powerful faces with their colours nailed to the wall in a Sea of Blue, all generously paid for by our very rich friends, the one-armed bandits. These living Liberal fossils promote the clearfelling and burning of our beautiful island's landscape to the benefit of a billionaire from Sarawak, who we here count as a real friend.
This epic only costs the hard-pressed Tasmanian taxpayer a million dollars a week to keep on the road – but what is a million a week if it keeps the boys happy?
Some cynics say that this burning is designed to force those who cannot breathe, and the tourists, the undeserving poor and my good self, into those welcoming pubs and clubs which will not survive the stormy blast if their bandits are rounded up and shown the door.
Willy and his merry men are still light on female candidates, and this is sad because they come in real handy when it comes to elections.
The guru in this field is a lady from Dallas known to be a descendant of Daniel Boone and now very close to Mercurius who considers the "toothpick" (as the Texans call the penile bone of a raccoon) to be the ultimate good luck charm. I pointed out to her during our one brief and difficult meeting that it did not always work, and I quoted another Texan of note, one Davy Crockett, who was still clutching his silver-mounted "toothpick" and wearing his famous coonskin cap when he croaked at the Battle of the Alamo.
As a point of interest this has made this special bone [I]de rigueur[/I] for all self-respecting rednecks from Tennessee to Tasmania.
Jerry promptly drew my attention to the sledgehammer bone of the Walrus whose size has caused we ladies To talk of Many Things: Of shoes – and ships – and sealing wax — Of cabbages – and kings …
As a result of all this, and going with the flow, I have acquired three Shawnee silver-mounted lucky-bone pipe stoppers, and a Pipe of Peace and a walrus whacker made by the Chukchi Eskimos to be shared, smoked, tamped and waved to bring us good luck when I meet that larger than life Willie Down Under during my TT erection interview.
Now that I have the inside track from the guru herself regarding the power of these, my new-found charms, I will cast their spell and Willie will drop the bar completely, thereby Taking Tasmania to the next Level whereupon Cass and Becks from Wonderland can ask respectively why [I]The sea is boiling hot, and whether pigs have wings.[/I]
*John Hawkins was born and educated in England. He has lived in Tasmania for 13 years. He is the author of "Australian Silver 1800–1900" and "Thomas Cole and Victorian Clockmaking" and "The Hawkins Zoomorphic Collection" as well as "The Al Tajir Collection of Silver and Gold" and nearly 100 articles on the Australian Decorative Arts. He is a Past President and Life Member of The Australian Art & Antique Dealers Association. John has lived in Australia for 50 years and is 75 this year. In two of the world's longest endurance marathons and in the only teams to ever complete these two events, he drove his four-in-hand team from Melbourne to Sydney in 1985 and from Sydney to Brisbane in 1988.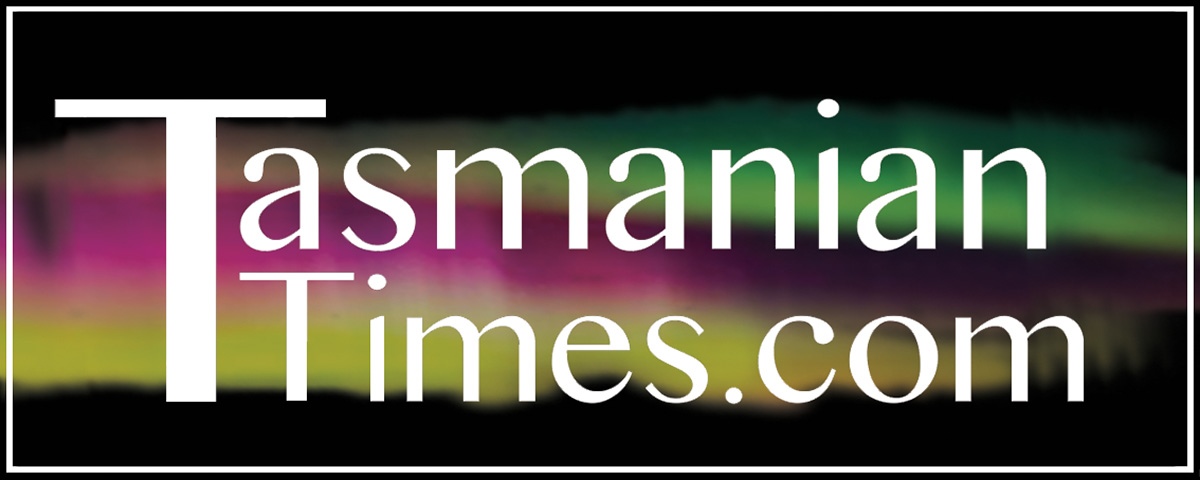 Author Credits: [show_post_categories parent="no" parentcategory="writers" show = "category" hyperlink="yes"]