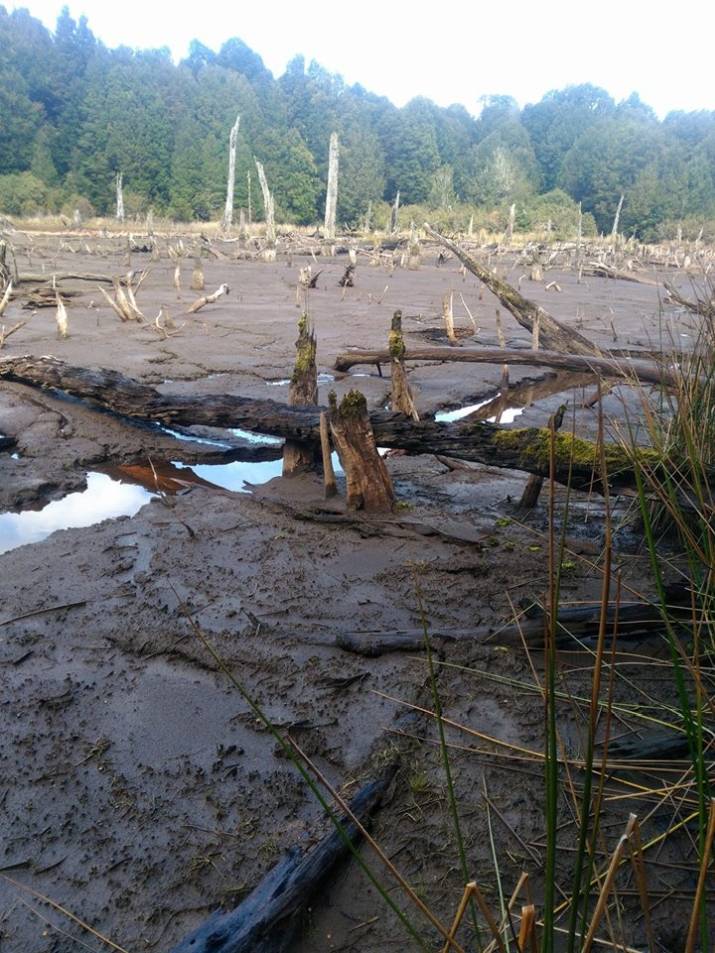 *Pics … Waratah Reservoir north arm since lowering

Original Waratah signage before removal

Original Waratah signage before removal
TasWater says it "is responsible for providing drinking water across the State" and …
"Our vision to provide better services for Tasmania is assisted by our five values and behaviours:
> Honest and straight forward – We uphold the values and behaviours of TasWater in every action and decision
> Getting it right – We will develop responsible solutions and strive for continuous improvement in all that we do
> Long term thinking – We will deliver outcomes that are in the best interests of the Tasmanian Community
> Working together – We will work together as One TasWater to meet the expectations of our customers
> Taking ownership – We will take personal responsibility for meeting commitments
By living these values and behaviours, we can achieve our vision to provide better services for Tasmania."
Thus far the community of Waratah has not experienced any of these core visions, has basically been ridden roughshod over and told by TasWater that they are going to try to sell the Waratah Reservoir and if not "we are going to decommission the Waratah Reservoir by winter 2018."
The next scheduled meeting between TasWater and the Waratah Community will be in the Men's Shed (21 William Street, Waratah) on Tuesday 13th February 2018 at 6.30PM.
The Waratah Reservoir was previously maintained by Cradle Mountain Water Authority but the responsibility was handed over to TasWater in 2013. TasWater says that the Waratah Reservoir isn't part of the town's water supply or needed, despite the former Cradle Mountain Water signage stating the opposite and the obvious. The lower ponds and the iconic Waterfall will hardly survive a summer without the Waratah Reservoir's storage and input.
Waratah Reservoir was built in the early 1900s, to provide a continuously flowing stream of fresh drinking water for Waratah Township and industrial usage. The dam made available a Reservoir of water during droughts and could operate as a flood-mitigation device during unseasonal storms.
All through its century of service Waratah Water Reservoir also served as a recreational resource for its community and as a financially beneficial tourist attraction for the town. Waratah Water Reservoir provides a continuous stream of freshwater into the smaller and shallow Waratah Lakes, in Waratah Township. Waratah Lakes are used by the town's youth as a focal meeting point and recreational swimming spot. Visiting tourists find it a welcome place of rest and relaxation. They enjoy the picturesque setting of the well-maintained caravan park and camping area next to its shore. The stream of freshwater from the reservoir eventually discharges over the Waratah Waterfall right smack in the middle of the town, a unique landmark in Waratah Township.
Waratah Water Reservoir has been viewed by Waratah residents for generations as community property; and its proposed total destruction by TasWater is being regarded by many community members as vandalism, by some as theft. And there is perfectly good justification for those sentiments. A search on 30.1.2018 with Crown Land Services revealed that effective from 15.6.2005 Crown Land parcel CID 1255871 was declared a Public Reserve. This tenure should lend ownership to the greater Australian Community. Instead TasWater, which has been entrusted with management and maintenance of this asset, has the audacity to act out the role of the asset owner. TasWater states that this asset is worthless to its operations and has started to destroy it. Instead, TasWater should enthusiastically follow its charter as the trusted custodian of this wonderful public resource, which has been providing healthy, fresh water even during the driest of summers. Over its more than one hundred years of existence Waratah Water Reservoir became a natural environment for many protected species of flora and fauna. It has been a place of serenity and inspiration for many Waratah's residents.
Waratah Community's wealth per capita may be less than that of many other towns. But most people who live in Waratah share a common bond: Appreciation of the treasures of our environment and nature's gifts, which make this town and environs unique. In addition, this water storage facility is part of a sophisticated network of natural and artificial waterways, reservoirs, water-races and water tunnels designed to optimise water supply for the township of Waratah, constructed and refined during the previous century. Every part of this network represents heritage value and must not be senselessly destroyed based solely on financial benefit considerations.
TasWater has a chequered background in its relationship with State Government. Earlier this year it removed defensive material from its website. Regarding the Waratah Reservoir Dam, it worked well for 100 years, however after four years of TasWater maintenance it is less safe than TasWater received it. TasWater needs to do the risk mitigation work, which Cradle Water identified in their August 2013 handover document, and fix the damage, which it did to the installation.
Over a period of 100 years, until the formation of TasWater in 2013, the Reservoir's dam was mainly maintained by the local workforce. Some of the local specialists have provided the following information:
> TasWater's maintenance operations damaged the waterproofing clay layer of the dam with machinery when preparing the upstream side of the Dam for the placement of riprap.
> TasWater's excavation below the toe of the dam searching for potential leaks, and excavation at the outlet valve impacted the dam's structural integrity and increased its permeability.
> Piping and other weaknesses in the dam were also contributed to by inadequate keying-in of dam repairs.
> Searching for voids is generally conducted by either ground penetrating radar or by vertically drilling into a dam surface; until a loss of resistance indicates a void, which is subsequently filled with pumped low cps concrete. A system of such drill holes is cost-efficient and can be used for investigative as well as repair purposes.
> A meeting with local experts would have had the potential to provide a more cost-effective and professional maintenance regime, as well as lower repair cost to fix TasWater's mismanagement.
Some facts to start:
TasWater's poor maintenance regime ruined the dam. The dam needs to be fixed. Trying to palm one's shoddy workmanship off onto someone else is irresponsible and dirty business practice. And to try and hide behind the word 'safety' sounds hollow unless supported by appropriate Risk Assessments and Risk Management rather than ad hoc action motivated by ulterior motives. Once it is fixed to a standard acceptable to the Dam Safety Regulator, TasWater can continue to maintain the Dam – and to do so in a professional manner, like a good public water utility should do…
A 2013 Risk Assessment conducted by the Cradle Mountain Water authority identified further data which were needed to fill five major knowledge gaps. None of these knowledge gaps have been addressed by TasWater.
Thirteen Risk Mitigation measures were proposed by the Cradle Mountain Water Assessment in 2013. None of these measures were implemented during four years of maintenance by TasWater.
It seems in breach of State and Federal Laws the TasWater works recently carried out damaging the Dam, and the subsequent lowering of the dam by 2.44 metres (to an estimated 10% of its former volume), was done without any prior Environmental Impact Statement Assessment. Enquiries to the Dam Safety Regulator's office also denied they had been involved despite TasWater stating the opposite.
With the drastic lowering of the Waratah Reservoir level, what has already happened to the resident Platypus, Freshwater Crayfish, disease-free Tasmanian Devil, Eastern Quoll, Swift Parrot, Wedge-tailed Eagle, trout, and other formerly long-established populations that depended on it, as well as the natural (and bushfire protective) rainforest it runs through?
Is TasWater a Law unto itself?
Has the State Government control over it? When was TasWater's last cyclic audit; who was their EXTERNAL AUDIT CONSULTANT? If there was such an audit, was there any corrective action, and subsequent review? Are the 29 Local Authorities still controlling TasWater? Make no mistake, with (according to Wikipedia) total assets of 2.2 billion dollars, it would be 'small change' for TasWater to buy all of Waratah, without even noticing a dent in their budget. Compared with TasWater's influence and power, the Waratah Community is 'small fry'. And considering TasWater's conduct: it has been acting as a rogue operator. TasWater has postured as a bully, and as such is probably too insensitive to perceive community values or comprehend social and cultural values.
The Waratah Community hereby urgently requests a stay of proceedings in the destruction of the dam of the Waratah Water Reservoir and cancellation of the proposed re-purposing and disposal of consequentially available land surface. Correspondence by TasWater as well as its "Community Engagement Meeting" with the Waratah Community was misleading, deceitful and disrespectful. Under the pretext of safety considerations, TasWater staff, claiming the status of a management authority, acted out the role of an asset owner, riding roughshod over the Waratah Community and external stakeholders, their environmental and other concerns.
TasWater threatened and already executed part of the destruction and disposal of the Community asset of exceptional matchlessness. Information of significance was withheld from the Waratah Community. It is now time to have this TasWater project transparently audited from legal, environmental, heritage (including Aboriginal), technical and financial perspectives.
The Waratah Reservoir is a Public Reserve on Crown Land, therefore it is land owned by all Australians so how can TasWater sell something which they don't own?
TasWater says it is in the interest of community safety to save us from a 1 in 1,000 year flood event (there have only been 100 years of records!), but in the middle of another exceptionally dry year in the north west of Tasmania just two years after another which saw the north west burn for months, how are we going to defend ourselves against bushfires?! Will TasWater be responsible for such a tragedy? Why in these times of poor and uncertain rainfalls should we be decommissioning perfectly good Reservoirs? The Waratah Community doesn't want to end up having to truck in or boil water like so many other Tasmanian towns when they already have a perfectly good Reservoir.
The Waratah Community needs your help now!
This is an invitation to members of the Waratah Community, the Tasmanian public and its political representatives in State, Federal and Local Government as well the local and National Media and all interested persons or organisations to participate in this concerted action to make TasWater stop … and account for their disrespectful conduct and violation of the rights and property of the Waratah Community, its chain of unchecked vandalism upon the greater Waratah Environment and the liveability of our town.
TasWater needs to repair their maintenance mistakes, return the dam to be a functional, structurally sound installation at its pre-existing maximum supply level, and provide an effective long-term maintenance schedule: As a good water utility should do.
Shame on you TasWater!
*Bill Smith while anonymous, is known to the Editor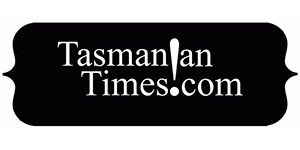 Author Credits: [show_post_categories parent="no" parentcategory="writers" show = "category" hyperlink="yes"]