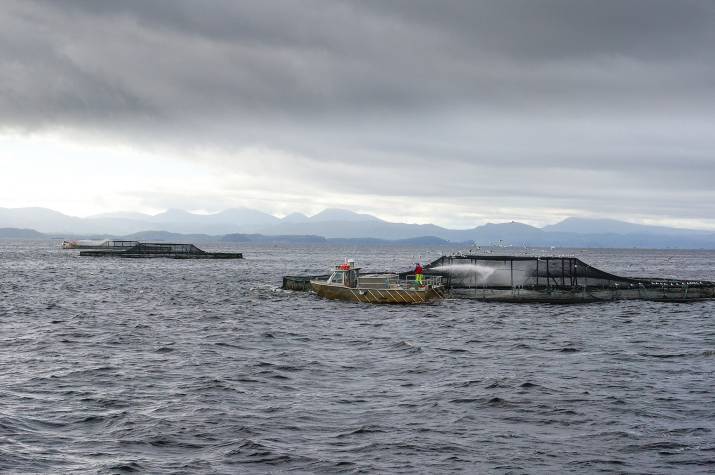 *Pic: Fish farming in Macquarie Harbour. Rodtuk, Flickr
First published November 17
Senator WHISH-WILSON (Tasmania) (20:10): I rise this evening to talk about salmon aquaculture in my home state of Tasmania and, in particular, the job prospects associated with plans to expand the salmon industry. The salmon industry grows and sells fish. For all intents and purposes, this is the industrial production of protein, with an eye on growing protein at the lowest possible unit cost, to remain competitive and outcompete other forms of protein. There are big plans to expand the industry. The industry is experiencing growing pains, polluting the environment and riding roughshod over local communities, mostly thanks to weak Tasmanian state Liberal and Labor governments, who have stubbornly refused to properly regulate the industry.
The industry is also at war with itself and in the courts over this poor regulation. Huon Aquaculture, the nation's second-biggest salmon farmer, is suing the state and federal governments over poor regulation and allegations of regulatory capture, or favouritism towards the No. 1 player, Tassal. It's hard to fathom a private company taking a state or federal government to court over lack of regulation, but that's exactly what's happening. Public support for and trust in the industry are at an all-time low. The expansion of fish farming, with its impact on the environment and local communities, is now a significant election issue, and we are expecting a state election in Tasmania by May next year.
I will say here tonight that the Greens are the only political party who have consistently held the government and the industry to account. The Senate inquiry that I initiated in 2015 was very important in shining a light on the impacts of the industry and why it needed significant independent regulation and checks and balances. If some of the Greens' recommendations had been adopted, we probably wouldn't be in the mess we're in now. We'll continue to stand with Tasmanian communities and we'll continue to protect the environment.
We are opposed to the expansion of the industry on the east coast of Tasmania and want farming at Macquarie Harbour wound back to pre-2012 expansion levels given the significant environmental damage we've seen in that beautiful part of the world. We want to see the industry go onshore, using sustainable closed-loop farming methods, powered by renewable energy, or we want to see the industry go way offshore rather than expanding around the beautiful inshore waters in our state of Tasmania.
Against this background, the government and Tassal are spruiking jobs as the basis of their social licence to operate, and the industry continues to expand, especially on the east coast. Thus it has always been in Tasmania, starting with hydro's expansion and the damming of the Franklin—jobs. Then it was the Wesley Vale pulp mill —jobs; the Tamar Valley pulp mill—jobs; propping up a failed forestry industry —jobs; and now controversial salmon farm expansion—jobs, jobs, always jobs. In the case of salmon, how much of this promise is just a jobs mirage? Last week a document was sent to my office. It was sent anonymously. As such, I declare from the outset that I'm not able to verify its status. It doesn't say 'commercial-in-confidence', 'private', 'confidential' or 'internal', but it looks very much to me like an investment proposal to either invest company funds or seek finance to upgrade technology to enable the replacement of unskilled feeding jobs on salmon lots with much fewer skilled jobs and new technology.
It clearly suggests that this is the future of the industry—it says 'exciting' future of the industry—if the industry is going to thrive and compete with offshore salmon companies.
After doing my own research and having discussions with stakeholders, I'm confident that the information is genuine and that it raises legitimate questions that demand answers—questions and answers clearly in the public interest.
It would be a very elaborate exercise to have falsified this document. It has very detailed analysis of very specific subject matter, including detailed cost tables and technical specifications. Even though there is no indication that it is sensitive or commercial-in-confidence, I have assumed that it is and have therefore redacted any data not directly relevant to public and, indeed, political claims about Tassal's future employment of Tasmanians.
The document I talk of is authored by the head of aquaculture and the CIO, chief investment officer, at Tassal, entitled Future Feeding. It sets out a proposal to automate Tassal's feeding program. The document states:
This project will provide an overarching feeding solution across the company by embracing state-of-the-art cameras, feed systems, communications and software to enable the feeding of our fish across all zones from one central location.
It goes on to say:
This project underpins 50 per cent of all cost reductions for MOPs (meaning marine operations)—in the new strategic plan for the company.
The document also states:
The payback is significant. If we don't act, we will fall behind targets and competitors.
And:
… capital and operating costs are already included in the strategic plan.
So why is this automated feeding program such a good investment? Because it involves job cuts. The document states:
Leveraging centralised feed systems and technology means that it will be possible for one feed operator to concurrently feed nine pens, whereas the current max is three.
The detailed tables set out labour cost savings and show a projected increase in feed staff under Tassal's current feeding method from 65 to 105 by 2025. However, using the automated feed system method, instead of an increase in staff over coming years, the number of feed staff in 2025 will be just 35, nearly a third. The document even sets out planned redundancies for workers who have yet to be employed by Tassal. The document helpfully explains that this land-based central feeding will result in a reduction in the number of feeders to a third of existing method requirements.
So, again, why is Tassal's feeding strategy and its commercial considerations of interest to this Senate and a matter of public interest? It is because Tassal, with the full-throated support of both the Liberal and state Labor parties, have been telling Tasmanians that their salmon farm expansion in Tasmania will create jobs—jobs in regional centres like Triabunna, adjacent to the pristine Okehampton Bay. When announcing their plan to put 800,000 fish into Okehampton Bay, the Tassal CEO said that it could create up to 40 local jobs.
But this document sets out a very different reality. The document clearly shows that Tassal is at least planning to cut jobs if it upgrades its automatic feeding systems. This information document clearly outlines a loss of 20 jobs directly at Okehampton Bay under this future scenario, associated with upgrading to higher-skilled, better-paid workers, mostly based in Hobart.
So my question to the state government, who are spruiking a job-rich salmon industry as a basis for a social licence for the Okehampton Bay project, is: are you aware of a plan to cut jobs and use technology? Are you aware if it has been accepted by the Tassal board? Are the 40 jobs stated by the Tassal CEO in his public statements net of the 20 jobs to be lost as forecast in this document, or is it only likely to be 20 jobs at Okehampton Bay — half the figure publicly stated by stakeholders?
Ultimately, it is up to a company if it wants to invest its shareholder funds or seek finance to restructure, upgrade or innovate and replace labour with technology. That's a sad fact of the commercial world, especially for workers.
Indeed, it is the future of work, which we all have to face, across many industries. Fine, if that's your decision. I just don't want to see Tassal or Jeremy Rockliff or any other politicians running around telling porky pies, giving communities a false sense of hope and using misinformation to win political campaigns. It's important this is cleared up and, if it proves that this document is the future pathway for the salmon industry in Tasmania, it must be factored into social, economic and political debate on salmon farm expansion in Tasmania. In my last 10 seconds, I seek leave to table a document that I've referred to in my speech.
The ACTING DEPUTY PRESIDENT ( Senator Ketter ): Is leave granted?
A government senator: No.
The ACTING DEPUTY PRESIDENT: Leave is not granted yet, Senator Whish-Wilson. Perhaps you could circulate that to the whips and we'll have a look at it.
• John Biggs in Comments: … Not surprisingly perhaps this completely backs up Christine Milne's claims ( TT HERE ) that corporate donations and like with Gunns, corporate mates and to hell with the public interest. Christine's claims that the Greens are the only party that put public interest first. That message is so obvious yet so deliberately avoided and distorted by the major parties and some minor ones, and the press. This so easily may be taken further to systemic levels: that is, that the Westminster system and its reliance on two party government and opposition is so easily open to corruption. A multi-party and power-sharing system is so much less open to corruption because the voting keeps shifting issue by issue. While we are unfortunately a long way from that, one easy step of major importance would be to ban corporate donations both local and foreign to political parties …
• Geoffrey Swan in Comments: … despite all our efforts (and yours at the 2015 Senate Inquiry) Huon Aquaculture continues to this day, now 10 plus years on, to discharge 26 million litres every day of the year of fish poo, fish sewage, fish effluent, fish shit … into the once-pristine Russell River in Lonnavale. This company is showing no interest in protecting this river …
• Jeremy Rockliff, Elise Archer: Tassal shift to oceanic farming welcomed
• Rosalie Woodruff: Tassal's "Off-Shore" Spin Tassal's so-called "commitment to Tasmania" in moving their operations apparently "off-shore" is simply a PR exercise. It seems to be designed to secure their share price and water down the intense public scrutiny of their activities, and the current court hearings. What they are proposing is just to move from several tiny and environmentally damaged sites in the D'Entrecasteaux Channel and Huon Rivers, as they consolidate and intensify operations at Long Bay near Port Arthur. The Long Bay lease is 45m from the shore in a relatively shallow and unflushed bay. Despite an implicit apology in Tassal's statement about the environmental harm they caused in Macquarie Harbour, the company might "accept the lessons learned", but clearly haven't learnt from them …
• Labor: Labor welcomes Tassal's off-shore move
• Wining Pom in Comments: … #4 … 'For Christs sake, what do the Greens and their supporters want'. Sustainability.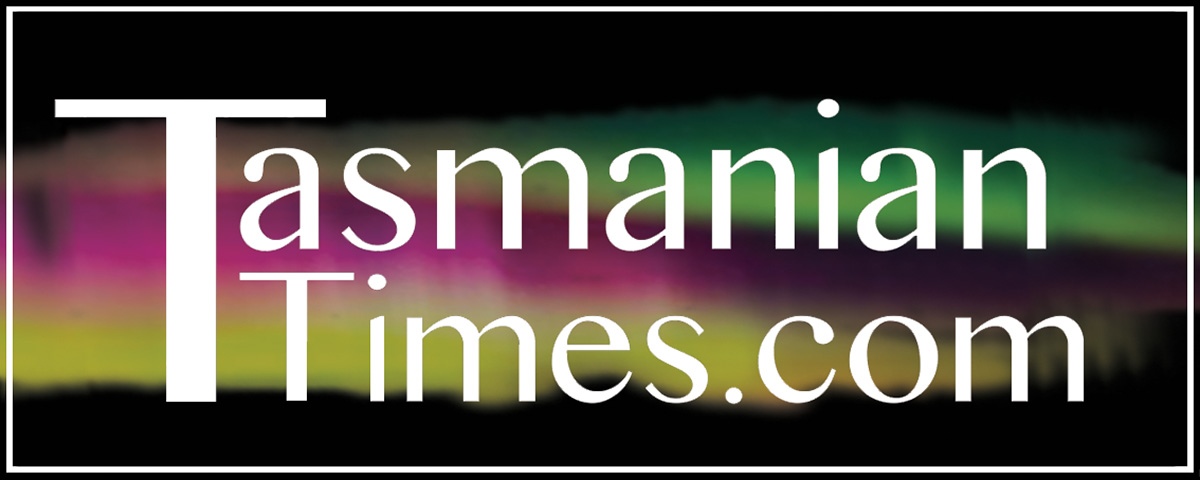 Author Credits: [show_post_categories parent="no" parentcategory="writers" show = "category" hyperlink="yes"]