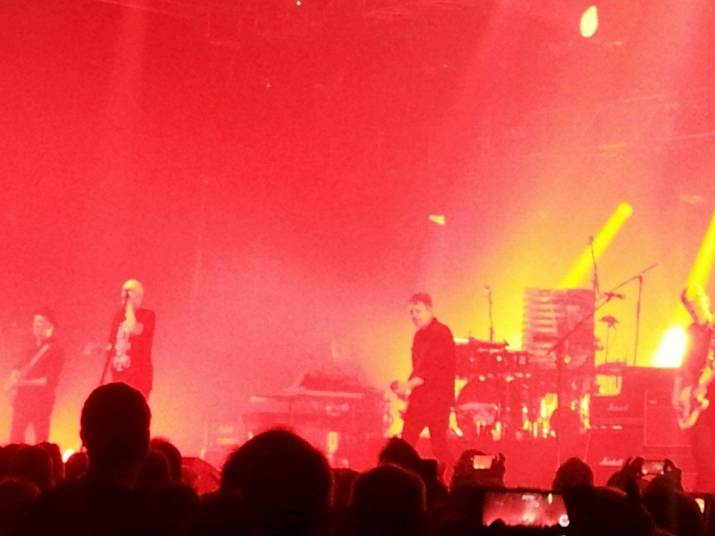 *Pic: Oils last night

Oils last night …

Oils last night …

Oils last night …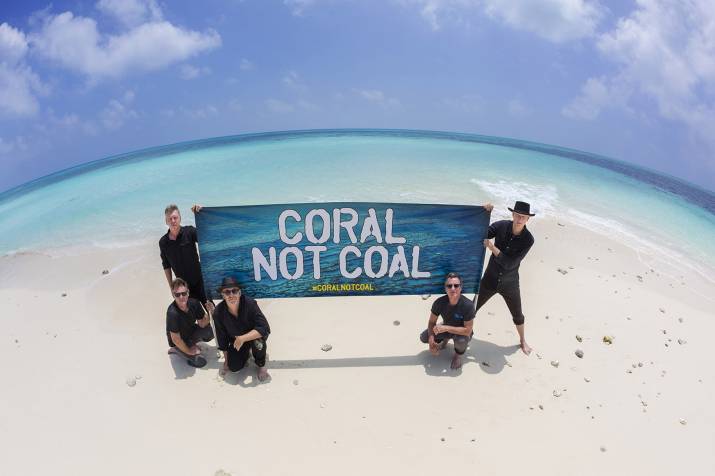 L- R: Martin Rotsey; Bones Hillman; Jim Moginie; Rob Hirst; Peter Garrett. Photo Credit: Justin Heitman. Earlier on Tasmanian Times: Oils fly a flag for the Reef
This "review" will be very political. Because Peter Garrett mentioned everything from Antarctica to Tony Abbott at his wondrous concert at the Derwent Entertainment Centre last night.
My god, the energy. Peter Garrett is 64; the fellow members of Midnight Oil are in their early sixties.
You would not have believed it. The immense energy those guys – particularly Garrett – put out …
It was the most wondrous evening. The Ed was there courtesy of a freebie …
I was so glad we scored.
It was a wondrous evening. And one encore-in, Midnight Oil performed the track they sang at the 2000 Olympics in Sydney: Beds Are Burning …
Legendary journo Margo Kingston, then working for Fairfax, wrote this, quoting webdiarist Mark Hayes in Brisbane:

Sorry on the side of Peter Garrett's top
Remember back in August 2000, when the Olympics were on after hundreds of thousands of Australians showed their support for Aboriginal Reconciliation though the famous bridge walks and seas of hands? The Prime Minister had, and has, refused to apologise and say 'Sorry' to the Aboriginal people.

At the closing ceremony of the Games – that huge stadium party and concert broadcast live around the world to an audience of over one billion people – Midnight Oil, dressed in black track suits with the word 'Sorry' stencilled on them, ripped into 'Beds are Burning' before an ecstatic crowd.

Yothu Yindi followed up with 'Treaty'.

The crowd at Olympic Stadium went berserk in screaming support, knowing exactly what was being done to shame the Government over Reconciliation.

Sitting in the audience with nowhere to run or hide, and no-one 'I am advised' to scuttle behind, Prime Minister Howard had no choice but to squirm and receive the huge, public, 'F… You' delivered loudly, proudly, and strongly by the Oils and Yothu Yindi.

He never forgets any slight delivered upon him, and exacts revenge whenever and wherever possible. This was a massive public rebuke at his meanness. And he won't ever forget it.

That's why his favourite Oils song is 'Beds are Burning', and he won't sleep while his bed is burning for revenge against Labor for publicly embracing Peter Garrett, who delivered that most public of attacks on John Howard at what should have been one of his triumphant moments."
Here, here. Peter Garrett wears his heart on his sleeve.
His ref last night to Tony Abbott as a climate denier resonated with the sell-out audience (who knew every song …)
He had particular derision for Adani Coal …
And, true to his colours, Garrett also mentioned the wondrous Antarctic as being the last great truly pristine wilderness and pleaded with the crowd for donations to the environment.

The Jezebels, minus lead singer, a wondrous woman …
The support act, The Jezebels, were soooooooooo tight. The lead singer so very good …
Truly … a wondrous evening …
Watch a history of the Oils on YouTube here
*Lindsay Tuffin has been a journo since 1969, mainly in Tassie apart from a few years elsewhere in Oz, and in Pomland where he had a brief stint as a youth worker and where for five years he edited 'Buzz' – a magazine dealing with church and social issues and which was beaten in audit circulation in the Specialist Interest category by Aero Modeller magazine …!
• Loretta Lohberger, Mercury: Midnight Oil delivers power and passion in Hobart concert … "We appreciate your fidelity and loyalty — more on display than in some other parts of the country," Garrett told the Hobart audience. He said the band's world tour, which started in April, had been a "real blow out". "We went off to do other things, as you know very well, in different parts of our lives, albeit politics and music, and to come back and to find that an audience is there that wants to connect with you again has been a very humbling and welcoming experience for us. "I guess it's fair to say we feel very strongly, as we always have, and play strongly about these things that are important to us." The Oils dedicated a song to the International Campaign to Abolish Nuclear Weapons, which started in Melbourne and won the Nobel Peace Prize last month …
• Ted Mead in Comments: I'm sure the concert was a great night out! When I listen to the Oils, I don't focus on P.Garrett, and my lowly opinion of him. They are a fantastic band with a powerful progressive message. There is a lesson there for activists who wish to become budding politicians …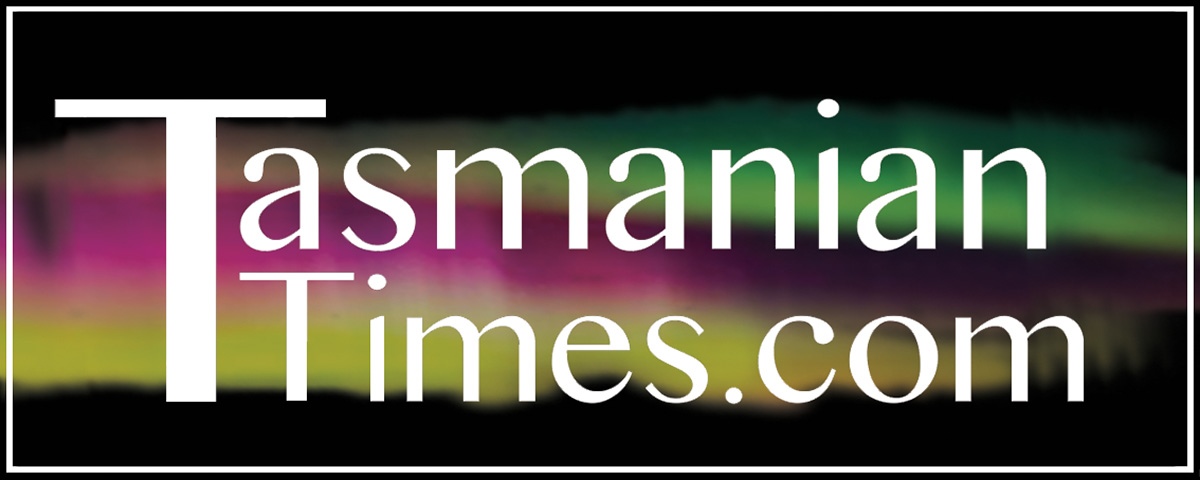 Author Credits: [show_post_categories parent="no" parentcategory="writers" show = "category" hyperlink="yes"]