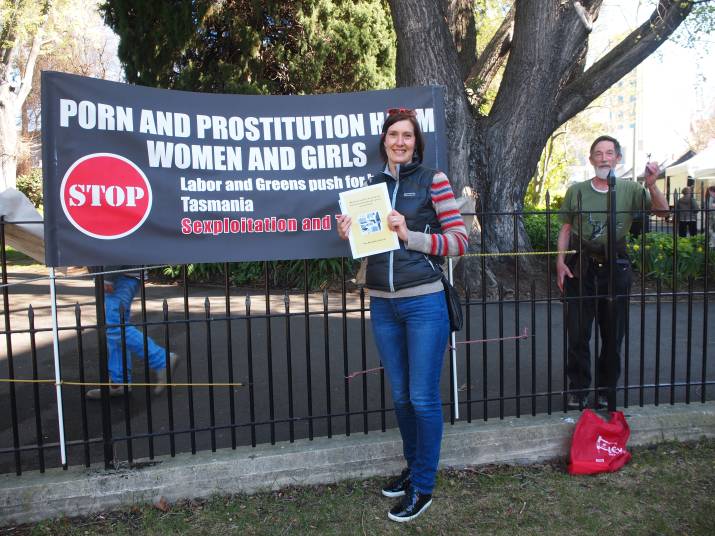 *Pic: Isla MacGregor's pic of a NorMAC banner at the Adani Rally (not featured in Mercury).
Something is missing in an image of Bob Brown and supporters from Saturday's protest against the Adani coal mine in Hobart (link below). It is the banner you don't see in a photo in The Mercury, opposing Labor and Greens proposed new laws giving the green light to pimps, johns and brothel owners in Tasmania.
http://www.themercury.com.au/news/tasmania/tasmania-urged-to-join-mine-campaign/news-story/6ecd2302c0b66c4d7dc4c1f67a28ecca
An anti sex-trade banner stating that porn and prostitution harms women and girls was held up at the Adani rally by NorMAC supporters in opposition to Adani. It was there to raise awareness of the social costs for girls and women being sex trafficked into Australian mining towns.
The Mercury and the Greens failed to realise the Adani development is not only bad for the earth, it is bad for women. The reality is that sex buyers do not have any hesitation in buying sex from girls or women regardless of whether they have been trafficked or not. Nor that Climate change and environmental disasters increase the vulnerability of women and children to sex-trafficking by opportunistic sex-buyers and pimps.
In July, 2012 The Australian ran this article by Caroline Overington …
Sex traffic 'serious' in mine towns
ONE of Queensland's senior police inspectors says the trafficking of vulnerable and often very young women from Southeast Asia has become a serious problem in the booming mining towns.
Mount Isa police district inspector Paul Biggin said officers in Mount Isa and across other Queensland mining towns were increasingly dealing with "women and girls who cannot speak English, or who have a very low level of English, and a very low level of education, who are basically being trafficked for sex, from one mining town to the next".
"They are working on a fly-in, fly-out basis, two weeks here, two weeks in the next town and so on; they are being advertised as available in the local newspapers, and they are coerced or threatened into doing it," he said.
"They are being told they cannot go to the police because in the countries they come from, the police might even be part of the problem.
"Threats are being made against their families. And whenever we have an operation to target them, they come into the station and you can see that they are being controlled mentally and physically and it's very difficult to get them to open up to authority and enable us to help them."
Inspector Biggin was speaking to The Australian after being awarded the Donald Mackay Churchill Fellowship yesterday, specifically to combat trafficking of women for sexual servitude and prostitution in mining towns.
While prostitution is legal in Queensland, pimping is not, and sex workers must be sole operators who either work for themselves or in licensed brothels.
Inspector Biggin said there was "no way the women that we (local police) see can be working legally. They don't have the capacity to place an advertisement in the newspaper (announcing their arrival in a mining town), and they do not have the capacity to be sole operators."
He had sought assistance from mining giant Xstrata to secure a Churchill fellowship grant to tackle the problem and said the company had been helpful because it operated in 19 countries and this was a problem around the world. Inspector Biggin, who has held that position in Mount Isa for three years, said prostitution "flourishes underground. We are seeing licensed brothels struggling because of all the illegal activity."
The links between Adani's activities and the mining industry in Tasmania should be of great concern to climate change activist across Australia.
The ABC reported in 2015:
'Adani Australia's chief executive officer was in charge of an African copper mine which allowed a flood of dangerous pollutants to pour into a Zambian river, the ABC can reveal.
Jeyakumar Janakaraj has been chief executive of Adani's Australian operations since leaving Konkola Copper Mines (KCM) in Zambia in 2013.
Now KCM and its parent company [b]Vedanta Resources[/b] are being taken to the High Court in London by locals who say pollution from the company's huge Chingola open-pit copper mine made them ill and devastated nearby farmland over a 10-year period from 2004.'
Isla MacGregor outed Vedanta's activities on TasmanianTimes …
'During the forestry debate in Tasmania, environmental organisations and the Greens have exposed appalling corruption allegations and human rights abuses in Sarawak by Malaysian timber company Ta Ann Holdings.
But while these groups have remained focussed on Ta Ann's activities, Vedanta, owner of Copper Mines of Tasmania, has been the target of the Foil Vedanta group in the UK. Foil Vedanta is a grassroots solidarity group based in London where Vedanta is registered and listed on the London Stock Exchange:


Vedanta has been referred to as the world's worst miner as a result of continuing human rights abuses, environmental destruction, widespread pollution and breaches of Occupational Health and Safety regulations for workers in numerous countries.
In 1999 the Mount Lyell mine, Copper Mines of Tasmania (CMT) was acquired by Sterlite Industries – part of the Vedanta group of companies – which has operations in India, Sri Lanka, Zambia, Liberia, Namibia, South Africa, Ireland and Tasmania….
Read more: http://www.oldtt.pixelkey.biz.au/index.php/article/not-the-corporate-miner-we-want-
Yet the Greens remain silent about Premier Hodgman's recent subsidy of $25 million to Vedanta's Copper Mines no doubt in fear of any impact on votes at the coming state election as was the case in the lead up to the last election with Paul O'Halloran backing down on pushing for strong mining policy in Tasmania.
From Isla MacGregor here:
http://www.oldtt.pixelkey.biz/index.php/article/handouts-to-transnationals-while-hospitals-in-crisis.
Protestors holding the anti brothel banner at the Adani rally in Hobart were abused by one woman who claimed that they had no right to be there as the impacts of Adani had nothing to do with women.
One of the organisers at the rally attempted to intimidate the anti sex trade protesters into leaving. Nevertheless many women and men supported NorMAC's presence and understood the connections being made.
Violence against women and girls where ever mining takes up is far from isolated to Mount Isa, it is a staple of the mining industry, For example, in the US the camps/facilities of Fifo workers or permanent male residents working on mines are called 'man camps'.
http://www.honorearth.org/man_camps_fact_sheet :
"They treat Mother Earth like they treat women … They think they can own us, buy us, sell us, trade us, rent us, poison us, rape us, destroy us, use us as entertainment and kill us. I'm happy to see that we are talking about the level of violence that is occurring against Mother Earth because it equates to us [women]. What happens to her happens to us… We are the creators of life. We carry that water that creates life just as Mother Earth carries the water that maintains our life. So I'm happy to see our men standing here but remind you that when you stand for one, you must stand for the other."
Will Bob Brown and the Greens acknowledge that men here do what men do elsewhere and that this impacts on particularly indigenous women and girls? Will environmentalists of all stripes honour women and girls as they claim to honour the earth? The earth we too must live on?
When Dr Brown takes his cavalcade to Queensland will he also stand against the crime of paid rape of girls and women by men in the mining industry and call for laws to end demand for paid rape and sexploitation of women?
No more excuses, enough is enough.
*Simone Watson is a prostitution survivor and director of NorMAC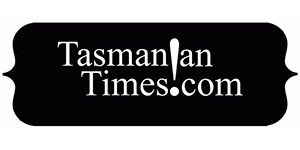 Author Credits: [show_post_categories parent="no" parentcategory="writers" show = "category" hyperlink="yes"]