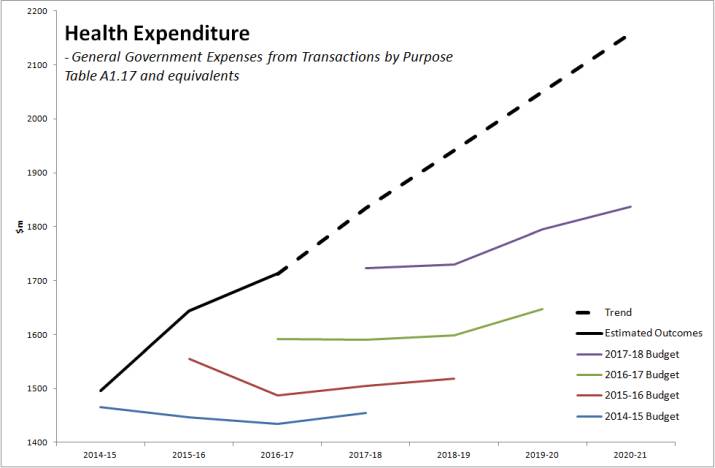 *Pic: Health spending … trend …

Pic: Premier Will Hodgman and Treasurer Peter Gutwein spruik the 2016 Budget …
• JOHN LAWRENCE, State Budget: Back to the barn Put away the Prozac. There are now surpluses as far as the eye can see. That is the message from this year's State budget …
• JOHN LAWRENCE: Budget pork If it sounds too good to be true it probably is. When a government announces in a Budget that it will spend extra on health next year, is that compared to: 1. what has been spent in the current year?; or 2. what it intended to spend a year ago? In the case of health the answer is 2 …
• AMA: A State Budget doesn't make a healthy public hospital system
First published May 30
There are lies, damned lies, and there are State Budget Papers … nowadays, we might call them alternative facts.
Treasurer Peter Gutwein is a very clever man. He and his team are to be applauded for putting together a very fine set of numbers, and the rest of the Cabinet can be applauded for meaning well. The more complicated question is whether fundamentally, the Budget is true, or a lie.
The centrepiece of the Budget is supposedly a reinvestment in health, but a reading of the budget papers suggests this is doubtful at best.
First a disclaimer: Budget papers are complicated. They talk about the same fundamental revenue and expenses in a dozen different ways, with a different underlying principle to each estimate. I suspect the objective is actually to obscure rather than illuminate, but let's have a go at unpicking the story.
The first thing to realise is that the Budget is just an estimate, and often not a very good one. There are systematic errors that the government finds it convenient to ignore. Health expenditure is an area of recurring, systematic, budget errors.
An interesting Budget comparison is the 2016-17 Budget with the 2016-17 Estimated Outcome. This tells you how much money the Government now expects to spend in 2016-17 compared to how much it told us last May. To cut a long story short, the Government spent $190 million more than it Budgeted. Of this, $60 million was employee wages and $80 million was supplies and consumables. Notes indicate that this includes at least $103 million for the Tasmanian Health Service.
If the argument is that health services are going to improve, with more nurses and more beds, then the Budget papers would show a real increase in the 2017-18 Budget relative to what was actually spent in 2016-17, rather than the original (under) estimate.
They don't.
The budget shows that employee expenses across the public sector are only expected to increase by 1.2 per cent or $28.5 million between the estimated outcome in 2016-17 and the 2017-18 Budget. This won't cover current pay rises and means either wages are going to go backwards, or the number of employees is going to go down, or, more likely, the Budget estimates are just as inaccurate as they were last year, and the year before that.
The simple explanation is that the Government can't control health expenditure. Between the THS, the Health Department, unions, doctors and Treasury, nobody has control, and even if they did, holding expenditure to the budget would take more political pain than a pre-election government could contemplate. It is therefore lucky that the housing boom and GST revenue increases have helped offset the higher than budgeted expenditure.
Rather than being generous, announcing increased Budget allocations are necessary just to maintain current levels of actual spending and activity. If there are actually going to be new beds and nurses, then it will cost even more.
If health expenditure is actually running $100 million ahead of budget, or will be soon when the new beds are opened, then our surplus of $50 million each year is probably a deficit of $50 million each year.
And the election war chest has just evaporated.
Corrupt practices, like we have seen in TasTAFE and previously the THS, are made easier in an environment where budgets are a work of creative fantasy. Perhaps the Integrity Commission should investigate?
*White Rabbit is known to the Editor
EARLIER on Tasmanian Times …
• The Treasurer's Speech: 'Building Tasmania's Future'
• Dr Frank Nicklason's analysis: 'Spectacular fail for patients and staff is outrageous …'
• Labor will use savings to prioritise health funding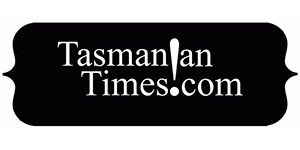 Author Credits: [show_post_categories parent="no" parentcategory="writers" show = "category" hyperlink="yes"]