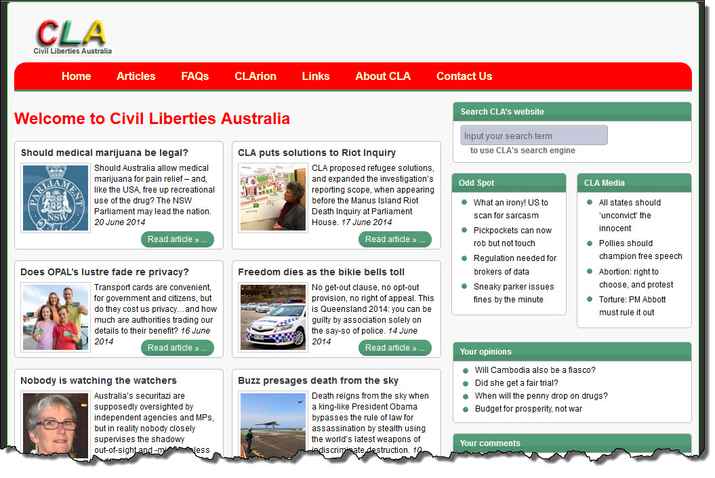 April CLArion, monthly newsletter of Civil Liberties Australia
10 April, Melbourne: 'Stand Up For Mehdi', comedian Tom Ballard fundraiser for the Human Rights Law Centre in the name of Iranian refugee comedian now 'performing' on Manus Island. Immigration head potato Peter Dutton is not amused, and is unlikely to attend (bring potatoes in lieu of rotten tomatoes – all uneaten spuds to be donated to the current Tony Abbott 'chip on my shoulder' campaign). More info and booking: http://tinyurl.com/zqr44eq
Time for more Bills of Rights, particularly national legislation?
With Queensland committed to legislating for a Bill of Rights, it is time the federal government brought the issue back on the agenda, Civil Liberties Australia says.
"We have already had a full and proper national consultation, in 2009," CLA's CEO Bill Rowlings said.
"After more than 60 public meetings throughout Australia, there was a very strong recommendation that we should have a Bill of Rights. But the then Labor federal government squibbed the issue."
He said that in April 2009 a gathering of Australia's most eminent lawyers – convened by the Australian Human Rights Commission – unanimously agreed it was possible to draft a 'human rights act" (also known as a bill of rights) that would be constitutionally valid. http://tinyurl.com/kpyrqcw
There are bills of rights in the ACT and in Victoria. Queensland's is expected this year. Pressure is on in Tasmania (helped by CLA) to enact a bill of rights there in 2018, and WA now has a chance under a new Labor government to reconsider the question, after an earlier robust consultation under former federal Liberal Fred Chaney came out in favour of one for the state.
Neill-Fraser case stumbles on
Sue Neill-Fraser's bid for a new appeal stumbles on, with the next court date 23 May at 10am.
There will be four to five days of legal argument about what may and may not be admitted in the substantive case, which is due to begin at 10am on Monday 24 July in Hobart Supreme Court.
Observers believe the new judge, Michael Brett, has brought a breath of fresh fairness to presiding, given he has not sat on any previous SNF case, unlike the previous judge, Shan Tennent.
(The retiring) Tennent originally approved secret surveillance on SNF before she was charged, then sat on the Court of Criminal Appeal which rejected cogent arguments and produced illogical rulings.
By late July, Neill-Fraser will have served nearly eight years of a 23-year sentence (13 non-parole) for murdering her husband, who disappeared overnight from a yacht moored at Sandy Bay when he was the only person known to have been on board. His body has never been found.
Civil Liberties Australia believes she is among 500 innocent Australians wrongly in jail for major crimes.
24 Oct-4 Nov, Hobart: 'An Inconvenient Woman', the play about the Sue Neill-Fraser case, Pop-Up Theatre No 9, Evans Street. Info: http://tinyurl.com/jpmkkkp .
Low social rank is a danger to your health
Some 56 million people died in 2015, many prematurely and most (71%) from non-communicable diseases (NCDs), The Lancet reported last monht.
Yet NCDs were absent from the UN Millennium Development Goals (MDGs), which expired in 2015.
Silvia Stringhini (photo) and colleagues, writing in the medical magazine, argue that the currently identified seven risk factors are not enough. Instead, they want authorities to consider an additional (eighth) risk factor: low socioeconomic status (social rank).
Having low social rank means being powerless to determine your own destiny, deprived of material resources, and limited in the opportunities open to you, which – the authors imply – shapes both your lifestyle and your life chances, Martin Tobias writes in The Lancet 25 March 2017 edition.
"In fact, intervening on social rank will itself partially address the challenge of unhealthy lifestyles. Moreover, upstream interventions (eg, earned income tax credits, universal early childhood education) are likely to be pro-equity, whereas more downstream interventions (eg, smoking cessation assistance, dietary advice) typically favour the privileged (who generally find it easier to access material and social support for behaviour change)," Tobias writes.
"Stringhini and colleagues base their argument not on political ideology but on rigorous science: an original multicohort study of 1·7 million adults followed up for mortality (all cause and by cause) for an average of 13 years.
"All risk factors (low occupational class, physical inactivity, high alcohol intake, current smoking, obesity, diabetes, and hypertension) were measured with the same relative precision, enabling fair comparison as predictors of mortality." http://tinyurl.com/k254pg7
Ganges gets its own rights
The Ganges river, considered sacred by more than 1 billion Indians, has become the first non-human entity in India to be granted the same legal rights as people.
A court in the northern Indian state of Uttarakhand last month ordered that the Ganges and its main tributary, the Yamuna, be accorded the status of living human entities. The decision – welcomed by environmentalists – means that polluting or damaging the rivers will be legally equivalent to harming a person.
The judges cited the example of the Whanganui river, revered by the Māori people, which was declared a living entity with full legal rights by the New Zealand government earlier last month. http://tinyurl.com/m2w4yc6
How about a similar right for the Tarkine?
ODD SPOT: China faces s-wiping outbreak
One of Beijing's busiest public toilets is fighting the scourge of toilet paper theft through technology – giving out loo roll only to patrons who "sign in" by using a face scanner. The automated facial recognition toilet paper dispenser is a response to elderly residents removing large amounts of toilet paper for use at home. People in need of paper must stand in front of a high-definition camera for three seconds, after removing hats and glasses, before a 60cm ration is released. Those who come too often will be denied, and everyone must wait nine minutes before they can use the machine again. http://tinyurl.com/l9kebkg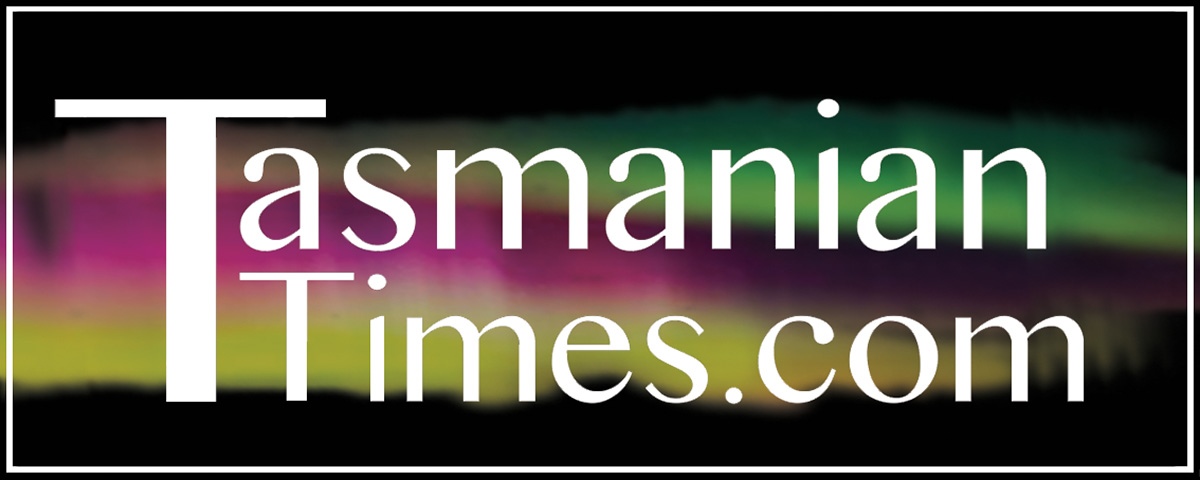 Author Credits: [show_post_categories parent="no" parentcategory="writers" show = "category" hyperlink="yes"]