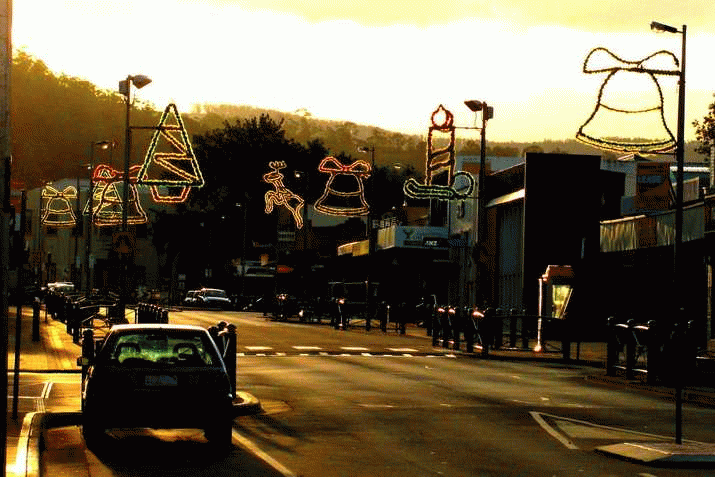 *Pic: blair_25, Flickr, HERE. blair_25 says: 'Christmas at Sunset: Christmas decorations in St Helens, Tasmania. Many streets in Tasmanian towns have such Christmas decorations.'
Australia is changing and changing rapidly from the country One Nation voters call 'A Christian Nation'.
It is now something completely different and unrecognisable.
Within my extended family, I have a majority Atheists, two Catholics, two Buddhists, a token Muslim, a multitude of remnant Greek Orthodox and the odd C of E and United Church claimants.
Yet I know that not one of them attends a regular, religious service, a few meditate and some ruminate.
Australians every year take Christmas and Easter holidays, which are completely out of synchronization in the southern hemisphere of these northern hemisphere seasonal holidays.
Christmas is a remnant of the Winter Solstice and Saturnalia and Easter, celebrated the start of Spring, a derivative of a fertility festival It is now a Christian celebration of the reborn. Confused by the commercialization and the marketing of Christmas try adding in the real reason for Easter, the sale of Chocolate eggs. Even in 'Christian' Australia these holidays have mutated into a sales and marketing campaign.
My query with all this started shortly before Easter 1986, when as a new publican of about 12 weeks at Knopwoods in Salamanca, the State Licensing inspectors arrived to have a serious talk. The biggest problem was that I was concerned with stimulating trade and was wanting to start Tuesday nights as Gay nights, Thursday nights as Pub Poetry and also was about to install a purple behemoth Italian Espresso Coffee machine, the first in a Tasmanian Hotel.
The very pleasant Inspectors reached the end of their spiel and casually mentioned that Easter was coming up and that I had 'to close on Good Friday and Easter Sunday', it was the law.
I responded with something they were just not expecting, 'It's not my Easter, mine is four weeks away, I was baptized Greek Orthodox'.
They stopped, looked at each other alarmed, challenged and both asked questions at the same time. These poor white bread, Anglo Tasmanians had never before had a 'foreign' publican, confused and dis-orientated the inspectors had assumed I was a Catholic, like every other Publican they knew.
'But you are a James', one said. 'Yes, but my mother was born in Athens and immigrated to Sydney at the age of three in 1929; she married a 6-foot red head with the surname James and guess what, not one of her 7 siblings married a Greek'.
Out of the box, we were racing across the cultural divides as I explained that the religious Greeks still worked to the Julian Calendar and the inspectors and I had different timing for religious holidays. I stated that I was taking the opportunity to open on 'Your' Good Friday and 'Your' Easter Sunday.
The following week I was contacted by the Licensing Commissioner and he pleaded with me not to open.
I didn't open, mainly because when I arrived at work on their 'Good Friday' morning. Salamanca was empty, not one car, parked or moving, not a person in sight, quiet, silent, an autumn sunny day, no tourist, everything closed (as if there was anything else to open).
Salamanca in those days had no restaurants, both having closed for good in the previous weeks. There was not one business on the first floor and behind most street level doors were abandoned warehouses and rotting floors. There was no Ball and Chain or coffee shops, no newsagency or tourist traps. It was quiet, still and dead. Not a good Friday at all to open for business. I went home and played with my toddlers and spent the day, happy away from work.
The following year I opened, the good Commissioner agreed that I would not be prosecuted and happiness reigned in my multi-cultural world.
Yet the thing is, these religious holidays no longer reflect this Modern Australia.
I know that everyone wants a break, sometime, but wouldn't it be better to rethink these and our Colonial Holidays.
The Queen's Birthday is not even on her birthday; what is that really about?
Why can't the Buddhists take the day off next October 7th for Buddha's Birthday and go to work on Christmas Day, like any other day.
Why does my Muslim son-in-law have to take off Easter but has to go to work on 'Eid? Why can't my pagan neighbours dance naked on the winter and summer solstice, happy in the knowledge that they have all day off to digest their magic mushroom omelette.
My Hindu friends celebrate Diwali from October 30th until November 3rd, in 2016; why can they not trade this off against, a useless for them, Christmas Holiday.
Why are these legal religious holidays still happening, for what is to most Australians a forgotten religion?
It is obvious we are notionally a Christian Nation with the poorest attendances at Church during these religious holidays. Jesus, the real Christian children, are actually recognised in published scientific papers as the meanest kids in school.
My Mother once stated that there was not a day went by when she was at School, that one of the children in her family were not attacked by the 'Anglo' Australians going to or leaving school. That was the thirties and now, over half of our population have a parent born somewhere else in the world.
The biggest religious congregation in Tasmania is in West Hobart at our local Mosque, so many nationalities go there and we give them nothing for their religious holidays.
Let's be generous and show our new communities that we are not going to let the mean Christians rule, and tell them when to celebrate; that we are expansive and welcoming and interested.
Show some love.
Tasmania can lead here and change the designated holidays, by legal means, by relaxing customs, changing the workplace and Union rules and working this out for ourselves. It can be done with some love and care and the sooner the better.
Australia is a moving feast, we are a dynamic nation, old but new, our food is a hybrid of new and some old tastes and so should our parties and celebrations be varied.
I like nothing better than to go to see the Sudanese dance their shoes off and the crazy Hindus know better than anyone how to have a good time.
It no longer is an Irish craic that gets me going but the sounds of Asia – and we are now part of Asia.
I look forward to the day we have a Buddhist Prime Minister and a Muslim Opposition Leader or maybe the other way around.
It is coming, so let's stay on top of this and get these changes happening.
It should be a simple recognition for those at work to register their holidays three months ahead.
It should be simple for me to indulge my neighbours as a sign of our changing Australia. It should be simple for you to contact your parliamentarian and request change and it should be simple to enact it,.
Contact your union rep and your religious leader. Make it so.
*Greg James is a malcontent capitalist. He has employed (and fired) a lot of people and spawned many business opportunities for himself and others. Some have been wild successes and some abject failures. Greg refuses to accept that Tasmania is second rate, it is only the people who occupy it who are second rate. Greg is a self and state educated owner-operator. He has been Chairman and President of State and Federal organizations, has owned a gay bar, built a suburb and wasted his life hoping that others around him would see the light as he see it. His brain is addled, his motives suspect and age has caught up with a life well lived. He writes about himself in the third person.
• Rob Walls in Comments: With you all the way, Greg…take issue with only one small item of fact. The Ball and Chain was in business as far back as 1971, when I first ate there.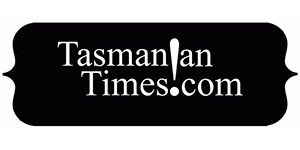 Author Credits: [show_post_categories parent="no" parentcategory="writers" show = "category" hyperlink="yes"]