Lindsay Tuffin: This story takes me back a half century to an idyllic upbringing … on the farm at Natone (North-West Coast, Tasmania) before industrial farming destroyed it all. There used to be a creek, The Chasm Creek, which trickled from a spring at the back of the farm. The creek contained blackfish … and giant freshwater crayfish, which we used to entice to the surface with the odd dead rabbit on a string. It's all gone now … destroyed by a huge water reservoir a subsequent farmer installed as he went full-tilt into industrial enterprise, gobbling up neighbouring farms on the get-bigger-or-get-out principle. There is another memory from those days: Dad spent 4.5 years in German POW camps in WW2 … and I have never forgotten his deep sadness at the silence in the old-growth at the back of the farm after strychnine (to kill rabbits) laid waste to all birdlife whose joyous song echoed from the old-growth. There was something about birds and flight for those POWs … that wondrous freedom … NZ shares with Tasmania so much … including Gondwana, 1080, industrial dairy …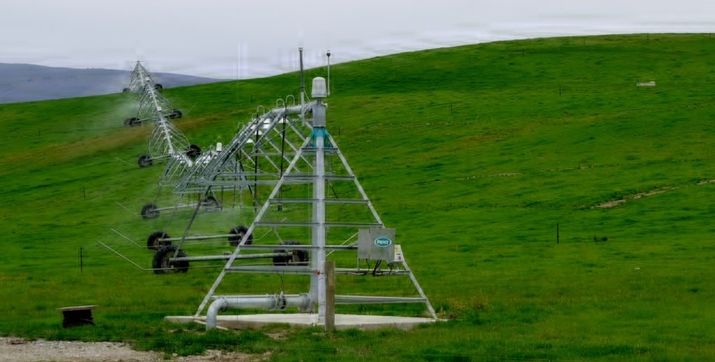 Over hills and dales the giant irrigators stride. Central Otago drylands are no more, on the Maniototo near Ranfurly.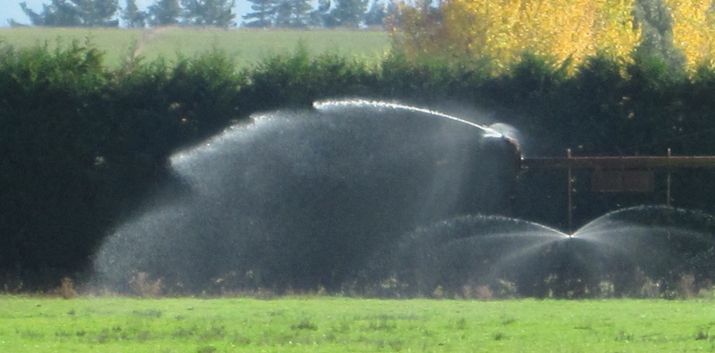 Rotary irrigator in action

Where does all the water go? It goes to the huge rotary irrigators, some over a kilometre long that can been best seen from space or google earth. They are fed by water pumped from the aquafers under the Canterbury Plains. They have been sustaining a dairy and land price boom.

The mainstream of the Ashley river. February 2011. A once strong flowing clear water river is reduced to a trickle. There could be direct take going on, but the river is just being drained into a depleted aquafer.

Kuku Creek, also known as Leggats Creek, about 30km north of Christchurch. Once a clear flowing spring creek of the Canterbury Plains with nearly waist deep water over a smooth gravel bottom. It was a great habitat for trout, eel and native fish. Now just the shallow drain seen here with grey slime substitute for water. No observable life left in it now.
Today, the problems of our rivers has been condensed by many to a single issue – pollution arising from "dirty dairy".
In this second part of rivers, we look at "dirty dairy". In some districts it is the big issue, especially on east coast drylands where there is sufficient water to supply large-scale irrigation.
Here, the combination of water abstraction and dairy pollution makes it more than 95% of the problem – almost 100%. Canterbury, the focus of this section is the single biggest "dirty dairy" district, but there are others. There are also more in the pipeline, such as Wairarapa and Central Hawke Bay where there are planned irrigation projects.
Areas with adequate rainfall and different soil types, such as Waikato, we deal with in the next section.
For convenience pollution can be separated into nutrients and chemical contamination of the waterways.
Dealing first with nutrients. We've got to remember that rivers are living systems; they need food – nutrients. A sterile body of pure water will not support life.
The issue is not nutrients but the balance of nutrients, though too much maybe worse than too little. Dairy itself has been around since Marsden's mission at the Bay of Islands in the early 19th century. Dairy and its nutrient run-off has really only become a problem over the last 30 years, and it has really only impinged on the wider public psyche in the last 5 or 6 years.
Prior to that, it was an industry based on nitrogen-fixing using clover. In those days, milk processing was carried out in the many small dairy factories that peppered the land.
They were almost always close to a river to get rid of the whey. The famous fly fishing rivers of yesteryear – like the Manawatu, Mangatainoka, and Makakahi did not appear to suffer from some nutrient enhancement. Now though, it is another game, much bigger and more intensive – it is no longer nutrient enhancement, it is nutrient overload. Though there is still some life in these rivers, they are nothing like they were.
It was probably the "Pay or Take" deal signed between the government and the developers for the Maui gas field that in an odd way had a lot to do with changes to agriculture and ultimately to rivers.
New Zealand was committed to taking the gas, and suddenly as a nation, we had more natural gas than we could poke a stick at. That was until Robert Muldoon and his "think big" programmes of the late 1970's early 80's appeared on the scene. To use up the gas, programmes such as gas to gasoline and gas to urea fertiliser (nitrogenous) were introduced.
There was soon a lot of fertiliser that had to find a home. To help move it there were even ads on the tele showing a young man turning up before an admiring family in a new car, and boasting of the glories of urea, how now, with cheap and effectively subsidised fertiliser, the future of dairy had a rosy glow.
Suddenly dairy was booming with rising world prices and cheap urea. Waikato dairy land prices soon went through the roof and suddenly the younger members of the dairy industry were looking for somewhere to expand.
Dairy herds began to be shipped south to displace sheep in Southland. It was a "push-pull" situation. As one observer noted, Southland banks were not interested in a $60 to $100 000 loan to support a sheep farmer for a new tractor, but they welcomed an application for a $3 or $4 million to do a dairy conversion.
It was irrigation that started a boom on Canterbury dryland. On places like Rakaia Island, what was once a low-density pastoral operation on old riverbed covered with tussock and matagauri (thorn bush) is now intensive irrigated dairy on very light land.
It would not be possible without pumped water, supplementary feed and fertiliser – it is almost hydroponics! By then, it was happening all over the country, intensification in higher rainfall areas of traditional production such as Waikato and Taranaki, and irrigation driving the growth in drier areas like the Wairarapa, Maniatoto (Ranfurly) and even the McKenzie Country.
Although horticulture and pastoral farming have intensified over the last couple of decades, it is particularly dairy where the greatest growth has occurred. It is really on the lightest land, that historically may have seemed the least suitable –that has seen the greatest growth and at the greatest environmental cost. It makes Canterbury a good case study.
It is on the Canterbury Plains that the combination of superphosphate, subsidised urea (nitrogen) and the wild west of water extraction for irrigation has made intensive dairy into the perfect environmental storm.
To this has to be added the concentration of nutrients produced off site, through "imported" feed supplements. Some, such as imported palm kernel is a by-product of the destruction of tropical rainforest, the others like the maize that you can see being grown all over New Zealand is transported to dairy farm areas and fed to stock. This has the effect of localising the nutrient burden drawn from widespread sources to a single location. In terms of pollution, not only do we have to consider nutrients, but also heavy metals, cadmium particularly that comes from imported superphosphate, and hormones that come from the urine of thousands of cows. In Canterbury, they all end up in the water table.
What has happened in Canterbury is "dairy hydroponics"; the irrigation and fertilisation on light soils of only moderate fertility. It has allowed some of the highest yields both per cow and per hectare in the country. It is interesting to compare Canterbury with another traditional region i.e. Waikato as well as the national average.
Compared to Waikato, North Canterbury has a 48% higher yield per hectare and a yield 38% higher than the national average. Not only that, in terms of yield per cow, North Canterbury has an 18% greater yield than Waikato and is 13% higher than the national average.
All this was happening on soils that had, in the later part of the 19th century been the scene of a "dust bowl" experience. A short lived wheat boom had swept the area, but it soon sputtered out after it had stripped the natural fertility of the light soils and the northwest winds did the rest.
Comparatively, the land was cheap, and the vast aquafer under it was initially undervalued, so, with the addition of fertilisers and supplements, a dairy boom was on. In a rush for milk, there was a dairy version of Klondike, land prices took off. The capital gain of soaring land prices has always been very much a part of the equation.
The dairy boom was being carried out with little or no regard to the water resource, the land, or the long term environmental consequences. Others though were concerned.
At the 2007 local body elections, the regional Council, ECan gained four councillors standing on the platform of opposition to the Central Plains Water Scheme plus a general concern for what they saw as the plundering of a limited resource. That created more than un-ease with many of the old players in the district who feared they may miss out on the bonanza due to the council applying water restrictions.
The "farmer friendly" government of the day swiftly moved to rectify the situation. They sacked the elected councillors and appointed seven "user friendly" commissioners.
Since then, under the guidance of the commissioners, water
abstraction has proceeded apace. This includes the Upper Plains Scheme which takes the water that used to flow to the Rakaia River from Lake Coleridge by a series of huge canals.
Currently the scheme is incomplete, and has come to a halt, possibly due to falling dairy prices. Even if the Upper Plains Scheme is re-vitalised, it will by now only be an addition to an already seriously damaged ecosystem.
Dairy is not the only activity on the Canterbury plains, It has always been a wheat producer, though irrigation has only lifted tonnages from 9 tonne per hectare to 15 tonnes – not really a game changer. Seed for crops and horticulture, such as radishes and bok choy, have also taken off and Canterbury is now a major world source, but it is really dairy that has had made the biggest economic, social and ecological mark.
The catalogue of environmental damage beggars belief. They range from build-up of nitrogen in the soils and water, as well as nitrogen contamination of the water tables.
Nitrogen is also deposited by cow urine, and in this form easily enters the water table through the light porous soils. There was also a build-up of phosphorous fertilisers, though this appears to have peaked; their levels still remain un-acceptably high.
A lot of New Zealand's phosphorous (superphosphate) fertiliser has come from ancient guano deposits on Nauru in the Pacific – it contains the heavy metal, cadmium, a poison which can even show up in town supplies as it has in that of Martinborough. Hormones, like oestrogen from cow urine can also show up in the human population as reduced sperm count in males.
Giardia and E-coli in water supplies can be from dairy, but there are also many other sources such as sub-standard sewerage treatment.
The problems for Canterbury are not just the contamination of the environment from dairy. There are as well the consequences of the massive irrigation draw-off of water that used to flow to the sea, maintaining both riverbeds and coast.
This includes the depletion of low-water summer flow in the rivers resulting in the shallow water being warmed, permitting algae growth as well as a reduction in dissolved oxygen. More critically below the rivers and plains, the depleted aquafers make the actual braided gravel river channels act almost like a blotting paper on the freshes and floods, sucking up the water that normally moves the bed-load of gravels from the mountains to the coast.
There are several consequences that can play out from this: The first being that the bed load, instead of being moved down to the coast, is building up far upstream, raising the river channels above the level of the surrounding plains.
Here, the risk becomes that a severe weather event could cause a major flood; this could either blow the gravel out downstream, or, the water will try and go round the blockage, breaking through old flood banks and flow out across farms and communities.
Another consequence is that many New Zealand coasts, like Canterbury's, will recede if they are not being replenished by the constant supply of gravels; this is already evident at the Rakaia huts, where there is now coastal erosion, before the irrigation boom, there was none.
For the small rivers of the plains that are fed mainly from springs, the news is all bad. Some are now no more than a dried line of gravel with a few grasses.
Others, which were once smooth flows of clear water running through the farms (with a few cows) are now shallow streams of some slimy grey substance that is supposed to pass for water – even water weeds have trouble growing in it.
Somewhat belatedly, Fish and Game are talking about a winter closing of the fishing season for lowland Canterbury waters; many were once well-known fishing streams which in the past also supported healthy populations of native galaxids and eels. The winter closure is a bit like closing the stable door after the horse has bolted; the aquatic life of many of the streams is now no more!
It is on what was once the home of dryland agriculture that irrigated intensive farming has had its greatest impact. It would be fair to say that 95% of the problems on the Canterbury Plains are from dairy, but water abstraction and altered river flows are also a part of the problem, to that, there must be added the pollution from fertilisers and heavy metals.
If in the unlikely event that we could wave a wand and it was to stop today, how long would it take for natural processes like leaching to restore the land to an un-polluted state? If we look at nitrates, we have the issue of two standards, one, the WHO drinking water at 11.3mg per litre, or the much lower ecological limit of 0.61mg per litre, above which oxygen depletes and freshwater bio-diversity degrades.
At the concentration permitted in "drinking water" there would be little aquatic life left.
Mike Joy cites the case of a Ballance Farm Environment award winning 1014 hectare farm that has leached from it 48kg of nitrogen per hectare per annum. As he points out, this one farm generates enough nitrates to contaminate 4 million cubic metres of water to maximum WHO drinking standards – or 72 million litres contaminated to the ecological limit of 0.61mg per litre.
As the lowland streams that once carried this away now have so little, or even no flow, it all has to go somewhere, and that is to the aquafer from where Christchurch town water is drawn!
A group of scientists from the Pierre and Marie Curie University of Paris reported on tracking the fate of nitrogen fertilisers applied to crops in France. They found that an original 1982 application was still migrating to ground water 30 years later.
They estimated that it could continue to enter the water table for up to 80 years – on the face of it, 20 years dairy, and 80 odd years to recover from it. That does not include the hormones (oestrogen) and growth promoters in animal urine as well as heavy metals. It is something New Zealand is going to have to live with for a long time.
All this has been going on in a district which has a council which is supposed to be enforcing the requirements of the Resource Management Act and policing water quality and water abstraction.
What are they doing about it? Not much it seems. As reported in the NBR of 21/3/16, Ecan, under its government appointed commissioners is taking a soft approach. Of 24,000 consents, Ecan in the last year monitored only 16%. Of the 16% of monitored consents, it visited just 40%. Over the year, Ecan enforcement was limited to 39 written warnings, 1 abatement notice and five infringement notices.
No farmers were prosecuted, but just 3 prosecutions were taken against polluting contractors. The wild west of dirty dairy is alive and well on the Canterbury Plains under the governance of its appointed Ecan commissioners.
The proposed irrigation developments for Central Hawke Bay at Ruataniwha and in the Wairarapa are on similar light soils, and the consequences are likely to be similar. We will next look at other catchments.
W. F. (Bill) Benfield grew up in Christchurch New Zealand and graduated in Architecture from Auckland in 1968. He is a practising Architect and has also worked in London and the Northern Territory of Australia. He was Chairman of Action for the Environment in the late 1970s, and in that role assisted with submissions to the McCarthy Commission on Nuclear Energy and the Upper Otaki hydro development proposals. He assisted and gave evidence in the relator court action with the Attorney-General against the consents granted the Bank of New Zealand Head Office building in Wellington. In the mid 1980s, with Sue Delamare, he established a vineyard and winery in Martinborough. It was set up without irrigation, used passive frost protection and sought to minimise energy and spray use. It was awarded a Ballance Farm Environment Award for sustainability in 2005. The wines have achieved international recognition. From his family he inherited a lifelong interest in fly fishing and the conservation of nature. He is the author of "The Third Wave – Poisoning the Land" and the more recent "At War with Nature – Corporate Conservation and the Industry of Extinction". Both published by Tross Publishing of Wellington New Zealand.
Bill Benfield has written extensively for Tasmanian Times … dial in 'Bill Benfield' to the TT search engine (Until a 'writer category' is established).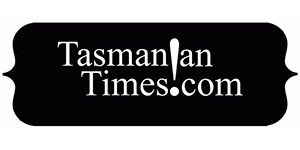 Author Credits: [show_post_categories parent="no" parentcategory="writers" show = "category" hyperlink="yes"]