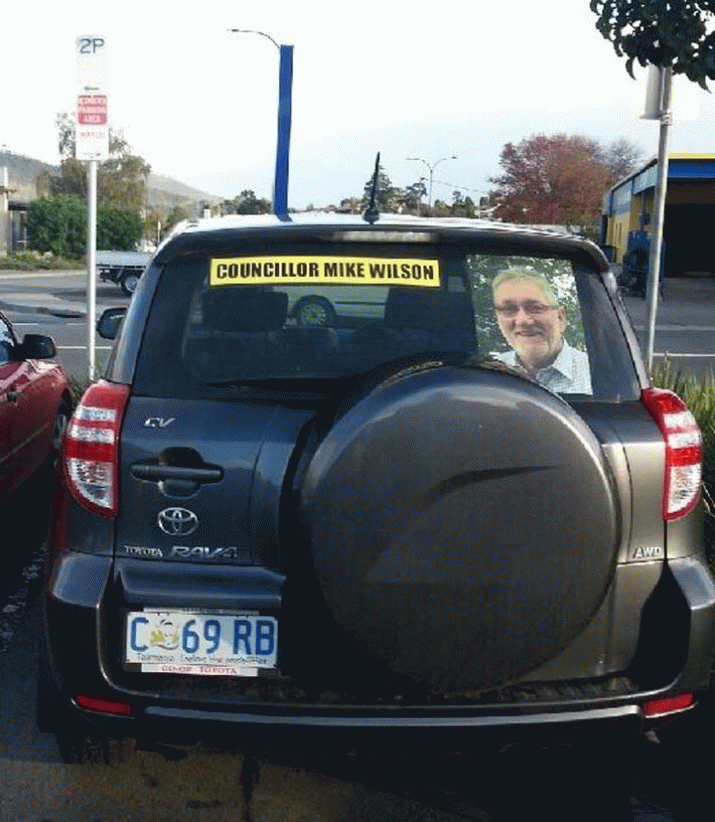 Photo: In the spot reserved for Mayor Peter Coad in Huon Valley Council's car park, Huonville
On at least two occasions, someone has leaked confidential information relating to the State Government's board of inquiry into the affairs of the "dysfunctional" Huon Valley Council (HVC).
According to 7HOFM radio shock jock Mick Newell, a copy of HVC management's initial response — commissioned from a Hobart law firm — was dropped in his letterbox in early April. And, last Saturday (May 21), the Mercury confidently stated that the final inquiry report had recommended putting HVC into administration for a year.
The leaks give pause for thought about which side of the council's divide believes it would benefit from leaks of selected documents. On the side of resistance to State Government intervention in council's affairs are the general manager and her dominant six-strong Heart of the Huon support team; on the other side are Mayor Peter Coad and Crs Ian Mackintosh and Liz Smith. Of course, there may also have been leaking from State Government sources.
If The Mercury's state political editor Matt Smith's report is correct that a central recommendation in the board's final report is for an administrator to run the council for a year, it seems Cr Mike Wilson, leader of the Heart of the Huon assault on the mayor, could end up getting more than he asked for.
I recall, around the time Local Government Minister Peter Gutwein ordered the inquiry last September, Wilson sounded as if he wanted to claim credit that the inquiry had been established. I'm sure Mayor Coad was no less instrumental in persuading Gutwein that HVC was dysfunctional. Wilson, at the time, seemed to be counting on something like a three-month state intervention, to be quickly followed by new councillor elections — which may possibly explain why he has been in election campaign mode for many months, possibly as far back as the election of October 2014, when he lost his bid to become mayor.
That Coad beat him to the mayor's job still seems to niggle Wilson: he rarely misses an opportunity to attack Coad for something or other that he may have said; he has consistently accused Coad (I believe incorrectly) of having said that the council was going broke; he has expressed anger towards the mayor in the council chamber, at one meeting suggesting he was a dictator (some chance, with only two votes of nine that Coad could reasonably rely on); he has frequently run advertisements reflecting poorly on Coad; he has been running a series of small ads, titled "economy drivers in our valley", that are often followed by Wilson's-a-good-bloke type of newspaper letters from people linked to some of the businesses he has nominated as economic drivers; he has threatened to take legal action against the way the board of inquiry has been conducted; and, according The Mercury's Jessica Howard on May 20, he said he would "lead the people of the Huon Valley down the main streets of Hobart" to stop HVC being amalgamated with another.
Considering the solid resistance the Heart councillors have put up to keep hidden council's credit-card details over a period preceding Coad's arrival on council, and tight council secrecy on other issues that attract the public's curiosity, some valley residents are wondering if there really are skeletons in HVC's closet.
Raising questions
Now there appears to be moves afoot to establish a case against the fairness of the board's process. Wilson is reported to have threatened legal action to get the board's report thrown out; and Cr Ken Studley at this week's council meeting (Wednesday) will ask a question about the "procedural fairness" of the Gutwein inquiry.
The agenda for the HVC meeting has two "questions on notice" from Studley. The first, a classic Dorothy Dixer, is clearly designed to produce a document that would make council look good. In it, Studley is asking the general manager to "provide council with a full list of all decisions made by council from the date of the Minister announcing a Board of Inquiry through to the April 2016 ordinary meeting of Council".
He also wants, "on the public record", a "spread sheet summarising all decisions of council . . . and beside those summaries, a simple X amount of councillors for, and x [sic] amount of councillors against, and either carried or lost, and at the end a total number of decisions and how many were unanimous".
Studley, who numbers among councillors who said it was a waste of public money digging out the credit-card details Mackintosh has been seeking, now appears ready to pour costly hours of staff into presenting council with a document that would smack of pure PR spin.
His second question, more directly political, looks like a fishing exercise to find a flaw in the Gutwein inquiry process. He prefaces his question with: "This question deals with Procedural Fairness in relation to the Board of Inquiry." Studley's question, as it appears in council's agenda:
"My question does not seek to enquire about the particulars of any complaint or response a councillor or the Mayor or Staff may have been involved in, it is to simply ask the Mayor and Councillors and the GM — have you been provided with a copy of every complaint (submissions to the BoI [board of inquiry]) and accompanying information in line with the procedures outlined on the Department of Premier and Cabinet's website? or were you just given a summarised 1 or 2 line statement to respond to?"
Cr Liz Smith also has a question on notice:
"What have been the total costs for legal advice and reports commissioned by the General Manager from outside legal firms over the period 1 August 2015 to 30 April 2016, and which firms and/or individuals have provided these services?"
(Apart from questioning recent council spending on legal advice re Gutwein's board of inquiry, valley ratepayers have been asking how much public money has been spent on other drawn-out council irritants in recent years, such as the issue of the long-term illegal/unapproved 'Petty Sessions Jetty' at Franklin; and the failed endeavours of council to establish its authority to rule on an application for a barge-loading facility at Waterloo Bay.)
The HVC agenda then moves on to an enigmatic "motion on notice" from Cr Pav Ruzicka (13.008/16). It reads thus in the agenda:
"That: a) Council notes it has received the report on the review of boundary adjustments [which boundaries?] and their economic implications from Bruce Felmingham Consulting. b) Council immediately writes to State Government and Kingborough Council to begin discussions around the M1 option as highlighted in the report. c) Council immediately begins work on public consultation d) Public consultation begins as of 1 July 2016 and that during that process option M1 be referred to as the Huon D'Entrecasteaux Option."
Because HVC's website doesn't allow outsiders to see minutes of council meetings of more than a year ago, research can be frustrating. I believe Ruzicka's motion refers to a resolution in April last year (after a lively council debate that would never have been possible under the chairmanship of previous mayor Robert Armstrong, now MLC) involving a series of motions/amendments. The final decision was something about council looking into the implications of "structural reform of local government", though it asserted that the preferred option remained that there should be no boundary changes for HVC. Felmingham must have got the consultancy. It would help readers of council's agenda if this backgrounding had been provided with Ruzicka's motion.
That Ruzicka is moving this motion suggests a Heart team contradiction. Last week, Wilson was trumpeting to the Mercury (May 20) that he would lead a march in the streets of Hobart to resist council amalgamations. Now, one of his group, Ruzicka, seems to be indirectly hinting that it might be an idea for HVC to at least consider seeking administrative control of the Channel (from Margate south and including Bruny Island).
It would be instructive to hear how residents of that region (part of Kingborough Council) feel about the idea of being taken over by a neighbouring council that appears to have been judged, after a State Government inquiry, as not being up to even running its own affairs.
An air of dysfunction and detachment from reality
The questions and notices-of-motion on this week's HVC agenda suggest there is, indeed, an air of dysfunction and detachment from reality about Huon Valley Council. There might even be a bit of panic setting in among council's resisters to change that Minister Gutwein will feel the evidence is so strong that he has no option but to implement the board's recommendation to put in an administrator.
A 4WD emblazoned with 'MIKE WILSON' and his photograph, sitting in the space reserved for HVC's mayor (spotted recently, see above) somehow symbolised the atmosphere of contempt that has infected the affairs of Huon Valley Council this past year-and-a-half.
Hubris, jealousy, vengeance, anger, stupidity — these words cross council observers' minds when they reflect on events since council's old guard launched its campaign to discredit the man who comfortably out-polled Wilson in the contest for the mayor's job.
Wilson has never hidden his antipathy towards Mayor Coad, and has worked relentlessly to belittle him in the eyes of the Huon Valley community. Even before the October 2014 municipal elections, Wilson and others were sniping away at the man who campaigned on a platform of honesty, transparency, openness, local government reform, infrastructure development and, in general, a revival of the Huon Valley's struggling economic fortunes; and the man who only asked whether the council was going broke but has been pilloried, erroneously, for saying the council was going broke.
It became apparent when Coad presided over his first council meeting that the Heart bloc wanted nothing to do with his ideas or vision for the valley. What they wanted was for their council to continue on the going-nowhere course that it had trudged down the long, secretive, unimaginative, environmentally damaging, debilitating years under the leadership of Robert Armstrong, who now relaxes comfortably in the Legislative Council.
Amid widespread apathy towards local government, there are a residents of the Huon Valley who value this third tier of government, and will have been following events closely since the new council was elected.
In the new mayor, they must have felt, was a man who placed great value on self and mutual respect, as well as on a level of etiquette that, hitherto, had been in short supply in the council chamber.
In the months after Coad took over, he conducted meetings with a firm but fair hand, graciously accepting the passing of Heart resolutions that he had not supported.
Though the Heart, with three new members, was proving not to be a rock-solid replica of its predecessors — who had campaigned under a variety of names, such as Futures Group and Huon Valley Team — it was in no mood to show support for a mayor who was offering a new way forward. It continued its tactic of largely rejecting almost every idea from those not in their team, though sometimes coming up with a slightly revised version of an opposition idea and calling it their own.
What has been going on behind the scenes?
What has been going on behind the scenes in council's offices since Mayor Coad's arrival has been largely beyond the ken of the public. Occasional leaks, from staff and former staff, suggest a fear factor keeps employees silent about the state of management/councillor relations. Such is council security, I'm told it is rare for a member of the public to be allowed to penetrate much beyond the front-office counter. (Canberra's fancy-dress Australian Border Force might learn a thing or two by studying HVC tactics that ensure serious consultation is rare with the community it is supposed to serve.)
From October 2014, body language and remarks around the council table have been enough for the public attending monthly meetings to recognise that serious stresses have been buffeting the council.
Eventually, it became apparent that General Manager Simone Watson and Mayor Coad were not seeing eye to eye. There was a stand-off — and Mayor Coad, without publicly stating it, felt that, despite the rules of the Local Government Act 1993 — or perhaps because of them — he was not getting the support from management he should reasonably expect.
In the meantime, complaints from both sides of council were arriving at the office of Local Government Minister Gutwein, who, on September 8 last year, in a media release, said he had decided there should be a board of inquiry into what he described as a "deeply divided" council.
He said:
"It has become apparent that Huon Valley Council is deeply divided and, if left unattended, may soon become dysfunctional to the detriment of ratepayers and confidence in the municipality. The Government is taking action now to stop that from happening. This course of action has been triggered by a large number of complaints the Government has received relating to the core function and roles of the Council. Complaints have been received from the majority of the elected members including the Mayor as well as from senior staff and ratepayers."
Gutwein's decision found favour with Mayor Coad: "I welcome the inquiry, and fully support the Minister's action." The development, he said, was "something I have long felt is necessary".
In a media release, Coad said:
"The inquiry is a very important initiative, and I want to ensure that all the problems that council currently faces are dealt with in an effective and proper manner. We need from this inquiry outcomes that serve the best interests of all residents of the Huon Valley . . . The problems that are holding council back from modernisation and beneficial structural reform have built up over a long period, and cannot be properly resolved without detailed examination of all issues. They must be dealt with through a thorough and legal process . . ."
Such was the response to the invitation for submissions — from the public, councillors and council management — the board sought more time from Gutwein to complete their task.
This writer's submission to the board of inquiry — covering seven years of council doings, running to 5800 words, and providing links to as many years of 'Huon Valley Guessing Games' — excited no response. Maybe it was found useful as backgrounding.
The two board members, bureaucrats Michael Steven and Jill Taylor, have been afforded high marks from everyone I have spoken to in the months since they began their investigations. Their first report arrived on the minister's desk on February 19.
Gutwein, after digesting it, sent it to HVC for responses from councillors and management. And that's when — after a lull in exchanges had followed a council gag motion on council comment on the inquiry by Cr Ken Studley — politics swung back into action.
What has gone on in closed council in March, April and so far May, is anyone's guess, but it's now obvious that neither the Heart group nor management has been enamoured of either the board's first or second report in its attempts to get to the core of the problems that plague HVC.
On the other side of the fence, Mayor Coad and Crs Liz Smith and Ian Mackintosh have thrice left special council meetings that had agendas controlled by the Heart team. The best impression I can glean is that all three wanted council to consider the board's initial report; and, when this was not allowed by the Heart, they acted to protect their integrity as councillors by refusing to partake in procedures they felt were, at best, irregular.
In the public arena, things get very unpleasant
Out in the public arena, things became very unpleasant, with Mayor Coad looking increasingly the victim of a stage-managed conspiracy to discredit his position as the community's elected leader.
Letters to editors appeared, for and against Mayor Coad. One particularly unpleasant one, in the Huon Valley News (April 13), was from Sue Clark of Huonville — realtor, mother of Cr Studley and a councillor who suddenly resigned from HVC early in the Noughties.
Blaming Coad for bringing "bad publicity" to the valley, she asserted that the way "to solve this problem" was for the "mayor to do the honourable thing and step down". Considering that, in political terms, the word "honourable" has become such a degraded word, Coad has been well advised not to take Clark's advice.
She described Coad's decision to leave three special meetings as "petulant walkouts". He seemed to prefer to think that, by absenting himself from meetings with agendas that did not allow discussion of the initial board report, he was safeguarding his reputation.
Clark said how "appalled" she was at the way "the mayor spoke over the airwaves when interviewed [April 7] by Mick Newell [7HOFM]". In that interview, it became apparent that council management, without consulting the mayor, had commissioned a report from prominent Hobart lawyers, the objective being to rebut the board's findings.
Who leaked that confidential HVC report remains a mystery. But someone wanted it out on show, possibly in the hope that Newell would use it to berate the mayor.
Clark's impression of Newell's April 7 7HOFM interviews (with Mike Wilson, Peter Coad and three "people on the street", who conveniently didn't approve of Coad as mayor) bore no similarity to mine.
In response to Newell's "Now Pete, look, what's happened at the council?", I heard the mayor — cautious not to give away confidential council information — patiently and objectively try to explain that a process was in train that would eventually end up with a decision on the future of the council from the Minister for Local Government.
Newell, his hostility toward Coad undisguised, began butting in, referring to the confidential lawyers' document commissioned by HVC management that he had received in his "letterbox".
Perversely ignoring the truism that lawyers are paid to do their clients' bidding — in this case, HVC management, presumably under delegated authority (council down the years having irrationally delegated mountains of responsibility to management) — Newell dogmatically asserted that the lawyers' report was an "independent" judgement. And soon he was berating Coad for not accepting the "umpire's decision", a council management-commissioned document that Coad had not been consulted on. Some "umpire's decision"!
Coad's consistent response to Newell was that only one report would matter — and that was the final one the board submitted to the minister. It was, he said: "A very, very good report professionally done. The people who carried out that report conducted themselves very professionally." He told Newell that, until the facts were on the table, the innuendo flying about was "inappropriate and I won't be engaging in it".
Newell continued to interrupt Coad, demanding: "Why do you keep leaving the meetings. This is the third one in a row . . .?" Coad's explanation of conflict-of-interest circumstances didn't wear with Newell.
But what can be read between the lines is that three special meetings of council were called — March 22 and 30 and April 4 — and that, at all three meetings, Heart members were not willing to consider the report the board of inquiry had submitted to the LG minister; and that they were only interested in the management-commissioned lawyers' report, which, presumably, was designed to negate the official board report. Newell seemed to think that because council money (which means ratepayers' and other taxpayers') had paid for the lawyers' report, that made everything OK.
"Were you in agreeance (sic) with engaging this Hobart law firm . . . ?" Newell asked. Coad said he hadn't been told that a law firm had been engaged. (So much for communication from HVC management to the mayor.)
Another Newell dig during his conversation with Coad: "We had no turmoil in the council until you came along." That doesn't surprise this writer: until Coad "came along", no one — despite council's litany of stuff-ups, including the loss of $4 million unwisely invested in a new, untested financial commodity called CDOs (collateral debt obligations) — had ever been able to seriously challenge the workings of the secret society HVC had been since its inception in 1993.
At one point, Coad, frustrated at Newell's disrespectful, bullying line of questioning, told him: "My reports don't fall off the back of a truck."
Anna Dare, possibly sensing that Coad was being dumped on by her radio co-host, cut in to say the lawyers' report was obviously the work of those against Coad. Newell, seconds later: "No-one's against the mayor". The mayor could not help guffawing at the ludicrous irony of it all.
Newell, blustering, "We are sick of it down in the Huon", said he had walked the length of Huonville's Main Street the day before and found not one Coad supporter. (I could walk Cygnet's Mary Street and find not one person with a bad word to say about Peter Coad. And I'm sure I would have no problem finding plenty of Coad supporters on the main streets of all Huon Valley population centres) Then Newell produced a studio-quality recording of three locals slinging off at the mayor.
I couldn't help but smile at this distortion of the balance of valley public opinion, especially so at this anonymous, and surely scripted, Coad-knocker's observation: "Obviously, the man has got no leadership skills at all, and I don't think even Basil Fawlty would pull the crap that he's pulling."
That's a bit rich: Coad, ever since the day he first sat in the mayor's chair at council, has displayed deft skills as a chairman, always showing respect for his fellow councillors no matter how beleaguered and despised he must have felt at times.
Nevertheless, he has on occasion had to politely put Wilson in his place when the clearly disgruntled councillor acted outside of Coad's code-of-council chamber decorum.
On the day of the farce that was Newell's interview with Coad (April 7), Mike Wilson just happened to call in to 7HOFM for a chat with his mate Mick. Quickly putting the boot into Coad, Newell (his facts so flimsy or wrong) went on about how insulting Coad had been in wanting to see the general manager's credit-card history; and how "awesome" the GM was. Wilson, in their conversation, didn't challenge any of the slurs Newell cast against Coad.
Wilson remarked that there had been no "turmoil" through the years of the council's two former mayors, the late Greg Norris and Robert Armstrong. Of course there wasn't, because they had councillor-majorities' backing, and unquestioning of, them. But since November 2014, that hasn't been the case — and most of the Heart six have left no doubt they don't like being part of a council majority that does not automatically have the mayor on their side.
Coad's unsuccessful bid for a bit of harmony
WHEN he became mayor, Coad made it clear he wanted harmony on council, and that he wanted it to work as a team. The Heart would have none of that, and, mainly through Wilson, the constant pressure on Coad has had all the hallmarks of a vendetta.
Who knows what council management's attitude has been? But it is fairly obvious that the mayor (apart from support from Crs Smith and Mackintosh) has received little or no co-operation to help him achieve the way forward he proposed in his election campaign.
Frequently in the Huon Valley News (HVN) — a publication that doesn't try very hard to be a newspaper — Wilson, presumably as a means of building his profile, places small ads extolling 'The economic drivers in our valley'. In them he names a Huon Valley business and says how many staff it employs (a big-print 'COUNCILLOR MIKE WILSON' is included).
Often, within a couple of weeks, along comes a letter in the News from a member of a "driver" company singing the praises of — guess who? — Mike Wilson. Nothing wrong with that, I suppose, but it does show that Wilson is never out of campaign mode.
A more egregious intrusion into local politics came in the form of a media release run in the Huon Valley News (HVN) (May 4). It was from the Australian Services Union, which asserted, on the basis of no presented evidence, "The Australian Services Union (ASU) said comments made in the media by Huon Valley Council Mayor Peter Coad hurt the hard-working Huon Valley Council staff who are caught in the cross fire". The heading on the release, 'Mayor's comments hurt hard-working council staff', was unattributed, which could be seen to indicate which side HVN is on.
Several letters to the ASU from valley residents protesting that its media release was a total misrepresentation of the facts met a brick wall. Either they got no reply, or an assertion that the ASU was standing by its statement.
As a former member for more than 50 years of another union that I always felt would help me in times of difficulty, I am ashamed that a union could act with such total disregard for the facts. The release talked of the "ongoing stream of criticism being hurled by the mayor, insisting that the council should be replaced by an administrator".
Peter Coad to my knowledge has only ever spoken generously about operational staff of the council over which he presides. And his talk of the imposition of an administrator seems to relate to his belief that there is a sufficient level of dysfunction in council management to warrant its dismissal — which doesn't mean staff positions would necessarily be under threat.
(It is understood that the ASU, on behalf of its members, recently completed negotiations with council management on wages and conditions. This was a process that rested with management, council long ago having rid itself of such responsibility as a result of delegation of authority to the general manager. It is believed council's wage bill will now exceed its projected rate revenue.)
What's next?
So what happens next? Mick Newell hasn't told us that he has had another lawyers' report dropped in his letterbox, though it's suspected one exists. It should be reasonable to think that no-one outside of the GM, senior council management, and the nine councillors know what is in the board's final report, though the leaks suggest some people who shouldn't know, do in fact know roughly what's in it.
Mayor Coad, who approved of the first report, hasn't been quoted as lamenting the contents of the second report, whereas the behaviour of Wilson, and his public statements, suggest that the final report has made him even more dissatisfied than he was with the first.
Nothing I have seen or heard since the new council was elected in October 2014 has dissuaded me from believing that the dysfunction that the board appears to have found at Huon Valley Council is a direct consequence of a vendetta on the part of those who wield the power at council against a man who believes that, if local government in the valley is to best serve the interests of the whole community, reform of the system and an opening up of the valley to communication with the outside world are vital.
If what has been leaked about the second board report is accurate, and Gutwein decides to act on its recommendations, I look forward to witnessing Wilson leading his valley entourage on the streets of Hobart — and I hope never to see his car parked in the spot reserved for the mayor in the HVC car park.
— Bob Hawkins has been reporting on Huon Valley Council for Tasmanian Times since 2009.
Should anyone have had the stamina to get this far, I say, in the interests of posterity, stuff of this nature should be Huon Valley archival material. Anyone who thinks I've got it all wrong are welcome to offer their version of the tragic events that have afflicted the Huon since those who dominate the affairs of the valley's council, and their supporters, decided they would reject a mayor whose sins are to strive for truth, honesty and good governance.
• Bob Hawkins in Comments: For the record: Cr Ken Studley resigned early in tonight's council meeting, and immediately left the chamber, briefly pausing for a comment by the mayor. His departure appeared to have been premeditated. Studley was elected to council in October 2014 on the Heart of the Huon ticket.
• Geoffrey Swan in Comments: … I wrote a comprehensive letter of formal complaint to the General Manager of 7HOFM on 10th April which I said in part: The behaviour and conduct of Michael Newell in his interview with Mayor Peter Coad was totally reprehensible, abusive, rude, dominating and frankly, disgusting. Michael Newell's vocabulary and continued aggression demonstrated: …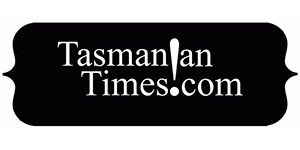 Author Credits: [show_post_categories parent="no" parentcategory="writers" show = "category" hyperlink="yes"]