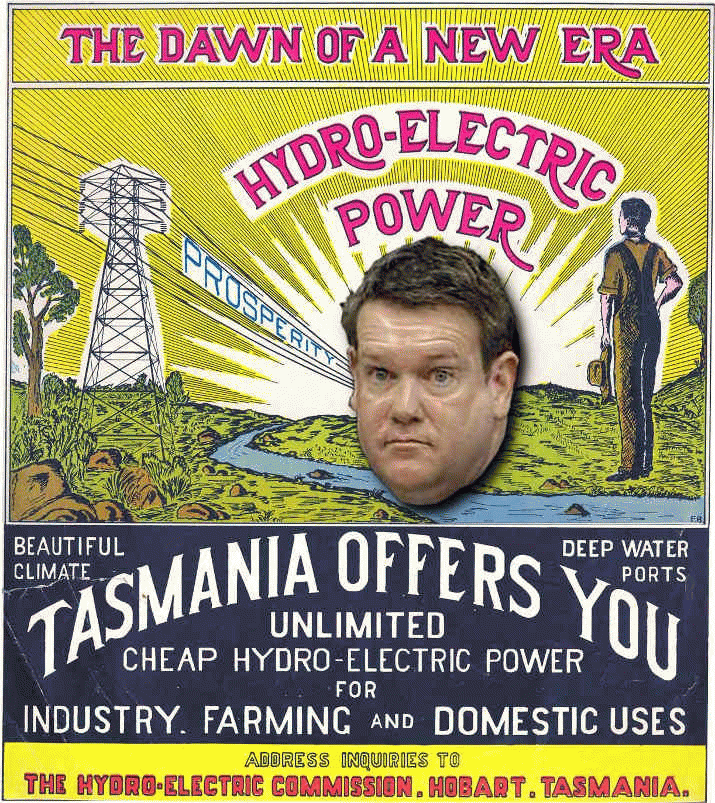 This is in the UTAS archives from December 1932 … Updated with a picture of 2016 Energy Minister Matthew Groom.
THE BASSLINK SAGA on Tasmanian Times …
• BASSLINK, John Lawrence: Is Hydro insolvent?
• BASSLINK wrap: 'Interconnector fault pinpointed'
• BASSLINK: Graph of the Day, Tasmania's switch back to fossil fuels
• BASSLINK wrap: Libs secretly migrated own Internet services off Basslink. Will, Entura, Board …
• What can you expect from a Hydro Board with five business/finance backgrounds and a single, solitary engineer … ?
• Nero fiddled, Basslink fried, includes an embedded WIDGET showing Tassie's energy use of Hydro, Wind, Gas, Solar, Liquid Fuel …
• John Lawrence's Basslink under water
• Garry Stannus' Tasmania's Energy Crisis
• Bad News Trainwreck for Good News Matthew
• Bad News Trainwreck for Good News Will
• Chris Harries' Basslink: A short summary of risks
• Hydro, Basslink: Is it true?
• Read for yourself: Liberal energy promises … and solar reality …
MEANWHILE …
• Satire: Tasmanian Heritage …
• Luigi in Comments: So Will Hodgman has set forth to visit Keppel Corporation Limited in Singapore. That's possibly a step in the right direction for a Premier who has done an excellent job so far of not dirtying his hands over this "extreme natural event". But can someone tell me why Keppel Corporation didn't see fit to come here to speak to our Premier? If someone had to go cap-in-hand to Singapore, why not Matthew Groom?
• Peter in Comments: Tasmania's energy crisis could cost the island state's economy more than $400 million, an energy expert has warned. Much of the cost will be borne by Hydro Tasmania, the state's electricity monopoly, other state-owned energy companies and the state government.
• A.K. in Comments: For $100 million we could have put solar panels and energy storage on every rural house and urban buildings that can generate power and never have power problems again.
• ABC: Tasmanian energy: Greens declare generators an 'environmental crisis' as inquiry begins
• Bryan Green in Comments: Major industrials confirm Groom did not consult before shutting down power station
• Use the TT NEWS dropdown menu for breaking news/comment on the inquiry ( ABC HERE ). And go to TT Media HERE for the permanent links on What the Pollies reckon …
• phill Parsons in Comments: There we were watching the ABC News and the Energy Minister at the Senate Inquiry was broadcast. Matthew 'Crisis, what crisis' Groom came on to say you can call the failure of the Bass Strait cable and the drought as a crisis if you wish. We burst into laughter, but after all it was Wednesday, the ABC comedy night. Here on the NW Coast everyone I meet talks about the lack of rain, a drought denied by the Hodgman government, an energy crisis denied by the Hodgman government and a climate crisis denied by the Hodgman government.