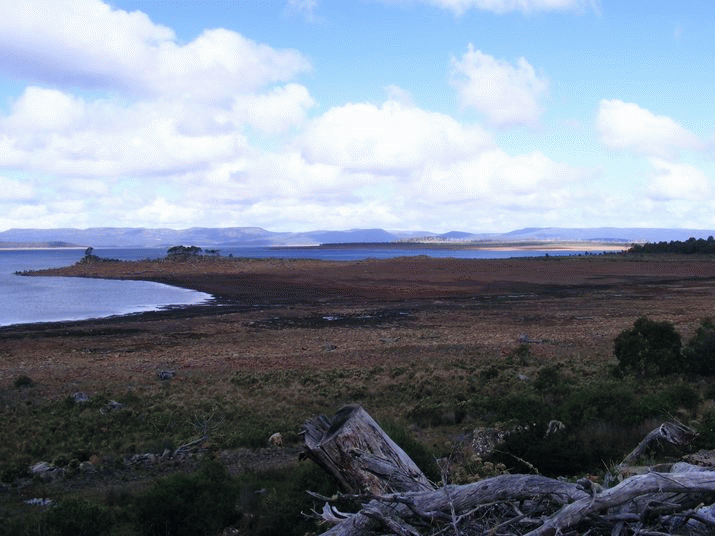 High and Dry: Great Lake between western 'shore' and Reynolds Island
FRIDAY, March 14 …
• Guardian: Tasmanian power crisis reveals urgent need for more renewable energy With Tasmania's hydropower plants idle due to low rainfall, and a faulty cable connecting the state to the mainland grid, it's clear a better long-term solution is needed
By the end of the first week of February, 2016, Tasmania's water-energy supplies had dwindled to just 18.26% of capacity. By the end of the second week, the 15 Feb 2016, that figure had fallen to 17.35%.
By the end of the third week, it reached 16.8%. The state's two main water energy systems, the Great Lake and Gordon-Pedder Lakes are now below levels at which both environmental and water quality risks may have arisen*.
The Lake Gordon-Pedder system has dropped to 9.8% energy capacity. Our Great Lake system is reduced to 12.3%. This figure is below the low point reached during the Millennium drought, when the Great Lake fell to 16.7% of its capacity.
Tasmania obtains its energy from domestic sources – Hydro (e.g. the Great Lake), Wind (e.g. Musselroe and Woolnorth), Gas turbine (e.g. Tamar Power Station) and Embedded generation (e.g. rooftop solar panels).
A further source of energy is from the Loy Yang power station at Loy Yang, Victoria, which is transmitted via the Basslink cable. On December 20 of last year (2015) this cable developed a fault and ceased transmitting power to Tasmania. It remains [27 Feb 2016] out of service, and our Energy Minister, Matthew Groom, cannot tell us when it will be fixed …
Download to read the full article …
http://cdn-src.tasmaniantimes.com.s3.amazonaws.com/files/Tasmanian-Dustbowl_27Feb16.pdf
*Garry Stannus celebrated turning 65 by taking his camera, broken 'Mark III' digital and some spare batteries up to the Great Lake on the 14th of February. He wanted to see what the Great Lake actually looked like, in this time of energy crisis. He operates on his own, though has been known to mix with certain groups in the past, as the occasion arose. E.g. Bracknell-Liffey / Taytitikitheeker Landcare Groups, TAP (Tasmanians against the Pulp Mill) Wilderness Action Group, Code Green, Friends of the Tamar Valley, the Greens, the Wildos… In other words, he's a greenie. He contributes to Tasmanian Times with occasional articles and lengthily in some of TT's comments threads. He does this because he wants to support TT, since it is the public's only medium to communicate the information that is often so tightly controlled/editorialised by the mainstream press. He is a son, brother, husband, father, grandfather and great-grandfather; he is proud to have a few friends and likes Fresh Cafe, Launceston. He lives in Liffey and Launceston and rides a Southern Star (KMart=$130) around the town since his Malvern Star original Made-in-Melbourne model was knocked off out of his backyard, one dark night…
• John Lawrence's blog, Tasfintalk, has several articles on Basslink … HERE
• ABC: Prospect of tapping Lake Pedder for water prompts calls for it to be restored to pre-flood state
• Clive Stott in Comments: We were told we were going to be the food bowl, nobody told us we would be the dust bowl when they were going for it to deplete our water storages. The Bass Strait Triangle soap opera keeps going on, https://en.wikipedia.org/wiki/Bass_Strait. Submarine cables in this area have a habit of failing and we are foolishly even considering another one. Go figure.

• See Peter Fagan, Comment 33 …
• Peter in Comments: ABC: Tasmanian dairy farmer fears power price hikes could put him out of business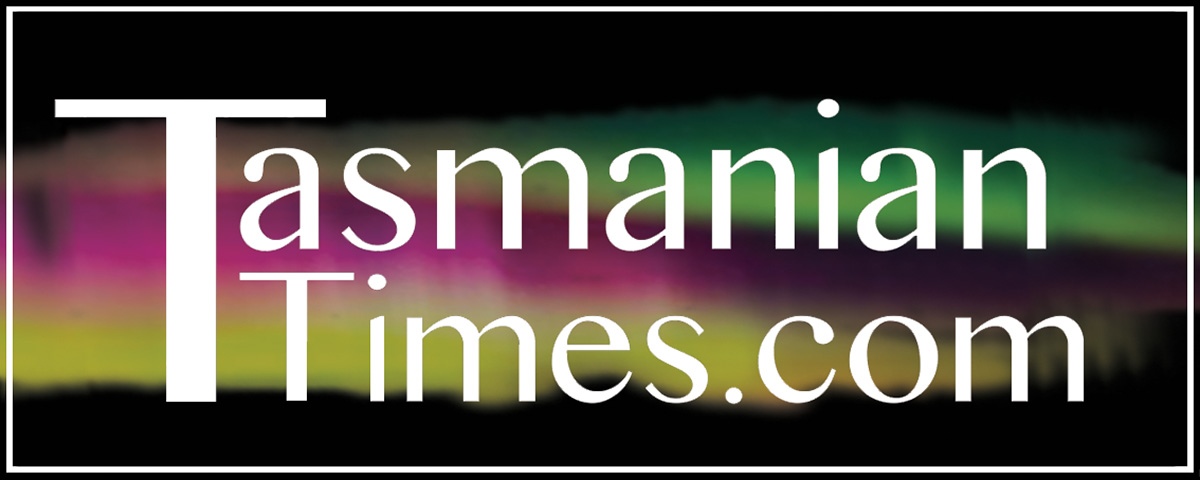 Author Credits: [show_post_categories parent="no" parentcategory="writers" show = "category" hyperlink="yes"]