*Pic: Sign on Huon Road at the start of the 90kph speed zone near Longley
Is it Groundhog Day?
As reported in the Mercury on 3 January 2014 under the headline, "New call for lower speed limits on state's rural roads after rise in road toll," Infrastructure Minister David O'Byrne in August 2013 backed away from a proposal to reduce the rural speed limit from 100km/h to 90km/h, saying it did not have public support. The new Infrastructure Minister Rene Hidding uses the same excuse. How did they test this public support?
Mercury News 3 January 2014

"Experts have urged lower rural speed limits after Tasmania and South Australia were the only states to register increased road tolls last year.

"Professor Max Cameron, of Monash University Accident Research Centre, said it had made a strong recommendation to the Tasmanian Government to cut the limit because it would save lives.

"Two-thirds of the state's 37 fatal crashes last year happened in 100km/h speed zones, many on rural roads. Prof Cameron said it was regrettable the limit was not reduced because death and serious injury on rural roads could be prevented. 'Travel-time savings are not worth the cost of losing a life,' he said.

"Most rural roads were not suitable for 100km/h speeds. 'All states are suffering from the cost of road maintenance and roads are deteriorating so current limits are out of date,' Prof Cameron said. Through his research he had found evidence that speed limits for all trucks should be reduced to 90km/h.

Although it would not be a popular move with business and transport industries it was necessary for the safety of road users. He said many road accidents involving trucks were multi-fatalities.

"The Road Safety Advisory Council also put forward a recommendation for a speed reduction on rural roads. Its chairman, Jim Cox, said he believed Mr O'Byrne was still looking at a proposal to reduce the speed limit on gravel roads."

http://www.themercury.com.au/news/tasmania/new-call-for-lower-speed-limits-on-states-rural-roads-after-rise-in-road-toll/story-fnj4f7k1-1226793998848
Legislative Council's Community Consultation and "strong community opinion"
In 2013 a Legislative Council Select Committee on Rural Road Speed Limit Reduction from 100kph on Sealed Roads ( HERE ) changed the policy from a reduction to 90kph maximum on rural roads. Thirty eight submissions were received of which five were various authorities such as Councils, RACT and TCT. Those against a speed reduction totaled 73% or 28 submissions. Our surveys consisted of forty one random residents and businesses. Disturbingly, with limited resources as individuals, our efforts to gain input exceeded those of the state government. We found 88% of the 26 residences surveyed recorded a preference for a 60-70 kph maximum on Huon Road while 67% of the 15 businesses who responded to our survey supported a review of current speed limits based on our recommendations for the Huon D'Entrecasteaux region. This is the direct opposite of those lobbying the Legislative Council for no change.
The first finding in the LC report determined "support of the decision of the Government not to proceed with the proposed reduction in speed limits to 90 kph on non-urban sealed roads and believes that the decision reflects strong community opinion on the issue."
A short selection of the case against any reduction:
1. Collision Analyst and Reconstructionist, Mr Barry McDonald (retired Tasmanian Police) raised concerns with the possible consequences of a large scale default speed reduction. "A blanket reduction in speed on all country roads would likely have the opposite effect to what would be intended and there would be an increase in accidents. This would likely result in an increase in injuries and fatalities."
3. Mr Peter Nalder commented on the lack of compliance that may arise from the change in speed limits. "By introducing a 90 restriction you will once again, be causing the majority to conform to try and contain the minority. It is not necessary to introduce a 90 speed limit, just to try and slow down the idiot element, that won't obey the rules anyway, by this I mean excess speed/drugs/drink driving/ unregistered/uninsured etc; in other words the ones most likely to cause an accident."
4. Mr Geoff Page from Page Transport commented on the importance of truck drivers needing to drive to the conditions regardless of the default speed limits that were in place. "It's not a matter of the limits you set on those roads; 80 kph is far too fast for a four-deck load of livestock – of sheep – on some of those gravel roads. You just couldn't physically travel at that speed, so it is nonsense to think that making it 60 or 80 or 100 kph is going to make any difference to the driver. He is going to drive to the conditions, whether it is a gravel road, or a sealed road. It really needs to be taken on a day-to-day basis."
5. Mr Richard Sherriff noted his concerns with the level of community consultation. "A matter that concerns me is the manner in which the Road Safety Advisory Council consulted with the public. It seems that they have been over zealous in trying to implement this 90kph default speed limit proposal and I refer you to the following:
a. Limited community access to their public consultative process
b. Ignoring invited written submission against their proposal which were 80% against
c. Continually using inflated data on potential crash savings to advance their argument."
6. The General Manager of the Northern Midlands Council, Mr Adam Wilson questioned the reasonableness of the standard that his Council would be required to meet for its roads in order to maintain the 100 km/h limit in accordance with the Strategy. "In Terry's (Terry Eaton, Traffic Engineer for Northern Midlands Council and the source of another private submission) report to the council in December, he also came up with the estimate that, for a small municipality, we'd be looking at an extra $30 million. Our turnover for the year is $15 million. We have a very good road network; we have a very good asset management plan in place now. To put these extra requirements on, puts so much more pressure on the rate base. I guess that's one of the areas that councils are looking at. There are no additional funds from any of the tiers of government to provide that, other than from the ratepayers. For an extra $30 million to undertake that, it's quite large. And that's not our whole road network; that's only connector roads and the linking roads."
A short selection of the case for a reduction:
1. Dr Bruce Corben from Monash University also expressed his support and highlighted the lives he believed would be saved as a result of the Strategy, "The rural road speed limit reductions proposed for Tasmania have the potential to prevent around 17-20 deaths and seriously injured every year, depending upon how widely they are implemented. Furthermore, these reductions will be achieved at a fraction of the cost of environmental impact of a large-scale barrier installation program and with relatively minor impact on travel times."
2. Mr Andrew Smith noted that Tasmanian roads were generally not constructed and maintained to the same standard as comparable roads in other States of Australia as a reason to support the Strategy, "There are very few kilometres of roadway in this state comparable in standard to roads on which the other states would allow 100 km/h speed limits. And, in the main, those states go to the trouble of annually safety-checking the vehicles."
3. The late Mr Geoff King spoke of the Arthur River region. He noted that, "It is my view that a reduced road speed will lead to a safer journey, particularly for visitors at night, and a reduced level of roadkill of threatened species, namely Tasmanian devils and Spotted Tail quolls."
4. Road Safety Consultant Mr David Healy also supported the Strategy and noted amongst other comments that, "The relationship between average travel speeds and road trauma is well established in the scientific literature. Small reductions in the average travel speeds of traffic lead to significantly larger reductions in number of deaths and serious injuries occurring on those roads."
The case against reflects much personal opinion like "idiots are more likely to have accidents," "the RSAC is overzealous" and lower speeds would lead to an increase in fatalities and serious injuries. Page Transport seems to argue its trucks cannot reasonably travel at higher speeds anyway but higher speed limits should be maintained. The Northern Midlands Council's submission places budget constraints as a blocker although it should be noted the Northern Midlands Council unanimously rejected being part of the 90kph rural road trial. The Chief Executive Officer of the Local Government Association of Tasmania (LGAT), Mr Allan Garcia, has also confirmed his organisation's general support on behalf of local government and noted that limited objections had been raised by Councils with LGAT. "I haven't had councils ringing me saying this is a terrible thing, although there are some councils that have raised concerns. I am aware of Northern Midlands, Meander Valley, and West Tamar to a lesser extent. Certainly Break O'Day has been quite outspoken in its lack of support for the speed reduction."
The case for, on the other hand, has specialists in Road Safety, Accident Research and Analysis and I'll let their words speak for themselves.
Full Submissions can be found at: http://www.parliament.tas.gov.au/ctee/Council/rrspeed.htm
The fourth finding in the LC report was where "the majority of serious and fatal crashes on non-urban roads are attributable to a variety of causes in which speed is not a factor. This is supported by analysis completed by the RACT and by statistical information provided by Tasmania Police."
Speeding was a factor in 44 per cent of fatal crashes and 35 per cent of serious injury crashes in the past five years (Jim Cox, RSAC, in an article for the Mercury dated 12 December 2015)
Finding number sixteen was "RSAC stands by the recommendation to reduce default speed limits on some 100 kph roads despite the Government's decision not to proceed with the recommendation."
Is there dissension in the Parliamentary paradise?
Does Tasmania use national safety standards on its 100kph rural roads?
" 'The Tasmanian criteria' – for 100 kilometre roads and in applying the criteria we have relaxed the desirable lane width and shoulder sealing criteria, where the crash rate was below the average."
Like forestry, secondary education and so many other policies Tasmania just creates its own standards. It doesn't matter that they are not accepted nationally or internationally, markets collapse or a few more die on the roads. We have our own standard.
An extract of the Public Legislative Council Select Committee on Rural Road Speed Limits (Hobart 22 April 2013, HERE),
Mr Rutherford acting for Mr McIlfatrick (DIER) stated,
"One of the key things we have been looking at is the concern over balancing the efficiency of the system with the safety of the system…We have been looking at this is terms of the standards that were developed, based on safe system principles for assessing which roads are safe to maintain at 100 kilometres an hour. The optimal model, developed by the independent ARRB, would, if applied without change to Tasmania, have meant that very few sections of Tasmania's non-urban network would maintain a 100-kilometre speed limit."
Following community concerns being raised with Government in relation to the blanket proposal, the policy was changed by the Government to a framework whereby an assessment model would be applied to sealed roads nominated by communities and Local Government. This would enable a determination to be made as to whether the nominated roads (or a section of the road) could maintain the existing default speed limits of 100 km/h.
The modeling was developed by ARRB who prepared two reports in relation to the criteria. The reports were tabled in Committee as part of the inquiry process. The modeling to be applied under the Strategy is referred to as the 'Tasmanian Criteria for 100 km/h Roads' and was developed specifically for Tasmanian road conditions rather than applying the 'Optimal Model'. The Tasmanian criteria apply a lesser threshold than the 'Optimal Model'.
Mr Bob Rutherford from DIER explained the specific Tasmanian criteria that had been developed. 'Together with ARRB, we have developed a less prescriptive second set of criteria – the Tasmanian criteria – for 100 kilometre roads and in applying the criteria we have relaxed the desirable lane width and shoulder sealing criteria, where the crash rate was below the average. It was very important that we looked at what the data said about crashes. By doing so – and I think that went the whole efficiency issue – the kilometres of state roads that will retain the 100 kilometre speed limit were increased by a factor of six. We are bringing forward a change that will leave the roads that carry most of Tasmania's journeys, in combination with the 110 kilometre roads, at 100 kilometres. To put that into perspective, where people are concerned about travelling times, more than 70 per cent of vehicle kilometres travelled on state roads on a daily basis will be on those roads. It is a crucial difference to what you might have been thinking, and where the pure criteria would have taken us.'
In its written submission to the inquiry, DIER also confirmed the following major points in favour of the Strategy and in support of the Government's position:
• That more than 100 lives might be saved over 6 years through the delivery of the Strategy;
• More than 40 percent of serious injury and fatal crashes occur on 100 km/h non-urban roads;
• Science supports that a small reduction in travel speed can result in significant crash reductions;
• Similar benefits have been demonstrated through the reduction in urban speed limits to 50 km/h since 2002;
• 100 km/h speeds can only be supported for roads with suitable safety infrastructure and many Tasmanian roads can never be upgraded to meet these standards;
• High volume and strategically important non-urban roads should be upgraded to maintain the 100 km/h speed limit; and
• The implementation of the Strategy will end confusion about 'end speed limit' signs.
Professor Johnston also noted that the relatively poor standard of Tasmanian roads was a key factor in the decision to reduce non-urban speed limits.
Prof. Johnston: "If we started with a clean sheet, you would build the roads to a totally different standard, but you don't have the money to do it. No state in Australia has the money to build them to the standard you want for 100 kph now, but you are stuck with 100 kph because you have it historically. What do you do? If you have the money, by all means turn all the current 100-kph roads into 100-kph standards roads and then you'll get the same safety benefit."
Mr Mulder: "So we're going to allow people to travel on these roads at a faster speed than the road allows because we can't afford to build a road and we're going to save money? It seems to me a terrible position you've got yourself into by deciding you're going to vary the standard of the road applicable to the speeds you'll be travelling. You make a very significant point in the fact that the speed has a rock solid connection to the standard of the road. What we are watching here is a heap of relaxation of that thing and thereby creating, in your own words, danger."
Chair of RSAC, Mr John Gledhill, also indicated that science was behind the decision and that it was the highest priority for RSAC: "It is proven that where infrastructure can't be upgraded, speed management is the best option to mitigate risk. The science is strong. Reducing travel speed reduces crashes and crash severity regardless of the cause. I will emphasise that again because it is not just about speed as a causal factor; it is very much that when you have a crash, the body is not resilient to sudden impacts and regardless of whether speed caused it, speed certainly plays a major – if not the total – role in the injuries. Reducing the travel speed on Tasmanian roads would deliver greater serious casualty reductions than any other measure. I had some work done by Newark for the council a couple of years ago and they estimated the injury savings in relation to a number of measures.
"The council unanimously agreed that this was the highest priority; it could result in the most significant gains and should be progressed. This is about travel speed, not speeding. We are looking at reducing speed limits. There will still be people speeding; it will remain an issue but it is not part of what we are about here. We have other projects addressing issues such as driver behaviour and vehicle safety, learner driver programs, and the like but we in this particular project are targeting speed limits and not speeding as such."
What is a Rural Road?
Australian drivers and residents are generally aware of the normal speed zones for different types of roads. Shopping zones with high pedestrian counts, school safety zones and urban zones exist for our cities. We have arterial roads with highways, freeways and rural roads connecting towns and villages. Speed limits are generally expected from divided highways at 110kph, highways at 100kph, some 80kph zones near cities and towns on these arterial roads, 50-60kph in suburbia and 40-50 kph safety zones. Some simplification could be advanced by DSG but people and drivers are generally aware.
A gap in our speed zoning regulations relates to the outer metropolitan area of our cities – the commuter or greater metropolitan zone. These are residents usually in a less dense development zone like small acreages. Are these roads rural, urban or something in between? What definition and criteria are used in the department's or councils' assessments? Are councils consistent in these assessments?
Roads like Sandfly Road and Huon Road are not arterial. They link into the arterial roads like the Huon Highway, Channel Highway and Southern Outlet. Depending on the geography they should not exceed 80kph (eg Sandfly Road) as they are not of a suitable standard for higher speeds, are often tourist routes and have a higher population than more remote rural districts with children, horses, cyclists and joggers. This is the function of the road. It is the same safety logic as applies to other strategic zones for schools, shopping and residential areas. However, if one asks for a definition of a rural or urban road there are only generalisations in response eg Kingborough Council:
"A rural road is generally defined as having no kerb and channel or footpaths, driveways generally spaced at large intervals and outside of an urban area. The Huon Road between Neika and Lower Longley is very much typical of a rural road. There is no urban development on Huon Road, or its side roads, for its entire length within the municipality of Kingborough."
This general definition also fits with the Huon Road from Neika to Fern Tree (defined as urban by HCC) and I'm sure a few residents would be surprised there is no urban development along its entire length! How do the residents appeal this decision? Residents we surveyed told us of being given the run around between Kingborough Council and DSG and that "a speed reduction was not possible and to drive to conditions". Where are the regulations and policy guidelines?
A strategic improvement for Tasmanian roads and tourism growth would be designated Tourist Routes. A Tourist Route would be defined and be speed limited to a consistent 80 kph. It would not be arterial or a highway and the regions have major highways often running parallel like around Deloraine, Westbury, Penguin or the Tamar Valley wine region. Given the results of our business survey along the Channel Highway, I'd expect much support from local businesses trying to attract custom and longer stays from tourists.
Tourism and innovation
Tourism across Tasmania is growing but the government and local businesses cannot be complacent. Tourism Tasmania recognises the need to encourage tourists into regional Tasmania and not just concentrate on the major cities. This will require improved access to the regions and improving the amenity. Part of this will be the ability to experience the landscapes, beauty and unique businesses Tasmania has to offer.
The Huon Trail and surrounding attractions offer an opportunity to trial such a route in an area where higher speeds are not paramount. This proposal does not affect travel time for commuters or local businesses as the difference in actual travel time would be minimal and it is mainly south of Huonville and Margate. A review by DSG does not have to be prescriptive. The department can consult and vary the strategic intent, for example, by creating 90kph overtaking zones where it is safe to do so. A review should not be seen as threatening. It is a chance to enhance the experience of a beautiful part of Tasmania.
What could be achieved for the Huon Trail with strategic Tourism speed zoning:
1. The main arterial roads for commuters and businesses into Hobart remain at 90-100kph.
2. A consistent 80kph speed zone except for the towns and villages where 50-60 kph would apply and safe overtaking sections with a 90kph limit.
3. Poorer quality back roads and link roads reduced to 60-70 kph.
The last words are from our survey on Huon Road where a resident responded,
"I agree the speed limit of 90kph is ridiculous on the Huon Road. So is the sign asking people to 'Respect Rural Recreation.' Firstly, that people even have to be reminded of this and secondly, in my opinion, it should read, 'Respect Rural Life'."
ADDENDUM …
BREAKING NEWS 9 February 2016.
JOINT COUNCIL TOURISM ROUTE FOR PENGUIN COAST
CRADLE COAST COALITION BLOSSOMS
A regional approach to bike issues has taken a big leap forward on Tasmania's North-West Coast.
The Cradle Coast Authority will form two groups to advise on what infrastructure is needed in the region, and how the cycling experience in the North-West could be promoted for tourism, liveability and health and wellbeing.
The move follows a meeting on Monday at Burnie of council representatives including three of the mayors, community representatives and Bicycle Network Tasmanian adviser Garry Bailey.
The Cradle Coast Authority – controlled by the North-West councils – developed the plan for the North-West Coastal Pathway six years ago but it has been left to individual councils to develop their sections of the route.
Now the strategy is to map out a regional approach to planning and in seeking federal and state government funding – rather timely with a federal election this year.
Individual councils and community groups have already held talks with the federal MP for Braddon Brett Whiteley and federal Lyons MP Eric Hutchinson to seek their support for funding to continue work on the pathway.
Central Coast Council has made significant progress on bike infrastructure around Ulverstone and the pathway between the town and the Forth River has become very popular with riders, walkers and runners.
Central Coast mayor Jan Bonde, a strong advocate for bike riding and a regional approach, told the Burnie meeting the council has plans to extend the path from Leith to Forth and develop the pathway between Sulphur Creek and Penguin.
The biggest challenge, she says, is making the narrow and twisting scenic coastal road from Penguin to Ulverstone more bike friendly. This could mean more signage and lower speed limits.
The council will continue to seek funding support for the conversion of the heritage-listed Forth River railway bridge to link the current path with Leith, then on to Forth and Devonport.
Kentish mayor Don Thwaites and Latrobe's Peter Freshney also strongly backed the regional approach at Monday's meeting.
Cradle Coast Chief Executive Officer Brett Smith and his staff will now press ahead with two project committees. One of the aims will be development of a Cradle Coast cycling experience strategy
While this is both good news for NW Tasmania and the viability of Tourist Routes generally it also demonstrates the lack of initiative and funding in the south of Tasmania. The councils are consulting with state and federal representatives to seek funding and support. On the downside it is unfortunate our southern councils cannot act in a similar co-ordinated fashion.
Potential electioneering reminded me of a draft map detailing state funding priorities and safety improvements for our rural roads from 2013. The main article (Road Safety No6) referenced the Legislative Council Hearings where this map from DIER was tabled. Obviously only the rural roads north of Oatlands need improvement! We are being played for mugs by the Minister and the Premier.
• Satire …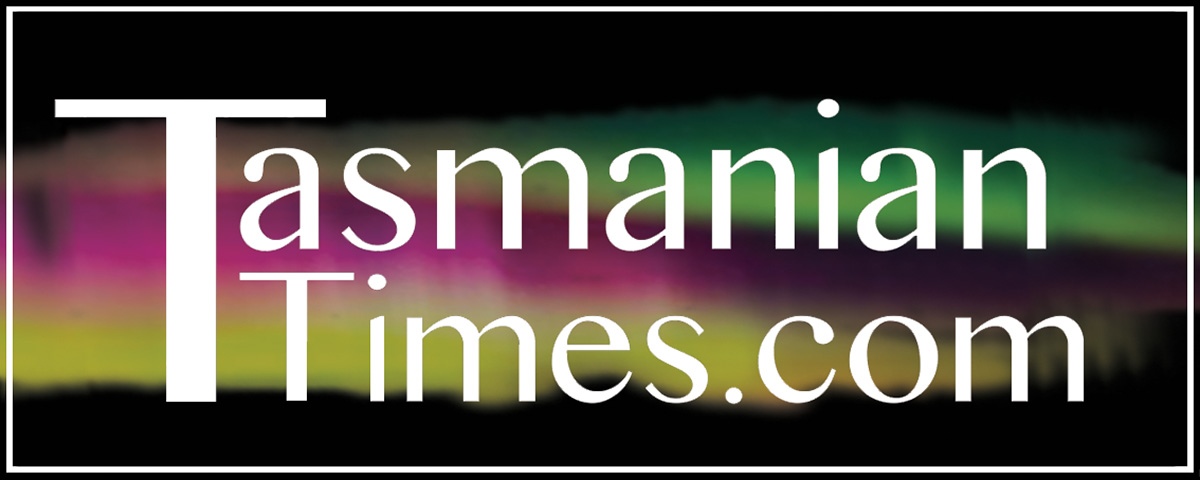 Author Credits: [show_post_categories parent="no" parentcategory="writers" show = "category" hyperlink="yes"]