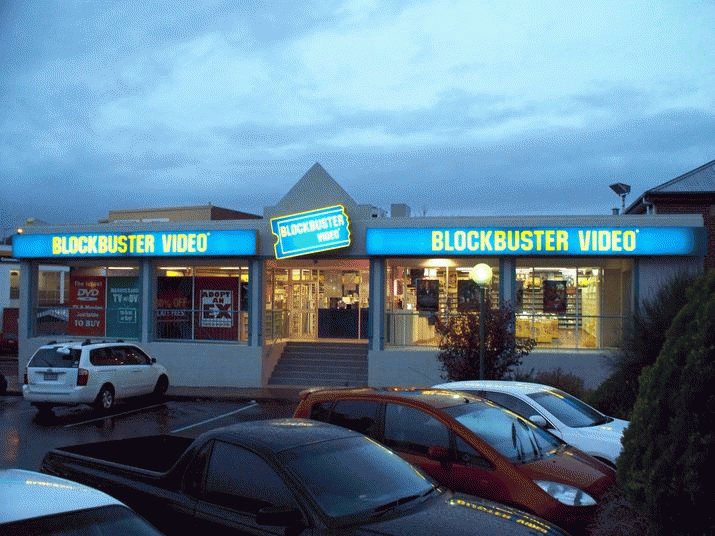 *Pic: Blockbuster Sandy Bay … Image from Wikipedia here
First in an occasional series by Amber Wilson …
It's like a Goddamn wasteland out there.
You know what I mean. No shiny windows full of the old promises. No special coupons in the letterbox. Even those shitty ads on TV have stopped.
As much fun as downloading movies from Pirate Bay is, ahem, I mean Netflix, I don't think I'm going too far to say that we as a society have suffered a catastrophic loss in the death of the video store. I mean, I grew up in Moonah, not too far from the large, sprawling wonderland that was Video City on Main Road. That was a belter of a video shop. For 10 bucks, you could load yourself up with a new release, say Gone Girl, and three weeklies – perhaps Run Lola Run, Like Water for Chocolate and Bladerunner.
That was 10 bucks well invested.
If you were going all out, you could even buy that pre-made fairy floss and a block of Cadbury Dairy Milk at the counter, albeit at a much heftier rate than you'd pay anywhere else. But that was all part of the fun.
Some of my most joyful childhood memories centre around video shops. Renting Mermaids with my mum. Sleepovers with my auntie, who'd buy me heaps of sugary crap. Being allowed out of the house in my pyjamas and slippers, because after all, we were "only" going to the video store. And as I got into my early teens, accidentally renting porn (Zane's World, White Men Can't Hump, anyone?).
My teenage years were peppered with rentals like The Crow, The Lost Boys.
Memories, memories.
Then the early days of adulthood and coming to the realisation that I really, really loved movies.
Watching stuff like City of God, which I'm not exaggerating to say changed my life and made me a better human being. Moving to Melbourne and discovering video stores full of alternative and foreign film and staffed by afficionados. Cool video stores could be literal havens for the smart and arty types of this planet.
Coming back to Hobart and finding solace in the arthouse section of Blockbuster Sandy Bay. Being dateless on a Saturday night but then feeling the sun rise inside realising that meant you were free to head to the video shop instead. Or, having a date and taking them to the video store and realising you had the same taste in movies.
Recipe for romance, I say.
They're all gyms now, owned by former Liberal politician Bob Cheek. Melbourne's no better of course.
Empty shopfronts. Mainland gyms. Pawn stores. Just … just other crap that aren't video stores.
Books were suffering the same fate as we all turned to Kindle, or Heaven forbid, couldn't be arsed even reading books anymore at all.
We were apparently forgoing our Twain for our Twitter, our Yeats for our Youtube.
But there has been some kind of U-turn in book sales, and we're all marching back to the bookstores, they say.
So why haven't we seen a similar, Luddite-like return to the video store? Could it be that videos, well, just aren't intellectual enough? If that's the reason physical books are back in fashion, but not physical movies, then I say that there's a misconstrual between Hollywood pulp and actual movies, made by people – artists, who actually give a stuff about what they're doing and what they're trying to say.
I am sad that we've lost video stores. To me they represent the weekend, treats, cheap fun. And I am sad for all those franchise owners that must have lost craploads of money in the past five years. And I'm sad to lose all those cool future opportunities of taking children to the video store for the delicious experience of stocking up on the weekend's entertainment.
With the reduction of Hobart's video stores to single digits, we've lost not just a place, but a headspace.
RIP.

*Amber Wilson recently made the transition from wine to whisky, which in itself says a lot. She has been working in journalism and communications for the past decade, having worked as a news reporter at The Advocate, The Melbourne Weekly, The Age and the Ballarat Courier. She has also worked on the subs desk at The Mercury and the Scotland Herald. She has also worked as a media advisor and communications officer at a range of government, legal, university and arts bodies in Hobart and Melbourne, including at the Tasmanian Writers' Centre. Her great passions are documentary filmmaking, slam poetry and writing fiction – preferably absurd, black comedy fantasy. Amber is also the proud mother of a gorgeous, loving and somewhat aggressive ginger cat named Dave (above. Amber's on the left …).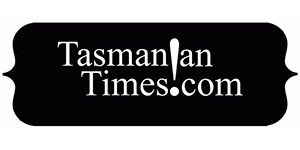 Author Credits: [show_post_categories parent="no" parentcategory="writers" show = "category" hyperlink="yes"]