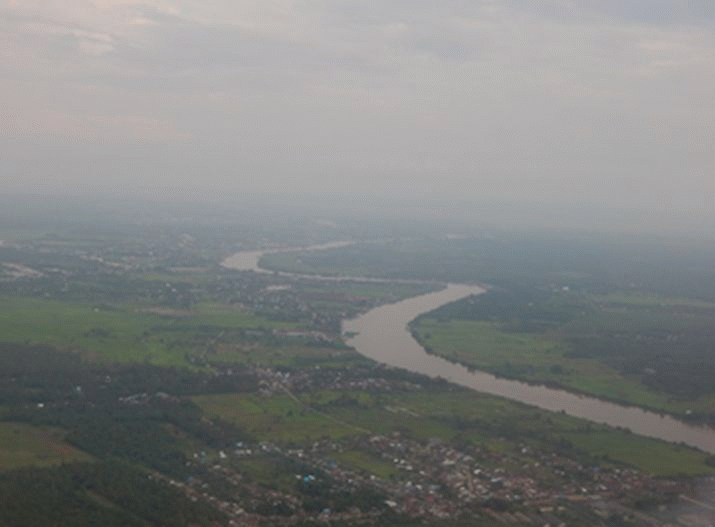 *Pic: Figure 1. Borneo, in a non El Nino year: The skies over Putusibau, West Kalimantan, 28 October 2014.
Another smokey morning in Sumatra: again that throbbing mother of all headaches that has persisted for days now, throat feeling like I have been eating razor blades, ears hurting, chest aching, eyes puffy and sore.
Awoke to only about 200 m visibility yet again – for despite prolonged heavy rain each night to wash the skies, everything is entirely clagged with smoke again by 7 am each morning.
I ultimately teamed up with some other foreigners to take a three hour taxi ride to the nearest airport where we were lucky enough to score seats out – I say lucky, because because many flights were cancelled that same day.
But while I can escape the locals can't – I don't know how they are coping with all these weeks of smoke and increasing respiratory and other sickness, nor how their government could let this happen to them. But never mind, the palm oil interests clearing forests for new plantations, and the timber companies and other vested interests responsible for most of the fires will no doubt do very nicely out of it all, just as they have done annually for some years now.
Background
The Australian media is giving lamentably limited coverage to the current smoke pollution affecting our next door neighbours in southeast Asia due to fires in (mainly) Borneo and Sumatra. The fires currently raging are not an isolated occurrence, rather, this is an annual event as developers take advantage of seasonally dry conditions to remove rainforests by the most cost-effective means at their disposal.
In the past some smoke was generated by traditional subsistence shifting cultivation practices, but with increasing commercialisation over recent decades smoke is now being generated on a massive industrial scale. Much of today's industrial-scale rainforest clearing occurs on peat substrates that are then drained and dried for plantation development. Deep and smouldering fires persist in the peat long after passage of the initial fire front.
These annual fires invariably create many problems, and they are particularly severe during dry El Nino years when conditions become especially hot and dry. Last year when I journeyed by river and foot across Borneo, there was plenty of smoke in places (Figure 1), but under the prevailing El Nino conditions this year the smoke pollution in southeast Asia is far worse.
This year I returned from Sumatra early, having taken only one photo on the whole trip – and that one just on principle, and merely to record the best visibility I ever got (Figure 2). But the impacts extend far beyond Sumatra and Borneo, this year's smoke causing school closures in Singapore and Malaysia; health issues as far afield as southern Vietnam; aviation disruptions reaching into Thailand; darkening of the skies of Cambodia, while the fires release massive volumes of carbon into the atmosphere in which we all have a stake.

Figure 2. Sumatra this month: Best visibility conditions at Lake Toba – 20 October 2015.
This forest clearing and burning has profound environmental implications, playing a major role in in the global deforestation problem. Substantial volumes of peat are burnt and soil on slopes is eroded by post-fire tropical rains. There are inevitable impacts on biodiversity.
In Sumatra forest clearing and fires are impacting heavily upon the habitat of rare Sumatran tigers, while in Borneo fires are currently burning dangerously close to the Orangutan survival rehabilitation centre in Central Kalimantan.
In addition, by early October 2015 the NASA-linked Global Fire Emissions Database was reporting that Greenhouse gas release due to this year's fires had already reached about 600 million tons, about the same as the entire annual output from Germany. Towards the end of October the World Resources Institute (WRI) indicated that on 26 of 44 days the Indonesian Greenhouse gas emissions had been greater than the average daily output of the USA, the world's second biggest polluter.
Between the onset of this season's smoke haze in late June and early October, 140,000 respiratory cases had been reported across Indonesia, around one quarter of those patients suffering respiratory infections.
There have been hundreds of cases of pneumonia, well over 1000 cases of skin infections and great numbers of eye problems – plus additional road deaths attributed to poor visibility. States of emergency have been declared at various times in at least six provinces, with thousands fleeing Riau province during one of these.
Aviation is also increasingly affected, including flights searching for any survivors from a helicopter which recently went down in poor visibility at Lake Toba. Recent days have seen cancellation of around 70 flights to Pekanbaru in Riau. Since September day-long shutdowns have been implemented by at least four airlines: Garuda Indonesia; Lion Air; Sriwijaya; and Fire Fly.
Those enterprisers and individuals that are reliant on tourism are also being hit hard, including village-based small merchants, family-run accommodation businesses and tourist guides who are faced with trying to support their families when visitors either aren't coming or are leaving almost immediately they arrive. But such impacts are hardly surprising given how severe and widespread the burning has become (Figure 3).

Figure 3. Distribution of fires, week ending 23 October 2015. Source: http://fires.globalforestwatch.org/#v=map&x=110.52&y=1.3&l=6&lyrs=Active_Fires&dirty=true
Research undertaken following the fires of 1997 suggests that most smoke plumes are confined below about 700-800m altitude. However, they feed smoke clouds that usually lie at 1000-2000 m altitude that may be topographically or convectionally lifted and become mixed over several days. These smoke clouds can be at least 25 times more widespread than the smoke plumes, and they typically spread mainly eastwards and northwards (Figure 4). Hence, Malaysia, Singapore and Brunei are the most immediate external victims, but health problems are also being experienced this season in Thailand and Vietnam while Cambodia is also being affected by smoke, and Laos might be copping a bit as well.

Figure 4. Satellite image of 2015 haze across southern Sumatra, Singapore and southern Malaysia (LHS) and across Borneo (RHS). Source: NASA Earth Observatory.
Health implications
The Pollutant Standards Index (PSI) is a widely-used measure of air quality. Figures of 0-50 are considered to represent good air quality. At values of up to 100 it is unlikely that the general population will be seriously affected although some vulnerable people may be at risk.
However, upwards of 100 the general population is likely to begin experiencing health problems. Emergency warnings are issued once the index reaches 200, by which level most of the population is likely to be affected. A value of over 300 is classified as being Hazardous with more serious health affects likely for everyone. This season, Hazardous conditions have become widespread (Figure 5).

Figure 5. PSI levels in South East Asia, 7:46 pm, 23 October 2015. Source: http://aqicn.org/map/singapore/#@g/2.5301/106.7542/6z
Singapore has been very significantly affected with PSI readings as high as 471 leading to school closures. Some sporting events have had to be cancelled, including some races at the 2015 FINA Swimming World Cup. At one stage there were concerns that even the carbon-emitting spectacle of the national Formula 1 Grand Prix might have to be abandoned, Reuters/AFP reporting comments from British driver Jenson Button that "It's very difficult walking around in the streets. You can smell the smoke, but when you're pushing yourself to the maximum in the car and you're having to take big gulps of air …". The Singapore government has distributed at least 29,000 face masks and emergency packs of food and medications such as eye-drops to vulnerable elderly people.
Facemasks have also been distributed by the Malaysian government. On peninsular Malaysia school closures have affected close to 4 million students. The PSI reached 130 in Selangor on 16 September, and 162 on Langkawi on 6 October, schools remaining closed.
On Borneo, PSI levels in Brunei seem to have remained below 70, but this is nevertheless a local record reading that has prompted the government to issue warnings to the vulnerable. Values exceeding 100 have been recorded from several places in Sarawak, including Sri Aman, Sarikel, Samarahan and Kuching.
The Borneo Post of 22 October 2015 reported that schools had once again been closed. Further afield, increased respiratory and eye complaints among children have also been reported from southern Vietnam. There have been hospital admissions in Thailand due to respiratory complaints, Bangkok's The Nation newspaper reporting on 6 October that the governor of Songkhla province had established a "war room" from which to distribute aid to affected residents.
Accounts of the current smoke crisis in the Western media have tended to be dominated by news from these neighbouring developed economies, but far more severe pollution is occurring closer to the fires where it is creating dreadful problems for often impoverished local people whose voices we never hear.
Recently, even parliamentarians meeting in Palangkaraya on Borneo were forced to use face masks and numerous school closures were necessitated. Local people on Borneo are so used to this annual smoke that some seldom use the N95 face masks that have been distributed to them, oblivious to potential health risks implied by long term exposure of even healthy individuals. But in September 2015 the PSI in central Kalimantan province reached the staggering value of 2,300. Meanwhile on Sumatra, 78, 829 respiratory cases had been reported by 21 October 2015, just in Riau province alone, with children and newborn babies predominating among the fatalities.
Visibility and aviation
As we descended to land back in Malaysia a few days ago (20 October 2015) I glanced out into the visually impenetrable clag, and saw no reason not to instantly turn back to my book. But then I was startled almost immediately by a thump – we had landed on a tarmac I hadn't been able to see only a few seconds before. In my personal experience the smoke gloom in the region that day was second only to my all too-vivid memories of the darkness generated by the Tasmanian bushfires of 7 February 1967 when my own family home was lost.
And in these relatively windless latitudes the Indonesian smoke is also far more persistent than any fire smoke I have ever experienced elsewhere, including during my very much younger years when I was Captain of the former Smokewalkers Rural Fire Brigade that was established for deployment to fight wildfires in Tasmania' national parks and wilderness areas where long-smouldering peat was also a problem. For this south-east Asian Armageddon does not simply pass through in a matter of hours like an Australian bushfire front: instead the Indonesian smoke-gloom just stays. And stays. And stays.
For months on end.
The smoke has caused considerable disruption to aviation on Sumatra, with 66 flights cancelled in Pekanbaru just on 20 October, the same day that I left Medan. On Borneo, numerous flights into Balikpapan have been cancelled due to poor visibility, with other flights into Sabah also cancelled or delayed due to smoke haze.
In early October, airlines flying from Kuala Lumpur and Singapore turned back their planes before they reached the smoke-choked Thai holiday island of Phuket, conditions being bad enough in Thailand to prompt the Thai foreign minister to summon the Indonesian ambassador.
Aviation has also been disrupted in the Philippines and while there are some possible local smoke sources the Indonesian smoke is thought to be a likely major contributor. In late October western Melanesia was also becoming involved as Typhoon Koppu and Typhoon Champi drew the smoke towards Guam and Palau. Moreover, under the prevailing El Nino conditions additional smoke is now being generated by further fires on Java, Sulawesi, West Papua and elsewhere. Several hikers recently lost their lives in a fire on Mt Lawu in East Java.
Responses to the immediate crisis
The 1997 Indonesian fires are estimated to have cost around $US 9 billion. Yet in 2013 one senior Indonesian cabinet member, Agung Laksono, still dismissed Singaporean complaints about the impact of Indonesian smoke on its tourism industry as simply being akin to a child having a temper tantrum. In March of this year Indonesian vice-president Jusuf Kalla complained that "For 11 months, they enjoyed nice air from Indonesia and they never thanked us. They have suffered because of the haze for one month and they get upset.".
He reiterated this argument on 24 September when he remarked "Look at how long they have enjoyed fresh air from our green environment and forests when there were no fires. Could be months. Are they grateful? But when forest fires occur, a month at the most, haze pollutes their regions. So why should there be an apology?".
However, new Indonesian president Joko Widodo has since been more decisive, visiting fire ground, demanding more effective enforcement of laws against burning, accepting international assistance to supress the fires and promising to tackle the problem more seriously – although cautioning that at least three years may be required to resolve the issue. His words are all very promising even if long overdue, although they will do nothing to bring back the lives lost or to address the long term health impacts and economic distress already caused or still yet to come across the region.
At least 20,000 Indonesian security force personnel have now been deployed to fire fighting. Indonesia initially rejected offers of assistance from neighbouring countries, but several are now contributing to fire suppression efforts. Amphibious water bombers have come from as far afield as Russia, although PSI values as high as 1,801 in early October precluded the use of helicopters in fire suppression.
Moreover, deeply smouldering carbon-rich peatlands are particularly difficult to extinguish. Some retention basins to facilitate re-watering of drained peatlands are being constructed. Other fire suppression techniques being attempted include cloud seeding, but that requires the advent of suitably cloudy conditions.
Longer-term legal and other avenues
The annual smoke problem will continue for as long as Indonesia permits deforestation, clearing and draining of peatlands for economic development, and consumers worldwide continue to embrace products made with palm oil regardless of how it is produced.
In theory Indonesian law already prohibits forest clearing and burning where there is a peat cover more than 9 m thick, but a potential fuel bed that thick still allows ample potential for protracted smouldering and carbon emission. And even those anti-burning laws that do exist are seldom enforced. Allegations and counter-allegations variously cite multinational and local palm oil corporations, pulp and paper businesses, smaller local plantation companies, traditional peasant slash and burn farmers, individual labourers and natural causes – all doubtless having some involvement, though hardly in equal measure.
Nevertheless, the Straits Times of 17 September 2015 reported that police units were investigating 24 companies and 126 individuals and that Indonesian authorities had arrested seven corporate executives the previous day. They included a senior executive from southern Sumatra's Bumi Mekar Hijau (BMH), part of the biggest pulp and paper company operating in Indonesia, the Singapore based Asia Pulp and Paper (APP).
BMH is already facing a separate civil case, and following a previous case if it is again convicted executives could face up to 10 years imprisonment. APH, which claims to have had a zero-burning policy for its supply chain since 1996, has been boycotted by nearly 70 companies worldwide since 2004 due to its involvement in illegal logging of protected ramin trees from peatlands that also provide habitat for various rare species. But then similar events to those currently occurring also transpired in 2013, only to calm down and be forgotten once that season's smoke had cleared.
International corporate tentacles also complicate matters considerably. While neighbouring countries justifiably complain about the hazardous air and economic impact of the Indonesian fires, they are less forthcoming about their own complicity. Some Singaporean and Malaysian businesses are themselves heavily involved in Indonesian palm oil and forestry operations, Malaysia and Indonesia together accounting for around 85% of world palm oil production.
Shareholder and other tentacles spread globally.
Those from distant lands who have financial involvements with the culprits in the Indonesian fires disaster also include the British Labour Party peer Lord Mandelson, who after losing his post following the 2010 British general election set up a political advice consultancy named Global Counsel that is currently advising APP. Mandelson has been accused of hiding the identity of some his clients by exploiting a loophole in the Lords register of financial interests. But he is doubtless far from alone in living distant but deriving benefit from the misery being inflicted by these Indonesian operations.
International consumer pressure has the potential to improve the situation, and pledges of "no deforestation" have been adopted by some major companies since 2014. But in mid-October 2015 Rizal Ramli, head natural resources minister, told the Indonesian parliament that Indonesia and Malaysia were jointly promoting a Council of Palm Oil Producing Countries that would work to overturn such pledges.
Ramli argued that small producers with insufficient resources to operate sustainably were unfairly disadvantaged by "no deforestation" pledges, and that consumers in western countries should not seek to set standards when "we are the biggest palm oil producer".
Another legal avenue is Singapore's Transboundary Haze Pollution Act of 2014 which provides for fines of $100,000 per day for local or overseas companies contributing to unhealthy conditions, albeit only to a maximum of $1.95 million. Nevertheless five Indonesian companies were served with legal notices in September of this year, namely Asia Pulp and Paper, Rimba Hutani Mas, Sebangun Bumi Andalas Wood Industries, Bumi Sriwijaya Sentosa and Wachyuni Mandira. We'll see….
Prognosis
In most years the fires persist until heavy rains arrive in November. However, current modelling suggests that this year the rains may not arrive until the end of December. In the meantime, the smoke will persist, implying persistence also of the social and economic disruption across the entire region, and little hope of recovery for the increasingly huge numbers of people suffering serious health issues.
And continued massive Greenhouse gas emissions will affect us all, and then continue to affect all our children. So it is by no means just our next door neighbour's end of the Titanic that is sinking while this situation is allowed to continue – as it probably will again next year, and for years thereafter.
*Kevin Kiernan is a sixth generation Tasmanian who has spent most of his life poking around in wilderness areas, mountains and caves on seven continents, in both personal and professional capacities. A geomorphologist by training, he recently retired from the University of Tasmania, where he had researched and taught Conservation Geomorphology and also a unit on the Geography and Environment of Asia. In his earlier life he worked as an environmental campaigner and then as a national park planner, before spending 14 years in the Tasmanian forest practices system. He is currently doing a fairly poor job of attempting to learn to be a retired gentleman.
• Pulp Fiction: The European Accounting Error That's Warming the Planet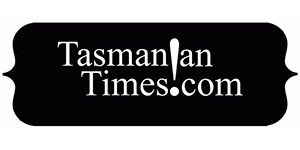 Author Credits: [show_post_categories parent="no" parentcategory="writers" show = "category" hyperlink="yes"]