Feminist Roundup
Amnesty International's biennial International Committee Meeting (ICM) last week voted in favour of a policy position supporting decriminalisation of all aspects of 'sex work'. The rationale for the decision was put forward in a very brief, carefully worded media release on 11 August.
See https://www.amnesty.org/latest/news/2015/08/global-movement-votes-to-adopt-policy-to-protect-human-rights-of-sex-workers/
The vote, by over 400 delegates to the ICM, was taken in closed session – a poll of votes by sections and/or delegates has not been released.
Many human rights organisations worldwide protested Amnesty International's position, including the Coalition Against Trafficking in Women International (CATW – catwinternationla.org), which presented a letter signed by over 600 concerned individuals to the Amnesty executive in late July.
Prostitution survivor groups, including SPACE International (http://spaceinternational.ie) and Sextrade 101 (www.sextrade101.com) also lobbied intensively against decriminalisation, and in support of Nordic Model legislation for prostitution. These groups dispute Amnesty International's claim to have consulted with groups representing survivors of prostitution.
Nordic Model laws are also supported by several Australian groups and individuals, including, most importantly, women who know best the harms inflicted on prostituted persons by johns, pimps and brothel owners. They are the survivors of prostitution.
The director of local group NorMAC (Nordic Model in Australia Coalition), Simone Watson is an indigenous woman and a prostitution survivor.
Amnesty International's policy decision has caused a social media storm, with hundreds of members declaring an intention to resign their membership of the organisation. In response, Amnesty posted a short video (see
https://www.youtube.com/watch?v=pJ8xSBaVIXU) addressing the widely expressed concerns.
The video features Amnesty Deputy Europe Director, Gauri van Gulik, spinning the company line – the decriminalisation policy is all about 'sex workers' and their entitlement to human rights. (Ms van Gulik's appearance as spokesperson is typical of Amnesty's cynical media manipulation on this issue – put forward an attractive, non-threatening blonde woman with Jennifer Aniston hair while the real powers that be in Amnesty (the men) stay in the background. Was Amnesty head, Salil Shetty, not available to defend his organisation's decision?)
'Sex workers' entitlement to human rights is NOT disputed by those who oppose decriminalisation, as Amnesty would have us believe. Rather, organisations like CATW oppose the decriminalisation of those who exploit people in prostitution – the johns, the pimps and the brothel owners – whilst advocating for decriminalisation of prostituted persons and support to exit the sex trade.
Amnesty International's willful refusal to acknowledge the part played by exploiters – mostly men – in the harms suffered by prostituted persons is beyond explanation.
Whilst they have vigorously downplayed his involvement, it is well known that the decriminalisation policy was first formally introduced to Amnesty International by UK 'sex worker' and escort service entrepreneur, Douglas Fox. And he's still claiming credit for it. How can they argue their policy will not benefit people like Fox far more than 'sex workers' and still keep a straight face?
The Twitter screen shot below shows Amnesty International Australia's delegation to the ICM. They are, from left – Sarah Swan, Amnesty SA/NT member Dorothy Tran, Amnesty International Australia Director, Claire Mallinson, Amnesty International Australia board members Gabe Kavanagh and Senthorun Sunil Raj, and Jamesy Ohhh.
Maybe we should ask them how they voted, and why. Maybe they could meet with Australian Amnesty members who intend to resign over the policy decision and put their case in detail? After all, Amnesty International claims to be a democratic, transparent, member-led organisation – doesn't it?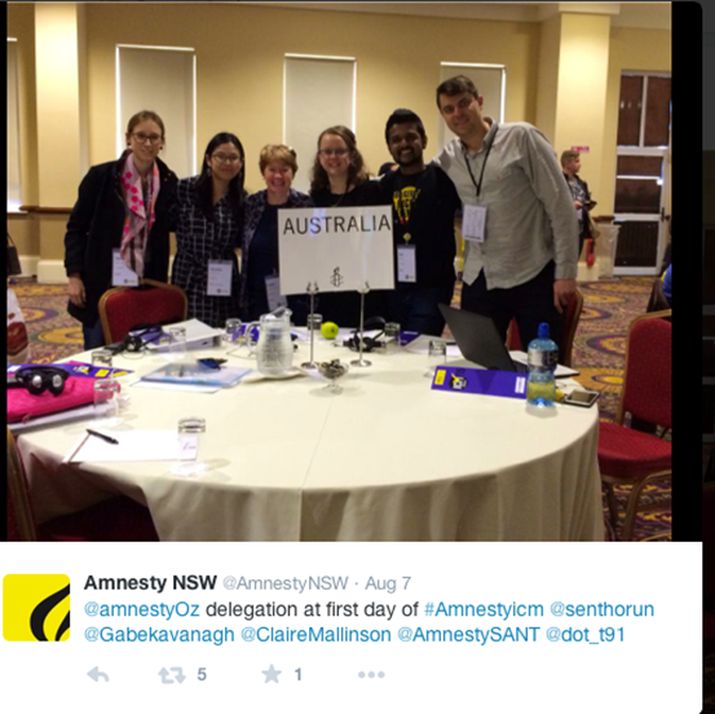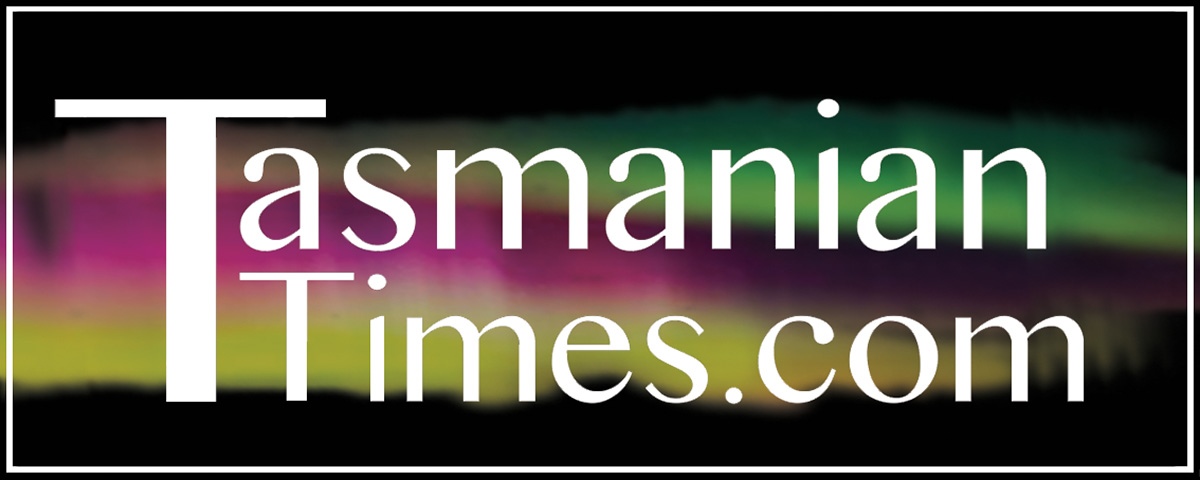 Author Credits: [show_post_categories parent="no" parentcategory="writers" show = "category" hyperlink="yes"]