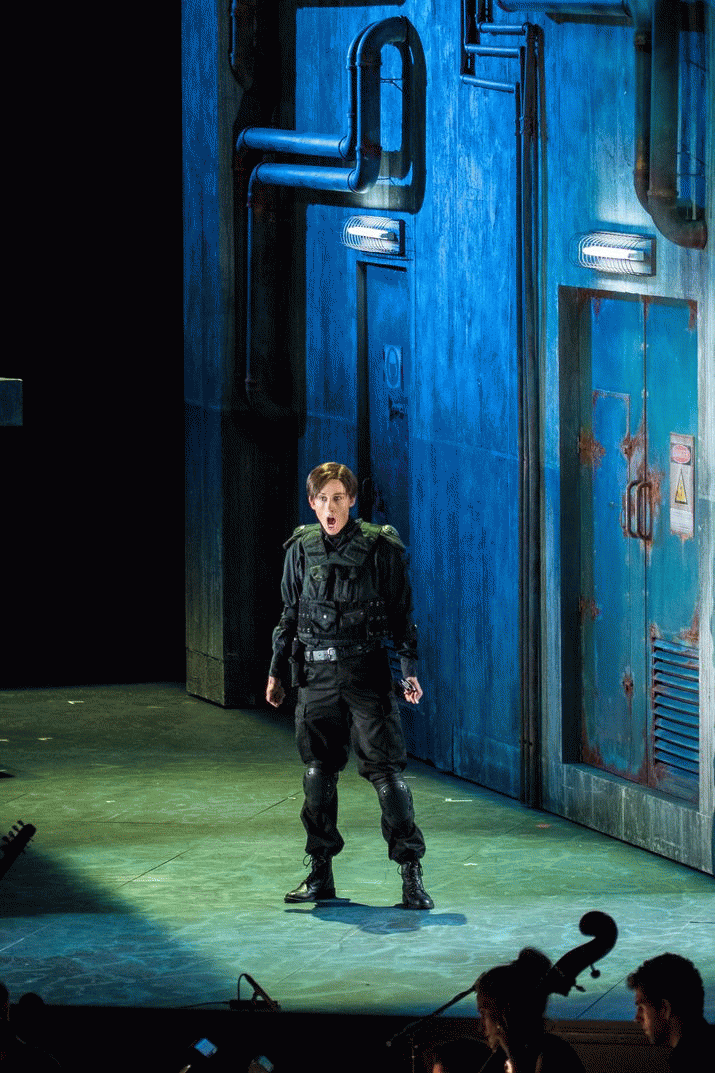 Top: Jennifer Rivera sings Faramondo, King of the Franks. This role was originally written for an unusually high-voiced castrato and very few modern counter-tenors can sing in the mezzo range, so this role is usually now sung by a woman. Above: Happier times in Hobart … Jarrod Carland, then-Premier Lara Giddings, and Leo Schofield …
A production of a Handel opera, originally destined for Hobart's Theatre Royal as part of the cancelled Hobart Baroque festival, has swept the board at the national Helpmann awards for performing arts.
The Helpmanns are the Australian equivalent of America's Tony (correction pointed out by Comment 3 below) awards .
The opera, Faramondo, had its season transferred to Brisbane when the festival moved to Queensland, having failed to gain sufficient financial support from the Tasmanian Premier.
The production won five of the six opera categories: best opera; best direction (Paul Curran); best female performer (Jennifer Rivera); best female supporting role (Anna Devin); and best male supporting role (Christopher Lowrey).
John Kotzas, chief executive of the Queensland Performing Arts Centre which now hosts the festival, described founders and co-producers Leo Schofield and Jarrod Carland as 'artistic visionaries'.
This year's wins follow Hobart Baroque's Helpmann award last year for the best classical concert by the young Russian soprano, Julia Lezhneva, and the Tasmanian Symphony Orchestra.
Faramondo, a production from the acclaimed Göttingen Handel Festival in Germany, was largely re-cast for Brisbane by its original director, Paul Curran. Curran is a top director in Europe, working recently at the Royal Opera House, Covent Garden.
The awards were made at a ceremony in Sydney on Monday night. The five awards for Brisbane Baroque equalled the number given to the multi-million dollar revival of Les Miserables.
'We weren't expecting anything like this,' artistic director Leo Schofield said later. 'We got eight nominations and we thought we might get perhaps two awards. Five was completely unexpected.'
Schofield and Carland are already in discussions with Queensland tourism authorities to promote next year's festival extensively within China.
They expect a substantial audience to travel to Brisbane for the event, which will allow them to sell several thousand more seats and potentially to extend the festival.
'There is a voracious appetite in China for western classical music,' Schofield said. 'There's a vast market there. Vladimir Ashkenazy was astounded by that when he conducted the Sydney Symphony Orchestra over there.
'But apart from the occasional touring group there's no opportunity for Chinese audiences to see baroque music at all.'
This huge and voracious audience has to rely on recordings to hear music written between the beginning of the seventeenth century and the middle of the eighteenth ‒ perhaps the most significant era in the whole history of western music and including such figures as Bach, Handel and Vivaldi.
'What we're also probably going to do is come to an arrangement with Göttingen by which we invest in their productions and have one Australian singer and one production assistant working over there. We could then bring productions to Brisbane Baroque and tour elements of the festival to China and elsewhere in the region, promoting not only the festival but Brisbane itself as a cultural destination.'
The Hobart Baroque festival ended when the Tasmanian government refused a request for a grant $50,000 higher than the year before, and funding certainty for three years ahead to allow planning to take place.
Both were denied.
In Brisbane, more generous funding and a three-year contract was offered by the Queensland Performing Arts Centre and the Newman Liberal government. That support has continued and been extended under the new Labor state government.
'Culture is just as valuable financially, and far more of a tourism drawcard, than a football match,' Schofield said. 'There's no doubt people will be coming from China and elsewhere for this, and they will be bringing a lot of money with them.'
But ‒ despite the funding rejection and a painful controversy following some unguarded comments about Tasmanian bogans ‒ he regrets that the festival could not have remained in Hobart, the city for which it was designed.
'Faramondo would have looked sensational in the Theatre Royal,' he said. 'Any opera would.
'You know, despite the disappointments and buffeting and angst, a part of me regrets that the festival did not stay in Hobart.
'It was conceived for and inspired by that city, those venues and that state and I have no doubt that it would have grown swiftly into an event of great cultural significance in our region and a sure-fire magnet for visitation.'
Former ABC journalist *Martyn Goddard is a commentator/analyst, specialising in health analysis. He was also a frequent feature writer for the SMH.
AS …
• Tassie's a hot spot for international visitors, says Will Hodgman
• Cindy Ullrich: QPAC congratulates winners of 2015 Helpmann Awards
• Cindy Ullrich: Brisbane Baroque storms the Helpmanns
• Ed Sheeran, Chet Faker Helpmann Awards
• Leo Schofield in Comments: Ian M, Let's be quite clear on the sequence of events. Buoyed by the overwhelming success of Hobart Baroque Mark II, Jarrod Carland and I met with the Premier and Adam Sproule of Tourism. Martyn Goddard was also present. We presented a fully professional three-year business plan, emphasising the long-term prospects for the event (since compellingly demonstrated!) and emphasised that if the Premier wanted to have a world-class event, he would need to make a decent initial investment. We pointed out that Ten Days on the Island received two million dollars annually and was able to afford a professional staff and posh city premises, whereas we worked pro-bono, initially from our homes and subsequently, in proper premises provided by philanthropists Penny Clive and Bruce Neill. We were kept dangling for six months waiting a response from the Premier, during which time we lobbied widely to ensure the festival continued in Hobart. Eventually we received a curt, inelegant note from Premier Hodgman advising that we would have 'the same as last year', which as we subsequently explained, represented a cut of 25 per cent, as Hodgman or his advisers had cunningly folded the Federal Government grant into the overall figure and reduced his government cash contribution from $400k to $300k …
• Martin Goddard in Comments: In answer to Comment 7: It's interesting to see so much work going in to try to discredit me, taking assorted and unrelated quotes quite out of context. The issue of funding has been dealt with in detail by Leo Schofield … The quote of mine that you choose was from a radio interview given a few hours after the government made its counter-claim based on unbelievable figures. I finally found out that these were drawn from a simple and invalid comparison of budget estimates from various states, all of which are calculated differently and which are not comparable. I didn't believe the government's claims then and still don't.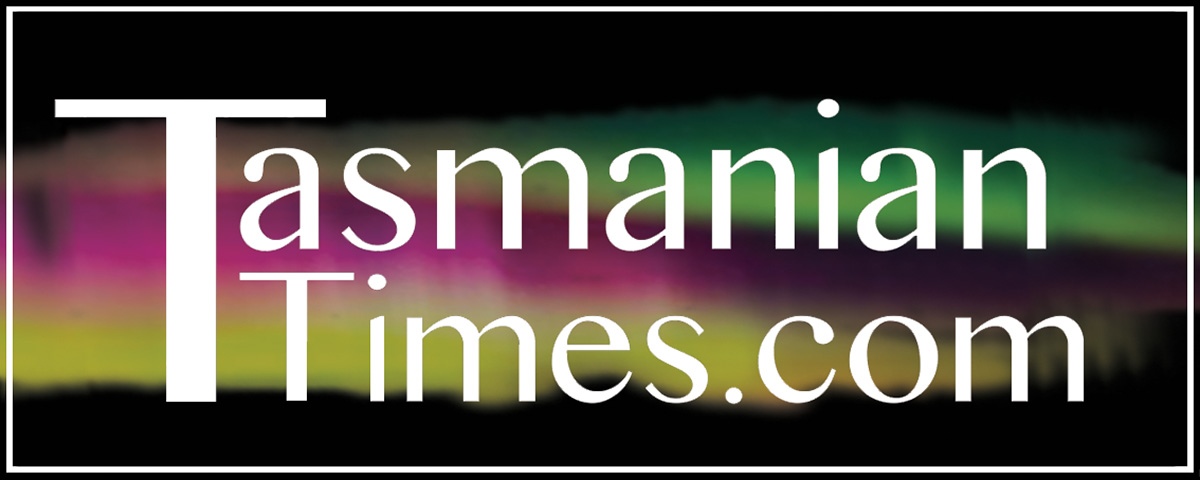 Author Credits: [show_post_categories parent="no" parentcategory="writers" show = "category" hyperlink="yes"]