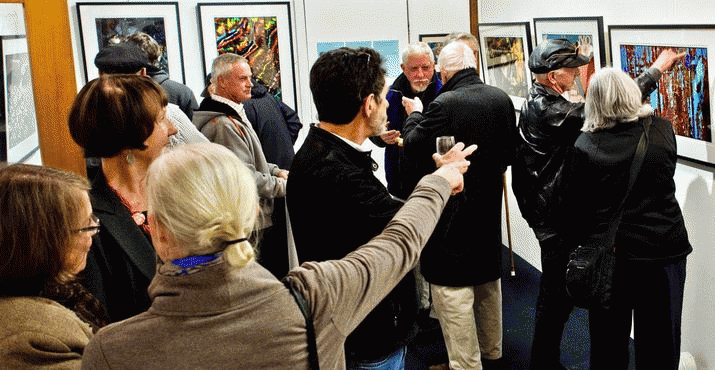 Carol Freeman and Anne Kellas

Worth pointing at …

Photographers Giles and Daniel Hugo

Anee Kellas, Lindsay Tuffin

Giles Ng, Peter Morse, Mark Gonninon, Merridy Pugh, Giles Hugo

Max Atkinson, Debs, Giles Hugo

Betty Nolan, Terry O'Malley

Greg Nolan, Leanne Jaeger

Daniel Hugo shoots … in the background are Lindsay Tuffin, Mary O'Malley, Tony Disipio and Anne Kellas
Giles Hugo
Into the light: a collection of photographs philosophical
http://www.nolanart.com.au/
5 June – 22 July 2015
Nolan Art Gallery, Salamanca
I would like to welcome you all to Giles Hugo's first exhibition of his photographs.
It is for me a rare pleasure.
The immediate thing which catches the eye about this work are the sumptuous colours and the uplifting aesthetic pleasure that they elicit.
Upon looking closer, we begin to perceive individual shapes, intricate textures and the refraction of infinite points of light, which to me have echoes of fractal geometry.
These photographs are generous, sensual, painterly and are brought into being by an artist sure of his craft.
The titles of the work provide clues to Giles's eclectic interests, which range from Lou Reed, Shakespeare and filmmakers such as Bergman and Ken Russell. These influences shaped him as a photographer, reflected also by the social and political times he has lived through.
Having said that, I don't believe the titles should be taken literally, but as evocations of memory, as, say, a line from a Bob Dylan son. These images are too mysterious to have a single meaning thrust upon them. Nostalgic they may be, sentimental they are not.
The struggle involved in Giles's journey to this moment … He was born in South Africa in 1949 …
I do think it is important to mention briefly the struggle involved in Giles's journey to this moment. He was born in South Africa in 1949. There, in his early twenties, he began his professional life as a photographer and journalist. His assignments covered a variety of subjects, such as sporting events, beauty pageants, rock musicians, and street life.
He did at this time get to know a number of important photographers who were exposing the brutality of the apartheid regime and who were risking their lives in order to get these pictures seen by the outside world.
In 1986 Anne, Giles and their children arrived in Hobart. They had both been active in their own ways in opposing the machinations of the regime. A week after they landed, a state of emergency was declared in South Africa.
In Tasmania they gradually immersed themselves in the literary life of the place, Anne Kellas being an accomplished poet and Giles writing short stories about life in South Africa.
He then gained a position as a journalist at the Hobart Mercury, where he worked for 25 years – leaving a few years ago, having reached the position of sub-editor.
When the news that Rupert had "retired" Giles from The Mercury reached the ear of some meddlesome gossip, he put it about that he had disappeared due to mercury poisoning … But as you can see, this dastardly insinuation proved incorrect. It was however pointed out much later by an infamous pedant that the god mercury has wings on his feet and that if one had a keen eye, and perhaps a camera, one could see the same emerging from Giles's Blundstone boots!
Ten years ago, Giles acquired a digital camera. It is important here to mention the significance of the title of the show: Into the light.
For the last 14 years of his working life, at The Mercury, it was as a sub-editor. I draw your attention to this, as this role necessitated working unsociable hours, usually from the late afternoon to early morning. Consequently Giles slept through most of daylight hours for at least 14 years. So you can see the added poignancy of the title.
He was now free to devote his time completely to photography, to experiment with the possibilities of light, which had been denied him for such a long time.
He would do this in miniature sets, composed of flowers, rocks, spiders and many found objects. As a boy he had built from scratch in balsa wood, scale models of battleships and aircraft. So his interest in the micro-world was very familiar to him and it could be further explored and revealed through the digital camera.
Are they manipulated … ?
The question most often asked about his photographs is: "Are they manipulated?" The answer to this question is … "No". His subjects are lit by natural light and this varies according to the time of day and the season, and the effect he is trying to achieve. He also uses candlelight, small L.E.D. lights and mirrors, which provide infinite possibilities of refraction in revealing the incandescent qualities on surfaces, textures and water.
The only tweaking he employs is a little on Photoshop. He goes on to say, he does less with the digital process than he did when he developed black and white photographs years ago.
I think, maybe, that Giles has been fortunate by not going to art school and studying photography. He has, so to speak, by necessity "learnt on the job"! He is extremely well informed in the history of photography and film, but if he doesn't mind me saying this, "He is definitely one that got away".
There is a sense that education can become a preventative measure in discovering one's intrinsic self … By forging his own path, he has managed to avoid some of the more effete and mannered aspects of photography.
Giles revelled in his newfound freedom! So much so that he took to climbing onto the roof of his house at all times of the day and night. He wanted to photograph the things he'd missed: clouds, constellations, sunspots, flocks of birds, rain, sleet, dragonflies; nothing was beyond the barrel of his lens.
It was believed at one time he planned to tie himself to the chimneystack during a thunderstorm … much like his hero, the English landscape painter Turner. Fortunately for us and perhaps himself he was persuaded by his wife Anne to desist from this action, as he could be easily mistaken for a possum – and shot. This story may or may not be true, but it does add to the magic of the man.
In conclusion, I would like to say that I have tried to present as clearly as I can some of the events and motivations behind the photographs … but at the end of the day, as every artist knows … there is no method and no intention to speak of … there is only imagination and the facts learned so far from working.
Terry O'Malley
http://www.terryomalley.com.au
NOTE:
To preview the photographs in Giles's exhibition, visit http://www.nolanart.com.au/ and click on "Artists" – or get there via: http://goo.gl/I9vHLi
The exhibited photographs (in sizes ranging from A1 to A3) are available for sale through the Nolan Gallery, Space 109, Level One, Salamanca Arts Centre, 77 Salamanca Place, Hobart, Tasmania; ph: (03)6223 3449 or mobile: 0438446785.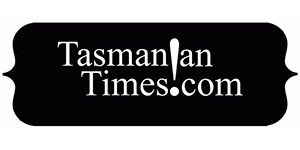 Author Credits: [show_post_categories parent="no" parentcategory="writers" show = "category" hyperlink="yes"]