They are mad as hell and they are not going to take it … anymore …
This is a bit like a Tolkien novel, and the hobbits are winning again.
FLAG Lapoinya and the community at large have been waging a justifiable campaign against Forestry Tasmania aka "Saruman" for some months ( TT: Lapoinya …, Kim Booth: Minister Must Intervene and Stop Lapoinya Logging, Lapoinya: Institutionalised duck-shoving, Lapoinya: Apocalypse Now …, Lapoinya: Has FT found the way?, Lapoinya: You just could not make this stuff up …, The Logging of Lapoinya, LapoinyaL It just makes no sense …. )
Finally "Saruman" has fired his last arrow – see FT response below to the large number of FLAG concerns.

Saruman …
But this has not fazed the FLAG community aka "Treebeard" who have made this defiant statement –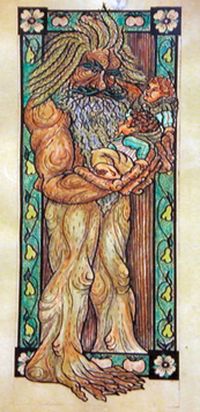 Lapoinya's Treebeard with a hobbit
The Ents are going to war!
This is a summary of what Tolkien said:-
About T.A. 2950 Saruman's armies began harassing the few remaining Ents and cutting down large numbers of their trees. During the War of the Ring the Ents—usually a very patient, deliberate people—were spurred by Meriadoc Brandybuck and Peregrin Took. They convened an Entmoot, a meeting of the Ents at Derndingle.

After lengthy deliberation (though from the perspective of the Ents, this was very quick action), they marched on Saruman's fortress at Isengard: the last march of the Ents. They were led by Treebeard, the oldest Ent, and accompanied by the Hobbits Merry and Pippin. They destroyed Isengard in an all-out assault and trapped Saruman in the tower of Orthanc.

They flooded Nan Curunír and transformed it into a forested area which they called Treegarth of Orthanc. Following the reunification of Arnor and Gondor, Treegarth became a part of the Reunited Kingdom and King Elessar declared it an Entish realm, granting the Ents complete self-governance.
This what the modern FLAG Community "Treebeard" said:
FLAG Evaluation of Forestry Tasmania's "Internal Review of Issues Raised by Community Members regarding Coupe FD053A" of 9th April 2015

1. Notification and Consultative Process

At all times it was incumbent on Community members to initiate stakeholder status, maintain contact and invite to meet FT (Forestry Tasmania) onsite.

FT ignored letters of objection by an adjacent landowner who did not register until FT were told face to face at a community meeting.

FT does not notify the public nor adjacent landowners of their intentions unless they register beforehand as a stakeholder.

The only way the public can find out is if they research the FT website. Example is Lapoinya where residents were first alerted by low flying helicopters.

FLAG Conclusion.

FT is deliberately secretive and covert in its activities to avoid scrutiny while not promoting the necessary consultation.

Examples are Lapoinya, and now Bruny Island where FT have had their Forest Practice Plan (FPP) certified by the Forest Practices Authority (FPA) before anyone knew of their intentions and therefore cannot appeal the certification as FT is exempt.

A further example is FT's concluding statement which suggests the Community be provided with the FPP after it is certified (and therefore too late for any appeal!)

Without procedural fairness or natural justice applied in their stakeholder policy, FT's actions in this issue are not in the public interest.

2. Giant Freshwater Crayfish (GFC)

FT acknowledges that the prescriptions for streamside reserves according to the Forest Practices Code are inadequate and increased the streamside reserve for class 3 streams only by 10 metres.

FT acknowledges that it is exempt under the 1997 Regional Forest Agreement (RFA) with the Federal government from strictures either new or old from the EPBC Act.

FT acknowledges in its internal review that the area which includes coupe FD053a was recommended for reserve during the original RFA process in 1997.

This was because of its obvious CAR (Comprehensive, Adequate and Representative) reserve values which remain to this day.

FLAG Conclusion:

The present contentious nature of including coupe FD053a (a recognised CAR valued coupe) in the Harvest Production Zone dates back to the original 1997 RFA. Only the incorporation of this coupe into the Flowerdale Forest Reserve in the current round of the RFA review will resolve the problem.

Therefore, we believe that conducting clear-felling, harvesting, burning and sowing to only 3 species in this coupe is not in the public interest.

3. Tasmanian Devil and Spotted Quoll

It has been incumbent upon the Community to research the coupe for definitive evidence of these endangered species.

At no stage have FT made any population studies as recommended by noted Devil researcher Nick Mooney in his report for FLAG that was submitted to FT. Their presence is endemic. The destruction of their habitat will lead to deaths as they do not "flush" when disturbed. Deaths on the logging tracks and adjacent roads will, and have already occurred, during logging operations.

FT has no prescriptions in place to minimise these deaths as recommended in Nick Mooney's report.

FLAG Conclusion:

FT's animal protection prescriptions are the bare minimum (e.g. 'notify if a den is found').

FT's care of endangered species is careless and is not in the public interest.

4. Rare, Threatened, and Endangered Bird Species

As with the Tasmanian Devil and Quoll, if nests are not identified by the community before clear-felling begins, FT will harvest.

The fact that this mixed forest of old growth, mature growth and juvenile growth is habitat for an unusual concentration of these birds is dismissed.

FLAG Conclusion:

That the survival of rare, endangered and threatened species of fauna is of no consequence to FT and that the attitude of 'if we run into one then we will have a look at it' as evidenced by FT plans in Lapoinya and Bruny Island is simply not in the public interest.

5. Caladenia pusilla orchid (endangered)

The community notified FT that attempting to identify the presence of an endangered orchid during one search in the middle of winter by field officers was counterintuitive.

The Community identified a number of orchids in season and alerted FT.

FLAG Conclusion:

That FT is too casual when it comes to threatened species identification as it is not in its interest to do so.

Therefore, their activities in this area require constant oversight by experts and the community.

This is demonstrated in the rare mixed remnant forest of Lapoinya that will still be clear-felled by FT regardless of its accepted CAR values.

FT's activities in areas of high conservation value, even if they are in a harvest production zone, are not in the public interest.

6. Eucalyptus brookeriana

FT admits that their foresters knew there were "Brooker Gums" beside Broxhams Road.

Its consultant, who issued the biodiversity report included in their first draft of the FPP, did not note this species.

Therefore no prescriptions were included in the initial FPP and the Brooker Gums were going to be clear-felled. FT's contention that there was not a large enough community to warrant protection is based upon the trees that border Broxhams Road.

In fact the Brooker communities are extensive both in the Reserve and the coupe.

It was the Lapoinya community through their own research who alerted FT and the FPA to the true extent of the Brooker Gums.

NOTE: Currently, there are no buffer zones around the two Brooker Gums restricted communities. FT intends to clear-fell within less than a metre of these communities and there are no written prescriptions as to whether or not they will burn right up to them. To clear-fell or burn up to their trunks will cause dieback in this moisture-sensitive species by removing ground cover and then replanting to other species which rapidly draw soil water reserves and lower the water table as they grow. These communities will be damaged under the current proposals. The FPA have been notified.

FLAG Conclusion:

As it is not in the commercial interest of FT to note rare or threatened Eucalypt species it has become incumbent upon the community to oversee and review FT biodiversity planning.

Once their protection was identified, FT has shown to be not competent in ensuring the enduring preservation of these threatened communities.

FT's continuing actions in this matter are not in the public interest.

7. Cultural Heritage:

FT remains adamant that unless there is a discovery of an artefact during roading or harvesting operations there is nothing they can do. Much the same attitude/treatment is given to wildlife as per sections 3 and 4.

FLAG Conclusion:

Artefacts have reportedly been found within 110 and 600 metres of the coupe but it is not a priority for FT, nor in their commercial interest to find any more and therefore not in the public interest.

It was noted that FT will allow the retention of an old stump in the Coupe as representative of historically more sensitive harvest practices of the past. A good beginning.

8. Potential Wind Throw onto Private Property

FT concedes that there are two sensitive areas regarding wind throw.

FT only identified one area, as the other was notified to FT and the FPA as an unidentified class 4 stream gully beside the road which then crossed the road and into the Reserve.

An obvious and unacceptable oversight noted by every community researcher who entered the coupe.

FLAG Conclusion:

FT has again not undertaken comprehensive surveys of the coupe regarding the preservation of this complex watershed. It has been incumbent upon the community to monitor and critique FT's Forest Practice Plans and repeatedly notify them and the FPA of breaches of their own Forest Practices Code.

FT activities are consistently not in the public interest.

9. Habitat Connectivity

FT concedes the importance of wildlife corridors between the Reserve and the contiguous forest into the upper reaches of Maynes Creek.

It believes that its streamside reserves give adequate connection.

This is not correct.

Accepted and current scientific research has it that wide areas of habitat are required for sustainable transfer of populations to occur.

FLAG Conclusion:

It is not in FT's commercial interest to allow adequate wildlife corridors.

This discredited and backward thinking is not in the public interest.

10. Stream Protection and Management

As addressed in No 2.and No.8.

11. Visual Landscape

Concerns regarding visible scars and degraded landscape values by tourist operators and locals after clear-felling were dismissed by FT after a "desktop" audit.

FLAG Conclusion:

Inadequate and inappropriate investigations without photographic evidence or onsite visits are unacceptable.

It is not in FT's commercial interest to accede to these concerns.

Expert community members (landscape architects) have made detailed studies and submissions. Although these are required to be taken into consideration by the Code they have been lightly brushed off.

FT's actions in the matter are not in the public interest.

12. Loss of Amenity

Native Forests with rare, endangered and threatened species adjoining residential communities are rare and precious.

Few examples of mixed regenerated native forests remain in the settled rural areas of Tasmania.

With proposed road widening into the coupe and along Broxhams road almost to the centre of the community comes traffic, woodcutters, and poachers and begs the question: why such a big road?

This was answered in part by Prof. N. Fitzgerald who peer reviewed research on the part of FLAG.

He said: "While no logging is currently planned in the Reserve, it is noted that under new forestry legislation in Tasmania which permits logging in Regional Reserves and Conservation Areas, the Flowerdale RR is not protected from logging, despite being protected until recently under Forest Reserve tenure."

FLAG Conclusion:

Native forests, irrespective of conservation or reserve status are now under consideration for harvesting as evidenced by the major roading infrastructure planned to access the 49 hectare harvest area of the Lapoinya coupe.

Unless there is a Ministerial guarantee in writing that the Flowerdale Forest Reserve will never be subject to any harvesting plan, then we have to be prepared for intervention at either State, National, or International level to ensure that harvesting in Reserves and Conservation areas does not surreptitiously occur.

We fear new "Forest Wars"

NOTE: FLAG has commissioned a Community Social Impact Audit and statement by an independent assessor. It is expected to be released before the end of May 2015.

13. Harvesting and Regeneration

FT's contention that clear-felling and burning is the only appropriate and safe way to regenerate native forests is erroneous.

It is practised only in unregulated developing countries and has come into disrepute worldwide for its biodiversity destruction and pollution.

That eucalyptus species regenerate readily through scarification and other methods has been scientifically accepted and environmentally endorsed.

FLAG Conclusion:

FT's continued use of this methodology is based on the fact that high intensity burns strip the soil and destroy all fire sensitive minor species ground seed allowing only FT's preferred sown species to grow thereby creating stands of uniform sized commercial Eucalypts.

This method is not regeneration to native forest but is really plantation by another name.

The biodiversity is lost forever as the coupes are clear-felled and planted again and again to only three species.

14. Safety

The safety of our children and community members is paramount. There were no prescriptions in the Forest Projection Plans (FPP) to protect local people.

FT was reminded that log trucks on our narrow gravel roads which are school bus routes with steep hills was a recipe for disaster.

Following community representations, FT have now made it incumbent on the contractors to self-regulate on this issue.

The danger of fire during the high intensity burn next to the community was not addressed – only that measures would be put in place as usual.

The fact that the revised coupe boundaries are riddled with narrow corridors which if burnt as an aggregate could cause a wildfire to cross the streamside reserves and into the forest was not addressed nor mitigated against anywhere in writing.

FLAG Conclusion:

FT is not competent in dealing with community concerns regarding fire and smoke health issues.

FT does not include assessments and prescriptions of hazard reduction plans in their FPP before harvest specific to coupes other than to give verbal assurances that it will all be OK.

FT does not include assessments and prescriptions of safety requirements for the protection of the community on the roads in their FPP.

FT's cavalier and insensitive response to safety in the community is not in the public interest.

15. Harvest Profitability

FT makes only one statement. It will not lose money. The community had given all their estimates to FT but as stated by Bob Annells at the Parliamentary Estimates Committee FT did not treat individual coupes as cost centres, rather only districts.

FLAG Conclusion:

When confronted with a $200,000 plus loss by economist John Lawrence using FT's own averages, FT responded by increasing both the yield per hectare and the harvestable area resulting in an almost doubling of the tonnage.

The community meeting in February was stunned. Minor variations are expected but such a radical change cast a credibility pall over the whole consultation process.

FT's contention that they will make a profit from chip, peeler and sawlog tonnage is unsupported and problematic. Quite simply, standard accounting practice recognises profits from the growth of a coupe on an annual basis. Harvesting is a realisation exercise not a profit making event.

There is no way that a coupe which grows at 4 tonnes per hectare per year and is harvested when immature can make a profit over its life.

FT may instead be referring to a cash surplus from the coupe in the year of harvest but refuses to say which costs are included such as whether in addition to direct costs of harvesting etc it includes all other related costs such as the costs of roads and infrastructure, regeneration, FT wages and a share of overheads, preliminary and admin expenses. Mr Annells' response that coupes aren't cost centres is de facto confirmation that direct costs including employee expenses have not been taken into account when assessing the coupe's profitability.

In any event a cash surplus doesn't necessarily imply an overall profit in the harvest year because standard accounting practice also recognises a reduction in the balance sheet value of the harvested coupe.

FT has provided no cost figures, and will reveal no costings as it is not in its commercial interest to do so. FT is neither consultative nor transparent on the topic of profits and basing its decision to harvest this coupe solely on unsupported, hopeful profit disregarding any other rationale is not in the public interest.

NOTE: FLAG has commissioned a private carbon audit to evaluate minutely the values of carbon sequestration as per the federal government carbon abatement contracts plus the wood tonnage of the coupe with the expectation of a result late in June 2015.

Summative Conclusion to FT Review of Lapoinya Community Objections

Lapoinya is a lighthouse warning to all Tasmanians to guard their local native forests against the unbridled and permanent damage caused by clear-felling, burning and sowing to only 2 or 3 preferred species.

Forestry Tasmania works with no legislated environmental oversights other than those self-imposed by their Forest Practices Code.

Self-regulation breeds cronyism as cited in Professor Beresford's recent study "The Rise and Fall of Gunns".

Self-regulation profits only self-regulators and is minimalist at best.

The concept of putting a corporation charged with making an unachievable profit and given unrestricted access to harvest zones using clear-felling and burn techniques is appalling, permanently damaging and always contentious.

To give this access to forestry adjacent to local communities where it is an integral part of their culture and recreation is unparalleled vandalism.

Lapoinya is a classic example of a community who banded together to refute with science and research FT's endemic belief that they can cut it down if they want to.

The outcome of Forestry Tasmania's review reinforces this destructive belief. Forestry Tasmania admits the real reason they want to harvest is that they believe they can make money on it and are desperate to show a profit.

We do not need "Desperados" in our forests nor "Believers" who cannot come up with the accounting to prove their economic case.

The fact of the matter is that coupe FD053a is of undisputedly high conservation value which has been recognised nationally for over twenty years.

To log this coupe is tantamount to environmental vandalism and the sensible solution is to incorporate it into the Flowerdale Forest Reserve through the RFA process where it belongs.

As to the question of whether Forestry Tasmania or its future reincarnation is deserving of FSC certification the answer is no, not yet. It needs:

* A stakeholder policy that is open, respectful, transparent and consultative rather than secretive, combative and reactive.

* An overarching authoritative oversight body without vested interests and protected from corporate capture

* Revision of the Forest Practices Act and a fully revised Code of Practice committed to annualised renewal based upon current science and research

* Democratic rights of appeal to be reinstated

* To become subject to all State and National laws in regards to the environment.

* A Reserve system which is permanently protected and unrevokable

Forestry as practised by Forestry Tasmania is a sunset industry that is reflected worldwide and is a spectacularly failed business model which also fails the fair stewardship test of our native forests.

FT operates on the lowest common denominator of environmental regulation or community concern, and as it's been said:

"Forestry Tasmania is like a quoll in the henhouse, it kills by nature because it can."

It must also be said that it was our Tasmanian Parliamentary representatives who must take responsibility for leaving the hen house door open.

FLAG (Forests of Lapoinya Action Group) 25 April 2015.

25 April 2015 .
And the Ents will win, and the coup de grace will be along these lines as stated by Gandalf the White:-
"You have become a fool, Saruman, and yet pitiable. You might still have turned away from folly and evil, and have been of service. But you choose to stay and gnaw the ends of your old plots. Stay then! But I warn you, you will not easily come out again. Not unless the dark hands of the east stretch out to take you!"
And Saruman will look like this:
And your readers may be able to ascertain who this might be?

'Give me my precious …'
CODA:
(a) I note this FLAG comment on Cultural Heritage "FT remains adamant that unless there is a discovery of an artefact during roading or harvesting operations there is nothing they can do".
In the FPP they planned to do a search of the Coupe after roading has been completed. DUH!
FT suggested a similar approach for the coupe BA388D adjacent to my property, where there were known inhabited rock shelters (according to an inspection by the previous Forestry Commission in 1990), except FT were going to do the inspection "after clearfell logging". How responsive is that to the aboriginal heritage of Tasmania?
This is a disgraceful approach to our State's First Nation by a state owned GBE, particularly given the statements by Will Hodgman in Parliament last week, and subsequently, re recognition of aboriginals.
I note also that Paul Harriss is of Aboriginal descent. What is his view of this ongoing failure by FT/FPA to recognize his heritage?
The area was not named Lapoinya (tree fern) by the Tommeginer because they were surfing at Table Cape!
(b) A good point to make in submissions to FSC is that in FT's three year plan 2014-2017 they have FD053A down as a 35.7 ha clearfell coupe.
Now they have been pressured by locals they have increased the size of the coupe to 90 ha and claim they are only going to log half of that area in deference to opposing forces.
So they tripled the size of the coupe and then halved that to come to an area that is still 10 ha bigger than their original three-year plan stated.
I think that stinks of a finger being stuck skyward to the locals. (Peter Godfrey)
JLP 25/04/2015
Download FT response, FT email, and FPP:
Internal_Review_FD053A_final.pdf
JFF0029_Final_FPP_uncertified.pdf
• Kim Booth MP | Greens Leader Media Release: Greens Push for Forestry Tasmania Commission of Inquiry
The Tasmanian Greens will table in Parliament this week a motion to establish an independent Commission of Inquiry into Forestry Tasmania, under the State's Commissions of Inquiry Act 1995.
"There is growing community disquiet and frustration over the financial management and policy direction of Forestry Tasmania, and the fact that it resembles ground-hog day everytime the government of the day says it is addressing these issues," Greens Leader and Forestry spokesperson Kim Booth MP said today.
"We have to break this serial addiction to government ground-hog day announcements that Forestry Tasmania is 'fixed', when in fact all they is entrench the government business enterprise's reliance on public subsidies."
"We have no faith that this government's internal departmental review of Forestry Tasmania will not just result in a superficial change while business as usual continues on the ground."
"The uncertainty must end once and for all, for current Forestry Tasmania workers, and for the Tasmanian taxpayer. The Greens' proposed Commission of Inquiry will be the long-overdue circuit-breaker."
"Tasmania urgently needs an independent, rigorous and forensic overhaul of this GBE and its role within the state forestry sector, with the capacity to map out practical pathways out of the current expensive morass."
"The Auditor-General reported in 2014 that Forestry Tasmania's assets base has shrunk from a staggering $2.227 billion in 1994 to a miserable $0.163 billion."
"Forestry Tasmania's assets are far less than their current liabilities, the GBE only exists because of a Treasury Letter of Comfort and would be wound up if they were any other company.
"In addition our proposed Commission of Inquiry would examine in a detailed manner the incoming and outgoing monies administered by Forestry Tasmania since the RFA, including the TCFA and TFA, examine whether due diligence and good governance standards were maintained, and examine the monies expended on commercial and non-commercial functions during these funding periods as well as looking forward to future requirements."
"It will also be important to examine whether Forestry Tasmania's use of public funds has acted as a disincentive to private sector investment."
"Further we need to examine the reason and methodology behind what appears to have a case of industry self-cannibalism."
"Just as importantly, the community also needs to have a say in how they perceive a modern and sustainable non-native forest industry of the future, so the Commission is also an opportunity to have viable transition options mapped out that are not reliant upon the public purse."
"The Inquiry should be conducted by an independent professional who is not from the state forestry industry, and that the Commission be adequately resourced to access the necessary forestry, conservation, financial and legal expertise."
"Despite numerous Inquiries, Federal funding agreements worth millions of dollars, Parliamentary committee examinations, Treasury Letters of Comfort, and Auditor-General reviews over past decades, Tasmania is still struggling to wade out of the forestry quicksand. We cannot keep going on like this."
"This is not a witch-hunt, as those determined to prop up the status quo will attempt to say, it is about identifying what has gone wrong over the past decades, whether Forestry Tasmania is the right fit for the modern timber marketplace, and how do we as a community move forward."
"Taxpayers deserve to know what has happened to all of the public monies, around $780 million since 1997 both from the Commonwealth and the State, which has been sunk into the forestry black hole over the decades, and specifically those monies either administered by, or directly allocated to, the GBE," Mr Booth said.
The Tasmanian Commissions of Inquiry Act 1995 establishes inquiries equivalent to those known as 'Royal Commissions' in other jurisdictions.
Download Summary of Forestry Tasmania Financial Support Received since 1989 to the present:
Apr27_Briefing_Paper_FT_Financial_Support_Received_K_Booth_ATTACH.doc_.pdf
• Pete Godfrey, in Comments: On Kim Booth's reference to subsidies to FT, they have also managed to dip into other funds as well.Back in the late 1980s a program was brought out to identify Rainforest in Australia. The program was called the National Rainforest Conservation Program, well FT were given all up $3.29 million with about half from the Feds and half from the State for this project. Forestry Tasmania used about half of this funding to put in plantations. They were supposedly trials of Blackwood plantations with a nurse crop of Pine trees. The pine has now been sold to private concerns and the blackwood was a total failure. I believe that this was a rort of the funding, how did this in any way help with identifying rainforest or conserving any. It did not.
• Paul Harriss: Forestry Tasmania
• ABC: Greens criticism of delays in Forestry Tasmania's Forest Stewardship Council certification unfounded says environmental auditor The auditor of Forestry Tasmania's (FT) environmental certification application has rejected the state's Greens Leader's comments about a delay in the process. Last month The Greens' Kim Booth said the state owned forestry company's failure to achieve Forest Stewardship Council (FSC) accreditation by February this year, is a sign of serious problems with its application. But in an email to ABC Rural, FSC auditor Robert Hrubes of SCS Global Services, said this assertion is an "unfounded inference". "It was never stated by me, the FSC, or FT that a certification decision was to be rendered in February," he said. "Rather, it was stated (in December) that it was expected that the draft certification report would be conveyed to FT by February. "The reason that the draft report issuance has been delayed has nothing to do with the prospects for FT achieving certification, nor is it attributable to FT in any way. "It is attributable to my schedule and that of the other audit team members (all with many other professional obligations).
• Kim Booth: Greens Table Proposed Forestry Tasmania Commission of Inquiry Terms of Reference
• Kim Booth: Cabinet Split Over Forestry Tasmania Review "We all know that if it did not take three attempts to get the Gutwein-Harriss proposal through a split Cabinet, the Premier would have delighted in ruling out and denying that assertion. His refusal to answer, is in fact as good as an answer." "This clearly raises the serious question over exactly what the Parliament will be provided tomorrow during the expected Ministerial Statement, and how much of the original Review and Cabinet proposal has been altered and revised before Cabinet considered it fit for public consumption." "Tasmanians also deserve to know why the Review and Cabinet Minute were blocked the first time, the second time, and what changed to get it through the third time? The public also deserves to know whether it was the Premier's faction responsible for blocking the Gutwein-Harriss co-signed proposal?"
• Paul Harriss: Putting forestry onto a sustainable pathway The Hodgman Liberal Government is rebuilding the forest industry after it was left decimated by Labor and the Greens. It was under the former Government that Forestry Tasmania was hit with a perfect storm of the three Gs – the GFC, the collapse of Gunns, and then finally, the Green-Labor government.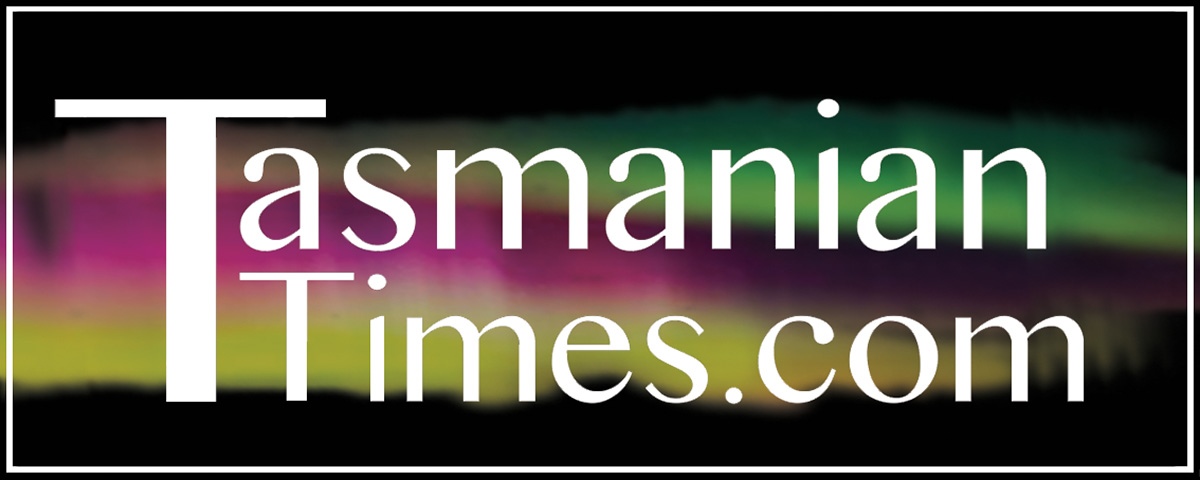 Author Credits: [show_post_categories parent="no" parentcategory="writers" show = "category" hyperlink="yes"]