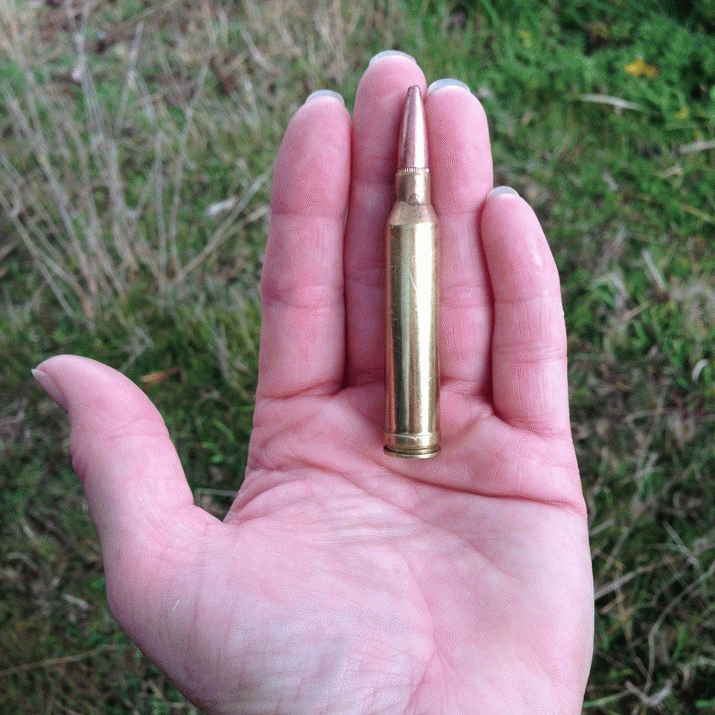 Hilary Burden
When an old friend asked me to go deer hunting with him it wasn't something I said yes to immediately.
– You're interested in where your food comes from, he said in his pitch, so why not deer?
– Yes, I am, I said, but…let me think about it?
It wasn't 'let's go fishing' or 'wanna find some mushies'. This invite was different. While I considered it over the next couple of days, my friend sent photos of a deer he'd hunted; a close up of the mince he'd made from some of the meat; and, a coil of home-made venison sausages in four flavours including 'cracked pepper and merlot'. Later he said he'd thought about texting a photo of a fallow deer skin he'd had tanned, but decided that was going a bit too far for one day.
He wasn't letting me off the hook.
I decided that I couldn't really have a view about hunting deer in season if I'd never been. As a meat eater, how could I argue that I'd rather buy meat from the supermarket, or dine out on venison, than spend an evening with a mate who was an experienced hunter, tracking our own? I've long been passionate about sourcing local produce in season and doing my best to grow and harvest my own. How could my philosophy not extend to meat?
So, with the deer season only a few short weeks long in Tassie, I agreed to go deer hunting on the east coast with Andy.
– You'll need 'camo's' he said. Deer see denim and anything light. If you don't have brown pants I suggest you go to Allgoods on the way.
The mention of camouflage set me back a bit. I wished there wasn't an argument for armies, or for killing people, and, automatically in my mind, camouflage aligned with both of these.
Deers have a sixth sense, said Andy. But if you're wearing the right camo, you disappear. If you're standing downwind you can get really close. They can be staring you in the eye but they just won't see you.
Later, a friend who works with textiles introduced me to Geordie who was an army cadet when he first developed an interest in camo. He said he joined the army reserve during the introduction of the Disruptive Pattern Camouflage Uniform (DPCU) pattern, aka "Auscam". He told me about camopedia.com (the Wikipedia of camouflage), how his favourite pattern by far was the Tigerstripe uniform, used by US forces in Vietnam in 1969, and pointed me to a list of commercially available hunting camo at cabelas.com. I lost count after 80 patterns, with names like Mossy Oak Forest Floor and Predator Brown Deception.
Apparently Old Moleskins with Garden Stains didn't cut the mustard. Here, wear these, said Andy handing over a pair of olive green overpants and long-sleeved "Spring Buck" patterned shirt that reminded me of a Brett Whiteley painting.
We left the highway after 5pm, drove through plantation and farmland, across rocky dried up creeks, opening and closing gates behind us until we stopped to walk.
Camouflage doesn't make the rain disappear, though, and Andy shared his hunting stories to pass the time. We sat in the 4WD waiting for each downpour to pass, the loaded rifle – a Weatherby 7mm Remington Magnum – across our laps which, even with the safety catch on, made me nervous.
Never took more than he needed …
I learnt how, growing up in Tassie, Andy shot his first rabbit with an air rifle at the age of 8; how he thought it was a male instinct to hunt; that he only shot deer and wild duck for food and never took more than he needed; that if he thought he would miss he wouldn't pull the trigger; that it was his duty to kill an animal as quickly as possible and that hopefully it was killed straight out.
He said he meets young guys these days who have never been in the bush. How he told them they needed to get out there because they didn't know how to live or survive. Or, just be in the outdoors.
Out there I smelt bush, sensed the breeze, heard crickets and the ground sound beneath my boots. I watched Andy's body movement – slow and cautious – and I fell in behind. This wasn't a bushwalk. He taught me to spot deer signs, where they'd brushed up against wattle saplings and stripped the bark. But the deer were cleverer than us that night.
By the time we got back to the shack it was pitch black. In the bathroom I spotted the December edition of Australian Shooter magazine with the coverline "Paddock to plate showcases game cuisine". The article, featuring celebrity chef and licensed firearms owner Matt Moran, followed a wild duck hunt for a TV series called "Paddock to Plate", and mentioned how so often hunters have to defend their reasons for hunting. Andy said he'd never wear his camo gear into the supermarket – it would cause too much trouble. He said hunting had a bad name, that people considered him a redneck or a bogan. But I think they've got it wrong.
Holding that cold, blued-steel rifle I knew I couldn't kill but respect the fact that others can and that their capacity can provide a meal. It's killing without mercy, without reason, for territory or domination that I mind.
Whether it was my eager step, my lack of ability to fall in behind, or need to chat and ask questions, the rifle didn't get off its safety catch that night. I'm glad I didn't have to see something die in front of my own eyes from a bullet I held in the palm of my hand. But Andy's homemade venison sausages were good.
REGENERATION

Todd Dudley at the Skyline Tier, Scamander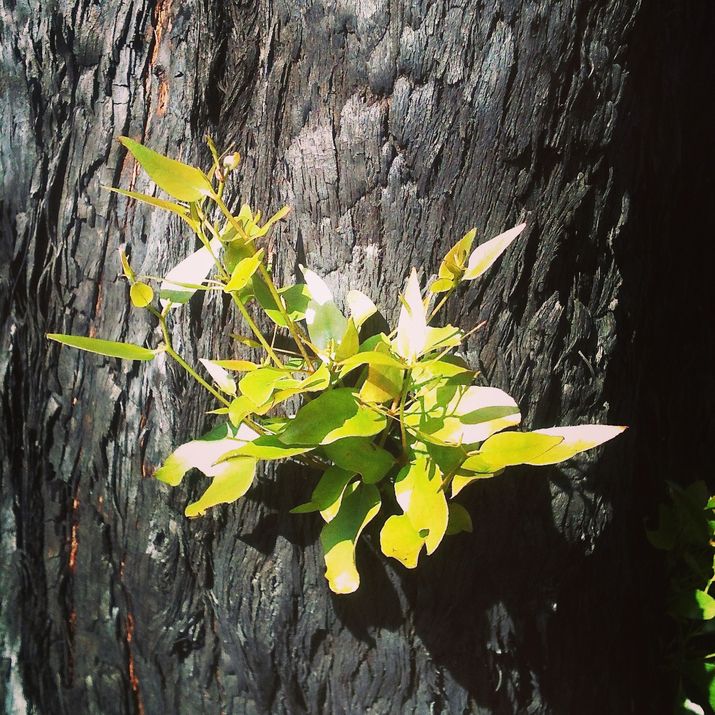 Epicormac growth …
In revisiting a photograph of epicormic growth, taken a couple of years ago after a bushfire came close to shack townships at the end of my road, I'm sure I'm not the only one who thinks, first, about hope; then, the surprise of survival, of re-birth, and the fragile tenacity of nature's way.
Following the Dunalley fires, epicormic growth inspired an exhibition (Epicormia at the Long Gallery in Hobart) featuring new works by 41 artists, all affected or living in the path of those January 2013 bushfires. Nigel Hewitt, this year's Glover Art Prize winner, also found immense inspiration in bushfire devastation, using wood ash collected from sites that included charcoal deposits from the Dunalley fire. The result, Woven, is an extraordinarily refined portrait of regeneration that took the Ulverstone born artist four months to create.
An ironbark seedling inspired Todd Dudley, president of the North East Bioregional Network, in much the same way. Spotting it in 2003 – growing on the side of a forestry road in an old pine plantation that had been clear felled and burnt –- was a light bulb moment for the Dianas Basin resident and environmental advocate.
Jobs were on the agenda in the 1960s when 2,000 ha of native forest on the Scamander skyline were converted to radiata pine plantation to boost employment. When the trees were harvested in the early 2000s, an area of clear fell was so extensive that it could be seen by participants in the Sydney to Hobart Yacht Race sailing down the east coast.
Instead of taking his protest to the streets, Todd focused on that ironbark seedling. In his concentration a simple insight was revealed: focusing on areas with high natural regeneration capacity would be easier than regenerating forest by planting trees.
Over the ensuing decade, Todd has developed his practice in ecological restoration at the Skyline Tier (now leased by New Forests) with a team of nearly 20 workers. Since 2014, the project has been supported by Environment Tasmania through federal government funding, creating 20 part-time paid positions (some are retrenched forestry workers).
From the Skyline Tier behind Scamander and Beaumaris you can see as far north as Humbug Point, south to Falmouth, and east to the crags of Ben Lomond. In between, from broad hillside to steep gully, is a vast and overwhelming area of vegetation, criss-crossed by old forestry roads, some returning to nature. New growth is struggling to take hold amongst pines now growing like weeds. Left to grow the pines become too tall to prune and seed. Only a planned burn will make the difference here.
You'll find Todd and his gang where the pines are small enough to weed out with a pruning saw, their hi-vis backs bent over in the late summer heat.
There are few large-scale ecological restoration projects in Australia (Gondwana Link in WA is a shining light). The restoration of pine plantation back to biodiverse native forest at Scamander (with the aim to restore 2,000 ha of former plantation) is one of the biggest plantation restoration projects undertaken in Australia.
Getting it done …
Since 2007, Todd and his team have completed 500 ha.
"Eventually we'll get to the worst areas," says Todd. "I might well be dead by then but we'll just keep working from the good areas to the worst and just get it done."
Although some conservationists disagree with Todd's approach, arguing they would rather see native forests not logged at all, Todd maintains focusing solely on protection simply serves to maintain the status quo. His work is where he believes a mature future lies, acknowledging the ability to see both points of view: conservation-oriented, but using forestry methodology. His future, says Todd, may even be with forestry, so long as the State can stop treating nature "as a resource that holds no other value", and can learn to resist the drive to reap maximum viability in the short term.
Todd points to the area where he saw that first seedling. While the air amongst the pines felt stillborn, here the breeze seems to thrive. The native forest is now tall, and his ironbark gum has disappeared into a healthy understory: a tapestry of native greens, blues and greys. To complete the rejuvenated scene, frogs can be heard in the gully and a flock of black cockatoos entertains above.
"You can see this project is successful," says Todd. "It's working. It promotes biodiversity values, and provides employment as well as conservation and land management training. It's also offering people hope for the future. With 47 part-time jobs created in the past few years you could call it the conservation economy – it's a new way of thinking."
You can see why Todd Dudley thinks conservation land management is a big opportunity for Tasmania.
* A community symposium (Ecological Restoration – Recovering landscapes and a sense of place) is being held on May 23rd at Tidal Waters Resort, St Helens. More info: 03 6376 1049
Women Artists?
At the Glover Art Prize, held earlier this month in Evandale, banners were displayed featuring photographic portraits of winning artists and their paintings over the past 12 years. Of the 12 winners only one – Janet Laurence – was female. Glover Art Prize Curator Jane Deeth identified Laurence as "the most internationally famous winner", adding, "I know what you're thinking: another example where women have to be brilliant to beat the men". Nonetheless, for the past couple of years Jane says there have been two female judges, and half the finalists have been women.
Few dispute Nigel Hewitt's win, but you have to wonder what it is that lies deep within the judges' subconscious that continues to choose an overwhelming majority of male over female artists. Jane suspects that virtuosity is routinely read as male but says she lives in hope this will change.
HANDWRITING
According to my teenage niece 'grammar' is when the teacher picks her up on using the word 'like' too many times in a sentence. I know what she means, but next birthday I've resolved to give her Strunk's The Elements of Style and hope some might rub off.
Sadly, grammar is as out of fashion as handwriting; texting proves that you can be understood without being good at either.
Australian English has always been a looser version of the English language. I've always loved our ability to shorten and make casual words we use regularly or for which we have a fondness. For example, I love how redheads are called 'bluey', sandwiches are 'samos' and parmi nights are all the rage.
But grammar matters. I wish it were still taught, and, as a writer, feel indebted to Mr Kitchener for banging it into us in English. Monday afternoons will always be remembered for the slog of double grammar. It taught us to respect the structure of the written word, to order our thoughts, play with rhythms, organize paragraphs, and how a sentence could be altered just by switching a clause and a predicate, although I still don't understand why a dangling participle is such a bad thing…
A recent review of the Australian Curriculum found undergraduates possessed "at best a rudimentary knowledge of English grammar", had "learnt nothing of English grammar at school" (to the point where even identifying the parts of speech in a sentence is beyond them), and that "their grammatical errors were routinely left uncorrected in their essays".
When it comes to handwriting I also crave that it matters more. I've kept drawings from my niece as a toddler before she even knew how to write her own name – scrawled, tenuous letters that can't find a straight line, hesitant and broken tracks of crayon, patiently awaiting practice. But since those baby steps I've never received a letter – only short emails, written, mostly, in text speak.
I want to urge: get off the computer! Leave your desk. Go outside. Sit under a tree. Pick up a pen, a pencil, a scrap of paper or journal – I don't mind – but use your hand, your whole hand. Not two thumbs. Tell me a story with all your heart and soul and let it leak through your hands and all your fingers, spill and splutter onto the paper, go back and check or don't. Just use your hand and make it flow.
A friend who works at Australia Post says only 3% of mail posted these days is by personal letter – a figure that floored me. Communications Minister Malcolm Turnbull confirmed it on 730 with Leigh Sales. It's well known that Australia Post's letter arm profits have been plunging for the past seven years, and that the cost of a stamp is set to rise to $1 for letters as email replaces physical mail.
… Something human is lost …
How I will miss that feeling of first seeing the postman turn into the driveway then running to the postbox to check what's arrived. These days there are envelopes but rarely letters. It's hard to imagine ever waiting on two deliveries a day in the UK.
While worrying about the possible demise of the book, the handwritten personal letter has caught me by surprise because if people aren't writing letters to each other – and I mean letters, not cards – something human is lost.
There are good arguments for re-acquainting ourselves with writing letters, apart from Oz Post profits.
* If you agree with Edward Snowden that 'there is no such thing as privacy' – emails can be read by anyone and our phones tracked – a handwritten letter is safer and more intimate territory, free from the metadata police.
* As a writer, I know that when I start a story, doing it by hand, away from the computer always gets me in the zone. It's different to putting thoughts straight onto a keyboard. Writing by hand connects to something more primal, more human, a step closer to our sub-conscious.
* In years to come you will find slips of paper inside books, notes scrawled in a journal that will stop you in your tracks and take your thinking into another place. The computer is a void that devours rather than gives.
The upside according to Oz Post is that 25% of parcels are delivered by posties, so just because the letter is dying, doesn't mean the postie has to die. But this means we are sending things not thoughts.
My grade 3 and 4 teacher Rita Miller taught me how to write using cord cursive. "They don't teach it any more," she told me when I called her to refresh my memory of how she taught us to write. "If they do teach writing it is abbreviated script. My grandchildren say 'Print to me' because they can't read linked-up writing."
I remember now how Rita taught us to make our letters flow, how we'd concentrate on one letter, get that right, and move on to the next. Music was played over the school's public address to classes from grade 6 down to 3. We'd write in time to the music, doing waves and hoops to a march time beat.
Every now and then Rita does a few hours' relief work at the Low Head Pilot Station, an historic maritime museum dating back to 1805. I can see how she watches the children who visit, how she'll ask them kindly to write in the visitors' book. They'll take hold of the pencil with their fist and she'll think how ungainly it looks, how it must ache to write like that, and yet understand because how would they know otherwise?
Always the teacher, Rita thinks at least they might be taught how to hold a pen properly.

Bay of Fires
GLAMPING
The first time I went 'glamping' was in 2003 before the word (a mash up of 'glamorous' and 'camping') was ever coined: on holiday in Tassie doing the Bay of Fires Walk.
Before then the swish-est camping I'd done was in the back of a Subaru at Friendly Beaches with a surfie boyfriend who really knew how to pack. And, later, on safari in Zimbabwe, in tents pitched for you by the river, meals cooked, kayaks provided; there to photograph the wildlife, not shoot it.
Back in Tasmania, the Bay of Fires Walk was a version of camping I had never experienced, with young, able guides who cared for your needs while sharing a love for natural environment and cultural heritage. All you had to do was get on with your fellow campers, and end the day with a swim and a meal cooked for you in a standing camp or barely visible lodge, designed by architect Ken Latona. I still have friends from this journey.
This holiday helped bring me back home to Tasmania. The fact that Ken drove the mini bus for the hotel pick-up spoke volumes. Here was an unassuming man connected to his livelihood. His roots, those of an environmental architect whose vision reflected a quiet sense of responsibility for the planet's future, rather than simply the bottom line of the stereotypical developer. He didn't need to wear a nametag or announce his arrival in anything more than a knitted jumper: his style more hidden hut than glass atrium.
Ken had earlier established the fully guided, six-day Cradle Mountain Walk, designed to tread the earth lightly by day while sleeping in comfy beds at night. The Tasmanian Walking Company, which now operates both walks, introduced its latest product, Wineglass Bay Sail Away, earlier this year and submitted expressions of interest for four more which have made it through to stage 2 of the government's search for new tourism ventures in our National Parks and World Heritage areas.
For Tasmania, glamping (chic, niche, and low impact) seems a natural fit. If we didn't glamp it with our parents, many of us learnt to camp in school at spots now written about as iconic tourist destinations, like Maria Island and Coles Bay. Plus, it's natural for us to put a couch on the back of the ute, pack a few tarps, a table and some milk crates, even a mattress, and head off to Mussleroe or Marion, Marrawah or Miena. In a previous era, some shacks were a form of glamping, until council regulations put a stop to that.
The Feb/Mar edition of Australian Traveller, in a feature on "glamping it up" in Victoria, depicts luxury comfort for less: cosy tents in Daylesford with 1200 thread linen, duck down quilts and Bose Bluetooth speakers. Whether yurt or eco pod or airstream caravan, I suspect most 30+ women would vote for that. As one man told me at a Wilderness Society public meeting in Launceston recently, he supported more huts in the wilderness because it was a way of going bushwalking and taking his wife: "She says she's happy to stay in a hut, so long as she can see five stars".
Bay of Fires Lodge …
But how many huts? And why does it have to be in an area designated World Heritage Wilderness when there are many wild country areas on the fringes or outside parks and reserves available for private sale to potential developers. The Bay of Fires Lodge is a prime example, built on 35 hectares of private land nearly 20 years ago.
It's hard not to think the government's rush for ideas is more about selling lifestyle to a certain demographic of visiting holidaymaker and attracting get-rich-quick developers, than it is taking seriously its responsibility to care for our publicly held land.
Most worrying is the Minister for Parks' brash hope for Tasmania to become "the environmental tourism capital of the world". This would put Cradle Mountain Lake St Clair National Park up against Yosemite National Park (also a UNESCO World Heritage site), which saw 4 million visitors in 2012, in twice the area. Are we ready for this scale of tourism?
A 2009 report found that Tasmania's Parks & Wildlife is already under-resourced (one ranger for every 30,000has of reserved land compared to one in every 5,000has in Victoria*), and yet Minister Groom is choosing to axe jobs. Meanwhile, Yosemite is managed by family-run business Delaware North Companies Parks and Resorts, its role one of "stewardship and hospitality in special places" according to its website. Forbes magazine ranks it as one of the world's largest privately held companies.
What capacity does Tasmania have to cope with the government's vision? And why, as it seeks commercial interests while downgrading Parks and Wildlife, is the draft management plan not advancing its own vision for stewardship? Or, more worrying, is it planning to sell that off to private interests too, like Yosemite?
By replacing the word wilderness with management jargon ("remote recreational zone") this has the feel of a new corporate invasion.
Let's stop pushing the homogenous marketing cliché that is "world class" and consider what is Tasmanian class instead. Try considering what is appropriate and natural to everyone's interests, instead of what's right for just one sector – whether deep green backpack or conservative blue pockets.
Author Herman Hesse wrote: "Within you there is a stillness and a sanctuary to which you can retreat at any time and be yourself." Even though I will still glamp it with the best of them, it won't be at the expense of public wilderness guaranteed for future generations. I think I'd rather find wilderness in my own head than live with the guilt of that.
* "Paradoxes of Protection", 2009, by Dr Louise Crossley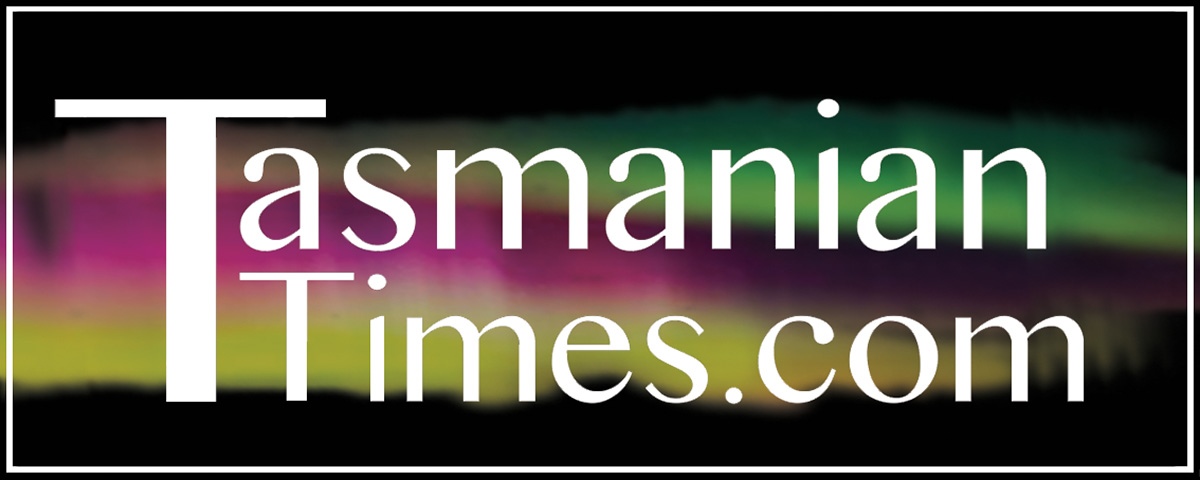 Author Credits: [show_post_categories parent="no" parentcategory="writers" show = "category" hyperlink="yes"]