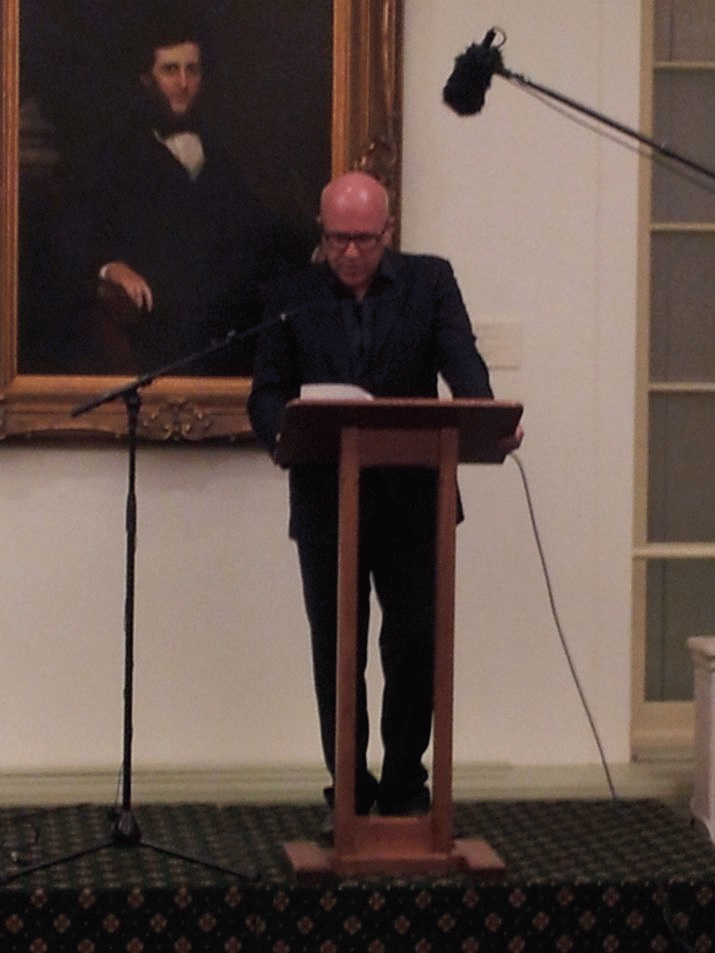 Flanagan greets his very special guests, Burma Railway veterans (average age 90) and mates of his dad Arch. Flanagan gave away part of his Booker prizemoney to Rosebery Primary School (where he first learnt to read) … a gift received Tuesday by two current students …
It was as if he was welcomed 'home'. Tasmania's reviled 'traitor to Tasmania' yesterday was accorded that most gracious of Tasmanian gestures: a State Reception in Parliament House, Hobart. Man Booker Prize-winning author Richard Flanagan – courageous champion of an alternative future for Tasmania other than the 'dig-it-up-chop-it-down-if-it-doesn't-move-root-it" establishment mantra – was celebrated by Premier Will Hodgman and Minister for Arts Vanessa Goodwin. The word gracious must be repeated endlessly; gracious were the speeches by Will and Vanessa…
How different it once was …
This is what I wrote in July 2006, ( 100 days and The Emporer, HERE ) …
On the second anniversary of the article that sparked one of the more remarkable controversies in recent Tasmanian political history, we republish Richard Flanagan's celebrated article about Jim Bacon, in which he argued that the Bacon-Lennon government had sold Tasmania out to big business in disturbing ways.

Attacked in Parliament by now disgraced former minister, Bryan Green, as "a traitor to Tasmania"; told by Premier Paul Lennon that he and his writing were "not welcome in the New Tasmania", could it be two years later that Flanagan's article — which most of the Tasmanian media refused to run and which many in the media then attacked — foresaw correctly the terrible cost to Tasmania behind all the spin and hype?

Two years ago the powers that run Tasmania crucified Flanagan for what he wrote. But now it appears that history on an almost daily basis is proving him to have been right, as Tasmanians begin to add up the staggering, ever growing cost — now estimated to be in excess of a billion dollars — of all the strange deals with mates, from Richard Butler to Basslink to the Bass Strait ferries, to which his article first drew national attention.

For Paul Lennon's government, one hundred days into their hapless reign, who are in so many ways now merely paying the cost for the arrogance and sleaze of the Bacon years, this other anniversary is, no doubt, yet one more skeleton in the cupboard about which they would much rather not be reminded.
How the circle turns. How wonderful was it yesterday to be a part of this; to honour this courageous, prescient, wonderful human being; to be a part of a gathering of some 100 of Tasmania's best and brightest (how often was the comment made to me … that you could roll a canister into this gathering and snuff out the most annoying of Tasmania's pests …).
How ironic was it that this reception was accorded by Premier Will and A-G/Minister for Arts Vanessa. How gracious were their speeches … it reminded me of proper liberalism (in my view); that triumph of the spirit which truly reflects humanity (think Malcolm Fraser … )
Mr Flanagan was invited for a private viewing of Geoffrey Dyer's incisive (god does he get him …) viewing of his portrait of ex-Premier Lennon which dominates the stairwell of Parly House.
He graciously declined …
Lindsay Tuffin (proper wankers speak of themselves in the third person) first covered State Parliament as a gallery reporter for The Examiner in 1969. He was 16 years and 9 months of age … and knew nothing. The Examiner then had an office of five covering State Parliament: a specialist commentator, a state government roundsman, three doing the donkey work of coverage, He covered Parliament where Will's dad Michael was an MLC; smooth, urbane, sophisticated. He wanted to grow up to be like him … )
• TT Arts, Will Hodgman: Honouring Richard Flanagan & Awards to Inspire Our Writers
• Pete Godfrey, in Comments: Welcome home indeed Richard, you have done a lot of good for your home. I am glad that you are finally being recognised for the wonderful work you do.
• Jack Jolly, in Comments: Welcome home future Governor Richard the Tasmanian lion heart. I will look forward to much more sedition in the future. From the leading photo it seems to me that there is some strange convergent evolution between wankers and traitors. For a second I thought it was Linz being honoured upon the podium. Another day perhaps? Anyway, 'The Wanker and Traitor' is a great name for a Hobart pub.
• Barbara Mitchell, in Comments: So, a born and bred Tasmanian wins perhaps the most prestigious literary prize in the world, and it takes our piss-ant government nearly six months to afford him any official recognition? And, why wasn't the reception a grander, more public event? Mr Flanagan must be a truly gracious individual to have accepted Mr Hodgman's belated offer of an official reception. If it were me, I would have told them to shove their very ordinary canapés and sandwiches, served in the crappy reception room – the 'nice' room upstairs was hosting a 20th anniversary shindig for Quit Tasmania – up their collective arses. Can you imagine the pollies all bent over, with curried egg and salami protruding from their 'chocolate starfish'? And, who took the photos? Is that the shiny pate of the member for Huon, Mr Armstrong, nudging the edge of one frame? Was he given a very abridged version of the book, with pictures, so he'd have some idea what the modest fuss was about?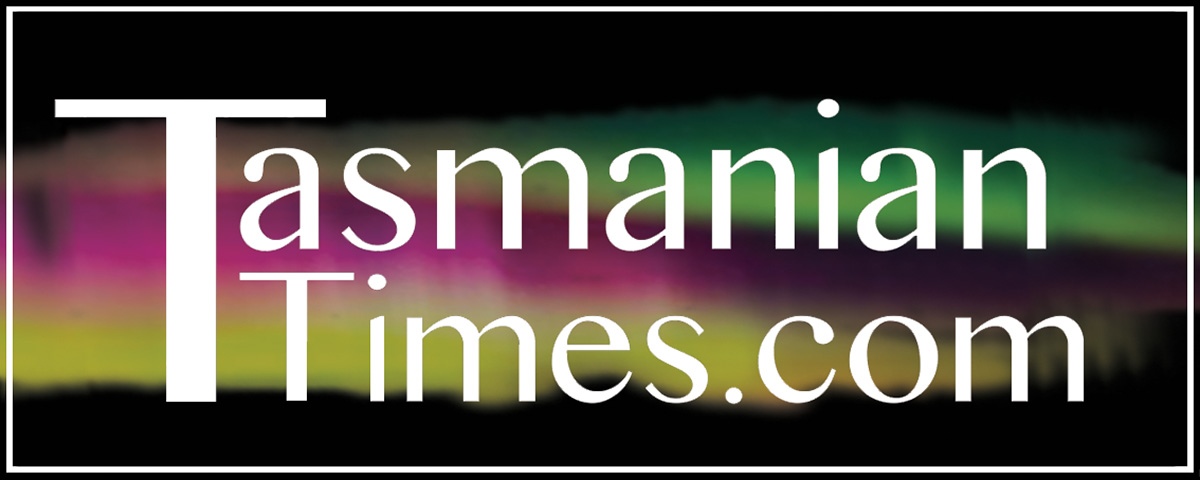 Author Credits: [show_post_categories parent="no" parentcategory="writers" show = "category" hyperlink="yes"]