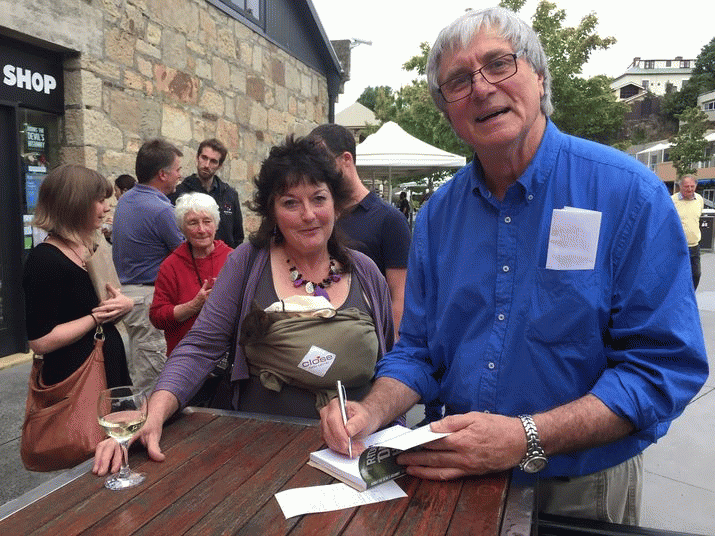 *Pic Above: Don signs a book for a lady … carrying a baby wallaby in her pouch
*All Pics: Rob Walls, Http://robertwalls.wordpress.com Http://thisworkinglife.wordpress.com Follow on Twitter: rob_walls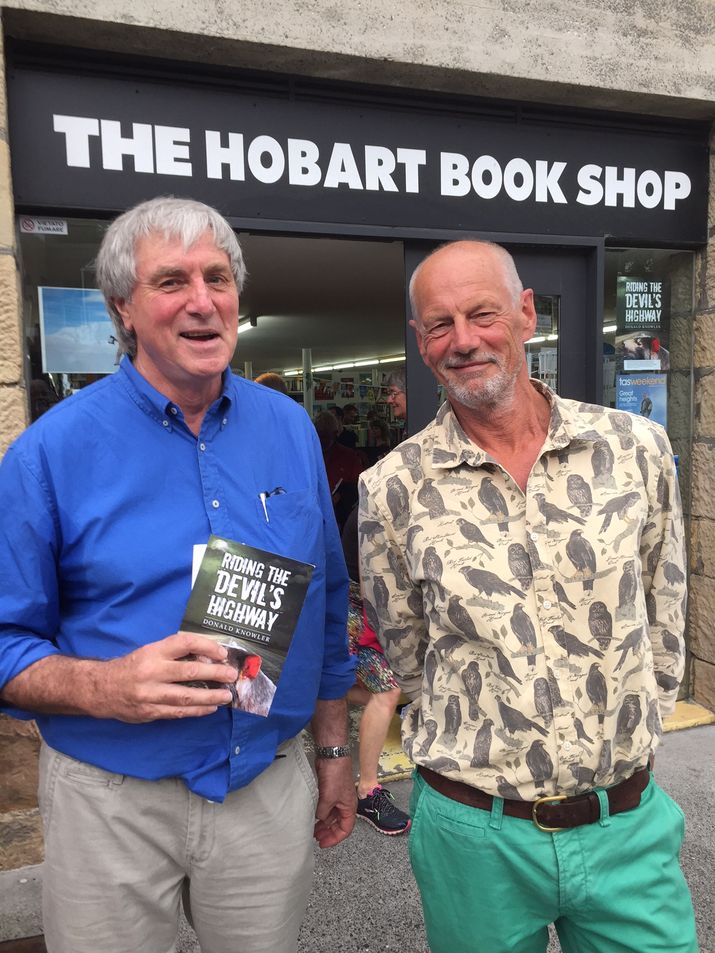 Don Knowler with launchateer Nick Mooney, wildlife biologist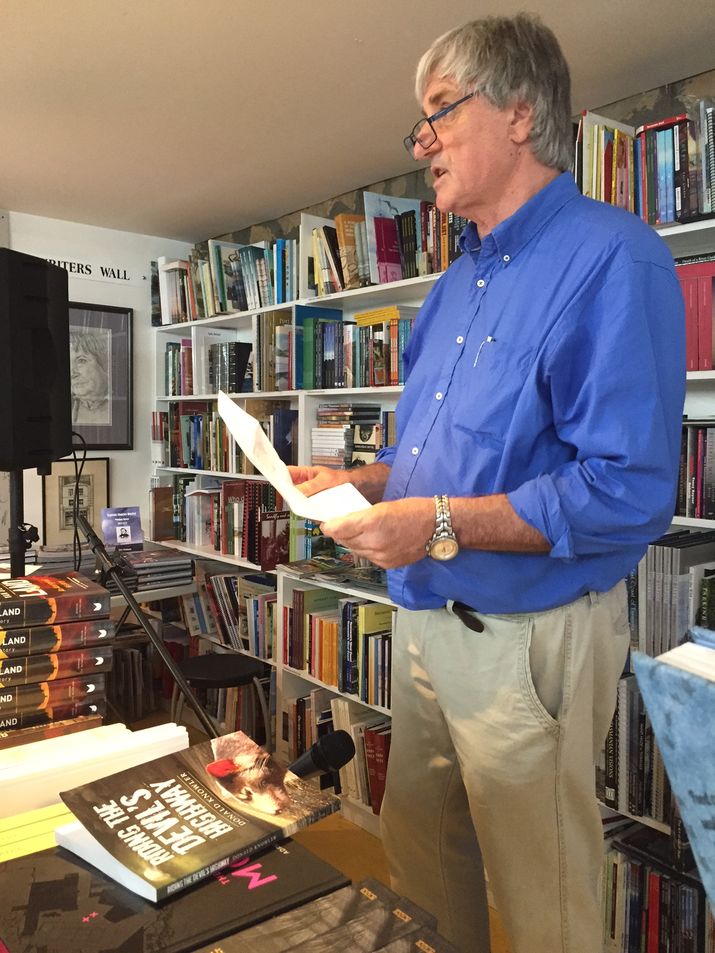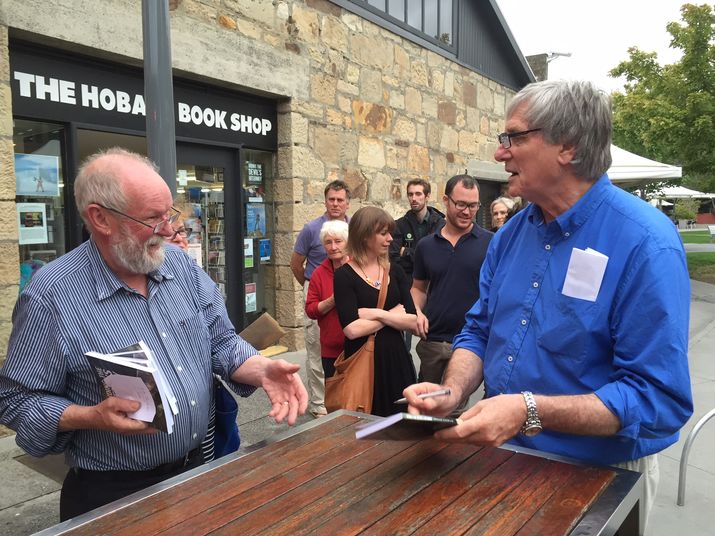 Don with Hobart Bookshop's Chris …
Donald Knower's speech at the launch of his book Riding the Devil's Highway, at the Hobart Bookshop on Thursday, 26 February
I had started out writing a speech for the launch of Riding the Devil's Highway in which I described how the book came about, leaving an extract to the end.
But this morning I decided to start with the brief extract first. Actually, it's the epilogue, which in reality explains the book, and I read it just in case those that buy the book don't get that far….
"MIDWAY through writing Riding the Devil's Highway I had my doubts about it. Why write a tome on roadkill? Who would read it, who would be interested? What was I trying to say? Worse, was it any good? I took a long walk, following a track to the Waterworks Reserve near my home on this Sunday afternoon in winter. I tramped the reserve's extensive trails for hours, worrying about the whole project and trying to find reasons not to give it away. It was dark and damp during the late afternoon, a fine mist coming off the frozen slopes of Mount Wellington above me, a twilight dew dotting my jacket.

Deep in thought, I didn't notice the night descending and I had to use the faint glow of a full moon to trace my steps out of the reserve, to walk Waterworks Road on my way home. Like the moon, a handful of stars were fighting to make their presence felt, dots of white light coming and going in the icy air.

I had made a decision to liberate myself from the book, and I finally felt a joy, an exhilaration, to be free of roadkill. Wood smoke, white and black peppermint gum from crackling log fires, hung to the dew particles and a cold, dank night took on a different perspective. It was bracing, invigorating, a Tasmanian winter's night that never fails to hone and prick and tease the senses, and make decisions clearer, all with a promise of a log fire and a glass of good red a little further down the road.

As I walked home I made out the shape of a wildlife carer I know approaching from the opposite direction, flashing a torch. He also carried a giant claw hammer and a grim, haunted expression. He had just dispatched a hopelessly injured female Bennett's wallaby, the latest roadkill victim on our street. She had a joey which also couldn't be saved.

I returned to the keyboard."
The book, far from being a literary exercise, was designed to spark debate. And it certainly has done that, with more than 40 comments attached to a story about the project the Mercury published this week.
As the writer of the bird-watching column in the Mercury, I work on the premise that everyone has a story to tell about birds. I now know that the same thing applies to roadkill in Tasmania.
In the online comments featured by the Mercury there was a gem.
A reader said that he always drove slowly at night to avoid hitting animals and one evening the police pulled him over on a country lane. Thinking he might have been drinking, they wanted to now why he was driving so slow. When he told them, the reader said they looked at him as if he was mad.
In fact, I think I'm the one who is slightly bonkers to have written this book.
When I heard a knocking on my front door early one morning about a decade ago I didn't realise where the simple act of opening it would lead me.
Standing outside were Sue Drake and Bruce Longmore, who told me that there was something up the road, as they put it, that I had look at.
As the writer of the On the Wing column, they thought I would be interested, but they urged me to be quick. So, still in my pyjamas, and still bleary with sleep after a late shift at the Mercury, I went to investigate.
What I saw was a wallaby carcass, nothing unusual on our streets in the Waterworks Valley, but on the carcass were three wedge-tailed eagles, a male and female and juvenile.
It made a great bird column and a little later an American voice was on the line, telling me that in the United States there was a book called Flattened Fauna and I should write a local version. The voice belonged to James Harris, a vet in Sandy Bay.
The book was out of print but as it happened the then convener of the Waterworks Valley Landcare Group, Robert Rands, was about to visit his mother in Idaho and he said he'd look out for it.
I didn't hold much hope, the book had been out of print for possibly 20 years, but about a month later there was another banging on my door, and there was Robert with the book, which he'd found it in a secondhand bookshop in, I think, Portland, Origan.
The book, with so many mammals found across the entire US, would not be suitable for Tasmania but I got to thinking how I could write one here.
Thinking about it further, I decided I would try to write it not as a field guide to flattened animals, but in the style of the emerging genre of new nature writing, something I studied at great length when I lived in the United States.
Briefly, new nature writing moves away from the pastoral approach to portraying the wild in which writers merely report observations, but puts the writer in the story, in the same way the reporter is the focus in new journalism.
So began a remarkable, at times painful journey to the heart of the roadkill capital of the world, Tasmania.
It started out as a journey to record the wildlife toll on our roads but more and more it became a story of the people doing their best to make a difference, to make our highways and byways safer for animals.
But first I counted birds and animals, and this at the same time gave me material for the bird columns. Once I wrote a piece about never seeing forest ravens dead on the road – they were too smart and got out of the way in time – but I was rebuked in an email by roadkill researcher, Alistair Hobday, who said ravens came it at no 9 on a list that had been compiled.
He sent me research by himself and Melinda Minstrell and there before me was what was to became the hard, scientific facts to underpin the observations of a wandering journalism, with a love of wildlife and no scientific background at all.
On my journey other remarkable people came into my own headlights. They are too many to be mentioned individually now, they are all in the book, but I have to single out Greg Irons and Petra Harris at Bonorong, and Craig Webb at the Raptor and Wildlife Rehabilitation Centre at Kettering.
But I want to mention James Harris again. The journalism cliché goes that if a person didn't exist you would have to invent them, but I don't think anyone could invent James Harris. He looks like Bob Dylan's roadie, wearing denim, red braces and a baseball cap. He seems to belong on Route 66 instead of the Devil's Highway.
In his late sixties or early seventies, he ran a successful veterinary practice in California and was invited to Hobart in 2001 to attend a veterinary conference. It was the time of the 9/11 terrorist attack on the World Trade Centre in New York and Dr Harris and his wife found themselves stranded in Tasmania because airports in the US were closed. They took day trips and, as Dr Harris puts it, decided "this would be a mighty fine place to live".
So he moved here, and has made his own contribution to Tasmanian wildlife rescue and rehabilitation ever since, along with treating the pampered pooches of Sandy Bay. He treats wildlife free of charge.
Along with many of you here tonight, he has travelled the Devil's Highway with me.
• Watch the Video ( courtesy of Ralph Wessman, http://walleahpress.com.au/garradunga/nick-mooney-launching-don-knowlers-riding-devils-highway/ … )
http://walleahpress.com.au/garradunga/nick-mooney-launching-don-knowlers-riding-devils-highway/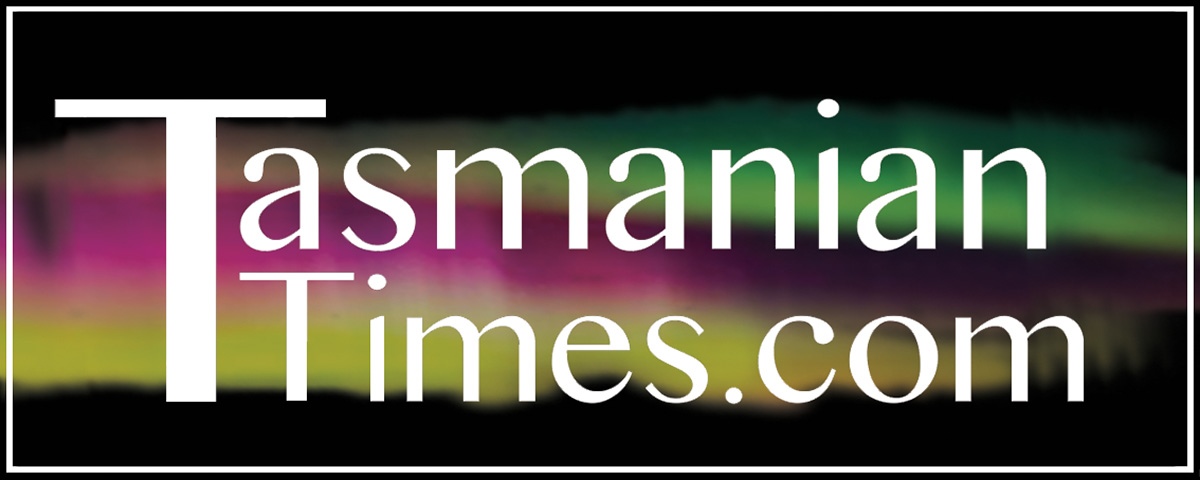 Author Credits: [show_post_categories parent="no" parentcategory="writers" show = "category" hyperlink="yes"]