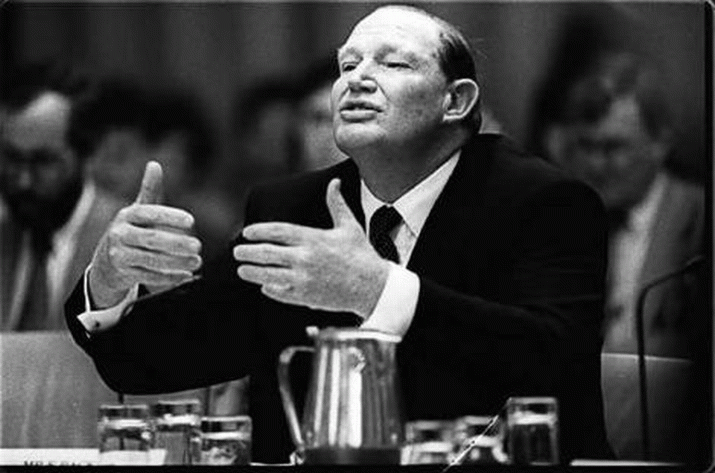 *Pic: Kerry Packer fronts a 1991 Print Media Inquiry … forcefully …
Evan Whitton Background: Kerry Packer (1937-2005) was of course a criminal. That was confirmed by the Costigan Royal Commission in 1984, the year that this sketch was published. Phillip Adams recently revealed that he observed NSW Premier Neville Wran (1926-2014) bribing Packer in 1979, and that Packer paid him back handsomely.
LONDON, MONDAY: The famous Queen's Club is a good deal handier than Wimbledon. It's under a flight path at Baron's Court, a couple of stations beyond Earl's Court on the Heathrow line. It has 17 courts, eleven grass and six hard, a couple indoor, and two devoted to real tennis.
Can there be no limit to masochism? As if enough indifferent to bad tennis were not available at Wimbledon, I trundled out there on the rest day. A few members were hacking away on the hard courts in the far distance, and some of the Wimbledon heavies had turned up for a bit of practice.
Mr Jimmy Connors was asked by a ballgirl if he would stand still for a picture with her little chum. "I'll do it," he said graciously, "I'll do it." As he stood with the little girl for the instant it took, I reflected that he is not responsible for his face which is, if possible, even less attractive in the flesh than in a close-up on television.
Mr John McEnroe, fetching in a red bandeau, was sitting on a chair by one of the courts talking to a man with a notebook. I assumed this was the noble hack assigned by The Sun, London, to assist in the process of regurgitating Mr McEnroe's thoughts daily for the discriminating readers of that journal.
Mr McEnroe was asked recently if, as he frequently observed, some English papers were trash, how come he put his name to stuff appearing in one of the more resolutely downmarket sheets? His reply made sense: (a) for the money, and (b) he got a chance to put his views without the usual distortion.
But if his series has been a good thing for Mr McEnroe, it has been less of a triumph for the unfortunate Sun: having paid him what is assumed to be a zillion for his exclusive thoughts, the paper found that industrial trouble put it off the streets a couple of times last week.
There was also one of those professional-amateur events. It was said to be for charity, but it seemed more like a social event. There was a drop-side marquee with tables weighed down with linen, crystal, and no doubt semi-drinkable wine. The tennis, when they got round to it, consisted of doubles played regardless of the score, in bursts of six games. I assumed this was in case of cardiac arrest among some of the more elderly pot-bellied amateurs.
There were a number of Australians among the professionals – Rosewall, Stolle, Alexander, Fitzgerald, McNamee – but the names of the amateurs, unlike the usual run of showbiz types who usually infest these things, were largely unknown to me.
The exceptions were the society reporter, Mr T. Theodoracopoulos, and, hullo, the ruggedly handsome visage and lissom figure of Mr K. Packer, the cricket king.
Mr Packer has been having a little difficulty in London. He is said to have dropped a bundle, if not so large a sum as had been reported, at the tables. And the breakfast television company in which he has a major interest, TV-AM, has just decided that the rapacity of the unions will prevent it from taking a cover of the Olympic Games. Mr Packer has put Mr Bruce Gyngell in to tighten the ship, but the Observer reports that TV-AM is losing $400,000 a month. His many admirers, I know, would be entranced to receive an assessment of his current, and undoubtedly outstanding, form.
Regrettably, I am unable to supply this. In what is admittedly a plain dereliction of duty, I decided that life is far too short to watch Mr Packer playing tennis, and departed.
Written 3 July 1984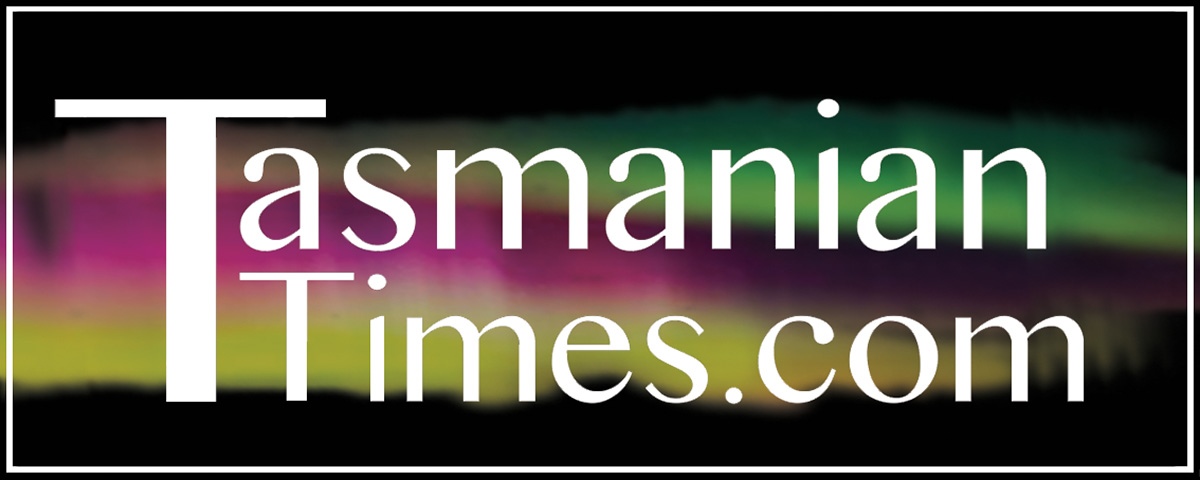 Author Credits: [show_post_categories parent="no" parentcategory="writers" show = "category" hyperlink="yes"]