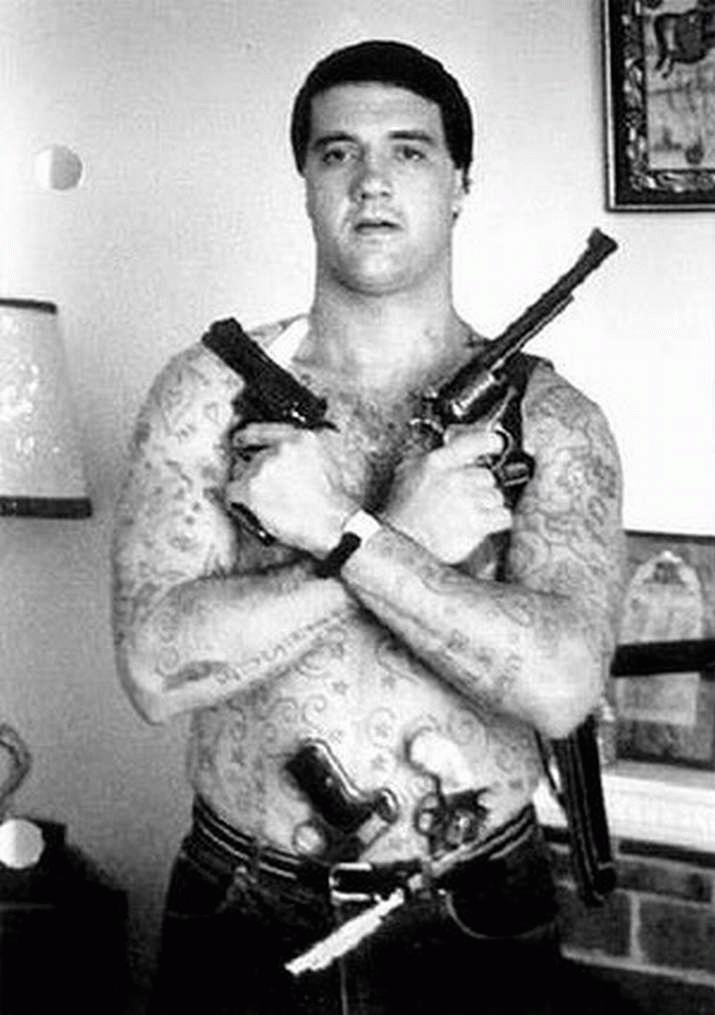 *Pic: Not exactly an assassin … but a very naughty boy … : Mark 'Chopper' Read, former P&D …
Darmody puts the question
IT IS SAD to learn that some of the hard men among Melbourne's painters and dockers have been into slyly effete tax scams. They seemed somehow more innocent in the old days.
Those were times when:
– 40 per cent of Melboume's robberies originated on the docks;
– Interstate jobs, such as the $587,890 Mayne-Nickless hold-up in Sydney in 1970 were brokered on the Melbourne docks;
– George Carey, the 1971 secretary, encouraged by a gun in his tummy, gave up the post and became a garbage collector;
– The incredibly tough Mr James (Machine Gun) Bazley, who, ambushed on 2 May 1972, took a car to Royal Melbourne Hospital, and plucked a bullet out of his shoulder on the way…
My own connection with these unique types was minimal. That same May I was sent to Melbourne to pursue a few mild inquiries about the dock wars that had been proceeding intermittently for some three years. I sought the help, as a courtesy of the trade, of the man who freed Zarb, intrepid Jack Darmody, ace reporter. 'Be at my place at 7 am,' he said. 'We'll get an early start.'
It took a great deal of banging on his door to rouse the ace, but we finally set off to brace some of the dock talent at an early opener. He was angling, I gathered, for an invitation to the union's Sunday morning 'barrel', which he judged might prove a key to my inquiries. After a number of quite obscure conversations we emerged, unsuccessful, into the bright light of a warm autumn day. I was a little disoriented in space and time, but Mr Darmody seemed unaffected. He suggested that I invite branch secretary Patrick Shannon to lunch on neutral ground.
Mr Shannon accepted for lunch at the Southern Cross's Club Grill. My mentor, onetime amateur heavyweight boxing champion, said he would observe proceedings from a table nearby. A second man also turned up for the other team. He was gaunt, very silent, and Mr Shannon billed him as his driver. I took him to be a bodyguard. They wore identical light brown top coats in a nice check, and I was charmed to note that they declined a waiter's offer to relieve them of this burden.
Mr Shannon was a handsome, square-jawed man of 44. He wore a large green opal, a grey suit of impeccable cut, and he rolled his own cigarettes from a tin of imported rum-cured Capstan. He said his emolument was $100 a week with $20 expenses, and ordered 'a Coonawarra of any vintage earlier than 1967'. He judged the'66, when it came, to be a little thin. Mr Darmody soon dropped his little charade and joined us.
Mr Shannon seemed a pleasant man, but was not particularly forthcoming about the dock wars. He explained his reticence, over any number of Crown lagers in the bar after lunch, as stemming from the fact that 'many fives are at stake'. Nevertheless, Mr Darmody extracted from him an invitation to the next 'barrel'…
Nearing the union offices at 16 Lorimer Street, South Melbourne, that Sunday morning, Mr Darmody gave me a stem warning: 'These people are pretty edgy just now; be careful what you say.' My mouth was thus firmly shut when, to my consternation, the ace began a sharp interrogation of Frankie Bayliss, a young man whose reputation at that time was as powerful as his features were angelic. Mr Darmody opened the bowling with his quick yorker: Mr Bayliss, he suggested, looked like Mr Steve Nittes, then doing sixteen years for his part in the Mayne-Nickless job. Mr Bayliss said he did not take this as a compliment.
Undeterred, Mr Darmody slid in his bouncer: 'Have you ever,' he inquired politely, 'killed a man?'
Mr Bayliss gave Mr Darmody a very hard look. I imagine I held my breath. After a longish, tense pause, Mr Bayliss entered a polite disclaimer. I did my best to walk, not run, when we left shortly after, and I asked the intrepid reporter why the hell, after his firm instruction to me, he had taken such an explosive line. He grinned. 'If you don't ask the questions,' he growled cheerfully, 'you don't get the answers …'
Pseudo-white collar paper-shuffling tax fiddles may be bad enough for the once tough dockers, but the last straw, it seems to me, for their macho image came last week from Mr Bobby Dix, the gaunt and silent man I lunched with a decade ago among the red leather and mahogany of the Southern Cross's Club Grill. Mr Dix, now secretary of the branch (following the deaths, by gunshot, of Mr Shannon in October 1973, and of his successor, Mr Jack (Puttynose) Nicholls), disclosed that 95 per cent of the dockers vote Liberal.
What 1 wondered, would staunch old Machine Gun Bazley think of such decadence??
June 1982 From Amazing Scenes: Adventures of a Reptile of the Press (Fairfax Library 1987)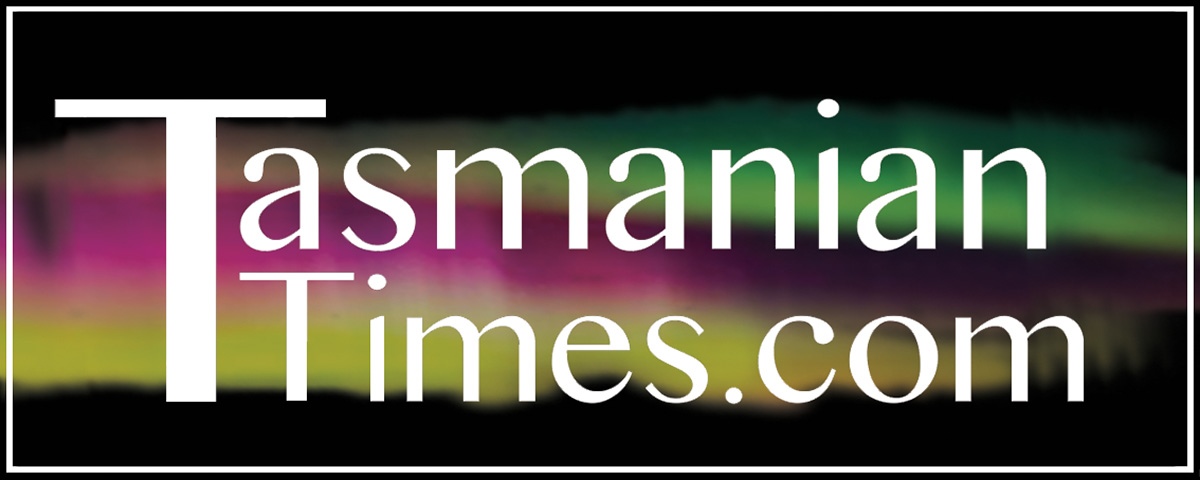 Author Credits: [show_post_categories parent="no" parentcategory="writers" show = "category" hyperlink="yes"]