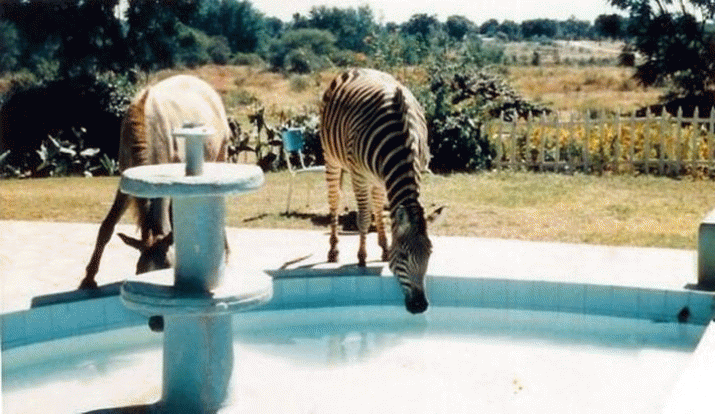 *Pics: From the tranquility of zebras drinking from the hotel pool … to the ruins of today …
One recent evening, having explored far deeper than intended into a grand bottle of Malbec, I picked up a carved Matebele statue that I have had on display in my office for more than 30 years.
It is of ironstone, and has two likenesses of Matebele chiefs back to back, or rather, one on each side of the piece.
Memories began to overwhelm me as I traveled back to the time and place of its purchase. Having journeyed from California to Zimbabwe, I was at the very beginning of a two- week safari with a gentleman by the name of Harry Bennie.
Harry was the owner of Hankano Ranch & Gwaai Valley Safaris, and, close neighbors and friends with the owners of the Gwaai River Hotel.
Shortly after arriving at the compound and being introduced to family and staff, Harry took me by the hotel to relax and unwind a bit following two grueling days in airplanes/airports.
As we relished our 2nd (possibly 3rd) gin & tonic, I noticed this beautifully carved statue on display, and mentioned to Harry that I wished to purchase it. He then called to Harold, the hotel owner, to come over, and introduced us. I inquired as to the cost of the item and was told in no uncertain terms that it was part of the hotel collection and not available for purchase .
He then told me that they had numerous locally made trinkets and knick-knacks available, and gave me a tour of the lot. Nothing of interest, more of the same mass-produced tourist fodder found in markets in and around Vic Falls & Bulawayo.
Fast forward … an ensuing gin & tonic excursion to the hotel … another failed attempt to relieve Harold of the coveted goods.
The day before my scheduled departure I asked Harry to take me by the hotel one last time in order that I might say goodbye to all my new-found friends.
As Harold joined us at the bar, I walked over, picked up the statue, and sat it on the bar in front of us. I then placed a $100 bill in front of Harold and told him I was not leaving his bar, or the Country, until I had that statue underarm.
I then advised him that I would pay whatever price he commanded, but that this $100 bill was all that remained of my funds, and anything further would, out of necessity, need to be deducted from Harry's tip.
To this day I fondly remember Harold's "I've been had" grin as he handed the statue to me and commanded Harry to "get out…and take the man from California with you."
As I said previously, I was searching the internet for "Gwaai River Hotel" and came upon two written pieces that completely captivated me.
One broke my heart, the other repaired the damage.
The First* was written by Hope, a woman who, as a young girl, spent a joyous youth at the hotel while on numerous holidays with her family.
Her descriptions and recollections of the scene, the trampoline, pool, rooms, bar, currency collection, were real enough to be palpable.
I could smell, see, and feel the hotel.
She also posted a picture … it was what remained of the hotel … A small pile of unrecognizable brick rubble is all that remains today.
Hankano Ranch suffered the same fate.
After Harry was beaten off the ranch that had been owned and nurtured by his family for generations, the Mugabe cronies proceeded to destroy and dismantle the borehole pumps in their very short-sighted vision of using the wire from the windings to make snares; what remained, being sold as scrap metal.
The wildlife is long gone and but a faint memory, as are the cattle, the stability and the future.
.
And then…I came upon Don's Piece** … about the hotel of old. And the grandness of it all. And his conversations with Harry … Suddenly, all was again well in the Kingdom.
• *The gift that Gwaai River Hotel gave to me:
http://www.sokwanele.com/thisiszimbabwe/archives/5539?page=5
• **Don Knowler:
Don Knowler's original article, The Birth of Zimbabwe, here
• Our Rhodesian Heritage website, here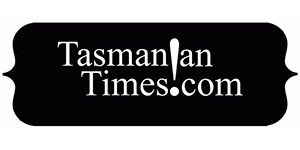 Author Credits: [show_post_categories parent="no" parentcategory="writers" show = "category" hyperlink="yes"]