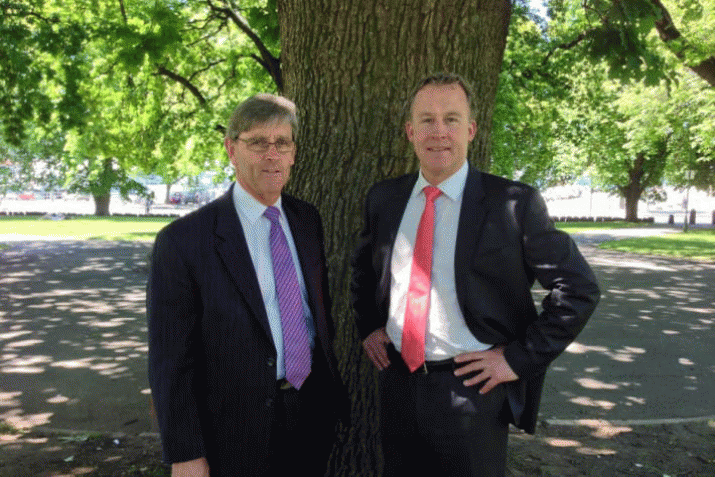 • Eye of the storm … Resources Minister Paul Harriss with Premier Will Hodgman. Mr Harris is reported as saying the Liberal Government will continue to provide loss-making Forestry Tasmania with taxpayers' money. Premier Hodgman is reported as saying: Oh No we won't …
It was only a matter of time before the incoming State government started backing down on its forest policy promises such as ripping up the forests agreement and ceasing funding Forestry Tasmania (FT).
The emotive term 'ripping up the TGA' suggests the Tasmanian Forests Agreement Act will be repealed.
This is, and always has been, unlikely.
Even the latest announcement of changes to the classification of 400,000 hectares doesn't imply the Act is being repealed or ripped up.
Underpinning the Act are two agreements between the State and Federal governments, viz the Tasmanian Forests Intergovernmental Agreement and the National Partnership Agreement (NPP) covering its implementation, both signed in May 2013.
…
To unilaterally ignore the provisions of a NPP signed by a previous government would signal the beginning of a radical new age in Federal-State financial relations.
It is most unlikely that Tasmania, the smallest most vulnerable State will be the first to go down that path.
…
In any event the Feds have yet to deliver all the IGA funds. A further $9 million is due in each of the next two financial years for ongoing reserve management. A review of this base funding amount will occur before 30th June 2016.
The intended reclassification of the 400,000 hectare of proposed reserves to be held in a Crown reserve with no logging for six years is obviously an attempt to hang on to the ongoing grants for reserve maintenance.
Minister Harriss described the six year moratorium as an "elegant" solution to growing the industry. Other adjectives spring to mind, disingenuous and devious to mention two.
A few things are apparent:
• the government can't unilaterally reject the NPP.
• the government fervently promised to rip up the IGA to signify the dawn of a new era.
• the industry is so cash strapped without markets that it couldn't handle any more resource in the immediate future.
• the government is so cash strapped it couldn't afford to jeopardise ongoing funds from the Feds for reserve management.
Hence the shabby attempt by the government to save face by pretending to honour an election promise.
…
On the matter of ongoing funding for FT the ABC has recently reported confusion within State cabinet over a key policy to scrap subsidies for Forestry Tasmania.
…
Failure to prop up FT will see it cease trading. Surviving by growing the broader industry is not possible as everyone but Mr Hodgman now realise.
Whether funds given to FT are described as deficit funding as Labor planned or non commercial funding as is mandated by the IGA, whatever helps the Libs save face will occur.
…
Whichever way the government chooses will no doubt be described as an elegant solution to honouring yet another election promise in the breach rather than the observance.
Read the full – superb – article on John Lawrence's website, Tasfintalk, here
• Andrew Denman: Special Timbers Sector supports access to TFA reserves for selective harvesting
• Dr Gordon Bradbury, in Comments: Has it dawned on Terry Edwards (FIAT) and his associates yet that they are now just pawns in a very damaging political game? There will be no winners in this game, but guaranteed there will be plenty of losers and lots of collateral damage to Tasmania and Tasmanians. The reputation of the forest industry is already severely damaged, and can only get worse if this game continues. Tasmania itself is rapidly becoming the national laughing stock. Never mind the Irish jokes!
• Russell Warman, The Conversation: Tasmania defers logging plans as timber industry resists free-for-all
RELATED:
• ABC: Spike in tourism numbers in Tasmania injects $1.5b into economy
• ABC: Education Minister details $45m plan to extend schools to Year 12
• Gordon Bradbury, in Comments: Having someone to blame doesn't provide the forest industry with a future. And the laws of the land are only as good as the community and the politicians that support them. Gaining commercial access to forests at the point of a gun is no basis for peace, prosperity and happiness. Robin there is abundant evidence from many quarters that the public native forest industry is fatally flawed, not just in Tasmania but right around Australia. Reforms that should have happened 20 years ago but didn't, have now left the industry gutted. This IS the end game. And many (most?) Tasmanians are thoroughly sick of the whole nonsense. Your faith in politicians is now part of the ongoing problem. Do you honestly think that Paul Harriss' "elegant" solution will bring peace, prosperity and happiness to Tasmania? If so then please explain how this fairytale will come to pass.
• Henry Melville, in Comments: That ABC link on tourism is very revealing. It's all about priorities isn't it … While the Libs stuff around trying to appease a mendicant industry which contributes little to Tassie, an industry which does – and is bottom up, ie MONA and tourism – contributes millions … As the Subversive Voter noted in this yarn: "Which brings us to perhaps the most revealing aspect of the Liberals' proposed style of government. Part of their first order of business is forestry – you know, the low numbers employer that contributes nothing to the state's productivity – not something really important like education or health services. Apparently, the Liberals intend to keep forestry and its inevitable arguments at the centre of their efforts on behalf of those who elected them.
• Michael Atkin, 7.30 Tasmania: Tough Times for Tasmanian Greens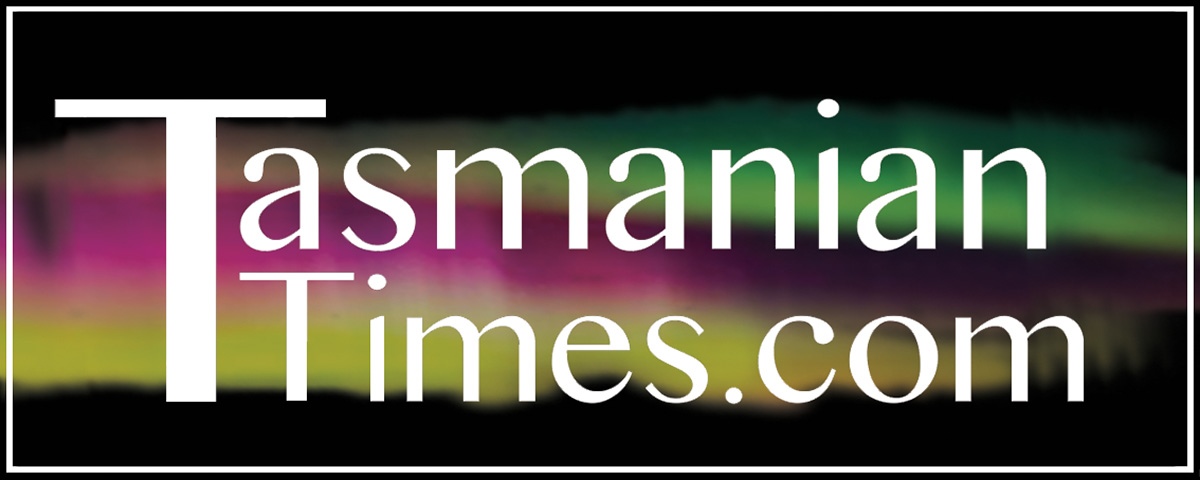 Author Credits: [show_post_categories parent="no" parentcategory="writers" show = "category" hyperlink="yes"]