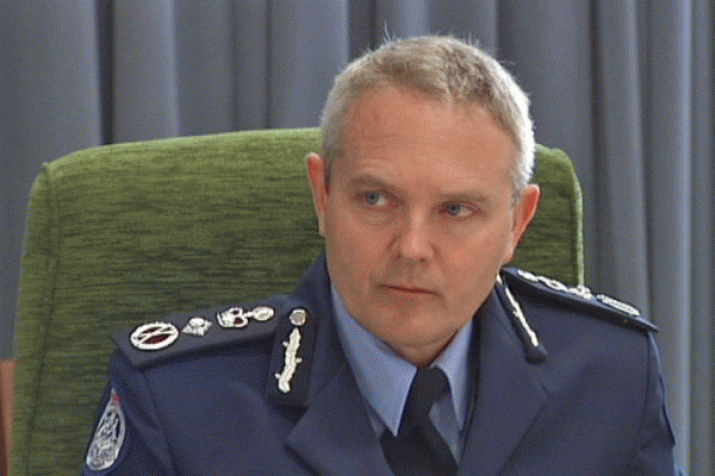 "It is better to be defeated on principle than to win on lies" – Arthur Calwell, ALP federal leader in the 1960s.
Behind the Tuesday 28 January hullaballoo over the recall of Parliament and its debating of the Pulp Mill Assessment Act 2014 was a report tabled in the Upper House by MLC for Windermere, Ivan Dean.
Mr Dean had tabled a committee report into the cost of overtime in the Tasmanian Prisons Service.
Tasmanian Times readers might recall that the principal reason why former Director of Prison [b]Barry Greenberry[/b] was shown the door was because he attempted to expose and rectify an entrenched system of overtime and sick-leave rorting within the Tasmanian Prison Service.
Mr Greenberry subsequently made a formal complaint to the Tasmanian Integrity Commission in which he outlined in some detail the concerns he had over the actions of some public servants in conspiring to coerce him into acting illegally, and then when he refused to comply, to then threaten him.
On 22 May 2013, in an unusual precedent, the Tasmanian Parliament actually tabled Mr Greenberry's complaint to the Integrity Commission.
This complaint was never investigated by the Integrity Commission and the then Corrections Minister, Mr McKim, authorised a pay-out of $260,000 plus legal and travel expenses to Mr Greenberry. Additionally, Mr Greenberry had a gag order placed on his deed of release preventing him from speaking out on the matters behind his resignation.
Ivan Dean tables Parliamentary Committee report
Mr Dean's release of the Parliamentary Committee report is the final act of window-dressing of a apparent malfeasance within the Department of Justice that became the catalyst forcing Mr Greenberry's resignation for "family and personal reasons."
Transcript from audio of Parliament Tuesday 28 January 2014:
Mr Dean (Windermere) – Mr President, I move – That the report of Government Administration Committee B on the overtime costs of the Tasmanian Prison Service be noted.

I gave this a little bit of thought as to whether it was appropriate to move this matter today or not. We have the Minister for Corrective Services [Craig Farrell installed as Minister only days before] in our midst, and that may not happen to be the case after the election.

I had not seen the government's response until a short period ago, and I was quite pleased with that report. It is very positive, and the government has taken on board a number of issues that are very clearly from that report. They have a lot of things in motion to try to get control of the overtime at the prison. Our committee was aware of that.

I want to thank the committee members here for the wonderful job they did in this matter and the support that they provided throughout this process. There were a lot of meetings. We came together at times when it did not really suit some members, but they made that effort to get there. It was very pleasing to see that positive attitude right through. I also take this opportunity to recognise the government members we dealt with on this matter as well, in the Department of Justice and the Corrective Services. They were extremely professional at all times and showed a genuine willingness to get on top of this problem.

The interim report was submitted to keep the House informed and to give members an opportunity to further question the Department of Justice and the new Director of Prisons, Mr Edwards. That indeed did occur during the Estimates process, where we were able to elicit from Mr Edwards and other members of the Department of Justice information that we needed. It was deemed after that, that we needed to go back to Mr Edwards and senior Justice Department officials to get some further information so that we could put this report together, and we did that.

Both reports need to be read together, and I would emphasise that, in order to become fully aware of and have an informed appreciation of all the circumstances of the overtime situation at Her Majesty's Prison, Risdon Vale. You cannot read one in exclusion of the other hoping to pick up on all of the information; they both need to be read.

The committee was really forced into this inquiry. Those who have been in this Chamber for a long time would understand that and they would know why the inquiry was needed. The member for Rosevears [Kerry Finch] and I pursued relentlessly each Estimates period the matter of the escalating overtime bills that were coming in from the prison. It reached the stage where we had had enough. When you get overtime increasing from $1.1 million or whatever it was, up to in excess of $5 million over just a few years something had to happen, it could not be allowed to continue.

I do not think I need to go through the amounts where overtime increased significantly. I think I have just covered that. I mentioned probably an early stage, 2005-06 year, $1.2 million was budgeted for but the overtime spend was $2.2 million. That is back then. In the current year – the year just gone – we had in excess of $5 million spent on overtime, a significant increase on the amount that was budgeted for.

It is an appalling situation. At some of the Estimates committees where I raised this issue, along with the member for Rosevears, amounts of $4 million and $5 million were included as extra overtime, and I could not believe it. On one occasion I recall saying to the minister [Mr Nick McKim], 'Are you correct, have you got that right?' It was becoming quite unbelievable.

What really annoyed us was that the minister of the time – and there were a number of ministers across those years – on each occasion said they would get control of it. They would take action to decrease the amount of overtime, and bring it to an acceptable level. Nothing ever happened. It just continued.

In fact, Mr President, if it were not for this committee and the work it has done, I am fairly confident in saying that the blow-out in overtime would probably have continued. I do not see how it would not have continued, because it had been going on for so long. Ministers knew about it but nothing was happening.

Am I confident we are now moving in the right direction? I am. We have the structures right in the prison now to do that. There is the willpower there now to do that, in Mr Edwards and Mr Williams, who is involved in this as well. We now have the strength and everything else that is necessary to move this matter forward.

There is evidence now of a cultural change amongst the prison officers and there is, at the time of my putting this together, a slight downturn in overtime. That is all good.

I do not want to go back into too much of the history of this, but we were disheartened that there had been a number of similar enquiries into prison overtime over a 30-year period, and a number of reports had been submitted, very similar to the one we prepared.

One of the reports – we could probably have changed the names around and put our names on it and submitted it. That was a report done in the 1990s. We were frustrated that report after report had been done and nothing had happened. That is why we have been fairly strong in some of the recommendations we have now put forward. That is, for follow-ups to occur and for the required committee to be reformed again in a period of time to have a look at this and make sure the necessary changes are occurring.

During the last hearings we had on this, the matter of Mr Greenberry came up and it is pertinent to this report. We interviewed Mr Greenberry when he was in his position at the prison and the committee was fairly enthused with some of the practices he had indicated he intended putting into place. When Mr Greenberry finished in his position at the prison, we started to rethink some of those issues, and I did in particular. Will those same things or similar things happen, that we were told would happen? I would say, 'Yes, they have'. Some of the things put forward by Mr Greenberry have certainly been picked up by Mr Edwards and others and they have moved on with those matters.

It is very pleasing to see that has happened. It was a very difficult time for the prison. I recognise that. However, the prison service handled that quite well in some respects – I should be careful how much I say here – but in some respects, with Mr Greenberry leaving. The morale of the prison remained quite high and they were able to work through that change in a very positive way, which also came out during our inquiry.

I want to go back to some of the issues that came out, Mr President. Very clearly, the prison service – and I am being fair to them, I think, in saying this – was using fairly antiquated procedures and processes. They had not really moved on – they had not moved forward over a long period of time. For instance, they had no KPIs in place. That only came out during our inquiry. We are talking about an organisation with quite a large budget – a very important area in this state – with no goals to work to, really. It was quite amazing to find out that was the true position.

It had, for instance, a centralised control system for rosters. Those systems have never really worked. They never worked in the Police department, Mr President, and I do not know of any organisation where a centralised controlled roster, in those sorts of circumstances, has ever worked. These changes have now occurred. There have been massive changes since all of this came up. It had roster systems all over the place. There was no real management of work absences or short-term sick leave or other absences. They basically had a system where they really had no idea what was causing all their overruns, or indeed how much their workplace absences and sick leave were costing them.

I do not want to go into that – it is in the report for members to read, where overtime picked up, in fact, a lot of the other overruns and other costs. It was not just purely overtime, but it was listed under overtime. It was a strange system – quite an unbelievable system.

Mr President, we had not moved into that inquiry any more than probably a day's hearing, when it was made perfectly clear to us that if there was a difference to be made in the prison at Risdon, we had to look outside Tasmania. Our committee was urged to consult with New South Wales, with what was happening within the prison service in New South Wales. At that stage, Tasmania had not approached them at all. They had not been near them, to our knowledge. That was an admission made during our inquiry.

At no cost to this state, I travelled to New South Wales, where I consulted with very senior people within corrective services in New South Wales and had quite a lengthy discussion with them. This is noted in the interim report. Out of that came many things they had done, and were doing, which they said had changed the culture in the prisons in their state. I came back, reported back to the committee, and we had a teleconference with those same people. They brought out many, many very good ideas and very good suggestions. I might say now that the prison service here has taken up those matters that we brought out, and they have consulted with New South Wales, to such an extent that Mr Edwards now travels – as I understand it – to New South Wales on a fairly regular basis, which he should do in my view. They pass on information to one another, and Mr Edwards, in fact, has been asked to lecture or make presentations to the service in New South Wales. That is, I think, a great way to move forward. It was upsetting to us that we had to initiate that and that is what happened. I want to thank the New South Wales people involved in this, should they be in the room, for their support, for the help, for the way they have gone around this and for the willingness to receive myself and to be involved in our teleconference with them. We also spoke with Queensland in a similar way and their support and assistance was exceptional.

That has allowed a lot of those issues to come out and for this report to be done in the way that it is now. I do not think I need to say any more; I will leave it to the other members if they wish to. Short-term sick leave has been the real issue and that is the one that a lot of emphasis was placed on throughout this inquiry because that is an area where we believe much of the overtime was occurring.

Some of the decrease has occurred because of extra staff being employed and I am hoping that is not the only reason. Mind you, that is a good strategy. When you look at the millions of dollars in overtime and the cost of employing those few extra individuals there is a saving in any event. I would like to think there are other reasons and other explanations for that decrease in overtime.

It needs to be managed properly. The Police department always had a very good management system and I raised this with a senior personnel from the prison's department. They managed it well. If somebody was off sick it would be followed up, a police officer with that responsibility would visit the person at home, ring them at home, contact their partner, and ensure that every assistance was being given to that person. It demonstrated to them that there was a real interest in them and particularly if they were not able to attend work, to ensure that they were getting the assisting support they needed.

The prison department understands that they are now going down that path of providing that extra support and that is a good way to move forward. I ask that the report be considered and noted and thank all members for their input
David's interest in public service whistle-blowing cases in Tasmania dates back to the 1990s.

Author Credits: [show_post_categories parent="no" parentcategory="writers" show = "category" hyperlink="yes"]