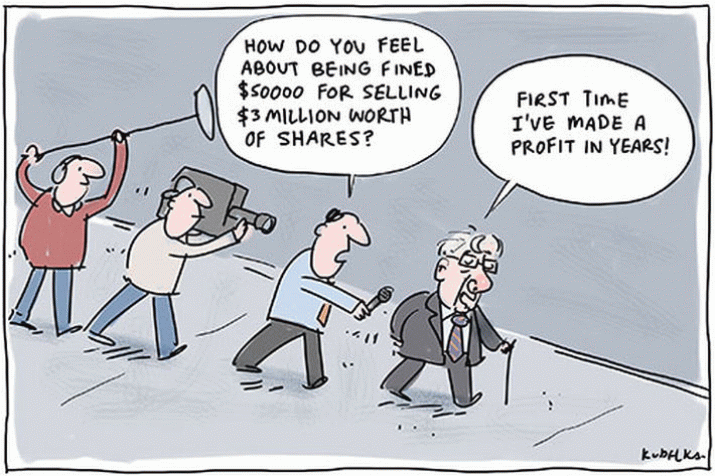 Dear Editor,
I have a bad case of indigestion. Let me explain.
Former Gunns Chairman and CEO, Mr John Gay, has been fined $50,000 having pleaded guilty to insider trading.
This amount is miniscule in relation to the money involved in Mr Gay's illegal transaction.
Kudelka's cartoon summarises the financial aspects of his crime and the legal judgment wryly but perfectly (The Saturday Mercury, 24/8). Mr Gay received glowing character praise from Justice Porter in his sentencing statement.
In mid December 2004 I was sued by Gunns Limited having, in early 2002, publicly raised concerns about possible health risks associated with dust blown over the Burnie CBD from the woodchip piles on Burnie harbour owned by Gunns.
These concerns had been raised with me by a member of the Burnie community in late 2001. My information was that the base of the woodchip piles was 'sacrificial'. The base had not been disturbed for several years. I postulated that, as this layer was essentially wood compost, then fungal and Legionella organisms could be harboured there and blown across the city.
I had been informed that 2 Burnie men had, early in 2001, nearly died in the North Western Regional Hospital from Legionella pneumonia. Having spoken to both these men and confirmed that this was in fact the case, I publicly called for an independent health risk assessment of the Burnie woodchip piles.
Following this public call Mr Gay stated in the media that the piles were turned every 3 months. He was clearly trying to refute and, therefore, dismiss my statement as scaremongering (he used that word).
I had had a careful discussion a occupational health officer from the Maritime Union of Australia who worked on the site prior to calling for the health risk assessment.
This discussion indicated that Mr Gay's subsequent assertion that the piles were regularly turned was not correct.
The health risk assessment of the piles, commissioned by the Department of Public Health, did not find Legionella organisms.
This risk assessment was later strongly criticised by Dr Trevor Steele, a World expert on Legionellosis, on methodological and factual grounds. Additionally, scant attention was paid to the issue of fungal organism risks.
As a result of publicly calling for the woodchip pile health risk assessment I was involved in a 5 year legal battle with Gunns.
This legal action was described as a SLAPP suit (Strategic Litigation Against Public Participation).
The so called "Gunns 20" lawsuit was designed to cow potential critics of the Gunns proposal to build a World scale pulpmill at Longreach at the mouth of the Tamar river.
My legal costs amounted to over $80,000 which I will never recover.
It was a stressful time for myself and my family.
Maybe people can understand my extreme cynicism about Mr Gay's fine and the description of his character.
• Tasfintalk's John Lawrence on John Gay's fall from grace
Tasmanian timber baron John Gay was this morning fined $50,000 for insider trading in a Launceston court. It's been a serious fall from grace for a businessman who was once highly influential and seemed poised to build a controversial pulp mill in northern Tasmania.
Gay is the former chairman and managing director of failed Tasmanian timber company Gunns Limited. His cavalier disregard for conventions and processes culminated with the insider trading charge; he changed his plea to guilty at the 11th hour and admitted he sold 3.4 million Gunns shares based on inside information which he ought to have known would affect the share price. Gunns, once a top 100 ASX company, is the highest profile insider trader snared by the Australian Securities and Investments Corporation. And it's not as if Gay was a back-office clerk.
It's worth noting that Gay did escape a prison term this morning. The judge told the court the offending was not in the serious category of insider trading. The judge found Gay had been motivated to sell up shares because of a cancer diagnosis more than the receipt of sensitive financial information.
So what went wrong for Gay? Gunns, established in 1875, was a proud Tasmanian native timber sawmiller. It became a publicly listed company in 1986 with Gay as managing director and a board member. The appointment of former Tasmanian premier Robin Gray to the board in 1996 strengthened the links between Gunns and Tas Inc. Gay may have stretched orthodox corporate governance arrangements when as CEO he was appointed as chairman of the board in 2002. Gay and Gray became a formidable team, a duo of corporate hard-heads with impeccable political connections.
At the turn of the century Gunns was still a small company. In 1998 the turnover was $97 million and after-tax profits $3 million. Profits peaked in 2004 at $105 million on turnover of $674 million. Gunns joined the ASX100 and Gay was the darling of institutional investors, providing capital growth and healthy dividends return, at first from woodchipping but increasingly from managed investment schemes (MIS).
Under Gay's chairmanship, native forest woodchipping and MIS contributed over 90% of Gunns' profits and cash flow. In profit terms woodchipping peaked in 2004 and MIS in 2006.
Gunns' political connections reaped rewards as the state-owned Forestry Tasmania allowed what some saw as the overcutting of State Forests for inadequate consideration. Gunns' pulp mill plans were hatched with then-premier Paul Lennon of the ALP, and eventually required a special act of Parliament to bypass planning procedures when Gunns was found to be critically non-compliant. Dotting the "i"s and crossing the "t"s never seemed to be Gay's strongest suit.
Gunns was an old fashioned conglomerate. Apart from forest assets, it owned hardware stores, a wine business, pubs, managed grape and walnut schemes, a heritage property and a building operation.
As soon as the act to facilitate the pulp mill been arranged, Gunns acquired Auspine, a South Australian-based softwood business with Tasmanian assets. Over $600 million of assets were added to the balance sheet. Gunns was now Australia's largest hardwood and softwood company — and the most indebted. At June 2008, bank borrowings were $1,058 million. At a time when operating cash flows were declining and assets ageing, funds to build a pulp mill had to be borrowed. Did Gay think he was invincible?
Gunns raised $333 million from institutional investors in September 2008 before other MIS companies hit the wall. But it only raised $1.3 million from retail investors when the aim was $130 million; the shortfall necessitated the sale of recently acquired softwood plantations. Debt fell to about $650 million where it remained until the end.
A year later Gunns raised another $145 million from shareholders. The ink was barely dry on the new share certificates in October 2009 when Gay received an internal report outlining Gunns' trading difficulties. He later disposed of 3.4 million Gunns shares. Two months later, the half-yearly report confirmed the slippery slope with a 98% reduction in profits. Institutional investors and bankers, Gay's long-time loyal backers, were concerned. Gay's days were numbered. A new CEO was installed but it was like lipstick on a pig. Pretending that it was searching for a social license to build a pulp mill, the reality was exiting native forests and selling assets to reduce debt was the only way to avoid insolvent trading.
Gunns was like an old log truck with bald tyres, laden with debt, careering out of control, trying the cut corners, seemingly oblivious to a nearby cliff. Gay ought to have been aware that trouble lay ahead.
Along the way Gunns managed to outsource the financing of plantations to MIS investors, and harvesting and freight operations to contractors, shifting risks to others whilst maintaining control. This meant Gunns had plenty of cash flow during the good times to take over and hollow out the Tasmanian forest industry. Outsourcing reflects an extension of moral hazard where governments are expected to contribute when things go wrong. Contractors have been assisted. Funds are also needed by FT, now a corporate cripple needing a permanent government lifeline.
Many blame the Greens for Gunns' failure. Apart from exogenous factors, I argue much of the blame should lie with Gay. Vanishing MIS revenue was not caused by the Greens. MIS legacy costs (and the thousands of leases to MIS growers which prevented Gunns from obtaining value for its plantation land) pushed Gunns over the edge.
Initially a saviour, MIS became a strangler. The decline in native forest woodchipping had been occurring since 2004. All the king's horses and all the king's men couldn't put the forest industry back together again. Gay had a role to play in that legacy.
Some are surprised that, given the facts of Gay's case, he has not received some kind of a jail term (the maximum sentence is five years). A monetary penalty is just another cost to do business.
Gay's mentor, former Gunns' chairman Edmund Rouse, spent time in the minimum-security facility Hayes Prison Farm for attempting to bribe an ALP member to cross the floor in 1989, following an election that produced a hung parliament when Robin Gray was Liberal leader.
Gay's sentencing today means little will change. It will signify the end of a chapter, not the end of an era. The saddest thing about the whole Gay saga is there have been very few mea culpas and scant evidence that attitudes and processes have changed much.
• John Biddulph, in Comments: Dear Frank, There's something glaringly missing from the posts so far, which I feel I must remedy. That is to say a huge THANKYOU on behalf of the Tasmanian people whose health you went in to bat for at such huge personal cost. You were vindicated in the findings on the legionella risk, as you show, and the SLAPP suits were eventually thrown out of court, but not before years of stress on many good individuals and their partners and children. (Remember they were brought in just before the announcement of the pulp mill plan, as an attempt to terrify any opposition that might arise. They were, in fact, terrorism in the form that it is used by those with millions to burn.
• Juliette Overland, The Conversation: Will John Gay's sentence for insider trading really deter others? The judge, His Honour Justice David Porter of the Tasmanian Supreme Court, stated in his sentencing remarks that Mr Gay's conduct was not "in the serious category of insider trading". One of the reasons he gave for this statement was that Mr Gay's motivation to sell his Gunns' shares resulted from a desire to reduce his debts after receiving a diagnosis of prostate cancer, rather than an intention to profit from inside information. While this may be true, insider trading laws still prohibit a person from trading in shares when they possess inside information, regardless of the reasons why they might do so. Mr Gay's late plea of "guilty" and his ill-health and remorse were also factors taken into account. It has also been reported that the prosecution did not press for a sentence of imprisonment. The fact remains … • Here
• Frank Nicklason, in Comments: Thanks very much for the supportive comments. The reason I wrote the article was not because of any personal reason, I am well and truly over it.
I simply found it highly patronising and insulting of the intelligence of ordinary and decent Tasmanian people to be told by a supreme court judge that John Gay's character is "exemplary" and that he is "noted for his honesty". Mr Gay's behaviour in his business activities has been ruthless, manipulative and greedy. He is certainly not a positive example for anyone.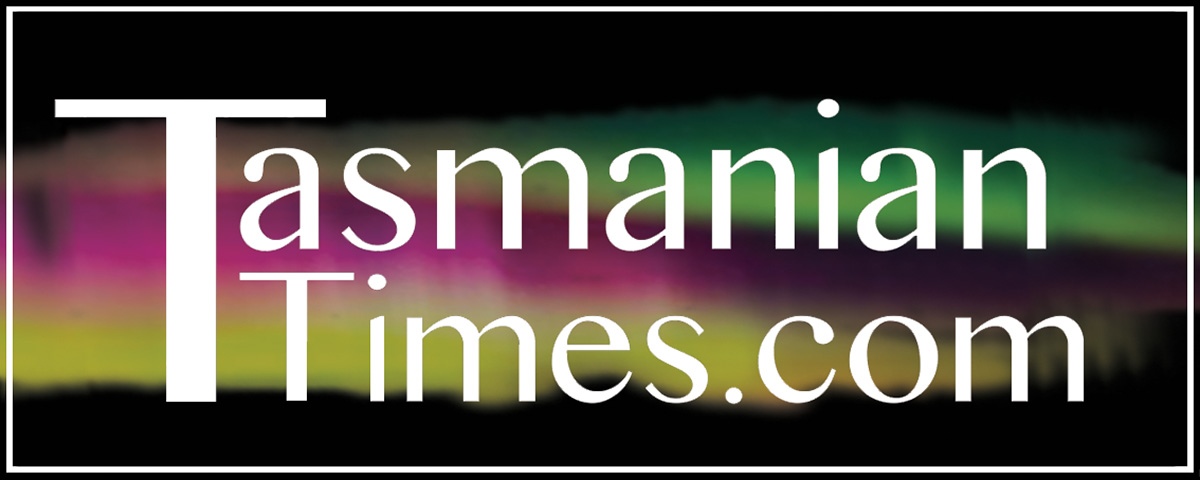 Author Credits: [show_post_categories parent="no" parentcategory="writers" show = "category" hyperlink="yes"]