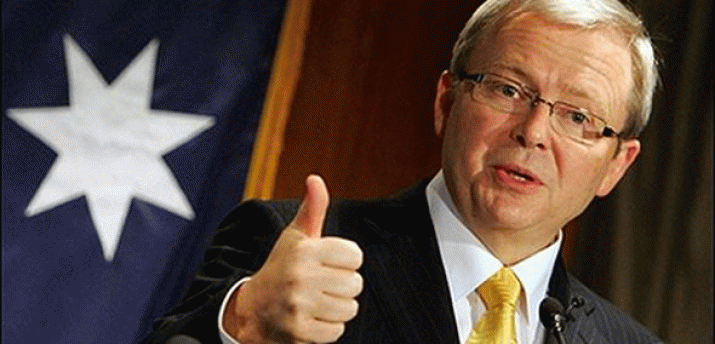 The Labor Party has just voted – 57-45 – to oust Julia Gillard as PM – and (re)install Kevin Rudd.
• ABC here
Use the NEWS dropdown menu (top nav bar) for news/analysis of the result …
• Andrew Wilkie: I have written to Kevin Rudd indicating that I will provide him confidence in the House of Representatives in the event that her Excellency the Governor-General commissions him as Prime Minister. HERE
• Rodney Croome: Rudd's election as PM opens up new chapter in marriage equality debate
• WikiLeaks Party statement on the Election of Kevin Rudd as ALP Leader The WikiLeaks Party congratulates Kevin Rudd on his elevation to Leader of the Australian Labor Party and Prime Minister elect. We would urge Mr Rudd to stand by his early defense of WikiLeaks Editor-In-Chief and Victorian Senate Candidate Julian Assange, when he tempered the now infamous prejudicial, inaccurate and hyperbolic statements from former Prime Minister Julia Gillard, when he made the following statement on 13th December 2010.
• A Citizen's View, Matthew Holloway: Rudd rises like a phoenix from the ashes …
Expect that over the weeks leading up to the election we will hear the Gillard camp and the Liberal Party telling us of the leaks and Rudd's consistent destabilisation attempts.
What we need to remember is that the Gillard camp sought to destroy Rudd's character and destabilised his own leadership up until the coup in 2010.
The return of Rudd is an incredible and unique event in Australian history; the survival and return from such a devastating character assassination speaks highly of Kevin Rudd's integrity.
In many ways Julia was right that there was an undercurrent where she was in a contest with the opposition and within her own party; but ultimately there was a choice made by the faceless men and the factional hacks of the ALP to overturn Kevin Rudd. This response was not something seen in Western democracies but rather the kind of political machinations one would expect from Third World governments and fledgling democracies.
In many ways the Gillard government was a failure from start to finish, this was not because it was a minority government nor was it the misogyny directed against Australia's first female Prime Minister. More than that, it was that the Australian people as a whole never saw Julia Gillard as a legitimate leader; she was not the Prime Minister that the Australian people chose nor was she given any authority from the results of the 2010 election.
The other issue which was problematic for Julia Gillard was the fact that she could never be seen as anything other than a puppet for the New South Wales ALP Right. Julia did nothing to quell these concerns, especially when she betrayed Andrew Wilkie on poker machine reform and sought to mislead the Parliament, claiming there was not the support.
This became clear when Tony Crook, an independent National made it clear he was willing to negotiate but was never contacted, equally Craig Thompson disclosed that the NSW ALP called on Gillard to abandon the measure or they would cross the floor: HERE .
The return of Kevin Rudd to the Labor leadership undoes the coup of 2010 and removes the sense of paralysis and limbo which has stifled public debate since the removal of Rudd.
Rudd was elected in 2007 with a clearly articulated view of a Big Australia which was a major player on the international stage.
No matter what people feel regarding the return of Rudd, or his performance leading up to the coup, his return offers a new opportunity to pick up where he left off and start discussing the issues affecting, and direction of Australian society.
We can only speculate on the changes that we will see from the Labor Party under a Rudd administration but we cannot expect more of the same. Kevin Rudd and Julia Gillard are poles apart in the their views.
As Australia watches Kevin Rudd take the reigns of leadership of our nation and head towards the election with a new Labor message, the question that is being asked is what kind of changes could we see under a re-elected Rudd Prime Ministership?
It is certain that Rudd will continue some of the key Gillard reforms, including the Gonski and the National Disability Scheme.
Other areas which we may see some major change on include gay marriage. Kevin Rudd is the first Prime Minister to head into an election supporting marriage for same-sex couples.
Other issues which show a clear distinction between the two include Gillard's moves towards offshore processing of asylum seekers, the sale of uranium to India and free-trade with China.
Uranium sales to India would likely be overturned; As Foreign Minister Rudd stated: 'I take my non-proliferation responsibilities deadly seriously.' And went on to state that such a change would require fundamental commitments from the Indian government in a bilateral nuclear safeguards agreement with Australia. Rudd then argued that India had no 'crushing need' for Australian uranium: HERE .
Kevin Rudd may take a vastly different approach to Julian Assange and lobby for his return to Australia. Julia Gillard condemned Julian Assange as a criminal; Rudd showed his position to be vastly different stating 'Mr Assange is not himself responsible for the unauthorised release of 250,000 documents from the US diplomatic communications network. The Americans are responsible for that.' : HERE .
Equally Gillard has made strides towards a China free trade agreement since the commissioning of a White Paper on Australia in the Asian century; the issue worth mentioning since despite the fact Rudd is huge supporter of Australian relations with Asia, he did previously dump plans for a China free-trade agreement which was very unpopular with many unions, the Greens and the Labor Left.
In 2009 Kevin Rudd stated the failures of neo-liberalism and suggested a return to Keynesian economic policies with a promise to deliver a social democratic state with government intervention in the economy and called on the states to lift their game or face federal takeover.
The overthrow of Rudd in 2010 prevented him from taking the task to states which failed to meet set benchmarks and a re-elected Rudd government will likely be examining the downhill trajectory of the management of Tasmania's health system and pursue a federal takeover.
No matter what the future, whether Australia gets a Rudd-led Opposition or a Rudd-led Government; we have awoken to a historic event with a renewed Australia on Thursday the 27th of June 2013.
Australia is no longer a nation strangled by political limbo, no longer held back by leadership paralysis. We are ready to face the challenges of the future and discuss the big issues.
We awake to an Australia with new promise, a new narrative and a new vision under a leader determined to complete the work he started in 2007 after being elected in a landslide victory which ended the political career of John Howard and his four-term government.
Matthew Holloway is a freelance writer and social justice advocate from Tasmania: While in Tasmania I was a founding member of Tasmanians for Transparency as well as standing for both federal and state parliament. I have worked in a number of roles in the community services sector, mostly in outreach social work and counselling with disadvantaged people in Melbourne. I have previously worked for a councillor in local government.
• Rodney Croome: Advocates overjoyed with US Supreme Court marriage equality decision, just hours after election of first PM who supports reform
• TVNZ: Australian coalition would still win election – poll
• Guardian: Can Kevin Rudd protect Australia's climate change crediblity?
b>• Christine Milne: Action on global warming more urgent than ever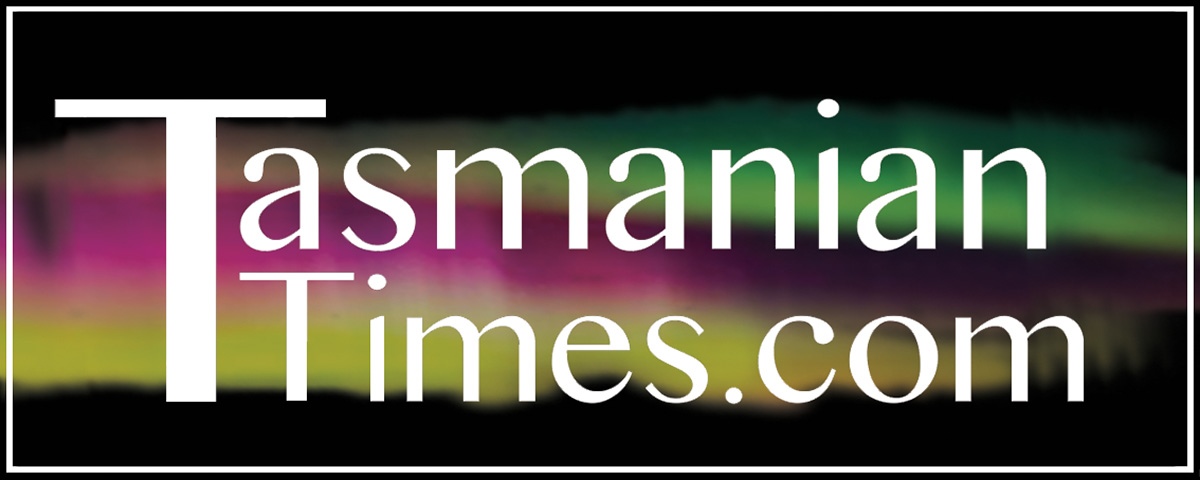 Author Credits: [show_post_categories parent="no" parentcategory="writers" show = "category" hyperlink="yes"]