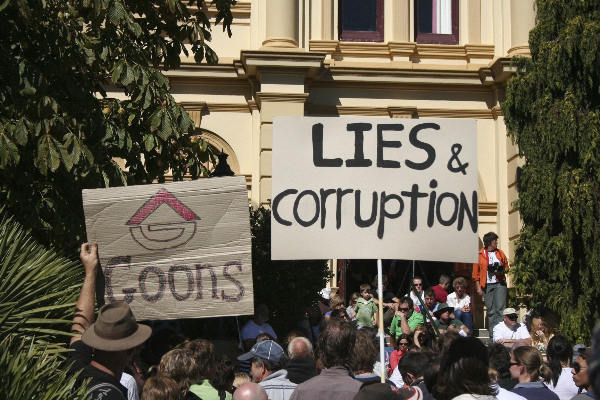 The go-to man for media … anytime, day or night, Bob McMahon would give a quote
• Watch abcanonful's video of the night: Here
My name is Lindsay Tuffin. I am the Founder/Editor/Publisher of Tasmanian Times – with the indispensible help and wisdom of co-editors James Dryburgh and Bob Burton, and the input of dozens of writers, citizen journalists, contributors and commenters.
Tasmanian Times began in October 2002 because of my strong sense as a practicing journalist that much of the truth of Tasmania was not being told and that many lies were being retailed as the truth by our major media here. I saw Tasmanian Times in the tradition of dissenting Tasmanian journalism, drawing inspiration from the first great Editor of the Sydney Morning Herald, John West (b. 1809). West earlier had a strong association with The Examiner, founded in 1842. He successfully used its columns as a vehicle of dissent to promote the abolition of the transportation of convicts to Van Diemen's Land.
West wrote this in his History of Tasmania (1852): "The newspapers of this hemisphere were long mere vehicles of government intelligence, or expressions of the views and feelings of the ruling powers. Malice or humour, in the early days, expressed itself in what were called Pipes — a ditty, either taught by repetition or circulated on scraps of paper: the offences of official men were thus hitched into rhyme. Thus, the fear of satire checked the haughtiness of power."
In 2002, I felt the media here—the ABC along with the newspapers—were once more the mere vehicles of government intelligence. It was time once more to play the pipes, no longer on scraps of paper but bytes of data over the internet.
Over the next 10 years – last month – we broke and progressed many major stories, from the renovation of then Premier Paul Lennon's house by a Gunns Ltd subsidiary, to the seemingly inexplicable and scandalous decision by the state Labor Government to award Federal Hotels a gaming monopoly in Tasmania, estimated to be worth $130 million, for no charge.
We also severely embarrassed Tasmanian media … revealing the managing of the news which led to an embargo on news of then Premier Jim Bacon's cancer. If you recall – despite the best efforts of Tasmanian media editors and managers – the news of Bacon's cancer was splashed on Page 1 of The Australian on the Saturday before the Monday when Tasmanian media outlets had apparently agreed to hold the news … to allow Premier Bacon to announce it.
We tackled stories apparently deemed untouchable by that lowest level of swift intuition – mainstream media; for example the existence or non-existence of Reynard the Fox … at one point hosting a $5000 reward for a freshly killed fox … which remained unclaimed.
We published comments which became an investigation of the science behind the super trawler Margiris – renamed the Abel Tasman … and it was a TT reader mathematician Dr Andrew Wadsley who concluded that the figures underpinning the quota just did not add up
We took on Gunns … and look what happened to them …
Which brings me to the entire point of being here … quite apart from quaffing beer 'n bubbles.
And that is to play a part in announcing the Tasmanian Times' Tasmanian of the Year, who will be proclaimed when I finish warbling, by TT's first Tasmanian of the Year, Dr Alison Bleaney.
But before I do a little potted history of the astonishing resistance to the poisonous proposal to build one of the world's biggest forest ingesters … in one of the world's most beautiful valleys, studded with wineries, olive groves, restaurants and recuperative nooks and crannies.
This resistance was crucial to a denial of social license to Gunns Ltd … and then the denial of this once-Behemoth's very existence.
So, I asked my old mate Dave Groves to do me a potted history … and the pictorial history above.
This what Dave wrote:
Moving in 2002 from the coldness of life in Sydney to the picturesque Tamar Valley hamlet of Kayena was a dream come true, shattered soon after by the events of 2005, when my life became chained to the folly of the pulp mill proposal (pmp).
It is far too long a story for me to recount in its entirety and mostly a time in my life best forgotten, although there are some details that will remain indelibly stamped.
I met media veteran Les Rochester at the first Deviot Hall meeting where we became pulp mill allies and occasional fishing buddies. I met FT boss Bob Gordon on the same day and he sat at our dining table till late in the night answering a list of questions that I put to him regarding the pmp and "feedstock".
Horrified by what I heard, I phoned Les and with his worldly journalistic experience, we began an expedition to seek the truth of the pmp.
TRAC (Tamar Resident's action Committee), was the first group to work to find out about pulp mills and their effect on community and the environment, and to bring those results to the broader community.
It was dreamed up on a tinnie in Moriarty Reach, and what was for Les another cause to champion, was for me a life changing experience where I would meet amazing people, learn about skills I never knew I had and see things I never thought of.
Countless hours on the internet, calls around the world, constant questions, books and documents delivered from South America, the States and Europe became the daily drill and as time marched through 2005, the sliding share price of forest miner Gunns became our beacon of hope that this behemoth would fail.
I remain convinced that if not for Les and his galvanising of community, then the prophetically named "approvals process" would have seen construction begin in 2005 or soon after and the inevitable demise of the Tamar Valley would have begun.
I remember driving with Les to Piper's River to witness first hand the mighty water supply that would deliver to the pmp, the required tri axle fuel tanker loads of water every 60 seconds.
We arrived in March 2005 to a virtually dry stream.
It was then it dawned.
I thought, "These people are winging this whole show. They have no idea what they are doing".
They pulled the plug on Pipers soon after citing environmental concerns of some sort and turned their attention to Curries River Dam and the Meander Dam project.
Yet another cans of worms was opened.
FT, Gunns and the government were as one with the pmp and unbelievably to this day, despite insurmountable odds, the focus remains.
As a community group, ignored by the above, we grew with meetings of hundreds becoming thousands as other interested groups combined strengths and concerns.
Meanwhile the slick pmp promotional dvd, the "Finland experience" had landed and showed blissful folk swallowing fish apparently caught in the pulp mill dumping grounds of Lake Saimaa, perhaps unaware of the toxic spill in 2003?
We saw Bob Gordon chatting about the innocuous pmp, with some trees hiding a small part of the enormous chemical factory in the background, a gentle zephyr adding to the soothing ambience.
We heard of "world's best practice, world's greenest mill, not one more tree, clean and green…."….etc etc.
Just when we thought it could not become more orchestrated, over the horizon came the pulp mill bus, a converted transport laden with balloons and glossy brochures to herald the birth of a new and exciting cargo cult saviour.
In Georgetown, one of the uniformed staff smilingly pushed a balloon into my hand as I asked some basic questions about the pmp, to which he replied, "I don't know, I just give out the balloons".
If there was previously any doubt, now I was assured of the ingrained bungling and ineptitude that embodied the entire pmp.
Countless submissions and valid concerns were filed in the "duck and weave" section as Gunns developed their pmp as they went.
The ocean discharge pipe was shortened to keep effluent in state waters and the smoke stack grew to punch through the inversion later.
There would be "no smell" said project chief Les Baker and former Gunns boss John Gay surely topped that with his 2005 quotes, "There are higher concentrations of organochlorines in red wine than in pulp mill effluent", and "the mill will be perfectly clean".
Obscurely, we read that the chlorine bleaching process was no more toxic than table salt and that chlorine is used diversely, even to treat salmonella.
It was an endless game that was always played to have Gunns as the only winner and with that, there was always going to be tears.
We were weary, countless hours and thousands of dollars invested in seeking what government process had failed emphatically.
Former Premier Lennon was busy "scotching myths" in parliament and the RPDC was going to make the call on the pmp…..until the result was not what Gunns and the government wanted to hear of course.
Les was a one man band and as community confidence grew, a small working group from TRAC became what is now known as TAP (Tasmanians against the Pulp Mill) in a successful bid to take the "good fight" to a wider audience.
Les had seen enough to know it was time to pull back….there was some ugliness from inside and out….detrimental to the cause, but out the other side came TAP.
Says Dave cryptically: I have no quarrel with anyone and still run my own race as I have always done. It was a curly time and the rumour mill ground relentlessly over Les' departure from TRAC and Tasmania.
Any way out of TRAC came TAP with Bob McMahon the new front man. Bob has done a great job and poured in a huge amount of effort and there are many whose names have come and gone as burnout took a toll.
It's funny Linz, I can engage small groups of three or four … one on one, but Les was not really in the zone for this close contact.
He was happy speaking to thousands … the Albert Hall had 3,500 so they say and he had them spellbound (Bob (McMahon) is pretty good at this too, but all cred to Les).
Les told me on the QT that the documents he waved and spoke to the crowd so passionately about and were photographed on the front page of the Zadgie were random bits of paper and he was winging it. True or false we will never know, but that was Les all over.
Bob can do the one-on-one thing as well as be a good front man … He is a Smithon lad and you know those West Coast boys LOL.
We heard insightful comment from Bob over many years saying that Gunns project economics didn't stack up. Well he was right. I don't know if he and the rest of us really believed it then, or whether we hoped it was true or whether we hoped that it would be proved to be true.
The story continues to today with lines in the sand and a litany of ridiculous and sweeping phrases from lacklustre leaders and their ilk.
Lines in the sand … oh god the poison of the PMP, the Pulp Mill Proposal.
You guys know this so much better than me – who observes on the fence from his spare bedroom office in far-off Howrah Flats – but the PMP was poisonous from the very start, causing ..
• Division
• Devaluing property
• Illness
• Straining friendships
• Destroying friendships
• Subverting/corrupting the polity
• Destroying lives and livelihoods
• Putting lives on hold in some form of demonic limbo
As sad as anything I reckon was the poisoning of often-long established friendships and associations, including within protest groups disagreeing on ways and means of protest, with an ensuing apparent wish to war and not reconcile.
Perhaps we need a Truth and Reconciliation Commission … for the Tamar Valley.
Now in the words of someone long ago, well when they first hit me it was a quote from psychiatrist M Scott Peck: In life most things are over-determined … in other words there is no single reason for any one outcome.
And there is certainly no one person you can laud for the resistance to the Tamar Valley monster.
For this truly was a community resistance which spawned a community of resistance and many different expressions of that. There have been strong-willed citizens involved. A community of disparate views and viewpoints such as the individuals and individualists who live in the Tamar Valley could not have spawned anything but a huge range of perspectives and ways of action to achieve the one aim: beard this Pretender and bury it.
I asked a veteran observer to write me a few lines putting some flesh on the bones of the history of this resistance. This is what she wrote:
The Greens have actually been involved from the start . . . and it would be nice to acknowledge this fact . . .
But from the community perspective then yes, we started with TRAC, which became TAP when Les Rochester departed the state.
The Wilderness Society has also been very involved from the earliest days, as has Environment Tasmania – although I would say to lesser extent from a northern Tassie perspective.
Pulp the Mill started sometime in 2007/08 as a direct result of the PMAA & the court case that challenged the legal right of Section 11 etc. The focus of PtM has been the PMAA & Govt interference in approvals process – which is an aspect that TAP chose not to campaign against directly. Many members of TAP also are/were members or supporters of PtM.
Friends of the Tamar Valley started close to three years ago – by disaffected members of TAP & again in order to focus more fully on the pulp mill. By this time the pulp mill campaign was incorporating so many different shonky elements of environment, business & health aspects it was difficult to keep a handle on all of them. The whole forestry stuff was also blowing up big time.
Code Green was the next one I think. Very into direct action and their focus is against forestry practices generally, but certainly the pulp mill.
Then you have Women against the Mill or WAM! – a spot of creative activism from the women of the Tamar Valley . . .
I have a strong feeling there is another group of youthful and equally creative direct action bods in the mix as well, but can't remember the name. I do: It's last Stand isn't it?
The above are all the Launceston-based groups, but there are other groups and branches of major groups, around the state that have also campaigned – and not sure I could tell you who all of them are. They include: Still Wild Still Threatened, Huon Valley Environment Cantre, Friends of the Blue Tier, Tasmanian Conservation Trust, SurfRiders Assocn, Tasmanian Environment Network, Doctors for Forests, Friends of the Earth, etc.
Any missed?
So, I've skimmed the surface like a skater on a great lake in mid-winter. This burying of this poisonous monster is the achievement of thousands of disparate enraged citizens, from corporate high-fliers with huge media profile to Tamar Valley dwellers painting a protest sign, clanging the cymbals and pots and pans as the cavalcade of political leaders run a gauntlet of protest, attending rallies and marches, holding banners, ringing up the radio, going to meetings, putting stickers on cars.
The Tamar Valley and its feisty residents have always been the nucleus. You are really Tasmanian Times' Tasmanians of the Year. This is at a heart a Tamar Valley triumph by all who took umbrage at a corporate giant, and fought back. Truly David against Goliath. Truly Jack confronting the Giant, and lopping down the Beanstalk. Perhaps it woulda made good pulp …
But there has to be one singled out to receive this rather beautiful award. And I'm going to hand over to Dr Alison Bleaney, TT's First Tasmanian Times Tasmanian of the Year, to tell you who it is …
… And she did.
And it was, Bob McMahon! … who sooner or later will add a few lines …
As, may rivetting after-dinner speaker Dr Warwick Raverty …
It was a long-shiraz night!x
Pictures below by abcanonful: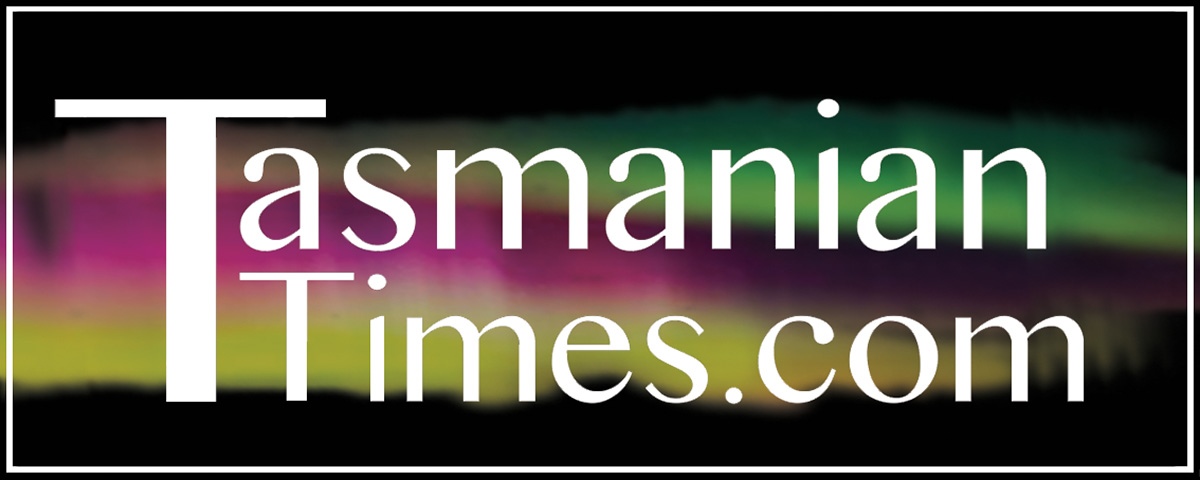 Author Credits: [show_post_categories parent="no" parentcategory="writers" show = "category" hyperlink="yes"]