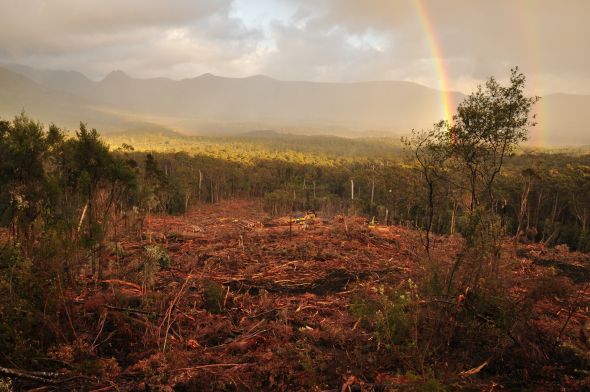 Pic: Emma Capp
Last week's announcement that Tasmanian timber company, Gunns, had entered into voluntary administration has predictably spawned an array of 'dance-on-the-grave' post-mortems from its long-standing critics. These include high profile opponents such as novellist, Richard Flanagan (TT here); wealthy Sydney businessman turned activist, Geoffrey Cousins (TT here); and former Labor opposition leader turned media commentator, Mark Latham (TT here).
Flanagan's earlier writings on Gunns and its proposed pulp mill had caused some to observe that it affirmed his status as a fiction writer. His short essay published last week on Hobart-based web blog, the Tasmanian Times, somewhat reinforces this perception. In particular, a colourful first paragraph in which he accuses Gunns of corporate hubris which enabled them to "….. corrupt the polity, cow the media, poison public life and seek to persecute those who disagree with you. You can rape the land, exterminate protected species, exploit your workers and you can even poison your neighbours"
…
History is generally written by the winners. So, badly skewed opinions such as these, together with articles written by professional journalists who tend to write about Tasmanian forestry from the eco-activist perspective, are likely to ensure that this episode will be remembered in a vacuum free from some inconvenient truths.
Such truths include the reality that two-thirds of Tasmania's public and private forests are in fact reserved or otherwise not accessible to the timber industry – which invalidates the more outrageous environmental claims made against Gunns. As well as that the entrenched opposition to Tasmanian forestry has been far more 'cultish', unprincipled and uncompromising in its determination to destroy the state's timber industry, and so is much more responsible for what has happened to Tasmania than what Latham describes as the 'pro-forestry' supporters.
Unfortunately, most of the media commentary and analysis about the fall of Gunns has simply ignored the central role of eco-activists in destroying the company's traditional markets, eroding its relationships with banks and shareholders, and destroying its public reputation with adverse publicity. This ultimately weakened the company's capability to deal with the adverse business climate arising from the Global Financial Crisis.
Despite this reality, a common theme of the skewed commentary emanating from its critics is that Gunns is responsible for its own downfall primarily because it lacked a 'social licence'.
…
Unfortunately, in the absence of any widely publicised contrary arguments this has become part of the folklore about Tasmanian forestry with Gunns playing the part of 'rogue corporation' – in the parlance of Richard Flanagan.
In reality, the potential alternative pulp mill site at Hampshire was assesed and found to be not as viable for a host of reasons; while the supposition that it would be less contentious is highly unlikely given that it is almost adjacent to the fabled Tarkine 'wilderness' and can be seen from the World Heritage-listed Cradle Mountain. In addition, the claim that the mill's approval was 'fast tracked' must be considered in the context of a state approvals process which took three years, and was made lengthier than required by the relevant state legislation by extra optional steps inserted by the independent assessment body.
Nevertheless, if it is accepted that Gunns' failure to secure a 'social licence' was because they were intent on building the mill in the wrong place and they perverted the mill's approvals process; it should follow that they would have gained their 'social licence' if these issues had been satisfactorily addressed. However, despite the logic, this is highly unlikely given the deeply entrenched hatred of Gunns and virtually all aspects of forestry by a minority of Tasmanians who have long engaged in campaigns of misinformation and would surely have found other ways to oppose the project.
Indeed, the level of opposition to Gunns and its proposed pulp mill raises important questions about the concept of 'social licence' and whether it could ever be achievable under circumstances where there is such intransigent extremism.
According to the Australian Centre for Corporate Social Responsibility (ACCSR), the term 'social licence to operate' was coined in the mining industry about 15-years ago but is now used extensively across all sections of industry and government to underpin engagement with social, community and environmental issues.
The ACCSR defines 'social licence' as the level of acceptance or approval continually granted to an organisation's operations or a project by the local community and other stakeholders. They go on to explain that "the social licence is a perception of legitimacy – does the company go about its business in a proper way?" They view this as being distinct from a company's reputation which is "the overall favourability of the image of a company or project …….. it's more of an emotional like and dislike".
There are several flaws with this concept …
To find out what they are, in Mark Poynter's opinion, read the full article, Online Opinion, here

Mark Poynter is a professional forester with 30 years experience. He is a Fellow of the Institute of Foresters of Australia and acts for it in a voluntary capcity as a media spokesperson. His book Saving Australia's Forests and its Implications was published in 2007.

Gunns' creditors meet in Launceston for the first time | Photographer: (ABC)
• David Obendorf's transcript of ABC's The Country Hour:
Gunns owes them – First creditors meeting
http://www.abc.net.au/rural/tas/content/2012/10/s3607672.htm
The fall-out from failed Timber Company Gunns is on display today as investors, employees and business with contractual agreements are meeting for the first time since the company was placed into administration. The Creditors meeting is being held just 200 metres from Gunns headquarters in Launceston. Representatives from the entire cross-section from farmers to contractors; even Gunns' recently sacked chief executive, Greg L'Estrange have been considering – amongst other things – whether to keep administrators, PPB.
As the Country Hour went to air, the meeting had heard advice from the administrator, that the receivers, KordaMentha, are implementing a three point plan for the Gunns group of companies.
"Firstly the softwood sawmill and distribution operations are continuing on a business as usual basis while a sale process is undertaken", administrator Craig Crosbie said.
"Redundancy payments were paid to about 50 employees who were made redundant prior to [the receivers] appointment."
Secondly, "receivers and managers are reviewing the harvesting operations, the plantation maintenance and lease obligations, to determine the appropriate strategy in terms of restructuring or realising the group's plantation and associated assets.
"The last limb of the three point plan is exploring all opportunities to maximise value for the benefit of stakeholders and in that regard a strategic review of the pulp mill is being undertaken during October", he said.
Danny Murphy from the CFMEU – I'm the Tasmanian State organiser. Most definitely an anxious time. The Bell Bay site, some of those people have been through the two shutdowns at Scottsdale though the FEA receivership and now the Gunns receivership. So they're old hat at i t… but it doesn't get any easier. I'd like to see the mills closed by Christmas – Bell Bay and Tarpeena in South Australia, so that my members can go on their leave – their normal shut down leave – and have a little bit of certainly in the new year [with a new operator] in 2013.
Lawrence Fielding, one of the directors of Fielding Logging — and, ahh… we're out of work at the moment and owed a lot of money. There's 8 on my payroll and they've all gone. I've had to put them all off. Some of them are going to Western Australia to the mines; it's just… pathetic. Financially we're owed $200,000; we've got bills and payments of $36,000 a month and we've got no work or income at the moment. [Do you sleep at night?] No I don't. There doesn't seem to be any future. I don't know; it's been pulled out from under us. We don't want to go out of the industry… we want to keep workin'. We've got the [timber] resource here; we just need to manage it properly and get back to work.
Ross Woodhouse from Ulverstone Tasmania — I'm a load and cartage contractor for Gunns. And I'm Glenn Northrop, I'm a forest contractor for Gunns in Burnie; Ross does our cartage for us. We are one of four contractors left – as I understand it – working for Gunns at the moment. But we're not working of course, because everything has been shut down. We're owed about $2 million – just our company and there's other people here that are owed more, and others probably owed less. But at the end of the day everybody has an entitlement the same as people who work for wages of these big companies. We're entitled to our money just as they are. We had up to 17 workers at one stage, and we're now down to one.
Len Northrop — We had 35 [employees] in the peak of our business; now we've got two; they're doing maintenance in the workshop. We don't know whether it's going to start up again.There must be heaps of creditors affected by this thing.
I'm John Gleeson representing Devon Contractors, a company that's worked for Gunns for many years now — Contracting services in the silviculture industry, like plantations: clearing the ground and spot-cultivating for the next rotation. Things have slowed down drastically. There was 15 workers with Devon Industries at one stage; now we're down to three; that's how she's gone.
Keeton Miles from Nietta — yes, vegetable farming with some plantation…. 100 hectares; some are 10 years some are 4. It will take out about $30,000 a year… it's not easy. Long term things, we were planning this for superannuation. I believe that wood and timber product will be quite saleable as we go on, but there's gunna be a year or two that's gunna be pretty slow.
David Obendorf: Gunns played Monopoly and everybody lost!
The disastrous [i]Monopoly[/i] game Gunns, as the responsible entity and last man standing amongst the MIS corporations, played is highlighted in John Lawrence's most recent Tasmanian Times article:
http://oldtt.pixelkey.biz/index.php?/weblog/article/gunns-the-morning-after/
"What an absolute disaster", writes John Lawrence.
If anything highlighted this [i]Monopoly[/i] mind-set that Tasmania had fallen it was this statement from John: [i]'It's as if the plantation estate is one monolithic monoculture in a single ownership interest that can simply be transferred to a willing buyer. Nothing could be further from reality. Detachment from reality is the major problem.'[/i]
Gunns'Monopoly plan was basic: [1]get loads of money, [2] buy up timber assets and [3] occupy vast areas of land with plantations.
John explains how even under the best scenarios for plantation growth those investor-growers are likely to get no more than 20% of their money back on harvest. [i]'The growth rates are appalling [/i]… [i] the costs of replanting will exceed harvest revenue'[/i].
John also highlights a subtle shift to longer rotation of the better growing and managed plantations. The 10 to 12 year cash-cropping for pulp on leased land seems a poor model for the future of Tasmanian forestry but which private land managers will opt for 50-plus years of [i]'longer rotation peelers rather than short in rotation chippers'[/i]?
John Lawrence cites the 94% of 193,000 hectares private hardwood plantations in Tasmania are [i]E. nitens[/i] planted for pulp without any future plan to fund the costs of future plantation maintenance and replanting. Without a local pulp mill and uncompetitive pulp on the international market these private plantations might be once-off crops. That's another huge hurdle for the ENGO negotiating with the forestry roundtablers.
Massive land conversion across Tasmania took place after Howard and Rundle signed the RFA in 1997. We now have a very fragmented forest estate made up of industrial monocultures of toxic [i]E. nitens[/i] plantations in a mosaic with regenerating native forests, high conservation value mature forest and national parks.
The economic disaster within forestry assets is serious enough but the importance of [b]fire management[/b] over this landscape is the next complex game that needs to be played.
• BANKS SHOULD SUPPORT THEIR LOCAL COMMUNITY
Big Banks Should Forgo Secured Creditor Status of Gunns Ltd
Kim Booth MP
Greens Member for Bass
Wednesday, 10 October 2012

The Tasmanian Greens today called on big banks forgo their status as secured creditors of Gunns Ltd, to ensure that local businesses, farmers, contractors and investors don't follow Gunns into administration.
Greens Member for Bass Kim Booth MP said that the ANZ Bank in particular should accept responsibility for continuing to prop up Gunns for the last two years, while the company accrued debts with local businesses that it was never going to be able to pay.
"The big banks must forgo their status as secure creditors of Gunns Ltd to ensure that local businesses, farmers, contractors and investors receive their money and to avoid a domino effect on jobs and the local economy," Mr Booth said.
"The banks have been behaving like carrion crows, stripping Gunns carcass until there is only the skeleton left."
"If the banks expect to be supported by the Tasmanian community then they need to support the community and not let Gunns' collapse have a domino effect on our local economy."
"After all, the banks have had a clear conflict of interest insofar as they induced contractors to borrow money to meet contractual demands for Gunns and whilst allowing Gunns to teeter on in their operations so that they could make money from stripping their assets."
"Unlike the big banks, local Tasmanian businesses didn't have access to Gunns' balance sheets and were led to believe that Gunns was financially viable and would be able to pay its debts."
"Businesses should be able to trust their banks will do the right thing by their local community and not just look out for their own bottom line."
• Hakan Ekstrom, Wood Resources International …
Prices for sawlogs, pulpwood, wood chips and biomass in North America – all in one quarterly report!
The North American Wood Fiber Review (NAWFR) has tracked wood prices in all major regions of the US and Canada for over 20 years. It is the only publication that covers prices and market commentary for sawlogs, pulplogs, wood chips and biomass in North America in one comprehensive report each quarter.
The 36-page quarterly report is an essential source for anyone that needs to track the wood raw-material market in the largest and most dynamic wood market in the world. To review a sample the NAWFR, click here
The report includes:
• Prices and exports of sawlogs
• Prices and trade of pulpwood and wood chips
• Prices and market updates for the woody biomass sector
• Pellet exports overseas
Market developments, including wood supply, industry wood demand, industry capacity changes, trade and prices are covered for the nine major regions of the US and Canada:
• US, West
• US, Lake States
• US, Southeast
• US, South Central
• US, Northeast
• Canada, British Columbia
• Canada, Alberta
• Canada, Ontario/Quebec
• Canada, the Maritime provinces
Subscribe by November 1st and receive a 1 ½-year subscription service for the price of a one-year subscription. Your subscription will include six quarterly reports (3Q/12- 4Q/13) and website access to download past issues back to 2007. The cost for this special offer is US$1200 for the six reports, a 33 % discount off the regular price (single-use option). If your company would like to share the reports between multiple offices, the cost is US$2000, also a reduced price.
Track global pulpwood and sawlog prices – subscribe to the Wood Resource Quarterly – read by forest industry analysts in over 25 countries since 1988.
www.woodprices.com
• The US surpassed Canada as the largest wood pellet exporter in the world in the first half of 2012, reports the North American Wood Fiber Review
The expansion of wood pellet capacity in the US South the past few years has enabled the US to export more pellets than Canada, making the US the largest exporter in the world. With continued investments throughout southern US, export volumes are forecast to increase from an estimated 1.5 million tons in 2012 to 5.7 million tons in 2015, according to the North American Wood Fiber Review.
The full article can be found in the downloadable PDF file:
US_Canada_wood_pellet_exports_1H_2012.pdf
Track sawlog, biomass, wood chip and pulpwood prices in North America – subscribe to the North American Wood Fiber Review
www.woodprices.com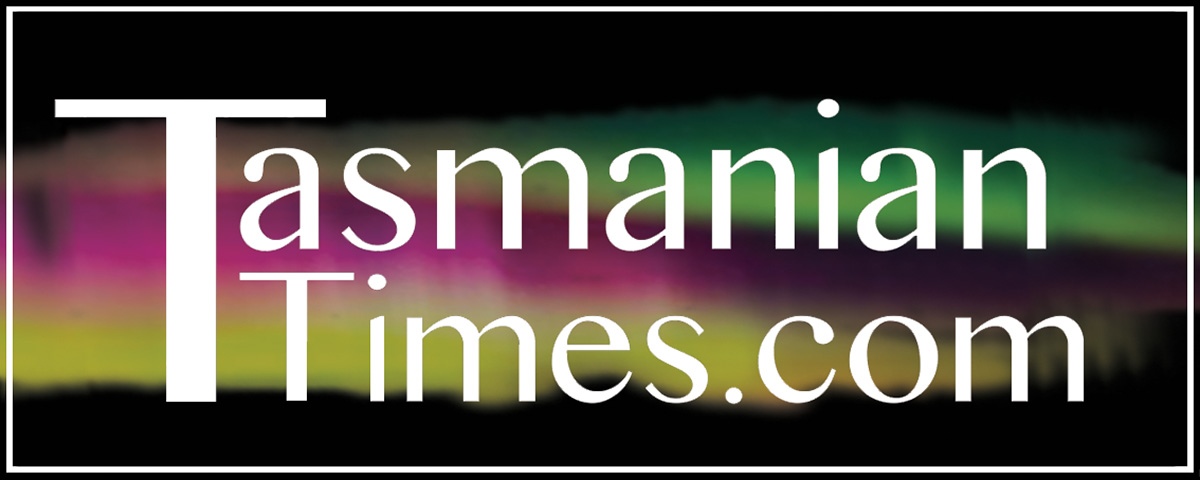 Author Credits: [show_post_categories parent="no" parentcategory="writers" show = "category" hyperlink="yes"]