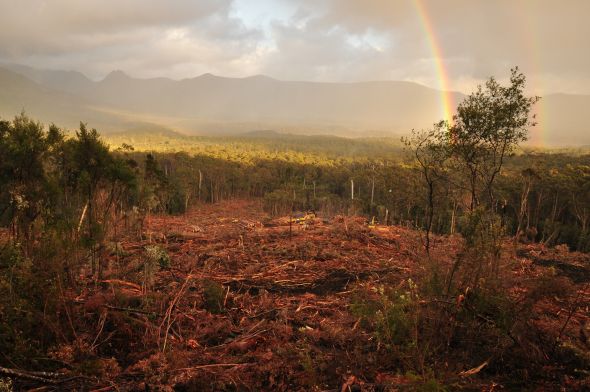 Pic: Emma Capp
In an Opinion article published in the Mercury last Thursday, long-time forestry campaigner previously with Forest Industries Association of Tasmania and a former Labor Minister in the 1980s under Doug Lowe and Harry Holgate, [b]Julian Amos[/b] explained why a forest peace agreement was still Mission Impossible.
[i]"In my books, the end of the month [October] will come without any agreement and so the players are warned – there will need to be a Plan B."[/i]
[i]"The competing claims cannot be reconciled"[/i], Mr Amos says and he gives his reasoning based on contested wood supply and contested conservation.
According to Mr Amos there are too many unresolved issues remaining – Forestry Tasmania's restructure as agreed by the Labor-Green cabinet and no guarantee that conservation groups outside the negotiations will abide by any agreement and stop forest protect actions.
In effect Mr Amos is again reiterating the message by FIAT CEO, Terry Edwards and former Premier Labor Paul Lennon.
Belling an old feral cat – Gunns Ltd
Gunns is now a proverbial dead cat that didn't bounce; not even once!
[i]"Gunns was FT's major customer for native forest product – it took about 145,000 of the 300,000 cubic metres of sawlogs each year."[/i]
The 300,000 cubic metres of sawlog from native forest was a mandated minimum annual harvest agreed to under the RFA signed in 1997. The Commonwealth Government compensated Gunns over $23 million for surrendering their Wood Supply.
Mr Amos joins up his dots:
[i]"Gunns decision to withdraw was made for a variety of reasons, not the least being Gunns' desire to obtain a 'Social Licence' for its pulp mill proposal in the Tamar. … Gunns was a major grower of plantation timber on private land; these plantations were grown specifically for pulp timber."[/i]
As Mr Amos details the decision to stop native forest harvesting had 'serious consequences' not only for their company's mills, workers and contractors, but for the whole forestry sector.
Gunns Ltd is now in receivership and administration with debts well over half a billion dollars. The value of the pulp mill permits remains untested in the Market and the proposal is still without a 'Social Licence'.
Belling another feral cat – Forestry Tasmania
[i]"At the time Gunns withdraw from native forest logging in 2010, FT had about 1,500,000 hectares under management – 700,000 hectares was for wood products; the rest [800,000 hectares] in reserves… .The forestry industry sought a guarantee that sawlog supply would be retained at 155,000 cubic metres per year, the amount of timber that FT was still under contract to supply."[/i]
Here's the crude maths based on Mr Amos' numbers:
Annual Wood Supply from Public Forests administered by Forestry Tasmania: 300,000 cubic metres [RFA guaranteed minimum] – 145,000M3 [Gunns] = 155,000M3 [remaining for Tasmanian mills]
Current Public Forest administered by Forestry Tasmania: 1,500,000 hectares [Public Forest] – 700,000 ha. [in informal reserves] = 800,000 ha. [Wood production]
Proposed Public Forest administered by Forestry Tasmania: 1,500,000 hectares [Public Forest] – 572,000 ha. [proposed permanent reservation] = 928,000 ha. [Wood production]
Despite the maths, Mr Amos maintains: [i]"These competing claims simply cannot be reconciled. The remaining native forest [b]cannot[/b] supply the necessary volumes of sawlogs and nor can the plantations for the reasons mentioned previously [i.e. they are trees for pulp]."[/i]
If this agreement was just about the sawlog wood supply – based on Mr Amos' maths – then it could be done and dusted. But the elephant in Tasmania's forests remains Ta Ann. Interestingly Mr Amos avoids all mention of the 265,000 cubic metres of high quality peeler billets which must be annually supplied through FT to Ta Ann Tasmania's two veneer mills. Ta Ann's tightly specified Wood Supply agreements with FT are available until 2027.
Mr Amos – as the public spokesperson for the forestry interests – states that [i] "the parties will never be able to come to an agreement."[/i]
The 'serious consequences' of the Gunns meltdown have completely sidelined the forestry negotiations, but neither side will give up their contested ambits and Ta Ann remains the Asian Elephant wanting the biggest slice of our mature native forests on public land.
Lest we forget!
[Reference: Julian Amos: Talking Point – A splintered branch of Peace, The Mercury 11 October 2012]
• And, Potted summary of forestry in Tasmania
TASMANIA: DIVIDED STATE
The announcement last month by Tasmania's biggest timber company, Gunns, that it was going into voluntary administration is the latest episode in an apparent fight to the death between conservationists and the timber industry in Tasmania. Rear Vision looks at the background to the battle over Tasmania's trees.
Dr John Young, Honorary Research Associate
School of Geography and Environmental Studies
University of Tasmania
Dr Jacki Schirmer, Senior Research Fellow
Centre for Research and Action in Public Health
University of Canberra
Dr John Dargavel, Visiting Fellow
Fenner School of Environment and Society
Australian National University
• Here:
http://www.abc.net.au/radionational/programs/rearvision/tasmania3b-divided-state/4295548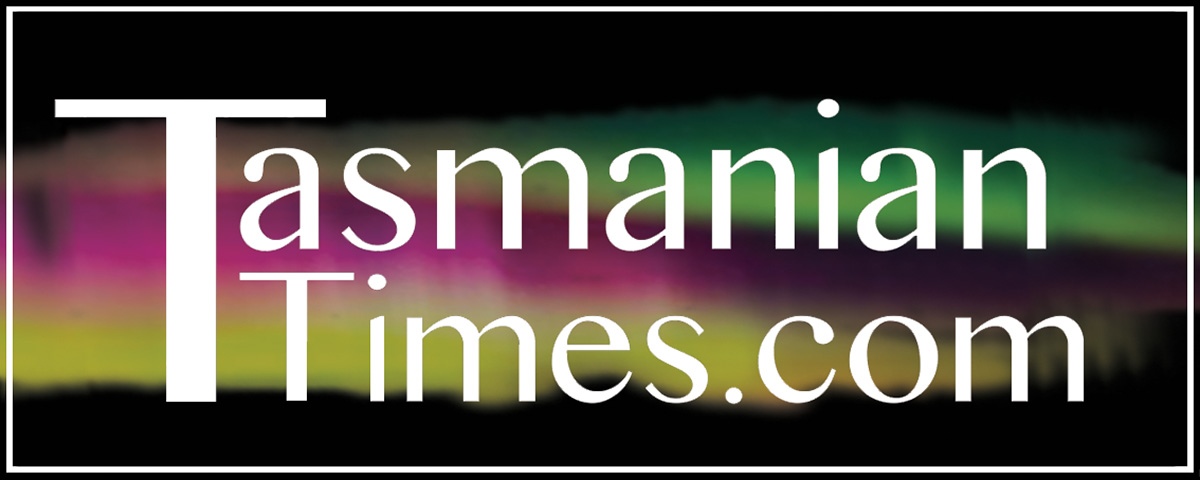 Author Credits: [show_post_categories parent="no" parentcategory="writers" show = "category" hyperlink="yes"]