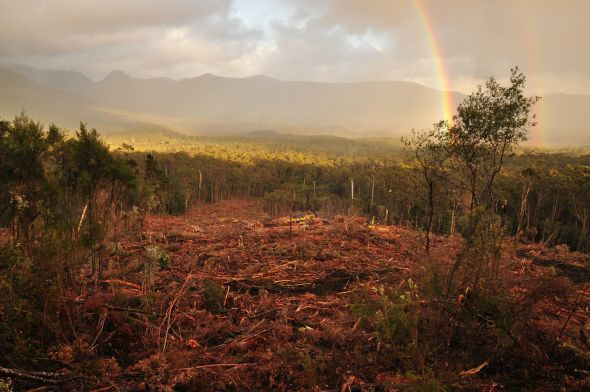 Pic: Emma Capp
Tasmania's 'once in a generation' Peace Deal on Forests is about to fall apart.
As Tasmanian Times writers and commentators have been portentously predicting, the timber facts and the 'Chinese whispers' were telling us the Plan 'A' deal was unachievable.
Now it seems the deal is off … at least for the moment!
Put simply there is not enough high quality timber as sawlog and peeler billets available in the remainder of the State's production forests if the industry surrenders over 500,000 ha of high conservation value (HCV) forests to conservation.
Put extremely simply – the remaining regeneration production forests combined with the eucalypt plantation estate (predominantly pulpwood trees) cannot sustain the annual wood supply of 265,000 cubic metres of peeler billets and the 155,000 cubic metres of high quality sawlog.
Ta Ann, the silent player in these talks, has a wood supply agreement with Forestry Tasmania for 265,000 cubic metres of peeler billets stretching well into the next decade. Their specifications are tight and their logs come from mature regeneration native forests managed by Forestry Tasmania.
Something had to give and yet again it seems it was the high conservation value forests that will again be sacrificed in a clever game of high stakes poker by the forestry negotiators.
Watch this space.
Related:
David Obendorf: The Facts …
• THE NATIONAL PLANTIONS INVENTORY, ABARES Report May 2012
[Gavran et al Australia's plantation log supply 2010-2054]
http://www.daff.gov.au/abares/publications_remote_content/recent-20?sq_content_src=%2BdXJsPWh0dHAlM0ElMkYlMkYxNDMuMTg4LjE3LjIwJTJGYW5yZGwlMkZEQUZGU2VydmljZSUyRmRpc3BsYXkucGhwJTNGZmlkJTNEcGVfYWZwbHNkOWFiZmUwMDEyMDEyMDUxNV8xMWEueG1sJmFsbD0x
TASMANIA [page 48-49]
Tasmania's plantations are concentrated in the north of the state and in the south-east corner inland from Hobart. The softwood (Pinusra diata) plantations area has been steadily planted since the 1991–95 planting period, and most of the broadleaved (eucalypt) plantations were established from 1995–96 onward (Figure50).
The state's softwood plantations supply a pulp and paper mill at Boyer (Noske Skog) and several sawmills. Most of the eucalypt plantations were established to supply the export woodchip market via ports at Burnie, Bell Bay and Triabunna.
Work has commenced on a pulp mill at Bell Bay that will use a large proportion of the available Eucalyptus nitens plantation pulpwood in Tasmania (de Fégely2006).
In 2009–10, the total plantation area in the Tasmanian region increased by 36% from 2004–05. The softwood plantation area has increased by 4% since 2004–05 to 74,700
hectares in 2009–10, and the eucalypt plantation area has increased by 51% to 234,400 hectares. 82% of the eucalypt plantations are managed for pulpwood production and 18% are managed for sawlog production.
Eucalypt plantations managed for sawlog production are expected to supply around 150,000 cubic metresof high-quality sawlog each year in Tasmania from 2025 (Forestry Tasmania 2007). The remaining sawlog supply will be lower-grade sawlog (see Table 16). The eucalypt plantations managed for sawlog production require specific thinning and pruning to produce high-quality sawlogs.
The eucalypt pulpwood volume is forecast to be 3,450,000 cubic metres a year in the 2015–19 period and to peak in the 2050–54 period at 3,778,000 cubic metres a year. The eucalypt sawlog volume is forecast to be 251,000 cubic metres a year in the 2015–19 period and to peak at around 931,000 cubic metres a year in the 2025–29 period (Table 16, Figure 51).
References:
de Fégely, R 2006, Expert witness statement of Mr Andrew Robert de Fégely, Expert of Gunns Limited, Melbourne: 62.
Forestry Tasmania 2007, Sustainable high quality eucalypt sawlog supply from Tasmanian StateForest – Review No. 3, Hobart, Forestry Tasmania: 28.
• Mercury: No agreement on wood supply or forest reserves
AN interim forest peace deal has been announced his afternoon — but there is still no agreement on wood supply or forest reserves.
Industry and environmental groups have been negotiating for two years and have twice extended the talks beyond their initial deadlines.
The deal is not a final agreement, which the signatories say should be delivered after about another four weeks.
The agreement comes after Federal Environment Minister Tony Burke spent the weekend in Tasmania trying to facilitate a deal.
The Inter-governmental Agreement on Forestry is aimed at ending the dispute that has dominated debate for 30 years.
It is understood industry wants stronger guarantees from environmental groups that the industry would not be undermined in overseas markets in the future by groups other than signatories.
Such an agreement would bind conservationist groups outside the discussions to not actively undermine the agreement.
It would include a pledge that conservationists would not oppose Forest Stewardship Council certification.
It is understood it would also cover behaviour such as a campaign by Markets for Change earlier this year which discredited products from Ta Ann that was bound for the basketball courts at the London Olympics.
Industry wants 155,000 cubic metres of saw log and 265,000 cubic metres of peeler billets.
Environmental groups have targeted up to 572,000 ha of forest for reserve.
MORE TO COME…
http://www.themercury.com.au/article/2012/08/15/353855_tasmania-news.html
• Senator Christine Milne, Greens Leader: Yet another holding pattern for forests
Australian Greens Leader, Senator Christine Milne, said "Today's Statement of Signatories to the Tasmanian Forest Agreement is yet another holding pattern.
"While still holding out hope that agreement can be reached, it is critical that any agreement sees native forests permanently protected and is an honest reflection of the failed business case for native forest logging that has been perpetuated by Forestry Tasmania for far too long."
• Miranda Gibson, Jenny Weber: Conservationists concerned about delays in forest protection
Today's announcement from the signatories to the forest negotiations has added uncertainty to the future of forest protection in Tasmania. Environment groups Still Wild Still Threatened and the Huon Valley Environment Center are raising concerns about the failure of negotiations to deliver conservation outcomes.
"Today's announcement has left the future of Tasmania's world-class forests uncertain. The interim agreement has given no clear outcomes or commitment to protect the full verified area that has been recommended for protection as world heritage and national heritage value forest. The forest that I have been living in for the past eight months remains under threat, as logging of high conservation value forests appear set to continue in the immediate future" said Miranda Gibson of Still Wild Still Threatened.
"Today's announcement is yet another delay that will see key areas of high conservation value forest logged while talks continue over the coming weeks. This is nothing more than the window dressing as the critical issues have not been addressed. In the forest logging continues in areas with conservation values. Ta Ann continue to be a key driver of this logging, while misrepresenting the source of their timber in international markets. Tasmania's forests need secure conservation outcomes immediately. Nothing else will suffice" said Jenny Weber of the Huon Valley Environment Center.
Still Wild Still Threatened is a grassroots community organisation campaigning for the immediate protection of Tasmania's ancient forests and the creation of an equitable and environmentally sustainable forestry industry in Tasmania.
www.stillwildstillthreatened.org
stillwildstillthreatened@gmail.com
PO Box 295. South Hobart TAS 7004
• INTERIM FOREST AGREEMENT A STEP FORWARD
Nick McKim MP
Greens Leader
Wednesday, 15 August 2012

The Tasmanian Greens Leader Nick McKim today said that today's Interim Agreement signed by forest signatories was another step forward in the process, and called for signatories to be given support to reach a final agreement.
"This process cannot go on forever, but while there is still goodwill among signatories on all sides then we need to give them the space to reach a resolution," Mr McKim said.
"The only thing now standing in the way of progress on forestry is the Liberal Party, whose policy is to continue ripping $100 million per year in ongoing subsidies to the timber industry out of education, health and public services."
"The Liberals are clearly becoming frustrated because they know that none of the key stakeholders in this process support their position, including the industry representatives."
"It's a measure of how and desperate and attention starved the Liberal Party has become that they have resorted to using profanity in the hope that people will listen."
First published: 2012-08-15 02:08 AM
• via David Obendorf: No forest deal yet – ABC1-TVNews 15 August 2012
State Political Reporter: Brad Markum
ABC News presenter Peter Gee: After two years of talking there's still no final deal. But the signatories to the forest peace deal aren't giving up. They emerged today to say they have struck an interim agreement, but any conclusion to the protracted process is still weeks away. State political reporter, Brad Markum joins us now from Parliament.
Brad, this isn't the announcement Tasmanians were hoping for? [Brad nods negatively]
Brad Markum: Well, no Peter, it's not. We were poised for a final announcement, especially after the involvement of the federal environment minister and the deputy premier over the weekend. But signatories have been given a fourth extension.
Now the stumbling blocks remain key issues of wood supply and areas of forest to be protected. So despite more than two years of talking the negotiations still aren't over.[Brad nods negatively]
Terry Edwards, CEO of FIAT: We still have confidence that we can reach a final agreement. There's a lot of hard work to be done.
PhillPullinger, Director Environment Tasmania : We absolutely want to deliver a strong and sustainable future for the forestry industry in Tasmania.
Brad Markum: It's a goal that continues to drive the peace talks and keep industry and environment group[s at the table.
Terry Edwards: How much is a reasonable period of time to… to settle a war that has gone on for 30 years? Is 2 years too long? Is 3 years too long? Maybe not, if we actually achieve it.
Brad Markum: Signatories have been given another extension to enable further wood supply modelling [by Forestry Tasmania] to be carried out.
Terry Edwards; The modelling does right down to the coupe level and it has very detailed algorithms within it about the growth ahhm… status of any particular stand of trees.
Brad Markum: But they are making progress [shows front page of a document titled: 'Interim Agreement on Tasmanian Forest Wood Supply and Conservation'] and have presented an interim agreement.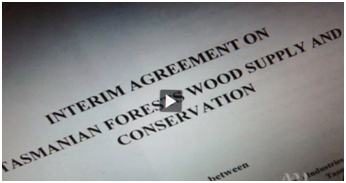 PhillPullinger: This really was an important and, I think, a major step forward [Edwards looks on smiling]
Terry Edwards: It is much, much more than just another extension. It's about real words on paper .[Pullinger looks glumly]
Brad Markum: It calls on government to fast track a $15 million exit package for saw-millers. The move would help free up sawlog contracts, especially in regions where supply is challenging.
Terry Edwards: That's why we believe it [the exit package] needs to be run sooner rather than later. Ahhm… so that we can ascertain what level of interest there may be.
Brad Markum: [Vision of protest outside Ta Ann head office in Davey Street] If a final agreement is eventually reached, signatories want a process set up to resolve disputes and prevent protests.
Terry Edwards:Which will give people an avenue to press their views or their claims or their grievances ahh… in a structured way. That doesn't require direct action.
PhillPullinger: Well, we want to deliver to the forestry industry… is that sustainability and that security that they can have… an uncontested wood supply.
Peter Gee: Brad, what's been the political reaction to today's announcement?
Brad Markum: Well, the State government is hailing the signing of an interim agreement as a major step towards securing a final and lasting deal. But the Opposition has labelled it 'a joke'.
Peter Gutwein: Two years, thousands of jobs; regional communities and families destroyed and the best that the Premier can deliver is this load of bull shit.
Nick McKim: Clearly, there's still an element of goodwill amongst the signatories and clearly, there is still the hope amongst the signatories that they can reach an agreement.
Bryan Green: [smiling broadly] The war is over! There's always going to be the odd fringe-person that, that is… is never satisfied. But at the end of the day… ahh… ahh… as we work through this process, they've called a truce.
Brad Markum: Clearly a level of continued optimism from Labor and the Greens. But remember this interim agreement won't be implemented if signatories don't sign a final deal. Now it's expected to be up to 6 weeks before we know if they can.
• Markets For Change, JATAN Japan Tropical Forest Action Network, Huon Valley Environment Centre, The Last Stand, Still Wild Still Threatened:
Conservation groups active in markets and on the ground in Tasmania's forests are very concerned that nothing has yet been agreed on the size and location of new reserves, and that logging continues to destroy high conservation value forests subject to negotiations about their future protection.
• Download the Interim Agreement:
Signatory_Interim_Agreement_2012_08_15.pdf
• Peg Putt, Markets for Change, Jenny Weber, Huon Valley Environment Centre, Miranda Gibson, Still Wild Still Threatened, Ula Majewski, The Last Stand:
FOREST RESERVES DELIVERY IS VITAL TO FOREST PEACE BUT MISSING FROM 'INTERIM AGREEMENT'
Conservation groups active in the markets and on the ground in Tasmania are concerned that forest peace talks have so far failed to agree on the size and location of new reserves to protect Tasmania's high conservation value forests, while logging continues in forests whose protection is under negotiation. They are urging delivery of comprehensive forest protection as a top priority of forest negotiations.
"The core of a forest agreement, the agreed delivery of reserves whose size and location are known and which adequately protect the high conservation value forests of Tasmania, is missing from the interim agreement released yesterday. It is a serious concern that this most basic requirement has not been able to be agreed upon," said Markets for Change spokesperson Peg Putt.
"Unless forest protection can be rapidly progressed, the attempts for forests peace will fail. The significance of this problem should not be understated."
Mr Akira Harada, a spokesperson for Japanese ENGO JATAN who is currently in Tasmania inspecting the logging of high conservation value forests that were exempted from a logging moratorium, said "I am not happy to witness the logging destruction of Tasmania's magnificent forests that are of global importance. It is not acceptable for the market in Japan to buy the product of such forest destruction sold as 'eco' wood."
"It is vital that such forests are protected, and that Japanese customers of Tasmanian product such as that sold by Ta Ann can then have confidence that their product is from acceptable sources. This is not yet the case," Mr Harada said.
"There was no progress on our core issue in the signatories' announcement, but instead an admission that securing reserves has been a sticking point, and now we are seeing further delays. We want reserve creation to be unstuck," said Ula Majewski of The Last Stand.
"We remind everyone that every single day for the past 2 years of negotiations, precious forests inside the identified high conservation value areas have been logged. These forests are continually being compromised and still we have no firm agreement to protect any areas," said Jenny Weber of the Huon Valley Environment Centre.
"My stand for the forests will remain unchanged until we have something firm, not vague pronouncements," said Miranda Gibson from the Observer Tree.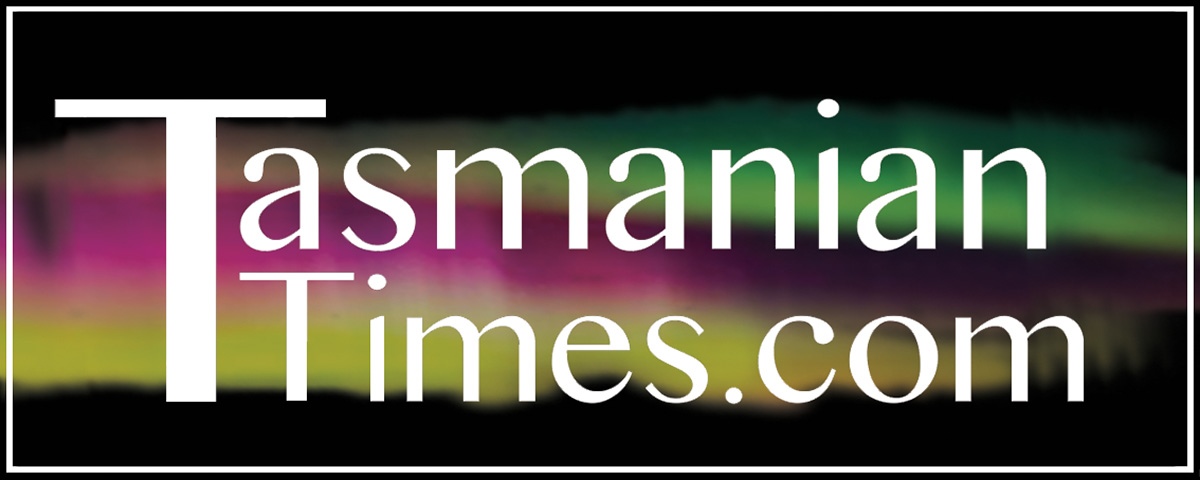 Author Credits: [show_post_categories parent="no" parentcategory="writers" show = "category" hyperlink="yes"]