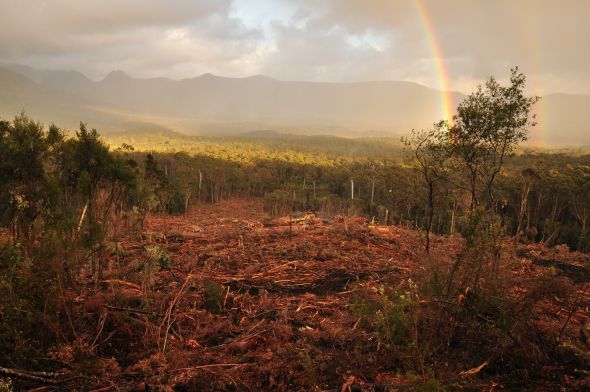 'What counts is not the enormity of the task, but the size of the courage.' – Matthieu Ricard
How can any society that values the welfare of its people ignore, obstruct or otherwise undervalue the importance of clean water as a fundamental right for all? How clean then is Tasmania's water now and how clean will it be for our children?
We acknowledge this is a complex issue. Here, we discuss the effects of forestry as it is currently practiced, not because we believe that these practices are solely responsible for the health or otherwise of our water supplies, but because forestry issues are currently up for discussion, and we hope that the issue of clean water would a fundamental consideration in the outcomes of these discussions.
A photograph in a brochure of the important South Esk catchment vividly illustrates part of what is happening in Tasmania's water catchments.1 The surrounding terrain was cable logged of all vegetation and a plantation of young eucalyptus established that is regularly sprayed with known harm-causing chemicals. These chemicals inevitably enter the water supply. This same brochure reveals:
In the last four years alone, these rivers have been contaminated with poisonous pesticides: the Duck, Inglis, Bird, Jordan, Montagu, Prosser, Rubicon, South Esk, George, Little Swanport, Macquarie, Great Forrester, Brumby Creek, Derwent and Liffey …forestry plantations are now growing in 44 of the State's 48 water catchments. … Water testing by our state government is done sporadically and pesticide detections rarely result in investigations to find their source
Poisoning water supplies and destruction of soil quality because of chemically dependent monoculture plantations needs to be stopped, as does the continued slaughter of our native forests. The health of people in Tasmania is subject to unreasonable risk by virtue of toxins in our water.2 Yet a Government report cleared the George River (at St Helens) of any toxins, eliciting this response from Dr.Lohrey: 'This is one of the most dubious reports I have read in a long time. It appears to have been written and made public with one aim in mind – to stifle community debate about water quality in the George River.'3
Clear felling, highly mechanised slash and burn and dangerous chemical fed monoculture plantations are falsely presented as world's best forestry practice in Tasmania. The need for a radical new approach to forestry practices in Tasmania is urgent. Fifty one percent of Tasmanians agree that 'the logging industry is a source of corruption in Tasmania and 'that cleaning up corruption in the logging industry would go a long way to cleaning up the rest of the government'.4
Even worse, the public purse is being vandalised to ensure that this destruction takes place. Economist Professor Graeme Wells estimates that over the period 1997-98 to 2009-10 the Tasmanian forestry industry as a whole has received subsidies $767 million of public money.5 This is money wasted on faulty forestry practices that could be used to prevent the cuts in Government spending on health and education.
As an example of the damage plantations can create, Mike Bolan has this to say:
Globally, the pulp and paper industry (P& P) has a history of creating social upheaval, engaging in corrupt activities and subverting process … Economically, it seems that the money to be made from the pulp business is made by the P & P operators who sell pulp mills for billions as well as operate them under contract for hundreds of millions every year. By contrast, almost all of the risks are at the feedstock production and processing end, which is also where most of the detrimental impacts are suffered by local communities and individuals who get virtually nothing from the P & P activities. Tasmania has to go into deep debt ($3 billion or so) by buying pulp mill hardware from Scandinavia, then use its resources to pay off that debt. The cash goes to Scandinavia, so it's really an investment in that region. It's the old story of 'to the locals go the work and the woes, to the P & P industry go the spoils.' Such a system results in support for P & P operations being organised through a small group of powerful interests who will be 'winners' in the business while a majority of taxpayers and others get the role of 'losers' whose role is to pay the P & P industry to prosper.6
Today, in 2012, environmentalists and the forestry industry are negotiating how Tasmanian forests will be used and managed in the future. It is anticipated that clear-felling old growth forests will finally cease, but it is based on the untested belief that chemically dependent monoculture plantations will create a sustainable forestry industry into the future even though existing plantations have done and are doing so much damage to our water, soils and public health.
Background
After private discussions in 2003 between Tasmania's then Premier Paul Lennon and John Gay, then head of Gunns Ltd, a kraft-bleach pulp mill in the Tamar Valley with annual production of approximately 1.2 billion tonne of pulp was proposed. The mill, predicted to be the largest in the world, was to be reliant on feedstock from native hardwood forests and monoculture pulpwood plantations. In 2007 Gunns' withdrew their proposal for the mill from the State assessment body, the Resource Planning & Development Commission, when it was leaked that the proposal was 'deficient and critically noncompliant' with the RPDC's guidelines.7 Instead, Premier Lennon saw that itwas fast-tracked through a benefits-only assessment, which excluded from consideration any environmental, social and health problems the mill might create – that notwithstanding, the proposal was passed by both Lower and Upper Houses of the State Parliament.
Plantations of Eucalyptus nitens, a genetically selected cultivar designed specifically as a fast-growing plantation pulp-wood tree, sharply increased. Forestry Tasmania alone has planted over 50,000 ha of E. nitens, while 138,000 ha of E. nitens have been planted in privately-owned land since 2001. All this planting was greatly facilitated – at taxpayer expense – by the Howard Government's legislation for the growth of Australia's plantation estate using Managed Investment Schemes [MIS] that provided 100 per cent tax offsets. Several land-management corporations used investor funds to plant vast areas of what were native forests that were clear felled on both public and private land, much of it high quality farmland, for the expanded plantation estate. These MIS corporations have since collapsed – going into receivership or transferring their 'investment' in these plantations to other entities. So we are left with about 200,000 ha of E. nitens, a species that is of no use other than for feeding a pulp mill.
Intergovernmental Agreement (IGA) on Forestry
Current negotiation talks to end the war in Tasmania's forests and to explore a new model for forestry in Tasmania were principally based on an October 2009 proposal bya conservation-collective calling itself 'Our Common Ground'. After the March 2010 State election, Tasmanians returned a power-sharing Parliament. The new Labor-Green government facilitated the beginning of talks between forestry industry and environment groups to discuss a broad statement of forest principles to transition the hardwood forestry sector out of logging native forests on public land and developing new forestry industries based on 'engineered' lumber and pulp wood sourced from a very large plantation estate – estimated to be over 300,000 hectares.
The chief aim of the ENGOs was to have an extra 570,000 ha of identified high conservation forest protected from logging. The price demanded by the forestry industry for this appears to have been Gunns' improperly assessed Tamar Valley pulp mill, despite the company being unable to attract any investors over a period of over seven years. The reason for this lack of interest is undoubtedly that the Tasmanian mill, with higher production costs and a high Australian dollar, would be unable to compete in a falling market with cheaper pulp available from China and South America. Yet here in Tasmania was a huge plantation estate, nearly 200,000 ha in both public and private forests, being timber that was only of use for a pulp mill! The industry received acceptance from the representatives of the Environmental Non-Governmental organisations (ENGOs*) to a clause in the Statement of Forest Principles Agreement that included 'a strong sustainable timber industry including the development of a range of plantation-based timber processing facilities including a pulp mill' [Statement of Principle #5]. Possibly because the ENGOs were confident that the Gunns Ltd Tamar Valley mill would never go ahead, the ENGOs were reported as agreeing to 'a' mill, but not to the Tamar Valley mill. They were led to believe that 570,000 ha of 'high conservation'forest would be protected and an interim moratorium on further logging imposed until negotiations were completed. The 10 organisations involved in these forestry negotiation signed the Tasmanian Statement of Forest Principles in October 2010.
The negotiations then fell apart and became delayed. Forestry Tasmania – a Government Business Enterprise and not a signatory to the negotiations – claimed they could not meet their current wood supply contracts if 570,000 ha of high conservation value forests were granted statutory protection. They also refused to honour the moratorium and continued logging, even in the highly sensitive Styx-Weld areas. We could be forgiven for concluding that the negotiations were indeed a setup for the mill, for on 17 May 2011, Premier Lara Giddings said just that in Parliament: 'the whole statement of principles process… is about trying to assist Gunns to get their pulp mill up.'This was news to most Tasmanians and no doubt to the ENGO negotiators themselves. On cue, Gunns, politicians from both major parties, and trade union leaders Bill Kelty and Paul Howes, announced that the ENGOs agreement to 'a pulp mill' gave the necessary social licence for the proposed Tamar Valley pulp mill. But there is no social licence for the mill.8
Although State and Commonwealth approvals to build the mill went ahead, Gunns has seen its share price collapse from a high point of over $4 a share when John Gay announced the prosposal to build a pulp mill, to 16 cents currently, while trading in Gunns Ltd shares has been suspended since early March 2012. Gunns has held a fire sale of its commercial assets to help repay bank debts of over $600 million. Yet in spite of all this, Gunns still entertains the vision of building its pulp mill in the Tamar Valley, no doubt because poorly informed politicians and trade union figures for their own extraordinary reasons support the ongoing waste of public money to try and get this uneconomic and ecologically destructive project off the ground.
Another unfortunate outcome of the negotiations is the apparent consensus on the need for a plantation based industry. If that means a perpetuation of the destructive and water-poisoning monoculture plantations that have caused so much damage to the water table, to water supplies, and to public health already, then that is completely unacceptable. Forestry reform that acknowledges and values bio-diverse regeneration forestry plantations, that mimic the distribution and ecology of native forests and that not rely on toxic chemicals for their health and growth, are another matter. The ENGOs must clarify the difference and rule out monocultures. That is basic.
There are plantations and plantations
Of course we need to end clear felling, but at the same time we cannot tolerate a reliance on monoculture plantations for a 'sustainable timber industry' in Tasmania. There is a place for replanting bio-diverse regeneration native forests that seek as far as is possible to restore and grow healthy forests approaching their original conformation. This type of forestry is an entirely different kettle of fish to the chemically dependent monoculture plantations of trees that develop poisonous leaves and are bred to be pulped. Bio-diverse regeneration forests are self-regulatory but they are not considered the foundation of a sustainable timber industry because:
Providing companion plantings that … deter pests, plus a tolerance of a low level of pests, were all part of a tried-and-true method of control that long predated the war on nature. The trouble was that corporations couldn't make money from these approaches. With the illusion of a quick and permanent fix, the pesticide companies had set us on a cataclysmic course.9

In other words, giant corporations are determined to make money regardless of the social and ecological costs. Put this with Mike Bolan's above exposure of the pulp and paper industry and we see the explanation for Tasmania's water problems.
There are many other similar examples of how the mega-rich make themselves ever richer at the expense of underprivileged. Rachel Carson in Silent Spring in 1963 warned us many years ago about the damaging and unimagined effects wrought by very low level original applications of poisonous chemical substances, such as DDT, entering the food chain. We now know that it is worse even than that. Even minute doses, that appear to be safe to humans, accumulate through prolonged usage to toxic levels, and worse, interact to cause epigenetic cancers and other pathologies. Government testing does not take these cumulative and epigenetic effects into account – and it should.10
These are problems we have to confront and find solutions to. However, there are strong vested interests in preserving the status quo. A major reason for this is that careers and immediate profits depend upon retaining forestry practices that are uneconomic in the long term, irreversibly destructive, and damaging to human health. All the evidence suggests that ordinary people are sick and tired of the waste, inefficiency and damage wrought by current forestry practices yet both major parties at state and national levels, and the trade union movement itself, have dug in against significant change.
Such change requires a socially responsible, holistic view of forestry. Locking up all of 570,000 ha may not be the best way to go. Tasmania has many valuable timbers that could be harvested sustainably and maintain an ongoing quality forestry industry, as is the case in many European countries, while still reserving wonderful cathedrals of old growth trees. Unfortunately, the participants in the IGA are not thinking this way. They are seen as and behave as antagonists who yield ground inch by inch, thus grudgingly maintaining two opposed systems: one of wholesale exploitation, the other of hands-off. Such a position is undignified and more importantly, not likely to be sustainable. And the forest wars would be set to be fought all over again.
We are facing an enormous task to bring things around but, as the quote from Ricard at the head of this article suggests, what we need is courage – and flexible thinking from both sides.
Refs
1 From a brochure Warning! Poisoned water? Authorised by Dr. Andrew Lohrey and widely distributed in Tasmania.
2 Alison Bleaney, 'Chemicals: The dismal failure' Tasmanian Times, 7 May 2012. http://oldtt.pixelkey.biz/index.php?/article/how-chemicals-affect-us/
3 Andrew Lohrey, 'Panel report dubious: designed to stifle public debate,' Tasmanian times,2 July 2010, http://oldtt.pixelkey.biz/index.php?/article/george-river-toxins-rerport-dubious-designed-to-stifle-debate/
4 Reported in Levelling the Playing Field: Reforming Forest Governance in Tasmania, Report commissioned by Environment Tasmania, February 2010,p. 27 http://oldtt.pixelkey.biz/index.php?/pr-article/levelling-the-playing-field-reforming-forestry-governance-in-tasmania1/
5 G. Wells, 'Amos and Wells on Forest subsidies: Round 3' Tasmanian Times, 19 August, 2010 http://oldtt.pixelkey.biz/index.php?/article/amos-and-wells-on-forestry-subsidies-round-3/
6 Mike Bolan, 'The truth about plantations', Tasmanian Times, 16 June 2010. http://oldtt.pixelkey.biz/index.php?/article/the-truth-about-plantations/
7 Executive Commissioner Simon Cooper to Premier Paul Lennon, 23 March, 2007.
8 Since 2005, 20 polls on the mill have been conducted state and nationwide. Overall, more than twice as many oppose the mill as support it, the opposition increasing in 2008-09. The latest, a Galaxy Poll in July 2009, reports that 74 per cent of Australians oppose the mill while only 14 per cent support it. http://oldtt.pixelkey.biz/index.php?/weblog/article/opinion-polls-four-shortened/
9 Tim Flannery, Here on Earth, Text Publishing, Melbourne, 2011, p. 168.
10 Alison Bleaney, 'Chemicals: The dismal failure.'See footnote 2 above.
*ENGOs: Environment Tasmania, The Wilderness Society, Australian Conservation Foundation
First published: 2012-07-10 03:44 PM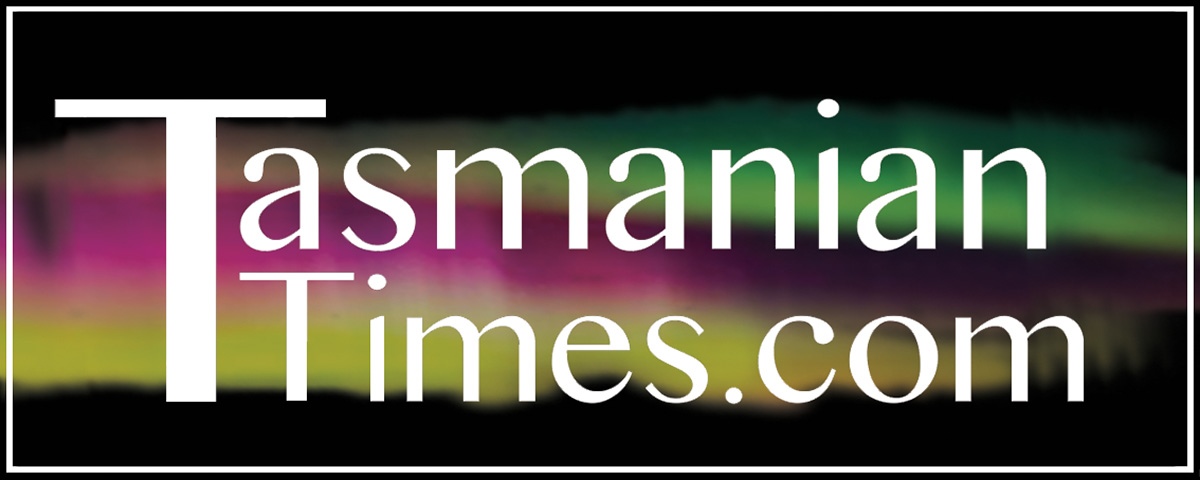 Author Credits: [show_post_categories parent="no" parentcategory="writers" show = "category" hyperlink="yes"]