ABC graphic of Nigel Burch, left, and Steve Kons
More evidence of the cultish, cartel world of Tasmania (as if it was needed), Out in the Cold, former top public servant Nigel Burch's detail in The Sunday Examiner of his ostracism because he dared to blow the whistle.
The story, by Matt Maloney, says:
FORMER Lennon government whistleblower Nigel Burch cannot get a job in Tasmania.
The once-highly skilled public servant has only worked three months since he was sacked four years ago from his role of government adviser to then-deputy premier Steve Kons.
This work was in the Northern Territory for an Aboriginal health service.
Mr Burch said he never set out to be a whistleblower but he would forever be known as the source of a shredded document that led to the downfall of a deputy premier.
"It all snowballed and became a nightmare," Mr Burch said.
"The government attacked me remorselessly, and one-eyed Labor people who did not understand what it was all about simply believed what the government said and vilified and abused me.
"I was cursed in the street and my property was vandalised.
"There was no way to tell people that I had nothing to gain and everything to lose by trying to do the right thing by them."
Mr Burch was forced into this position during an interview by the Director of Public Prosecutions office over the 2006 "deal for mates" scandal.
The DPP was investigating a deal which ensured the Tasmanian Compliance Corporation had a monopoly on building accreditation in Tasmania.
It was signed between then-deputy premier Bryan Green and corporation heads John White and Glenn Milliner – former Labor ministers.
Off-the-record discussion about irregularities in senior government appointments during Mr Burch's interview led to him reluctantly making a formal statement.
"After some agonising, I decided that the public interest had to be paramount and agreed on the condition that my complaint was strictly confidential," he said.
"Unfortunately, that confidentiality was not respected – through no fault of the DPP."
Mr Burch's allegations related to a document, signed by Mr Kons, then Attorney-General, which appointed Resource, Planning and Development Commission executive commissioner Simon Cooper as a magistrate.
Mr Burch was soon sacked from Mr Kons' Burnie office and a shredded document, handed over to the Tasmanian Greens, appeared in State Parliament a week later.
Mr Kons was forced to resign as deputy premier after denying knowledge of the appointment in public.
While Mr Kons has since found a new career, his old one as Burnie Mayor, Mr Burch said he was unemployable.
"As a direct result of the government's attacks and their consequences, I have not been able to obtain work in Tasmania," Mr Burch said.
"In the past four years, I have worked for just three months. The affair severely impacted upon my health and my finances.
"I believe that people must stand up for what is right, but I would have to say that as a result of my experience, I would not ask my friends and family to do so."
Nigel Burch has but compounded his sins in the eyes of Labor (and Liberal) faithful by daring to voice opinion on that out of control website, www.oldtt.pixelkey.biz, where he has been a regular commentator (Nigel Burch, here)
Thus it has ever been, perhaps from the days of Governor Arthur's Gulag …
Remember the treatment of acclaimed writer Richard Flanagan. He dared to question the legacy of a god-like Labor icon, one Jim Bacon (Reprised on Tasmanian Times here: 100 Days and The Emperor) and was promptly informed by now Labor Deputy Premier Bryan Green that he was a traitor to Tasmania; effectively told, Get out!
This is how Tasmanian Times preceded that republication, in July 2006, 100 days into the reign of Mr 17 per cent, Paul Lennon:
On the second anniversary of the article that sparked one of the more remarkable controversies in recent Tasmanian political history, we republish Richard Flanagan's celebrated article about Jim Bacon, in which he argued that the Bacon-Lennon government had sold Tasmania out to big business in disturbing ways.
Attacked in Parliament by now disgraced former minister, Bryan Green, as "a traitor to Tasmania"; told by Premier Paul Lennon that he and his writing were "not welcome in the New Tasmania", could it be two years later that Flanagan's article — which most of the Tasmanian media refused to run and which many in the media then attacked — foresaw correctly the terrible cost to Tasmania behind all the spin and hype?
Two years ago the powers that run Tasmania crucified Flanagan for what he wrote. But now it appears that history on an almost daily basis is proving him to have been right, as Tasmanians begin to add up the staggering, ever growing cost — now estimated to be in excess of a billion dollars — of all the strange deals with mates, from Richard Butler to Basslink to the Bass Strait ferries, to which his article first drew national attention.
For Paul Lennon's government, one hundred days into their hapless reign, who are in so many ways now merely paying the cost for the arrogance and sleaze of the Bacon years, this other anniversary is, no doubt, yet one more skeleton in the cupboard about which they would much rather not be reminded.
100 Days and The Emperor, here
Toe the line or you don't work in Tasmania. How true. How sad:
If only we could rise above it.
We can, but we have to realise we are free, first … We have, perhaps, to be able to own something of these words, written as Tasmanian Times' Position Statement before the March 10 State election, which brought into being, the current government …
Here We Stand
THIS IS one of the most momentous weeks in Tasmania's history.
A week when Tasmanians can seize the future.
Or remain trapped, tentative, terrified; chained by the shackles of the past.
Make no mistake.
The Masters and Overseers want you to remain in the stocks. Just as too many Tasmanians have been since the rough cargo of the UK's most unwanted first touched this island. First encountered its native born; first embraced and brutalised them.
Fear is embedded deeply in this island. From the fear of the unknown of the first settlers; to the fear of the invader of the first inhabitants; from the fear of the stalag of Governor Arthur to the fear of the wild of the edge-dwelling settlers and free-spirited Van Diemonians.
And so it has been in all Tasmania's settler history. A fear. A fear that we might not measure up; that we might not be good enough; even that we might not survive.
And we have clung, desperately, to a cargo-cult mentality, which has tugged its forelock and assumed that others know better. That unless we fall at the feet of corporate masters, bleeding our offerings of cheap power and ample resource, they will reject us … and we will be lost.
Do not fall for it.
Do not fall for the Jurassic Bark of old men like Robin Gray, Paul Lennon, Tony Rundle, Michael Field.
Cast off fear.
There is no certain future.
The truth is; there never has been.
Only a belief in the goodness of each other; that things can be better; more moral; more truly human.
You have a stark choice on Saturday.
More Fear.
Or the uncertain, but fully-human future.
Seize it.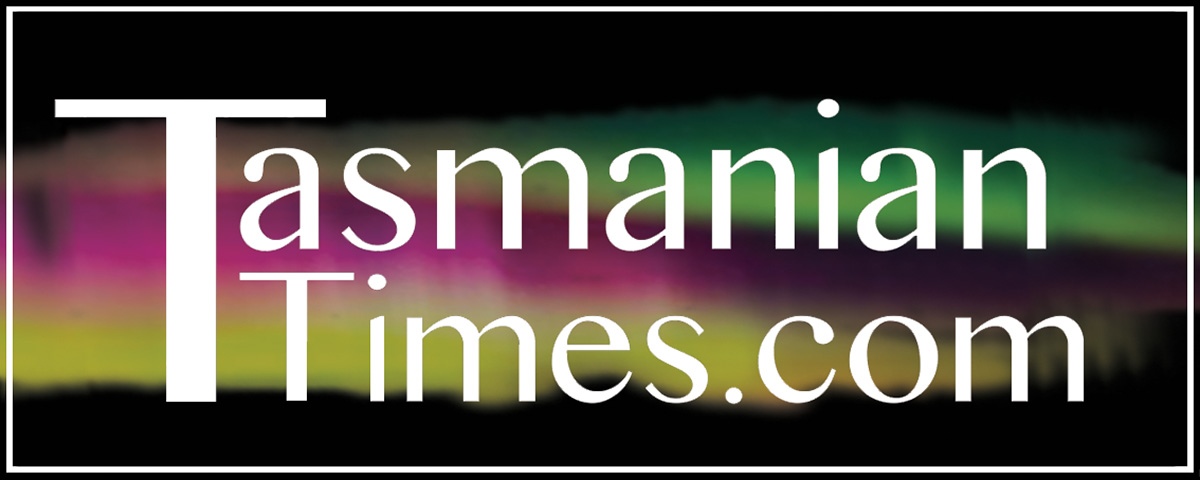 Author Credits: [show_post_categories parent="no" parentcategory="writers" show = "category" hyperlink="yes"]