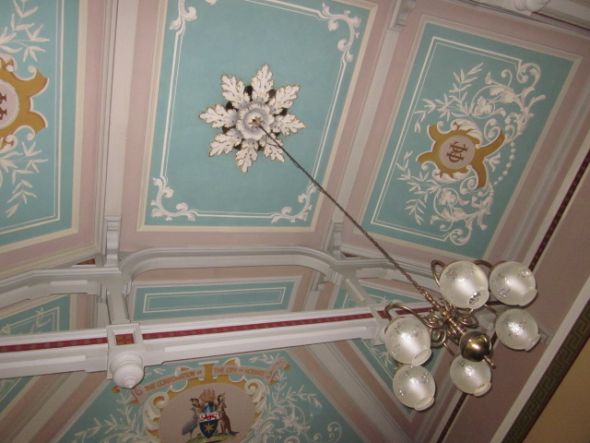 The Ceiling: It's lucky it's ornate, providing plenty of detail for aldermen to peruse when things are so boring beneath that gazes rise and stay there, for ages. It was rarely resorted to at this meeting …
Hobart City Council
Open meeting: Monday 27th February 2012
5pm Hobart Town Hall Macquarie St
Present: Lord Mayor Damon Thomas, Deputy Lord Mayor Ron Christie, Aldermen Rob Valentine, Jeff Briscoe, Helen Burnet, Philip Cocker, Bill Harvey, Sue Hickey, Leo Foley.
Leave of Absence: Aldermen Marti Zucco, Eva Ruzicka, Peter Sexton.
Some agenda items
Communications from the Chairman
Christie referred to the recent delegation from Yaizu, Japan, one of Hobart's two sister cities. This had been met by himself, LM Thomas and Valentine. Christie now proffered the gifts left for each of the aldermen, four of which were larger than the others and named specifically for those aldermen who will be going to Yaizu. Three of these aldermen were absent.
For the rest, it was a case of 'spot the children' who couldn't, and didn't, wait til proceedings were over to unwrap their presents.
275 Liverpool Street – Application and Change of use from Flat to Welfare Institution.
As explained by Foley, if the application were refused only part of the development could be used as supported accommodation.
This motion was passed unanimously.
Queens Walk, Cornelian Bay – Cornelian Bay Boathouse Restaurant – partial demolition, Extensions and Alterations and Intensification of Use (Restaurant/Take-Away Food Shop)
Burnet clarified that this was essentially a straightforward extension to the existing premises with no negative impact.
The motion was passed unanimously.
State Architect – Retention of Role
The motion covered the intention of Council both to communicate to State Government its support for retention of the role and to approach Mr Peter Poulet to ascertain if he would be able to continue as a member if the Council's Urban Design Advisory Panel.
The Development and Environmental Services Committee (DESC) urged that the role be retained for the benefit of overall city and regional development. As Burnet talked to this Briscoe succumbed to gift curiosity, with rustling.
Cocker referred to his recent reading of the Capital City Plan, in which the work of the State Architect (Peter Poulet) was evident and for which he should be thanked. The Plan, said Cocker, was proof of the State Architect's value.
Valentine said he would echo Cocker's views, and did.
In summing up Burnet concurred with both Cocker and the echo, adding that there had been some frustration on the part of the State Architect in relation to ground level support for the role.
The motion was passed unanimously.
Greater Hobart Mountain Bike Master Plan – Final Endorsement
This involves upgrading works to be programmed for the priority trails for the next three years, to be funded by the Bushland and Reserves Asset Replacement Program.
As Briscoe introduced the motion it was Valentine's turn to try opening his gift. Fiddle, fiddle, too noisy, give up.
Briscoe referred to the plan as being 'part of a wave of more adventure tourism for Hobart'.
Burnet fully supported the motion, seeing such a co-ordinated effort as being beneficial to both cyclists and walkers. Her reference, mid speech, to middle aged men in Lycra, brought Christie to his feet.
"And women," he insisted.
"The potential to attract a major event should not be underestimated," Burnet continued.
Harvey was also supportive of this "important phase in the development of the mountain". Often, he said, when up there walking, he bumps into Cocker, cycling.
Valentine said the important thing about the mountain is "that it's a place where people play", and that he had initial concerns for the safety of walkers on shared tracks. He recommended careful signage, though he was sure this had already been taken care of by the officers concerned. He then congratulated said officers, traversed a bit of history, roped in a reference to tourism and finally endorsed the plan, sure it would pay good dividends.
An amendment to include all stakeholders in marketing plans was passed, as was the substantive motion, unanimously.
106 Cascade Road, South Hobart – Gurdwara Sahib Tasmania – Request for Land – Community Consultation Proposal
Coyly referred to as a request from a 'particular organisation', by Cocker, this asked for use of the site by Gurdwara Sahib Tasmania to construct a Sikh Temple. Council has decided, "wisely, in my view, to go for full community consultation first", said Cocker in putting up this motion from the Finance and Corporate Service Committee, of which he is Chair.
Christie hoped that the request progresses successfully, fitting as it does with Hobart's other demonstrations of a desire for global unification and acceptance.
The motion, including community consultation, was passed unanimously.
Gambling Issues in Hobart
On the basis of an email from the General Manager of the Australian Hotels Association, to the Lord Mayor, forwarded to all aldermen on the day of this meeting, Christie moved that this be referred back to committee. This, with the possibility that the matter go to a workshop, was agreed to with the three Green aldermen – Cocker, Harvey and Burnet voting against that motion.
Both Christie and Zucco, at the Community Development Committee Meeting at which this issue was first addressed, seemed to regard the idea of Council taking part in minimising harm to addicted gamblers as a Greens Party agenda item and therefore to be resisted.
Zucco said, during debate on the item in that forum 'I'm not going to be in a meeting where I'm railroaded and pushed'. This was immediately followed by Christie thanking those individuals who had spoken for and against Council involvement and the officers who had worked on the proposal but refusing to comment on it here where 'it's clearly a Green Party agenda'.
These two worked in concert on that item at committee level so it was interesting to see that without Zucco in the chamber at full Council meeting Christie made sure the matter was not debated there, but went back to committee.
It is also interesting to see that while the Greens name up their party allegiance, although they do not always agree, or even treat each other with unfailing deference, other apparently rock solid alliances are not named up or acknowledged. Christie and Zucco for instance, seem joined at the knee in their marionette like response to most things 'Green'. In the light of that TT has to wonder if, for instance, Harvey's gratuitous offering of the fact that he often bumps into Cocker on the mountain is tantamount to baiting. If it was, it fell flat as the one most likely to bite first, Zucco, wasn't there.
Draft Alcohol, Tobacco and other Drugs Action Plan – Consultation Framework
This proposed that the plan be released for limited community sector consultation with members of the Council's Alcohol & Other Drug Strategy Reference Group. Following this a final draft would be submitted for Council approval in April 2012.
Harvey, as Chair of the Community Development Committee, moved the item and then nominated himself as Chair of the reference group. This was on the grounds that he was the alderman who showed most interest and attended most meetings. Treated as an amendment this was moved by Burnet, seconded by Hickey then passed unanimously along with the substantive motion.
Support for Fair Trade in Hobart
This item suggested Council approve the purchase of FairTrade "tea-room" products, including tea, coffee, sugar and hot chocolate. It also proposed that Council provide limited support towards the establishment of a community-based FairTrade Steering committee, currently in the early stages of development.
Burnet said she was pleased that this item had come back to Council in a favourable light, having first been raised by Cocker.
"The more community and local government involve themselves in this type of ethical approach the better," she said.
Council Acting as Planning Authority
This reported on the legal advice received from Stephen Estcourt QC in relation to aldermanic behaviour and conflict of interest. He advised, in summary, 'that aldermen are entitled to participate in discussions with developers, interested third parties after a development application is lodged and to attend private and public meetings and briefings in relation to an application that will be determined by the Council as a planning authority under the land Use Planning and Approvals Act 1993. Care should be taken to avoid offending the rule against prejudgment or bias. There is no reason for council to change its present practices and procedures.'
Officer recommendation was that this advice be accepted, with which DESC agreed.
(This advice was sought after Council, acting on previous legal advice in relation to Aldermen attending a Save Ancanthe Park public meeting found itself without a quorum to decide on the relevant development application, which an officer then decided on, in its favour.)
Burnet described the first legal advice council had received as being very cautious, this as more robust. She referred to the Victorian publication, Ensuring Unbiased Decision Making which could be used as a guide by Council.
The report was favourably received by Aldermen though Christie wanted to establish that neither set of legal advice received was therefore incorrect. The General Manager confirmed that no advice could, in purely legalistic terms, be regarded as correct until tested in the courts.
Christie also suggested taking this motion, on receipt of advice from DPAC, back to a Code of Conduct Workshop. This he said was because it may not already be addressed there and he wanted to ensure this situation didn't arise again.
Foley moved to explore the possibility of Council finding a way to support those members of the public whose lives and wallets had been impacted by their appeal against the officer- based approval of the subdivision near Ancanthe Park.
"We should shut the doors and deal with that in Closed because it's currently in mediation before the Tribunal and we could prejudice our situation," was the General Manager's advice.
Foley withdrew his motion which now goes to the closed portion of the next Finance Committee Meeting in March.
The suggestion that the advice from DPAC on the acceptance of Estcourt's legal advice go back to a Workshop was passed, with Cocker, Harvey and Burnet voting against that motion.
The Ceiling
It's lucky it's ornate, providing plenty of detail for aldermen to peruse when things are so boring beneath that gazes rise and stay there, for ages. It was rarely resorted to at this meeting.
Seventeen items, no Ruzicka, no Sexton and no Zucco. The meeting was over in less than an hour. Another gain for the night was the move of the Closed Portion of the Meeting to the end of the evening's business, which is where it appears on the Agenda.
Members of the public who have believed that the Open Council Meeting will start at 5pm, as stated on the agenda, have often found themselves waiting indefinitely while aldermen debate secretly behind locked doors.
The machismo-fed bellowing that occasionally penetrates the padded chamber doors is little consolation to those with concerns strong enough to induce them to attend a Council meeting. Realising that there is no way of knowing how long the closed section might take they leave, taking a healthy degree of participation and scrutiny with them.
First published: 2012-02-28 06:12 AM
• Future Transport Tasmania
FOR BETTER PUBLIC AND RAIL TRANSPORT
MEDIA RELEASE
Wednesday 28th February 2012
CAPITAL CITY PLANS TO FAIL
Transport objectives contradictory and inefficient
Future Transport Tasmania (FTT) today released it's submission in response to the Planning Commission's Draft Hobart Capital City Plan (the plan). FTT responded solely to the transport related objectives and initiatives contained within the plan.
FTT found the plan drastically lacking common sense, with inherent contradictions contained within the plan between the broad objectives and the actual projects listed for completion. FTT found it extraordinary that rail, the most effective way of reducing carbon emissions and improving transport efficiency, was given little or no relevance according to the plan. FTT also found that although the plan featured an objective involving improving public transport patronage, large and expensive road construction projects were listed as initiatives, which would directly affect the viability of any public transport services.
Future Transport Tasmania spokesperson Toby Rowallan said: "If this is to be Hobart's overall guide to future planning, then the Government and Local Councils will be planning to fail. The Greater Hobart area will be doomed to suffer from expensive and ineffective road projects that will merely perpetuate the status quo that is our unsustainable transport system. We have called for an extension to the time available for public comment and we suggest that information regarding this plan be sent to all households in the Greater Hobart region. The future is too important for hasty decision-making, nor for the mistakes of the past to be repeated. We found this plan to be drastically flawed, and we believe the future transport policy of this state should be completely re-assessed," finished Mr Rowallan.
Download Future Transport Tasmania's submission:
Draft_Hobart_Capital_City_Plan_FTT_submission.pdf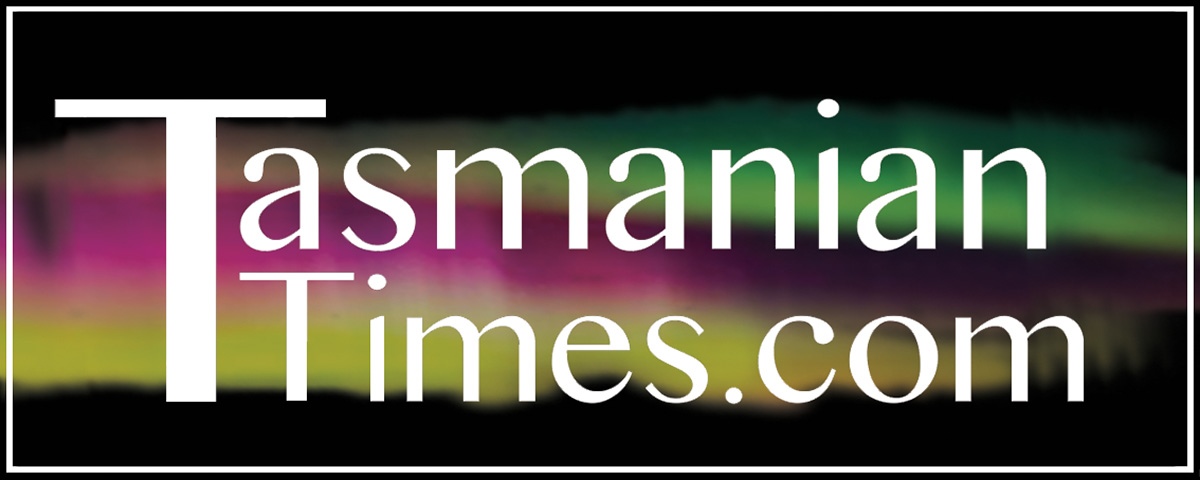 Author Credits: [show_post_categories parent="no" parentcategory="writers" show = "category" hyperlink="yes"]