Editor: In all the crazed language of anarchy and eco-terrorism unleashed in recent days by the forest industry and replayed unquestioningly by its megaphones in the media, not least the Tasmanian ABC, (Today's reports, HERE, HERE, and HERE) key questions have gone unasked and unanswered. Perhaps the most important of these is exactly what power does the Leg Co have? If it votes down the IGA is the IGA then dead or will it continue? TT asks these questions and hopes that the principal players involved—TWS, ET, FT, FIAT and the legislative councillors themselves—might offer concise explanations to our readers and the Tasmanian public so that we all know what is happening and what it exactly means.

Andrew Nikolic, above, right, talks to a police officer.
Peaceful protest disturbed by aggressive Liberal candidate
Today, Code Green's 'Green Statues' held a peaceful and silent vigil in the Launceston Mall to draw attention to the continuing plight of Tasmania's native forests; and in solidarity with Miranda Gibson's 'ObserverTree project. This was held in conjunction with actions all over the world.
"Code Green is calling on Ta Ann to make a transition out of native forest." Said Code Green Spokesperson, Jared Irwin,
"Ta Ann have been falsely marketing their products internationally as 'eco friendly';" said Mr. Irwin.
"The truth has been revealed to their investors that Ta Ann source wood from Tasmania's HCV forest. Ta Ann could rectify their market problems with a transition out of native forest and into sustainably managed plantations."
An attempt to disrupt today's peaceful action was made by the aggressive behaviour of Liberal candidate from Bass, Andrew Nikolic. The statues stood silently while Mr Nikolic's verbally abusive behaviour towards both Code Green and members of the public escalated, to the point that complaints were made and both the police and the council were called.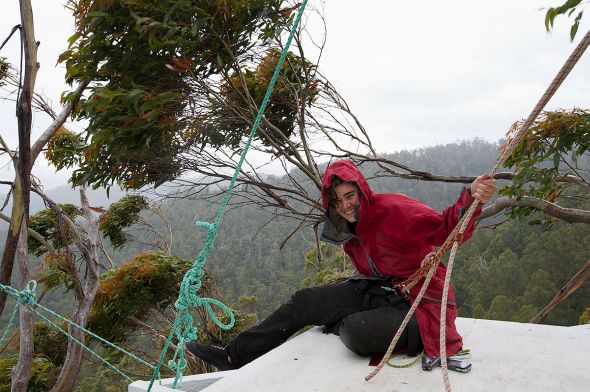 Pic: Alan Lesheim

Pic: Alan Lesheim
Earlier: Code Green have today joined actions from all around the world to support Miranda Gibson's ObserverTree action and for an urgent call for forest protection in Tasmania.
The actions are calling on Panasonic, Sekasui House, Daiwa House and Eidai to stop buying Tasmanian forest destruction originating from Ta Ann. Members of Code Green are today demonstrating in the centre of Launceston as Green Statues. The statues will stand peacefully silent as a refection of what must happen in our globally significant 'High Conservation Value' forest.
Conservationist Miranda Gibson has been perched 60 metres at the top of a tree in Tasmania's forest for over 2 months now. The area is part of 430,000 hectares that was promised protection by the Australian Government six months ago, yet continues to be logged to supply wood to Ta Ann. Ms Gibson's vow to remain in the tree until that promise is honored has drawn international attention and been the catalyst for the global community to today join her in the call for forest protection.
"It is an international disgrace that the Australian government promised the protection of these forests six months ago now. Yet logging has actually increased in the areas that are ear-marked for forest reserves" said Miranda Gibson
"Ta Ann has been falsely marketing their products internationally as being 'eco-friendly' when the truth is that these products come from 'HCV' forest destruction."
"Until Ta Ann make a transition out of Tasmania's controversial high conservation value forests, it is inevitable that global market demand for their product will continue to decline."Spokesperson for Code Green Jared Irwin said.
Action details: Green Statues 11:00 – 12:00 today in the Brisbane St Mall, Launceston.
Actions will also be happening in:
Australia: Hobart, Launceston, Derwent Valley, Tyenna, Florentine, Deloraine, Brisbane, Sunshine Coast, Gold Coast, Roma, Mount Tambourine, Belligen, Lismore, Sydney, Blue Mountains, Alice Springs, Perth, Adeliade, Melbourne, Bell Bay, Canberra, Newcastle, Ipswich, Port Keats, Broome, Cairns.
International: Italy, England, USA, Peru, Ecuador, Japan, Germany, Spain, New Zealand.
• Bob Brown: Burke rewrites Gillard's forest promise
Environment Minister Tony Burke has issued a statement rewriting Julia Gillard's 7 August 2011 promise to "immediately" protect Tasmania's iconic forests. Burke enlisted the backing of three other ministers.
Australian Greens Leader Bob Brown said the statement is remarkable in rejigging Ms Gillard's promise to protect the 572,000 hectares of forests to now say "timber supply requirements for industry MIGHT be combined with protection of iconic forest areas". If the forests are protected, more than 900,000 hectares will remain vulnerable to logging for companies such as Ta Ann.
"This minister is pulling the rug from under the PM and her commitment. Tony Burke went to Hobart with the Prime Minister to sign the agreement and now, with her missing, he is rewriting it. It is a pretty shabby thing for this environment minister to be doing," Senator Brown said today.
Yesterday on Tasmanian Times: MLCs accused of blackmailing democracy in move to ditch deal
• Environment groups highlight way forward for forests and jobs
14 February 2012
Press conference. 2pm TODAY. Parliament House Lawns, Hobart
Huon Valley Environment Centre, Markets for Change and The Last Stand have reiterated their calls for Ta Ann Tasmania to stop misleading their global markets by advertising their product as being plantation grown, and to stop driving the ongoing logging of high conservation value forests in Tasmania.
'Ta Ann need to publicly commit to stop buying products that come from the ongoing destruction of Tasmania's high conservation forests. There is no economic or environmental future in a business as usual scenario' said Tim Birch, CEO of Markets for Change.
'What we saw yesterday was trenchant denial of the reality of the situation – Japanese consumers want genuine eco product and as in all markets if you don't sell product that the consumers want, they simply won't buy it.'
'Vested interests and their supporters in Tasmania are far too comfortable with the politics of blame and name-calling to acknowledge that the way to peace in a world that wants eco product is to get serious about actually meeting those market claims. Ta Ann, the Tasmanian logging industry and the Legislative Councillors can provide people with job security by backing forest protection and a transition out of native forest destruction, with words and actions' said Jenny Weber, Campaign Coordinator of the Huon Valley Environment Centre.
'We fail to see how it is a problem to want a peace deal that actually stops logging the key forests in question. It is entirely reasonable that Ta Ann's Japanese customers, who have been misled as to the source of the wood, would insist on the product meeting its claims, or else refuse to buy. The global market does not want to buy Tasmanian forest destruction and Ta Ann's workers have been placed in jeopardy by this reckless advertising' said Ula Majewski, Campaign Manager for The Last Stand.
Jenny Weber, Tim Birch, Ula Majewski
• Environment groups remain committed to a lasting solution for forests and people
The Australian Conservation Foundation, the Wilderness Society and Environment Tasmania today reaffirmed their commitment to the Statement of Principles, and to negotiations with signatories on the implementation of the agreement.
The groups noted that yesterday's announcement by Ta Ann demonstrates the urgency in finding a lasting solution and also noted Ta Ann's public request that all signatories to the Statement of Principles get on with the job of resolving the long-running conflict over forests in Tasmania.
It remains the view of TWS, ET and ACF that implementation of the Statement of Principles remains the only plan that can resolve the Tasmanian forests conflict, protect our native forests and develop a strong, sustainable timber industry.

Lara Giddings addresses the media
• Lara Giddings, MP
Premier
Tuesday, 14 February 2012
International sabotage condemned
The Premier, Lara Giddings, said today she shared the frustration and anger of the forest industry over the actions of extreme conservation groups in international markets.
Ms Giddings said the activities of Markets for Change, the Huon Valley Environment Centre and others had cost jobs in the industry and had put the entire Intergovernmental Agreement in jeopardy.
I have always said that this process would only succeed if compromise, goodwill and maturity were shown from both sides, Ms Giddings said.
Unfortunately, while 99.5 per cent of the claimed 430,000 hectares has been placed under an interim conservation agreement, fringe environment groups continue to disrupt lawful activities and sabotage the Tasmanian forest industry in international markets.
The fact that their protests have cost jobs at Ta Ann is reprehensible.
Ms Giddings said the Government, through the Department of Economic Development s skills unit, was working with the affected Ta Ann employees to try and identify alternative work.
These are real people with families who are now out of work because of the irresponsible actions of these fringe groups.
I cannot control the actions of these groups but I question what they hope to achieve.
If it is an outcome of no reserves and a return to the conflict of old then that s what they are well on their way to delivering.
The Legislative Council has sent the message loud and clear that it will not pass any legislation if the damage to the industry continues. Quite frankly, I share the concern and frustration of those members.
If conservation groups are serious about forest reserves, they need to abide by the outcome of the independent and scientifically based Verification Group and accept a balance that protects forest jobs.
Ms Giddings said she would be writing to Markets for Change, the Huon Valley Environment Centre and Still Wild, Still Threatened expressing her concern about their activities.
I will also be writing to the ENGOs that are signatories to the Statement of Principles, urging them to do what they can to rein-in the activities of these fringe groups.
The State Government will not abandon this agreement because we firmly believe that it provides the best possible chance of managing the change that is occurring in the industry. The IGA is the response to that change, it is not the cause.
Tearing up the IGA means abandoning struggling forest workers and denying regional communities $100 million over the next 15 years.
Just last week we saw the immense benefits of this regional assistance money, with investments in the dairy and salmon industry which will create more than 300 jobs.
There is a bright future for regional communities, but it relies on everyone working together towards a common goal.
• Misguided Tasmanian Loggers attack art therapy group in Huonville.
Misguided pro-logging protestors today have attacked an Art Therapy group situated next door to the Huon Valley Environment Centre.
"Today's protest organised by the CFMEU arrived at the HVEC to find it empty, as volunteers who staff the centre had gone home for the day.
"Not happy with leaving empty handed, they moved next door to a small art therapy group not associated with the Centre where three young women were getting counselling.
"Loggers hurled abuse at them and demanded to see me. Despite being told no-one from HVEC was there they continued violently towards the owner, " said Ms Weber
"The HVEC fully supports the right to non-violent protest; it is a basic democratic right but we do not support verbal attacks on innocent bystanders and children," said Ms Weber
"The well orchestrated attack campaign on our organisation from the Prime Minister's office, through to the Labor and Liberal parties, the unions and the misguided and frustrated local workers, is ill founded," said Ms Weber.
www.huon.org
www.nativeforest.net
• Forest protection message to be beamed around the world
Tomorrow will see actions happen in cities and towns across Australia and the world, calling on the corporate customers of Ta Ann to cease purchasing wood from Tasmanian forest destruction.
The global 24 hours of action started today and culminates in a massive show of support tomorrow, with over 40 actions confirmed so far.
This global action builds on the action of conservationist Miranda Gibson, who has spent 65 days so far at the top of an old growth tree near the Styx Valley. Ms Gibson's commitment to remain in the tree until the forest is protected has inspired people right across the world.
Ms Gibson will be bringing Tasmania's forest protection message straight from the trees to the people of the world, using Skype to speak at action locations right across the globe. Actions will also include images of Tasmania's forests projected onto buildings in prominent locations, music, street theatre and banners displays.
Miranda Gibson will speak to the media via a live internet feed at press conference on Parliament Lawns, Hobart, tomorrow at 12:30pm, joined by Jenny Weber from the Huon Valley Environment Centre.
"This next 24 hours will see people from right across the globe show their support for Tasmania's globally iconic forests. The international community is sending a very clear message to the Japanese corporate customers of Ta Ann that the global market will not accept the destruction of high conservation value forest" said Ms Gibson.
Press conference:
Hobart: Wednesday February 15th at 12:30pm, Parliament Lawns.
Still Wild Still Threatened is a grassroots community organisation campaigning for the immediate protection of Tasmania's ancient forests and the creation of an equitable and environmentally sustainable forestry industry in Tasmania.
www.stillwildstillthreatened.org
stillwildstillthreatened@gmail.com
• STOP SHOOTING THE MESSENGER ON FORESTS
Industry Restructure Only Way Forward for Industry
Nick McKim MP
Greens leader
The Tasmanian Greens said today that the best way to create prosperity and secure long-term jobs for the Tasmanian timber industry will be to end environmentally destructive forestry practices and to provide a product that the market wants.
Greens Leader Nick McKim MP said that environmental activists are not the cause of Ta Ann's problems, but are actually part of the solution.
"The first step to turn around market perceptions is stop trashing Tasmania's high conservation value forests," Mr McKim said.
"The markets are in collapse, and all that has been proposed this week is attacking free speech so that the industry can continue telling lies about a product that nobody wants."
"For these elected members to be advocating silencing free speech is a frightening attack on our civil liberties, and reminiscent of Zimbabwe under Robert Mugabe."
"Industry representatives trying to blame the messenger are wasting time focusing on the symptoms instead of the cause."
"Refusing to adapt and trying to lock in the status quo is just entrenching the old conflicts and locking the industry into a model that is a proven failure."
"Tasmanians deserve a forestry industry that actually delivers what it promises and what customers want, which is sustainably harvested timber products."
"The Greens fear that Legislative Councillors are being duped by Forestry Tasmania and the Liberals into believing that there is an economic future in trashing Tasmania's high conservation value forests."
"It's unfortunate to see Legislative Councillors joining Ta Ann in scapegoating conservationists for these job losses, which are actually the result of markets making an informed decision about what they are buying."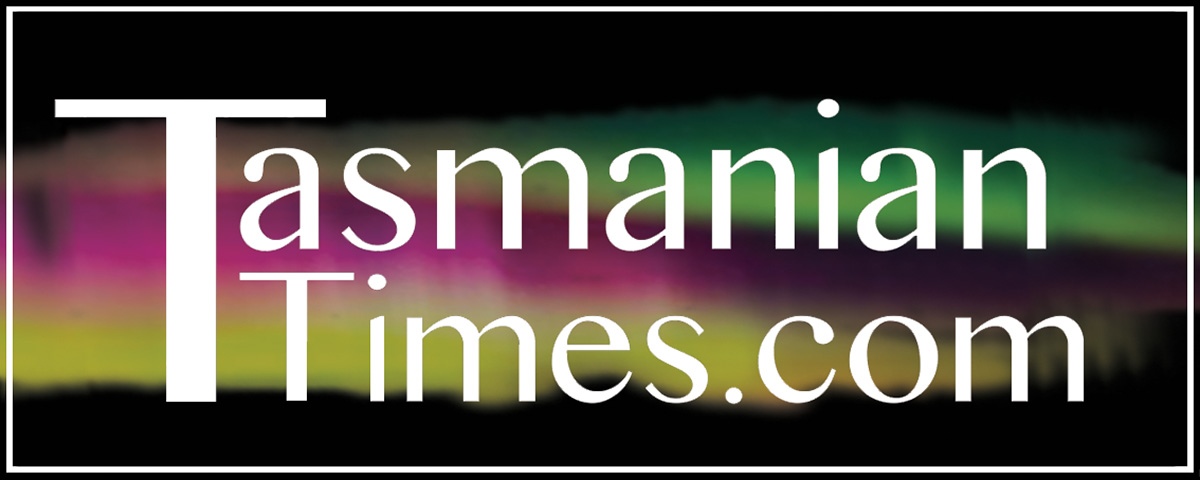 Author Credits: [show_post_categories parent="no" parentcategory="writers" show = "category" hyperlink="yes"]