Mexico: View all action photos: HERE
Your correspondent Wishy (#19, Police called as Nikolic heckles. Misdirected abuse in Huonville. Global protest ramps up, HERE) asks: "what evidence do the MLC's or any other Ta Ann supporters have that NGO information campaigns are actually what has impacted Ta Ann's profitability and led to the shut down of capacity? Has anyone looked at Ta Ann's financials in this regard? Are they available for scrutiny?"
The answer to the last part of the question is 'yes'. Ta Ann Tasmania Pty Limited files annual financial statements with ASIC each year.
The latest report for the year ended 31st December 2010 reveals a company turning over $37 million pa with total assets of $82 million. It employed 133 people.
That's the good news.
TAT's gross profit was a negative $5 million. In other words the direct manufacturing costs including wages and payments to FT exceeded the revenue by $5 million.
After overheads of $9 million and other adjustment for finance and FX the overall loss was $11 million.
The operating cash flow was also negative, this time a negative $9 million. TAT survived by a cash injection from a related party.
As is common with forestry companies, TAT was in breach of lending covenants so all of its bank debt was classified as current as it was repayable immediately.
This of course led to the all too familiar sight of a forestry company struggling to satisfy the going concern basis.
The bank debt of $10 million was repaid shortly after the end of the year with a cash advance from an associate; hence Directors were able to sign a solvency declaration.
TAT's woeful cash flow also meant it was unable to pay trade and other amounts to associates, and $20 million out of a total of $26 million was converted to equity, more shares were issued in other words.
TAT's assets of $82 million are virtually all represented by a TCFA grant of $9 million yet to be written off and loans and equity from offshore associates. To date $18 million of equity has been eaten away by losses.
But the Sugar Daddy so far has been able to help when needed.
There are no overall winners if losses continue. And of course the social losses are much larger, because there is no way FT makes a cash profit from its sale to TAT of 300,000 tonnes. If it did it would be crowing from the rooftops. What's the stumpage return… $35? FT won't ever tell us and I'm not sure? Say $10 million in total? Overheads? Roads? Replanting? Not to mention the 'costs' of the fallen trees entrusted to FT by us the benevolent owners, which FT conveniently and continually ignores.
In short, TAT is a dog, unprofitable, cash flow negative and completely and utterly dependent on overseas associates.
I've yet to see this model paraded as a desirable basis for a long term sustainable industry.
From a public policy perspective I'm not sure it's an appropriate issue at this time for people to take such a critical stand.
Colonel Custer comes to mind.
John Lawrence was employed as an economist working interstate before returning to Tasmania where working life has been spent as an accountant in public practice. He was the 2011 Tasmanian Times Tasmanian of the Year for his ability to translate arcane company financials by lucid analysis. He warned years ago of the looming financial disaster facing Managed Investment Schemes, and the truth about Gunns Ltd. All his analyses on Tasmanian Times, HERE
• The Way We Were: Logging in the Styx, long long ago …

Picture: Matt Newton

Pic: The Last Stand
• Actions spread across the globe in a call for real forest protection in Tasmania
Today in a massive international show of support for Tasmanian forest protection, over 40 actions have are taking place across the world. From Japan to Europe, from Wollongong to Hobart these actions are urgently calling on Ta Ann's corporate customers to stop buying Tasmanian forest destruction. In Hobart this morning, 20 community members gathered at the Ta Ann office in Hobart to display a massive 40 meter long banner.
Today's action has been coordinated by Still Wild Still Threatened and the Huon Valley Environment Centre, who have vowed to continue their campaign to expose the truth behind Ta Ann's veneer. Spokesperson for Still Wild Still Threatened, Miranda Gibson, has been perched 60 meters at the top of a tree for over 2 months now, in a forest that was promised protection yet is due to be logged to supply wood to Ta Ann. Ms Gibson's vow to remain in the tree until that promise is honoured has drawn international attention and been the catalyst for the global community to today join her in the call for forest protection.
"It is an international disgrace that the Australian government promised the protection of these forests six months ago now. Yet due to the Ta Ann's insatiable appetite for native forests, logging has actually increased in the areas that are ear-marked for forest reserves" said Miranda Gibson "Today's action sends a clear message to Ta Ann and their corporate customers that the international community will not tolerate the destruction of these globally significant forests. We are asking Ta Ann's customers including flooring manufacturers Panasonic and Eidai and Japan's largest home building companies Seksui House, Daiwa House to cease purchasing from Ta Ann while the company is driving the logging of Tasmania's native forests" said Ms Gibson.
"Globally the ancient forests of Tasmania are significant and unique. Tall eucalypt forests are threatened from logging. A long term vision that gives Tasmania a unique reserve system, protection for endangered species habitat and taking real action to mitigate climate change is what we are standing up for. With people around the globe and around Australia, we are calling for the protection for these treasure houses of species," Huon Valley Environment Centre's Jenny Weber said.
Action details:
12:00pm: Community gathering at Parliament Lawns, Hobart
Still Wild Still Threatened is a grassroots community organisation campaigning for the immediate protection of Tasmania's ancient forests and the creation of an equitable and environmentally sustainable forestry industry in Tasmania.
www.stillwildstillthreatened.org
stillwildstillthreatened@gmail.com
PO Box 295. South Hobart TAS 7004
follow us on facebook, twitter and myspace
Watch our videos on youtube
• Daring Black Mountain Tower Protest Shames Ta Ann
Two people and a banner are suspended from the side of Black Mountain
Tower in Canberra as part of a global day of action for Tasmania's
native forests threatened by logging giant Ta Ann.
The action, inspired by Miranda Gibson's 65-day tree-top protest in
Tasmania, is one of over forty protests on four continents urging
companies to stop buying from Ta Ann, who now drive the native forest
logging of Tasmania since Gunns' fall from grace. Whole-sale
clear-felling has sharply increased in high conservation value forests
promised protection by Julia Gillard and Lara Giddings.
"Tasmania's iconic forests are essential carbon sinks and stand as a
beacon of hope to future generations around the globe," said
NoPlanetB.org spokesperson Jonathan Moylan.
"Why do politicians claim they are protecting high conservation value
forests when their destruction is more intense than planned?"
"From Canberra to Wolloongong, from Japan to Europe, the
international community is today sending a clear message to the
corporate customers of Ta Ann that Tasmania's world class forests need
urgent protection," said Still Wild Still Threatened spokesperson Ms
Gibson from her 60m-high tree platform.
Tens of millions of taxpayer money has been poured into the shamefully
unprofitable logging industry in Tasmania as part of a "logging exit
strategy" despite the fact that logging in areas promised protection
has increased and no forest areas directly threatened by logging are
being protected.
The banner reads "Stop Logging Tassie Forests" and photos and video
are available on request.
• Loggers must be non-violent: Brown
Forestry workers have every right to protest, but they should steer clear of violence and harassment if they want community respect, Australian Greens Leader Bob Brown said today.
"Harassment by forestry workers and their supporters this week in Launceston and Huonville should not be tolerated by our political and community leaders.
"I expect those people who have whipped up the misinformation campaign about conservationists over the past few days to renounce any form of violence.
"This includes those legislative councillors who have decided to threaten a ban on environmental legislation.
"It also includes CFMEU organisers who organised yesterday's abusive protest in Huonville.
"The rally being organised for Huonville on Saturday should be a chance for workers and their supporters to vent their frustration at Ta Ann and its multi-millionaire owners in Malaysia.
"Overseas customers want environmentally sustainable wood. All Ta Ann had to do was refuse to accept wood from the 'protected' 572,000ha of forests and their markets would have stayed strong and workers would have kept their jobs," Senator Brown said.
• ABC Online: Upper House forest law threat labelled premature
A Tasmanian Independent Upper House MP is accusing his colleagues of acting prematurely in threatening to block legislation to implement the forest peace deal.
Kerry Finch is the only Independent MLC who has refused to block legislation to create new forest reserves.
The 12 Independents made the threat after timber processor Ta Ann announced job losses, blaming green groups' misinformation campaigns with its overseas buyers.
The Member for Rosevears says he needs more information about markets in Japan and China.
"I only had before me what Ta Ann were saying," he said.
Mr Finch believes his colleagues have acted in haste.
"We are a house of review, we must remember that," he said.
"I don't have legislation to review."
The forest peace deal relies on the Upper House approving new forest reserves.
Western Tiers Independent MLC Greg Hall has defended the joint move.
"We are single member electorates and we do know the feeling that is emanating from those electorates and I think that in this case we were quite within out rights to come out and say enough is enough in this case and to draw a line in the sand and say we are very concerned," he said.
"We're acting in the best interests of Tasmania."
Analyst sees block as imprudent
Political analyst Richard Herr says it seems imprudent for the Legislative Council to pre-judge legislation.
He has also questioned whether it is appropriate for MLCs to call on the Premier to discipline the Greens leader and Cabinet Minister, Nick McKim for failing to rein in green protesters.
"The Chamber was sailing very close to the wind in trying to direct the Government in how to discipline its own members, or indeed the Lower House in terms of disciplining one of its own members," he said.
"I doubt that they would have been very happy if the House of Assembly had instructed them.
"It's a fundamental principle of Parliamentary relationships that both house are responsible for their privileges."
Forest peace talks come to halt
In another threat to the forest peace deal …
Read the rest, ABC Online HERE
• Vica Bayley: Cool heads needed to hold onto opportunity for forest resolution
The Wilderness Society today called for cool heads to prevail as tensions over the future of forests and the timber industry threatened to boil over and destroy the best opportunity for peace in thirty years.
"Inflammatory and personalized commentary in the public debate risk dragging that debate into a polarized and dangerous slide backwards to the dark places it has been over recent decades," said Vica Bayley, spokesperson for the Wilderness Society.
"There is a process in train that offers the only opportunity for the foreseeable future to achieve a resolution to the long running conflict over logging."
"What we have seen this week should serve as motivation for all to reach a resolution that protects identified forests, supports industry restructure and moves Tasmania on from divisive debate."
"To not achieve this resolution will commit Tasmania to ongoing logging in important forest areas, corresponding campaign activity and a continuation of community conflict over forests."
The Wilderness Society stands ready to participate in stakeholder discussions to agree on the final shape of implementation of the Forests Agreement. Despite the announcement by Ta Ann this week, the company has publicly requested that all signatories to the Statement of Principles get on with the job of finding a solution.
• CHALLENGE FOR UPPER HOUSE TO GET WITH INDUSTRY TRANSITION
Or Remain Architects of Forestry Crisis
Nick McKim MP
Greens Leader
The Tasmanian Greens today accused members of the Legislative Council, Liberal party and vested industry interests of being architects of the crisis facing the forestry industry, saying their refusal to acknowledge changes in the market will entrench community divisions.
Greens Leader Nick McKim MP said that the main obstacle to achieving peace in the forests debate is the refusal by some to acknowledge the fact that the markets have spoken, and they do not want more of the same.
"Whether Liberal, Member of the Upper House, or Tas Ann Tasmania, those arguing for the status quo despite the crash in forestry markets are the actual architects of the crisis we are currently witnessing," Mr McKim said.
"Just recently independent consultants URS confirmed that the global forestry markets have crashed, and that Tasmania's business model is broken. Clearly locking the state into more of the same is irresponsible lunacy."
"If Ta Ann Tasmania chooses to misinform its customers over the fact that they are still sourcing timber from Tasmania's high conservation value forests, then that is their choice, and they have to accept responsibility for their customers' rejection when they discover the truth."
"This head in the sand attempt to try and deceive the markets that black is white, is dishonest, grossly irresponsible and will only see entrenched the destructive divisions within our community."
"Ta Ann does have a role to play in forging a solution, by announcing that they will transition out of high conservation value forests and into the established plantation resource. That will be supported in the markets, and provide job security for workers."
"The clear fact is that, despite its faults, without the IGA there is no Plan B, and those attempting to pull it apart at the moment will have to accept responsibility for locking forestry workers into a broken and dying business model, and guaranteeing the conflict continues," Mr McKim said.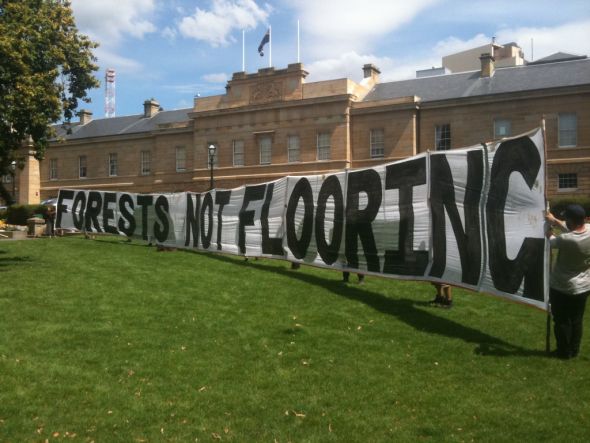 Parliament Lawns, Hobart

Miranda Gibson talks live to media outside parliment house, hobart from a tree sit in the Styx Valley.

Mexico


Brisbane
• 48 actions across 13 countries as the world calls for Tasmanian forest protection
Today was a major success for the campaign for Tasmania's forests, with an absolutely massive show of support from people across the world taking part in the global 24 hours of action.
Hundreds of people gathered across 48 actions in 13 countries, including one pair of daring activists who abseiled the Black Mountain Tower in Canberra to display their message of support.
"The level of support that has come in from all reaches of the globe is phenomenal" said spokesperson Miranda Gibson. "From community actions in regional Aussie towns, to a massive banner drop in Canberra and from Japan to Europe to Fiji, the people of the world have really made a stand today for Tasmania's world class forests"
"This show of global support is an insipiration to continue with my commitment to remain at the top of this tree until these forests receive protection" said Ms Gibson who has spent the past 2 months at the top of a tree in Tasmania's threatened forests.
"We will be sending a letter and images of these actions to the Japanese corporate customers of Ta Ann, to let them know that the world supports the protection of these globally significant forests. We are asking these companies to cease buying from Ta Ann while the company is driving forest destruction" said Ms Gibson.
View all action photos:
HERE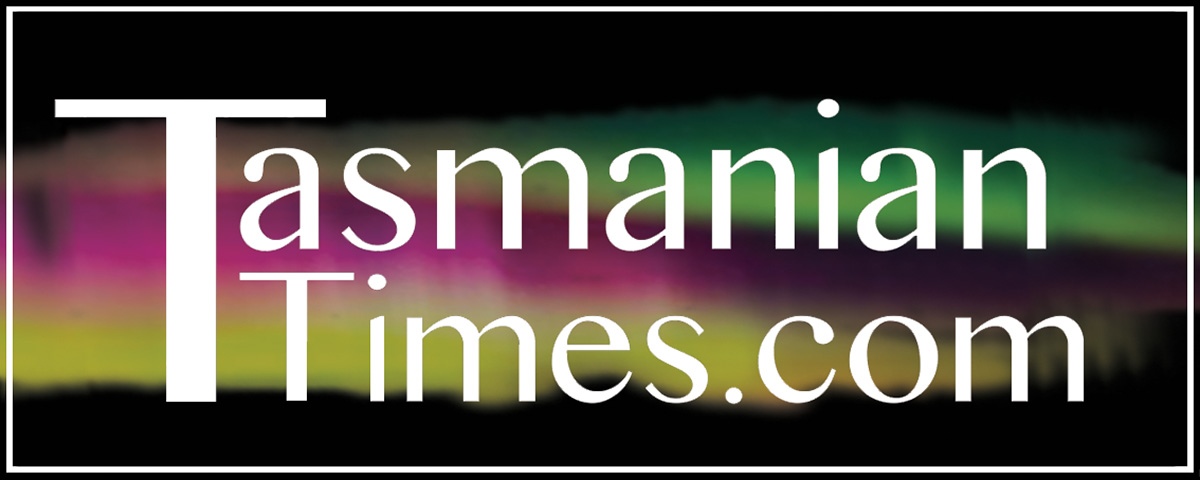 Author Credits: [show_post_categories parent="no" parentcategory="writers" show = "category" hyperlink="yes"]