Joy to you this Christmas from Lindsay, James and Bob. There is no better way to communicate these good wishes than this picture-essay, and the tawny one immediately below, by journo-photographer Paul Tapp. They are simply beautiful and speak of our (too-often severed) connection to the natural world. Enjoy (but note, some pics are missing and Tappy's gone bush!). And thank you for all your wonderful support, encouragement and astonishing gifts to keep TT soaring. Stratosphere next year, Ok? We'll be haphazard the next couple of weeks, but if you want to keep commenting, go mad below. Blessings, and All Good Things, Linz!x
A Celebration at Pelicania
A photo essay
By Paul Tapp
From my back yard in less than a minute away as the crow flies, the wooden gate swings shut and nobody but me intrudes upon the 30 acre block I have access to via recently new owners.
The new ownership is coincidental with a mate 'insisting with violence' that I borrow his Canon and 400mm lens and off went I clickety-click to Pelicania…a piece of dry-schlerophyll forest, never-cleared, never-tainted with anything but an old shed.
And off I go still, never wearying and ever-wondering if I can shoot just one piece of feathered serendipity on this relative postage stamp of pristine-ness.
Mornings and afternoons the best. The twitter-sympho at its height with the rising-sun and the Western glow, a natural back-drop to incandescent feathers and silhouettes.
But enough. Let's let the piccies tell the story of a piece of bush and all its glory. Surely Linz would run a piece. Onya Linz and onya Lens!
High up in a white eucalypt I hear whip-like call that I have duly ignored whenever in the bush until now. What and where is it? It's high and its calling is consistent. Amazing how a lens that looks like its name has me craning the high trees … click! Yes! Gorgeous! Never have I seen one before, because I've never looked before. A Golden Whistler. Common? Stunning! How we take the common denizens of the bush for granted.

The glorious Golden Whistler…a hitherto ignored distant whistling.
What next and where next? Just follow the sounds to the setting sun. Little birds, as omnipresence as gnats, so hard to catch on a camera, but not with a 400mm lens. Stay in one place and wait. Their curiosity brings them in….and click! Gotcha! Can't out-flit a speeding lens.

Incandescent in the setting light is the little common fantail, readying for flight.
The opportunity-window is a little more than it takes the shutter to invade the privacy of these practitioners of capricious capers. The second click, even on rapid-shoot mode yields a failed attempt to avoid the Tapparazzi lens.

Gotcha! Can't out-flit a Tapparazzi lens
Overhead there is an iconic cry of absolute smugness at a sorty of black cockatoos that have left a towering dead gum and my lens flies skyward to their silhouetted ambling, envied, carefree heading. Damn, I was hoping to get them on their lofty perch. But wait! A couple of stragglers are on the way. Curious too, like so many birds at man-with-camera. Down they come toward me. Yes, yes…focus, please focus, yes!

Filling the lens in full flight. How gorgeous the detail.
Of course, we all go out in the day and hear the endless calls of birds from dawn to dusk. But do we hear them? Maybe its because they've been a part of us since the dawning of man. They've always been about and always been smarter than us. They fly about for gnats and we can't fly for nuts! They're everywhere and part of us. And yet they are but no more to most of us than ambient sounds of the bush. But we would not endure the silence if they were to disappear. And its amazing how one's hearing improves with a 400mm lens.
Now I hear the calling of that dastardly elusive Summer bird. It's a haunted call, sort of a plaintive lament. A loss. It takes me all the way to Scamander where they occupied the silhouetted distant and stark dead high trees, in my Dreamtime as a boy. It's really a cuckoo-shrike and they're pretty shy and a sneaky move through the bush to a vantage point is necessary. Yes, yes, don't fly away… yes, focus…Yes!
How grand this lens. Thank you Leith Thommo Thompson for my having it on permanent loan. I often wonder if he's too scared to ask for it back.

The ever-distant cuckoo shrike. It's call is a time-traveler, evoking thoughts of yesteryear.
Bloody crows! Dammit can't ignore the crow. Amazing character study. An Omniprescent, mainly of the fields, but today they've been hanging about on the bush block. Also elusive, canny and wary and seem to know that any appendage on man can be bad news for a bird of universal indifference or even hatred.
It's high and rasping a carrion-cry to mates on a nearby hill. I make my way to it using the dense foliage as cover; a sort of ambush advance and wonder if I've gone a bit over the top over a bloody crow.
A peep, peep freezes me as only a bird photographer could understand. Pardalote! The place is a haven for them when the bush is moist. I reckon it would be the million-dollar quiz trick question. What is a pardalote? Few would know. But I know they're a prize subject. Gorgeously coloured and to my advantage this day, extremely curious. Normally high and smothered in leaves as they go about their industrious leaf-picking ways, this little fellow has dropped so low it is actually too close for the fully extended long lens. I'm hoping my lens adjustment movements won't spook him. He's in focus. Gotcha! The shutter noise sends him to a smaller tree, but he turns about. Now upside down. This little tacker has no fear. An amazing little showoff . Perfect model. How sad they are so unknown.

Spotted Pardalote…curious and daring little showoffs.
Above me the calling of a crow and the Canon's trajectory is high skyward to a crow seeing off a wedge-tail. The monarch of the sky never flies without a welcoming reception, a buzz of spitfires on a bomber-heading. Mynahs, magpies, crows, ever-vigilant to the perils of the great soaring shadows that drift in and out. The crow gives it away and returns to its lofty lookout.

…this sky sir, is mine sir.
I'm locked onto the Wedgie. I simply cannot get enough images of these amazing creatures that too often saw shotguns pointed skywards, today Canon. I caught a pair once as a schoolboy with a hawk-trap. I clubbed them both to death for a pigeon bounty of ten shillings. As my camera clicks my mind is bursting with remorse and apologies…and dreadful *memory.

The Wedge-tailed Eagle. Outrageously beautiful
* Extract from The Plonkermaker, the author's memoirs of a boy in a Tasmanian mining town.

The sight and sound of the frantic and flapping trapped animals induced us to an equal high pitch of exclamation and we approached; me now armed with a solid piece of fallen timber raised high, I could smell the distinct kerosene smell wafting on waves of air propelled by the huge wings now in a panic-frenzy before us. A mating pair was in our hawk trap, one without a talon, clipped neatly off by the sharp trap. A second leg smashed and useless was the link between the trap and the bird. At any time, with the extra exertion caused by our sudden appearance, the thin strands of tendon would break and the bird would soar into the air, devoid of any natural weapons to sustain its existence in paradise beneath the mountain which frowned in a blue hue in the distance.
The sheer size of the birds and their menacing, seemingly fearless stance, presented their captors with the dilemma of their fate. The ignorant mind crunched the facts; would Stan pay for eagles?
Were they fleet enough on wing to pose a threat to the racing pigeon? Would they have a nest of fledglings somewhere, destined to a slow death from starvation or exposure? Would they survive with mangled and missing claw? Would they ever forgive us for what I was about do? At the end of the rapid deliberations that suspended the club for a brief moment of spared life, the overriding purpose of the hawk-trap was the decider: bounty. Money for feathers and beak and claw. Ten bob minimum. Perhaps more for a nesting pair. No more babies from them to chase pigeons. And I had heard that they were merciless with new-born lambs. Picking their eyes out while they were still alive. Not that there were any sheep in the entire Rossarden district. Besides Stan had paid good money for a mangled owl. The club came down hard but only stunned the bird, glancing off its slick-matted head feathers; its eyes rolling back with the impact; its head slewing hideously; mouth stretched to the sky indignant at the temerity of an ignorant mountain boy presuming to surpass the supremacy of Creation's most majestic creature of the air. And fall foul club and thud; now the broken neck and still defiance in its shattered demeanour; and again, this time a direct hit and blood fills the once wondrous eye and I have killed something, not just within my swinging space, but within myself. And I lunge again, The bird now quivering in its death throes as I strike again as its mate pulls hard on the trap that has secured it too for imminent death. And I am upon it, almost frenzied in self-doubt and for the need to complete this act of deep treachery against all that is magnificent. It is over in three hard blows and I stare at the lifelessness before me, my brother speechless at what we have just achieved. This was a great wrong and we know it. The pigeon too is lifeless, its head plucked by a native cat, frantically struggling for freedom, but copping a single blow to its head and falling lifeless. Stinking native cats; plentiful and bothersome; gone to a justifiable death.
The traps were removed from the hill and we never returned to the hawk trap; perhaps remnants of it still about; a reminder of rampant ignorance and the beginning of the getting of wisdom; the second last time that I would take the life of a bird of prey, the symbol of freedom and superiority; an icon of mankind's folly in the ignorant years.
The crow now. A lonely sentinel, scowling at his gothic world, missing nothing. One, two, three shots. He peers my way and sees me in my ambush possie and flies straightaway to his Maker's maelstrom.

The Crow – a lonely sentinel, missing nothing.
And then, I hear it. The same call of the little bird which I know lives on this property. It's sound is recorded on the National Parks and Wildlife webssite. It is the distinct call of the rare and wonderful 40-spotted pardalote. From down over the hill. I follow the call. It is a siren-song. Nothing matters now, neither jack-jumper that will kill me; snake that lies in waiting beneath the carpet of high bracken through which I make my way to the calling of the golden chalice of Tasmanian photographers…the forty! Dammit, I deserve a painful, lonely death after the mercenary –death of those wedgies. I press on. There is a massive white gum. Its limbs have been shed and I see shadows coming going from it, high up in a hollow. Dammit, I'm shaking. I am in full focus as they sorty back and forth. I drop the camera and adjust the setting to sports mode and … here comes one. The camera goes into rapid fire. Got it. I stay for an hour and take over 50 photos.
It is time to go home put them on the computer screen and see what I've got. I think I've done it. I think I got the 40. A nesting pair! How dramatically ironical.
Dear Robert, I think I've got the shot. Do I have a nesting pair of 40's?
"Dear Paul, lovely shot of the shadow and incoming, but it's a nesting pair of striated. Keep trying, Robert."
Our neighbors have summonsed me for an late afternoon beer on the balcony. They look across the water in the far distance to the Triabunna woodchip mill . Spring Bay is resplendent in a fine drizzle and a rainbow settles over where once the woodchip mill turned nature's children into pulp. But not any more. The mountain of chip is gone. It is now a distinct yell flat-land at the bottom of the rainbow. The cause of celebration of bird-song on the hill. I've had a good day. I send images of the 40 to the co-owner of the block. Robert is a retired senior lecturer in law at a Melbourne university.
He doesn't mince words.
"Damned fine shots of the pardalote, Paul, but I'm sorry to disappoint you. It's not the 40."
Damn. Oh well, I'll get one one day. Just love that rainbow.
Judith King: I took these on an overcast day Dec 2011 on the Tamar River cruise:
Judith King: Took this lying right next to this magnificent creature at Cataract Gorge. Not an Australian native but magnificent in its own right. Yeah multiculturalism. Such beauty …it makes my head spin!: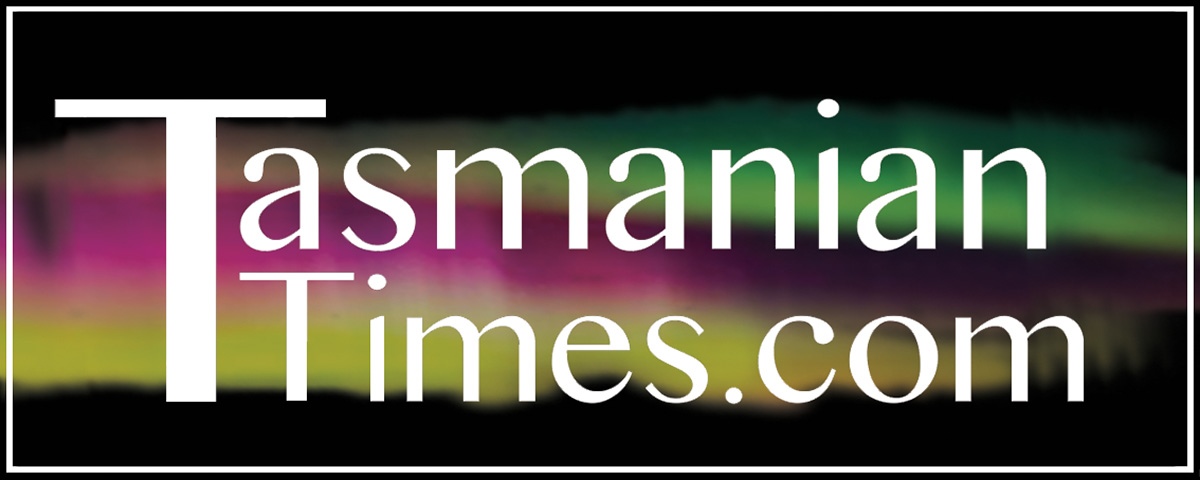 Author Credits: [show_post_categories parent="no" parentcategory="writers" show = "category" hyperlink="yes"]