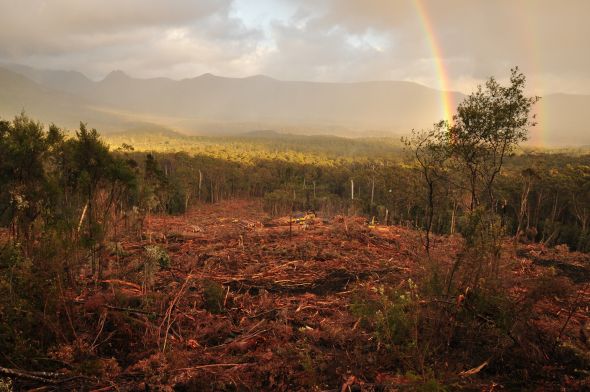 The Prime Minister's peace deal was supposed to end decades of conflict in Tasmania's forests but protests are continuing.
Now, a London company is boycotting timber products from the island state.
Last month it emerged timber from Tasmanian forests was being used on London Olympic building sites.
The purchaser of the timber products says it will no longer buy the Tasmanian timber from Ta Ann products due to lobbying by activists.
That has infuriated the company, industry and the State Government.
Tim Birch from Markets for Change was among the environmentalists who flew to London.
"Our investigations working with environmental groups in Tasmania clearly has shown that Ta Ann continue to source products coming from these vital forests, and so we went to London to visit a number of companies to inform them of exactly what was happening."
While the Prime Minister's peace deal does say there should be no logging in these forests, the areas are still being assessed to determine if they are actually high conservation value.
Forestry Tasmania says that under the deal it is allowed to keep logging in these areas to supply Ta Ann.
Nevertheless Ian Attwood, the managing director of International Plywood which bought Ta Ann's timber for the Olympics says his company is now boycotting Ta Ann's products.
"The reason we've stopped or we've suspended purchasing from Ta Ann is mainly because of the controversy around the logging in Tasmanian forestry," he said.
"The NGO's will have to be happy with any changes that they can make to enable the product to be purchased by us again."
Mr Attwood says he was concerned by what he heard from two activist groups: Markets for Change and the Huon Valley Environment Centre.
"We're not there to, you know, to savage the forests. We're here to try and buy product in a responsible manner."
That is hotly contested by Forestry Tasmania, Ta Ann and the Tasmanian Government.
The company's products are certified as sustainable under the international PEFC scheme.
Misrepresented
David Ridley from Ta Ann is overseas, however his manager Greg Hickey says the company's practices have been misrepresented.
"It is concerning that they're going and targeting our customers, mainly because of the certification that we have which points to our environmental credentials."
"Our real concern is that if our customers don't buy from us then they're going to buy from potentially illegally-logged sources."
Ken Jeffreys from Forestry Tasmania has attacked the green groups for targeting Ta Ann's customers.
"We're talking about a situation here that is reminiscent of the 1930s, where if you didn't pay protection your shop was burnt the next day."
"Now the same is occurring today. The activists go these companies, they say unless you do what we want, we're going to blackball your products."
AM also has a letter Tasmania's Deputy Premier Bryan Green wrote to International Plywood urging them to continue buying timber from Ta Ann.
Mr Attwood says he found the arguments of the activists more persuasive.
Clearly the battles of the past are far from over despite the forest peace deal.
• Jenny Webber, Tim Birch
Ta Ann Tasmanian Native Forest Veneer Rejected By UK Market
International Plywood, a major UK importer of plywood from Ta Ann's Tasmania operations has told the Australian ENGO Markets for Change that they will not be purchasing any more timber from Ta Ann while the controversy around ongoing logging of Tasmania's High Conservation Value (HVC) and old growth forests continues.
"Markets for Change is encouraged that the international market is so concerned about the ongoing destruction of Tasmania's high conservation value forests that International Plywood from the UK has taken the decision to no longer buy Ta Ann Tasmania's plywood product. It is significant that even though Ta Ann had PEFC (1) certification for this product the market has still rejected it as it is
sourced from such valuable forests," said Tim Birch CEO of Markets for Change Markets for Change (MFC) recently released detailed research tracking Ta Ann veneer timber from Tasmania's high conservation forests through Malaysia to London and a sports hall to be used in training by Team USA during the 2012 London Olympics. (2)
Detailed analysis by Market for Change's partner NGO in Tasmania (Huon Valley Environment Centre) has clearly shown that Ta Ann Tasmania's operations continue to receive wood products coming from high conservation value forests in Tasmania. These forests have already been earmarked for protection by the Inter Governmental Agreement (IGA) in Tasmania, yet they continue to be logged. (3)
"This decision by International Plywood sends a clear message to Ta Ann that their association with the destruction of Tasmania's high conservation value forests is bad for business. Ta Ann can no longer claim that their veneer product is sourced from plantations and sustainable regrowth forests. They must take immediate steps to remove identified high conservation forests from their supply chain," said Will Mooney from Huon Valley Environment Centre.
Following the release of this research Markets for Change contacted a number of UK companies involved in the supply of Ta Ann Tasmania veneer plywood to the UK market. International Plywood UK were surprised when evidence was provided by MFC and Huon Valley Environment Centre showing Ta Ann Tasmania were sourcing wood products from high conservation value forests as they were under the clear impression that they were purchasing wood products from Ta Ann that came from plantations. Even a recent letter from the Deputy
Premier of Tasmania, Brian Green to International Plywood UK urging them to continue buying from Ta Ann Tasmania did not persuade the company to continue purchasing veneer plywood from Ta Ann Tasmania.
Markets for Change will continue its campaign, nationally and internationally, to urge the market to reject wood products coming from High Conservation Value forests and instead trade in wood products sourced from ecologically responsible plantations.
Markets for Change is committed to supporting an Australian forest industry based on well managed FSC certified plantation products. Such a plantation based timber industry will ensure long term secure jobs for workers and the protection of native forests.
NOTES:
1. The Programme for Endorsement of Forest Certification (PEFC) has been widely criticised by international environment groups as it is not an indicator of acceptable environmental standards and does not safeguard high conservation value from ongoing logging.
2. http://www.marketsforchange.org/2012-olympics-timber/
3. http://www.scribd.com/doc/72216112/Ta-Ann-Final-Report-2011-Web
SENATOR THE HON RICHARD COLBECK
Senator for Tasmania
Shadow Parliamentary Secretary for Fisheries and Forestry
Shadow Parliamentary Secretary for Innovation, Industry and Science
M E D I A R E L E A S E
22 December, 2011
Latest market sabotage proves forest peace deal is dead
Tasmanian Liberal Senator Richard Colbeck has demanded the sham forestry peace process being conducted in Tasmania be abandoned immediately.
"Revelations today that International Plywood is now boycotting purchase of materials from Tasmanian sources demonstrates that ENGOs* are not keeping their end of the bargain to cease protest action," Senator Colbeck said.
"Claims of peace in our forests are now nothing more than a sick joke.
"Even worse, ENGOs are now using the process as a weapon against Tasmanian industry, businesses, workers and jobs.
"This is nothing short of disgraceful economic vandalism.
"None of the areas that are the subject of the Intergovernmental Agreement have any formal conservation status – they are merely areas claimed by the conservation movement to be of high conservation value (HCV).
"Its my understanding that at this stage of the IGA process a definition for HCV has not even been agreed, and this consequently is allowing the ENGOs to make any claim they like.
"And those claims include areas of pine plantation, eucalypt plantation, 30 year old regrowth from clear fell and burn, and even part of a Defence Force artillery range.
"The Coalition has said from the outset that the IGA process was a sham.
"It is now even worse – It is a weapon being used against Tasmania. This IGA is costing our state income and jobs, and is harming our environmentally credentials in global markets – all without foundation.
"Here is the first challenge for the new Parliamentary Secretary for Agriculture, Fisheries and Forestry Sid Sidebottom: Stand up for your state and put an end to this sham process which you and your Labor mates foisted on us and is now damaging Tasmania," Senator Colbeck said.
* Environmental Non-Government Organisations
Ta Ann should refuse wood from 572,000ha of high conservation value forests
Ta Ann must inform Forestry Tasmania that it will not source any wood from the identified 572,000ha of high conservation value forests or it will continue to undermine confidence in Tasmania as a place to invest and in its own business, Senators Bob Brown and Christine Milne said in Hobart today following news that British firm International Plywood is suspending purchases of Ta Ann products.
"Ta Ann's officials should begin with a green ban on wood sourced from coupe TN044B, just two kilometres from Tasmania's World Heritage Wilderness Area where environmental braveheart Miranda Gibson is camped 60 metres high in a tree as the forest below her is being felled," Senator Brown said.
"The October re-schedulers report that was leaked early this week demonstrates that the new logging schedule is specifically designed for Ta Ann. Its contracts are driving logging in many HCV areas and it has now been found out with Markets for Change tracking wood from Tasmania's native forests through Malaysia to London destined for the floor of a sports stadium to be used by Team USA," Senator Milne said.
"Ta Ann thought it could get away with marketing its product as regrowth and plantation and it's now been exposed. The coupe on the slopes of Mt Mueller is further evidence for International Plywood and buyers in Japan that HCV forest is being logged primarily for Ta Ann.
"The intergovernmental agreement clearly states in Clause 27 that compensation will be paid to ensure logging is stopped in the 430,000ha while the independent verification process is occurring. That verification process is not due to report until February next year," Senator Milne said.
"The London ban on this company's products will spread. The Sarawak logging industry is now under inquiry in Malaysia for corruption. In Australia, Prime Minister Gillard's intergovernmental agreement, which she signed on 7th August 2011 to prohibit logging for Ta Ann and other companies in 572,000 hectares of high-conservation value forests, should be honoured before Christmas," Senator Brown said.

Miranda Gibson in her observer tree
Still Wild Still Threatened welcomes UK boycott of Ta Ann's forest destruction.
Today the good news was announced that UK company International Plywood has made a decision to suspend purchasing wood products from Ta Ann Tasmania. This was the result of a visit from representatives of Markets for Change and the Huon Valley Environment Center, who showed evidence of Ta Ann's destruction of high conservation value forests in Tasmania.
"International Ply's decision is a great victory for the forests of Tasmania. It is a real indication that people across the world are committed to purchasing wood products that are truly sustainable and do not come from the decimation of world-class native forests" Said Miranda Gibson, spokesperson for Still Wild Still Threatened.
"Today is my ninth day living 60 meters up in this giant tree in the middle of a forest that should be protected, but is being allowed to be logged to provide wood to Ta Ann. This tree sit – The ObserverTree- has begun to receive global attention. This growing international support is reflected in today's announcement. Customers and businesses around the world do not want to buy wood from Tasmania's irreplaceable forests" said Ms Gibson.
"The Prime Minister has failed to honor her promise to protect these world-class forests and destructive logging operations continue in order to supply Ta Ann. Now it is time for Julia Gillard to step in line with the rest of the world and protect Tasmania's high conservation value forests" said Ms Gibson.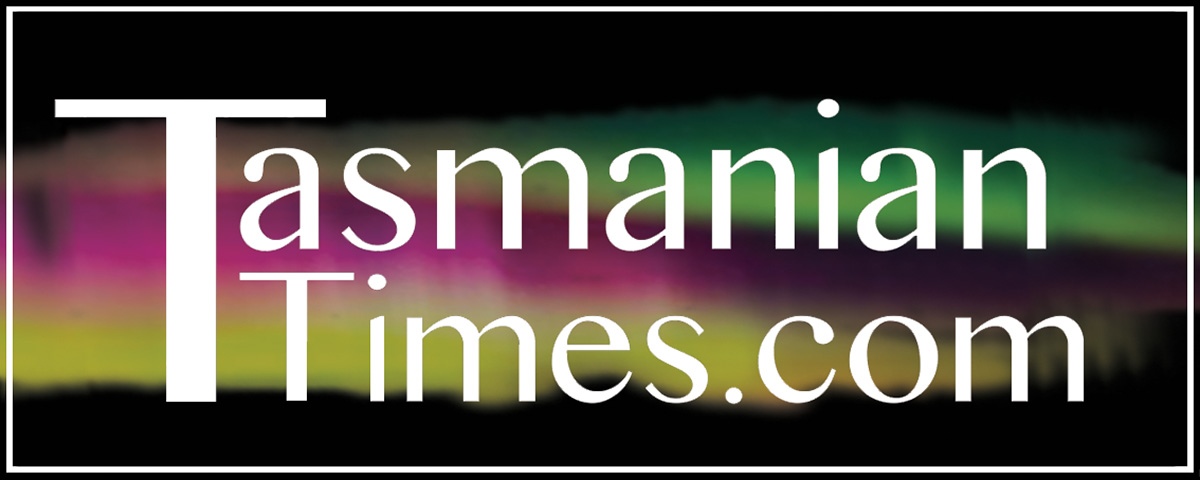 Author Credits: [show_post_categories parent="no" parentcategory="writers" show = "category" hyperlink="yes"]