• Ed: TT regrets that it has had to withdraw comments on this article. The flood of comments suddenly received all indicate a rush to judgement … but ASIC's action against John Eugene Gay is unlikely to dampen the enthusiasm of the plaintiff in the Foley vs Gunns class action: HERE
Former Gunns chairman John Gay will face court in Launceston next month on charges of insider trading.
The 68-year-old will appear in the magistrates court to face two counts of an insider disposing of shares.
The charges relate to Gay selling more than 3.4 million Gunns shares on December 2 and 4 in 2009.
The value of shares dropped about 20 cents to 70 cents when the half-yearly result was made public in February 2010.
The Australian Securities and Investment Commission (ASIC) is alleging Gay possessed inside information that he ought to have known was not generally available.
It will argue that if the information had been generally available, a reasonable person would expect it to have a material effect on the price or value of the shares.
Gay stood down as chairman of Gunns in May last year.
• Matthew Denholm, Andrew Main, The Australian: Ex-Gunns boss John Gay faces insider trade charges …
FORMER Gunns chairman John Gay has become the most senior Australian executive to be charged with insider trading after selling $3.1 million worth of shares three months before the timber company reported a 98 per cent slump in earnings.
Mr Gay is expected to appear in the Launceston Magistrates Court next month to face two charges of insider trading relating to his disposal of the 3.4 million shares on December 2 and December 4, 2009. On February 22 last year, Gunns reported a 98 per cent plunge in December-half earnings to just $420,000, with the fall due to operational issues, mainly a slump in woodchip demand and prices.
The announcement caused Gunns' share price to fall from 88c to 68.5c. Mr Gay sold his shares at an average price above 90c. The stock last traded at 19c.
The Australian Securities & Investments Commission will allege that Mr Gay, who was then chairman but resigned several months later, had inside information that he ought to have known was not generally available.
Gunns would not comment on the charges. A spokesman said it would be inappropriate as the matter was before the courts.
Mr Gay did not respond to a request for comment from The Australian, while a spokesman for ASIC said the commission had "no comment until there is a court hearing".
Mr Gay resigned on May 27 last year under pressure from large institutional shareholders concerned about the company's performance and its ongoing involvement in logging of Tasmania's native forests.
His resignation, foreshadowed two week earlier in The Australian, came after institutional shareholders accepted the argument of conservationists that Gunns should break with its past and pursue a "social licence" for its $2.3 billion pulp mill.
Gunns, led by managing director Greg L'Estrange, has since exited native forest logging to focus on the plantation-based pulp mill proposed for the Tamar Valley north of Launceston.
ASIC is understood to have received complaints about Mr Gay's share trading from institutional shareholders.
The share price drop in February last year prompted the Australian Securities Exchange to ask Gunns when it first became aware the profit would be 98 per cent below the result for the first half of 2009. Continuous disclosure rules mean a company must immediately advise the market if it becomes aware that a pending result will vary by more than 10-15 per cent from the results of the previous corresponding period.
Gunns had previously responded to the ASX questions by saying that the half-yearly accounts were reviewed by an audit committee on February 19 last year and approved on February 21, a day before being reported to the stock market.
It argued that up until that time, there had been unresolved issues relating to the accounts, including the treatment of its acquisition of Great Southern plantation forests. Gunns had warned of reduced Japanese demand and a poorer short-term outlook but had not specifically warned that it expected a significantly lower profit for the half year.
Mr Gay, 68, was a key, combative figure in Tasmania's timber industry until his departure, and was credited by many in the industry with almost single-handedly building the former Gunns empire after joining the company in 1974.
• Alison Andrews, The Examiner; Ex-Gunns boss charged over 2009 share sales Gay on insider trading counts …
FORMER Gunns executive chairman John Gay will face insider trading charges in the Launceston Magistrates Court next month.
It is understood that the Australian Securities and Investments Commission is bringing the charges against Mr Gay, 68, who stood down as the former timber company's chief in May last year.
ASIC said yesterday it would not comment until there was a court hearing.
An ABC report said that the charges related to Mr Gay selling more than 3.4 million Gunns shares in early December 2009.
The value of the shares dropped dramatically when the company's half-year report was made public the following February.
Mr Gay did not return The Examiner's calls and Gunns declined to comment last night.
Sources said that the period at issue was a time when Mr Gay was ill and was advised to rationalise his interests.
He is believed to have realised more than $30 million from the sale of his Gunns' shares before they crashed more than 20¢ to 70¢ after the February 2010 half- yearly result.
Yesterday Gunns shares were selling at 19.5¢.
Current managing director Greg L'Estrange took over the top Gunns job from Mr Gay after he resigned last year.
Mr Gay recently bought the Somerset veneer mill and Deloraine sawmill from Gunns.
Mr Gay has also become part owner of a kiln-dried operation in Launceston.
The news yesterday came with Gunns due to hold its annual meeting in Melbourne tomorrow – the first to be held outside Tasmania.
• *Pic: Matt Newton's pic of John Gay on a banner held by Bob Brown at an anti-Gunns logging rally a few years ago.
First published: 2011-11-22 04:51 PM
• Protest against Gunns pulp mill
Outside Gunns AGM, Sofitel Hotel, 25 Collins St, City (assemble back entrance Sofitel Hotel, Flinders Lane, near carpark before moving around to the front entrance). Participating groups include TAP, Pulp the Mill, Tasmanian Wilderness Society & Friends of the Tamar Valley. There is a possibility that members from Occupy Melbourne will also attend.
Event date:
Thu, 24/11/2011 – 10:15am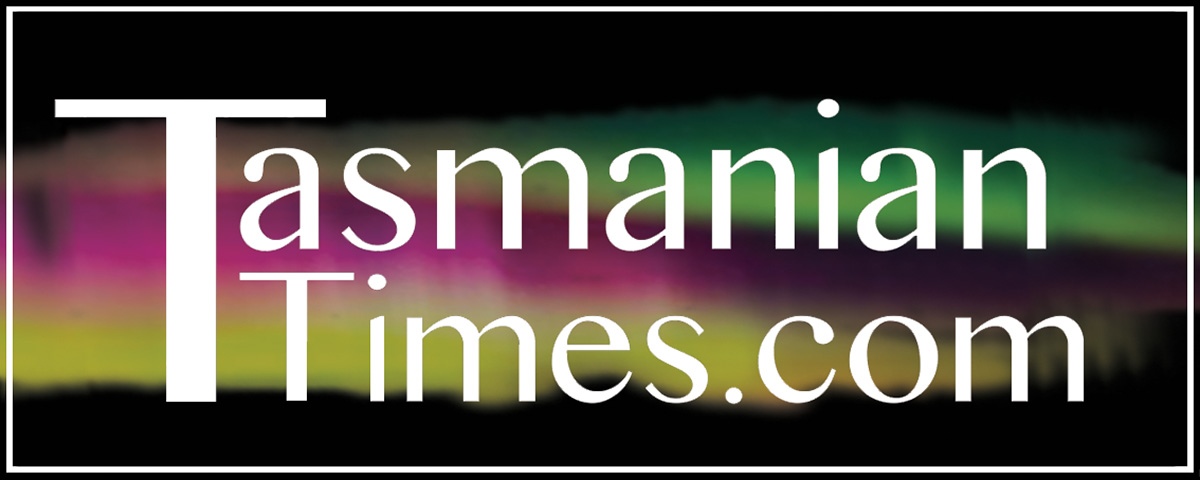 Author Credits: [show_post_categories parent="no" parentcategory="writers" show = "category" hyperlink="yes"]