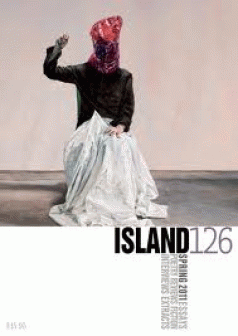 Launch of Island 126, Hobart Bookshop, 13 October 2011.
When I was asked to say a few words at the launch of Island 126, I was initially hesitant because I was acutely aware that I was one of those Tasmanians who have, to put it mildly, taken our literary journal for granted. I decided, though, that my neglect gave me the chance to say, on behalf of the thousands of other Tasmanians who have also just assumed that Island would always be there, a THANKYOU to you supporters, workers and writers who have kept this living cultural treasure alive for so long in the face of too much indifference, and who have carried the fight in the past few months and will carry on doing so. There is nothing like the prospect of losing something to focus appreciation, and if Island 126 doesn't do that for the decision makers of this island, it is hard to imagine what will.
What I had also wanted to do tonight was to make a public plea that somehow a way must be found to keep Island editor, Sarah Kanawoski. I had a dream that tonight might be part of a popular movement that refused to let this human and literary treasure, who by some grace of the tides, washed up on our shores, leave us. But Sarah tells me she must go and this I understand although I cannot fully accept. It surely says much about the mess Tasmania is in that there are such grim prospects for such gifted folk as Sarah and her partner Nigel who works with Aboriginal children.
Island 126 looks destined to becoming a memorial to what Sarah achieved in such a short time, and a reminder of what we all lost. Tasmania doesn't always do gratitude well, we take our time and tend to do our thanks quietly. Well this is one tradition that must be put away – there is no time for such delicacies now. Let's give loud, very loud, praise for 126, let's give cheers that can be heard in the heavens and maybe even in the executive building, to Sarah and everyone else who put it together – Adrienne, Rachel, Marion, Stephen, Lynda and Beverley ( with apologies to those I haven't named), and also to those who serve on the editorial and management committees.
Sarah writes in her editorial of the connections between her and David Malouf, via her mother, and there is a sense of this spirit of connectedness through story running right through 126. In her interview with David Malouf, David recalls the long struggle in the 50s 60s and 70s to get Australian literature taught in universities, and the fascination of novelists of that era with questions of Australian identity, and notes that both the cause and the theme seem to have become obsolete. David says there is now a kind of internationalism not only in the subject matter of culture but also in the language.
David asks poignantly "whether what we think of as being local and parochial in the past wasn't exactly what allowed people, if they were willing to make the effort, to enter completely into a different world and make it their own".
Poignant, because it seems that underlying the Tasmanian Government's decision to axe the measly sixty something thousand dollars it gives to Island, and let's remember the Arts Advisory Board is just that, an advisory board (it is a basic democratic principle that such decisions remain the responsibility of the Minister), is the very sort of shallow thinking that David questions – that we are all now so much part of a global village that we can access more literature than we could ever need with a few clicks of a mouse.
But to read 126 is to directly experience how false this view of the world is. I hope the decision makers let themselves feel how the multifarious collection of essays, articles, extracts, and poems connects us as a community across cultures, across geographical space and even across time. Island 126 is, in the fine tradition of the journal, never parochial; how could it be with essays like the one from the distinguished Ian Johnston of Bruny, on the seven Chinese worthies of the third century who speak so directly, under the deft hand of their translator, to humanity today.
And yet 126, is clearly grounded here and could not be but from here. Where else will we read a memorial to the Royal Derwent at New Norfolk , as we do through the skilled care of Emily Bullock, and be helped to integrate this place into our cultural memory, which given what New Norfolk meant to so many thousands of Tasmanians since the early 1830s, is surely almost as important a task as integrating convictism.
Perhaps it was Sarah's editorial exploring her family connections with the venerable David, or, perhaps it was the fact that I read 126 in the middle of the night while OD'ing on cough medicine, but this issue was full of personal connection for me. Almost every piece seemed to bring with it an association. I remembered how my high school English teacher, the only woman at the horrible boys school in Brisbane I attended, bless her holy courage, quite understandably lost it with the smelly and rude boys in her charge one day and started to rave about the bastion of privilege and self-importance which the school was, and angrily spat out that in the past 30 years there was only boy who had done anything creative, one boy who had the imagination not to become a doctor or lawyer just because they could(with apologies to all doctors and lawyers, especially if you are an Island donor which of course redeems all); and that this person was called David Malouf. She told us with awe of the book he had just published. And us silly boys giggled at her rant in praise of something called Johnno, but this boy, at least, didn't forget.
And so it was that at 3am just a few nights back, thirty five years too late, I said sorry and thankyou to one Mary Trembath.
Going on into Ruth Pullin's essay I was transferred to that magical Hebridean island, Staffa. Like Mendelssohn I too have taken the boat to Staffa, to see the puffins and the cave, while I was living on an only slightly larger island close by called Iona, a place that changed my life. Not just because I met my wife Emma there, but because it was there that I learnt a little about what was most important. And I can tell you something else about Iona – this is a place that is almost impossible to ever buy into – the island is owned by the national trust and permission to build or buy is granted only to those with old island connections. And guess who has a family shack there – yep, our ed and her fella.
By the time I read Ross Honeywell's essay, which starts with memories of Bribie Island, my place of retreat from that horrible school, I was beginning to think that I had had more than enough cough mixture. I needed a more settled stomach to enter fully into Rohan Wilsons crops of wheat and potatoes, but gosh what a powerful piece of writing is emerging from our earth from this extraordinarily gifted writer. This extract will leave you gasping and yearning for the book to be.
And so the journey proceeds….
I tell you a few of these personal experiences, not because my connections are important or as an advertisement for otherwise useless cough medicine, but because it is this sort of journey that can only be had in the motley collection that we call a literary journal, and to read one that is birthed in our country is a fundamentally different experience, not just in an intellectual way but a sensory one, from scrolling even the most hallowed pages online.
As can be experienced in 126, Island connects us, to each other, to the world in deep multi-layered ways . It is not primarily that it fosters a Tasmanian identity or even an identifiably Tasmanian literature, but that, as David Malouf puts it, it is the local that allows "people, if they are willing to make the effort, to enter completely into a different world and make it their own".
Another shallower way of saying something similar, might be to say that to fully experience the world, one needs a home.
And Island is THE home of literature in Tasmania. It is a tragedy that despite the much appreciated short term rescue by the Australian Council, our only literary journal now faces such an uncertain future.
126 provides the clear and unambiguous evidence, for all who honestly engage with it, why our island needs Island, why our literary journal must not close.
And let 126 also be the catalyst for unembarrassed straight forward gratitude from all of us who up to now have taken Island for granted, to all of you who have made it the literary treasure it is.
So, charge your glasses nice and full, with our thanks as always to Chris and Janet and the team at Hobart Bookshop, for our toast will be to a magic three tonight. To all involved in Island past, present and future; To 126 now launched into the world; and To Sarah, its gifted and vital editor.
James Boyce is the author of Van Diemen's Land and 1835: The Founding of Melbourne and the Conquest of Australia. An extract from 1835 is included in Island 126.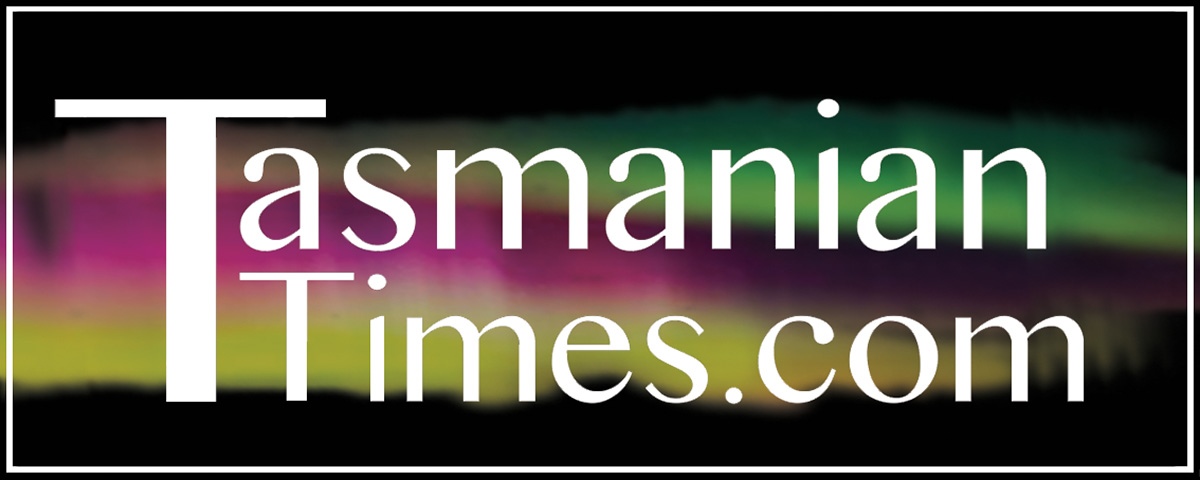 Author Credits: [show_post_categories parent="no" parentcategory="writers" show = "category" hyperlink="yes"]