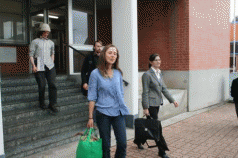 The article, Why bail was denied – the inside story, on the granting of bail to Karlien van Rooyen, after two days in custody, (Original story, HERE) has been edited to comply with s37A of the Justices Act 1939*.
BURNIE POLICE STATION
On Saturday 13th of August, members of Code Green took part in a protest at the Harvey Norman store in Burnie. They were protesting against the store's selling furniture sourced from native forest timber and also against the destruction of habitat for our native fauna. I drove to Burnie to see if Karlien van Rooyen, who had been arrested, would be bailed/released by the police. I was going to offer transport back to Launceston. At the police station I spoke to a policeman who told me that she was being held on one of the cells.
He said that she would be appearing before a magistrate at the court nearby at 5pm.
He then told me that the police were getting fed up with the protests and that protesters should not think that they could continue such protests and be automatically released (immediately) afterwards. He quite clearly linked police dissatisfaction at the ongoing protests to the issue of whether they were going to release her on bail. He then told me that police would be opposing bail and that, if bail was denied, that Karlien would be held in custody till Monday morning when she would appear in court.
COURTHOUSE
I attended the Magistrate's Court just before 5:00pm. A police vehicle arrived outside the court and two police (the male officer that I had spoken to back at the station and also a female officer) came in with Karlien. She was in handcuffs. Before entering the courtroom, these were removed. I followed the police and Karlien into the courtroom.
The police prosecutor came in and spoke to Karlien. She told Karlien that she would be opposing bail because she considered that Karlien, who is visiting from South Australia, was a 'flight risk'. [Karlien told me later that this was the first time that she'd heard 'flight risk' used as the reason for police opposing bail – the reason given to her up to that point by the police had been to discourage other protesters from similar protests.] The prosecutor asked Karlien where, if bail was in fact granted, she could be released to. I told the prosecutor that my home was available for such a purpose and I gave her my name and address.
PROSECUTOR OPPOSES BAIL
There was a bail hearing. The JP denied bail. He said that she would have to reappear in Burnie on Monday morning, in person, not by video link.
After the (JP) magistrate left the court, the prosecutor again spoke to Karlien. She couched it in a friendly advisory way. She said that on Monday, Karlien would be in the court with a magistrate.
Then the police put the handcuffs back on Karlien. As this was being done (it must have been the female officer who did it) the male officer spoke to me. I asked whether I'd be able to visit Karlien in the remand centre at Launceston and he said I'd have to sort that out with the people at Launceston. Then he said that it might not be the case that she'd be at Launceston, that she might be sent on to Risdon. Then he said to me that he thought I might know some of the people involved with the recent protests and that if that was the case, then I could pass on a warning to them. The warning was to the effect that they (the police) were annoyed with the spate of protests, and that their response to further such protests would be firmer. I'm not using the actual words that he used, just trying to convey the general sense of what he told me. I understood from his warning that it meant Burnie police would in future again oppose bail in such cases.
REMARKS
In retrospect, I'm not sure that Karlien understood the bail process. There existed an apparent desire from the police to use the bail application as a means of expressing annoyance with the protests.
POSTSCRIPT
Karlien spent two nights in custody before reappearing in the same court, this time she had representation and was granted bail, with her case being adjourned till October.
*s37A of the Justices Act 1939
37A. Publication of accounts of certain proceedings
(1) Notwithstanding anything in the Defamation Act 2005, a person shall not publish or cause or allow to be published an account of the proceedings on an application in respect of bail, except an account giving the fact of the application and stating that an order has been made in respect thereof.
Penalty:
Fine not exceeding 100 penalty units or imprisonment for a term not exceeding 6 months.
(2) Subsection (1) does not apply to –
(a) a report of proceedings in the Supreme Court or before a judge that is written as a law report; or
(b) the publication of an account of proceedings referred to in that subsection that is published after the final determination of the charge upon which the applicant was then held in custody.
(3) Notwithstanding anything contained in any other Act, a person who unlawfully publishes or causes or allows to be published an account of proceedings before justices that is forbidden to be published (other than an account to which subsection (1) applies) is liable to the penalty prescribed by that subsection.
• Logging continues in Tasmania's ancient forest, Tree sit in West Wellington forests. Forest Protest in West Wellington, Southern Tasmania today.
Monday 22 August
Media Release
Ten conservationists have today set up a tree sit in West Wellington forest in Southern Tasmania, where logging has recently commenced inside the proposed 430 000 hectares of forest that needs urgent legislated protection.
"Right now in Tasmania we are losing future national park forest as Forestry Tasmania continues to disregard the high conservation values of these forests. A moratorium on logging in the identified high conservation value forests was due in December 2010. Though in the last months, this area of West Wellington forest has had a new road pushed in and now logging has commenced," Huon Valley Environment Centre's Jenny Weber said.
"Huon Valley Environment Centre is committed to monitoring the bulldozers leaving. A repeat of the moratorium process cannot happen where we see logging continue due to the blatant disregard for the process by Forestry Tasmania," Jenny Weber said.
"Logging in these West Wellington forests is to feed Ta Ann's contract. We are very concerned that Forestry Tasmania has recently stated that there is a large area of forest inside the nominated area of 430 000 ha high conservation value forests, needed for logging to meet the Ta Ann contract," Jenny Weber said.
"We are still losing crucial wildlife habitat and native forests that have been identified for immediate protection, and we are calling for an immediate end to the logging of these forests.
UPDATE:
22 August 2011
Media Release
Logging halted by protest in West Wellington forests, Southern Tasmania
This morning logging has ceased in the West Wellington forests where Huon Valley Environment Centre has set up a tree sit. A conservationist sits in a tree, and the bulldozers that have been destroying these forests that require urgent protection, have been halted. Ten conservationists remain in the forest, with contractors and Forestry Tasmania present.
Jenny Weber
Huon Valley Environment Centre
22 August 2011
Media Update
Police Arrive at Forest Protest – Images avaliable
Please see the following link for images of today's forest protest in West Wellington http://on.fb.me/os2Qqu
Police have arrived at the protest in West Wellington, and one conservationist remains the tree sit. The remaining conservationists have been moved on.
"Forestry Tasmania need to reschedule these logging contractors out of these high conservation value forests today. Move them outside the 572 000ha of nominated areas for protection. These native forests are critical wildlife habitat, and water catchment for Judbury. Huon Valley Environment Centre is calling for their urgent protection from logging," Jenny Weber said.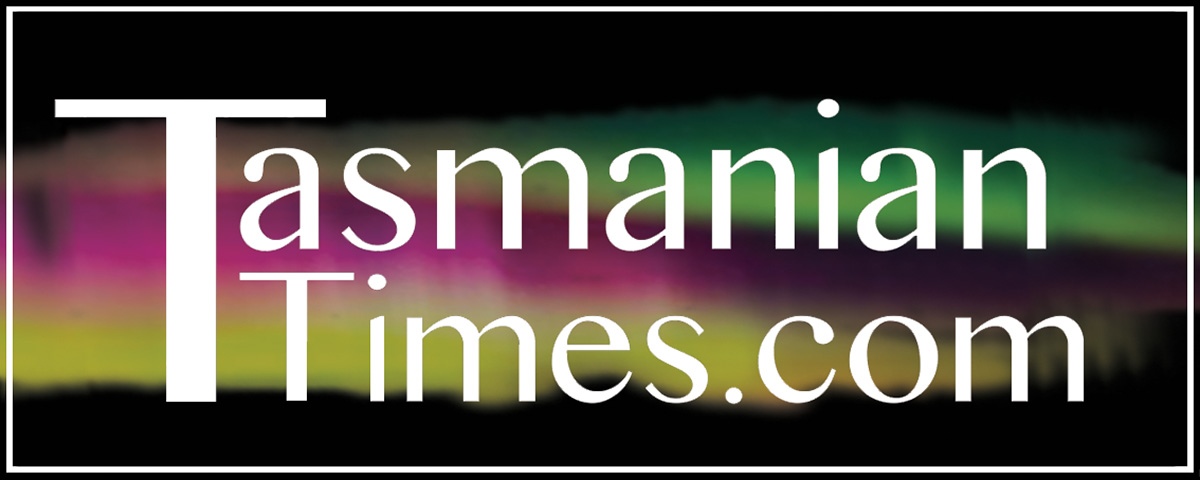 Author Credits: [show_post_categories parent="no" parentcategory="writers" show = "category" hyperlink="yes"]